maple syrup
now browsing by tag
Sunflower Butter Protein Balls
Gluten Free, Refined Sugar Free, Dairy Free
Happily serves 12
ALL ORGANIC INGREDIENTS
1 ½ Cups Sunflower butter or any Nut butter
¼ Cup raw honey (or maple syrup if Vegan)
1 tsp vanilla extract
¼ tsp Himalayan sea salt
¼ cup Bone Broth Protein powder OR Collagen Powder
Optional:
½ cup dark chocolate Vegan chips
Stir sunflower butter, honey, vanilla and sea salt together.
Add protein powder and combine thoroughly
Optional: Stir in chocolate chips
Form into balls, refrigerate for at least 2 hours
To cut your sugars, You can use 1/2 tsp maple extract and stevia.


Pumpkin Seed Dip 
Vegan, GF, Paleo
Happily serves 6-8
ALL ORGANIC INGREDIENTS
5 ounces Raw pumpkin seeds
2 TBSP Avocado oil
1/2 cup finely chopped shallots
1 large jalapeno, finely chopped
3 garlic cloves, chopped (let sit 5 min)
1/4 Cup Parsley
1/4 Cup Cilantro
Juice of a lime
1 TBSP Extra-virgin Olive oil or Avocado oil
1/4 tsp finely grated orange zest
2 TBSP Maple syrup or 1/4 tsp maple extract and stevia
Blend seeds in a food processor.
Cook shallots & garlic in the avocado oil.
*Add Sea salt and pepper, let cool.*
Add parsley, cilantro, lime juice, maple syrup, orange zest (and water if needed)
Add shallot mix when cooled, mix thoroughly
Sea salt to taste.
Variation: Can also be used a spread in a lettuce wrap.
Over Night Oats
Gluten Free, Dairy Free
Happily serves 2
ALL ORGANIC INGREDIENTS
1/2 cup rinsed gluten free organic steel cut oats or buckwheat (can sub Quinoa)
1/2 cup almond, oat, or hemp milk
2 tbsp Nut butter of choice
1 tbsp maple syrup or honey
*If you are watching your sugar or calories, use stevia
Cinnamon to taste.
Add everything but oats to a mason jar.
Stir in oats, and cover tight.
Set in fridge, needs to sit for at least 6 hours.
Enjoy the next day. It will last up to 2 days in the fridge.
Best within first 12-24 hours
Sriracha Aioli

Vegetarian, Gluten Free
Happily Serves 3-4
ALL ORGANIC INGREDIENTS
3/4 Cup Raw Cashews
5  Garlic cloves, minced
1/4 Cup water
1-2 TBSP Avocado oil
1 tsp Maple syrup
1 TBSP Lime juice
Sea salt + black pepper to taste
1 tsp Sriracha (or other hot sauce), plus more to taste
Pinch each chili powder, smoked paprika, and ground cumin
Optional: 1/2 tsp Nutritional yeast (for a little cheesiness)
Place cashews in a bowl and cover with boiling hot water.
Let set, uncovered, for about 1 hour or until very soft, drain thoroughly and Rinse.
Add cashews to the blender or food processor with fresh garlic, water, 1 Tbsp Avocado oil, maple syrup, lime juice, salt, pepper, Sriracha, and spices.
(Nutritional yeast is optional.)
Blend on high until creamy and smooth.
Add more water if it's too thick.
Bone Broth Protein Pancakes
Paleo, Gluten Free, Dairy free
Happily serves 2-4
ALL ORGANIC INGREDIENTS
1/2 Cup Applesauce
3–4 Free Range eggs
1/4 Cup melted Coconut oil
1/2 Cup Coconut flour
4 scoops Bone Broth Protein Powder
1/8 tsp cinnamon
1/8 tsp Himalayan sea salt
Coconut Milk Coffee Creamer
Dairy Free, Vegan, Soy Free
Happily Serves: 4-8
ALL ORGANIC INGREDIENTS
1 Can Coconut Milk
1-2 TBSP Vanilla to taste
2 TBSP Melted Coconut oil
1 Tsp Honey OR Maple syrup OR Stevia to taste
Optional: Sea salt to taste
Add all ingredients in a blender/Vitamix and blend until well combined.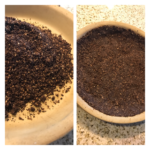 Triple Raw Chocolate Cheesecake
Vegan, GF, Refined sugar free
Happily serves 8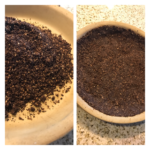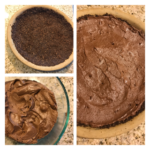 ALL ORGANIC INGREDIENTS
CRUST
1 cup pecans, ground (or mixture of pecans and walnuts)
3 medjool dates, soaked
1 tbsp maple syrup or coconut nectar
1/2 cup raw cacao powder
FILLING
8oz Vegan cream cheese
1/2 cup raw cocoa butter, melted
1/2 cup maple syrup or coconut nectar
1/2 cup water
1/2 cup raw cacao powder
2 tsp vanilla extract
CHOCOLATE GANACHE TOPPING
1/4 cup coconut oil, melted
1/4 cup raw cocoa butter melted
3 tbsp maple syrup or coconut palm syrup or coconut nectar
5 tsp raw cacao powder
1 tsp vanilla extract
Mix all the crust ingredients together in a food processor until crumbly and just starting to stick together. Press the mixture into the bottom of an 8 inch dish. Keep in the fridge while you make the filling.
Blend cream cheese with the melted cocoa butter, water and maple syrup until smooth and creamy. Then add in the cacao and vanilla, blend well. Spoon the mixture on to the base and smooth down evenly. Put in the freezer while you make the ganache topping. If you do not have the crust cold it will be hard to spread.
Stir maple syrup, cacao and vanilla into the melted oils until well combined and glossy. Let cool slightly but not so much that it starts to harden. Pour over the cheesecake, place in the fridge to set. Best if refrigerated for 4 hours or overnight before serving. I put mine in the freezer, cover to preserve.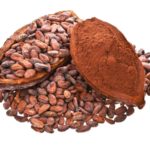 Cooking Class 2.12.2017
Chocolate Info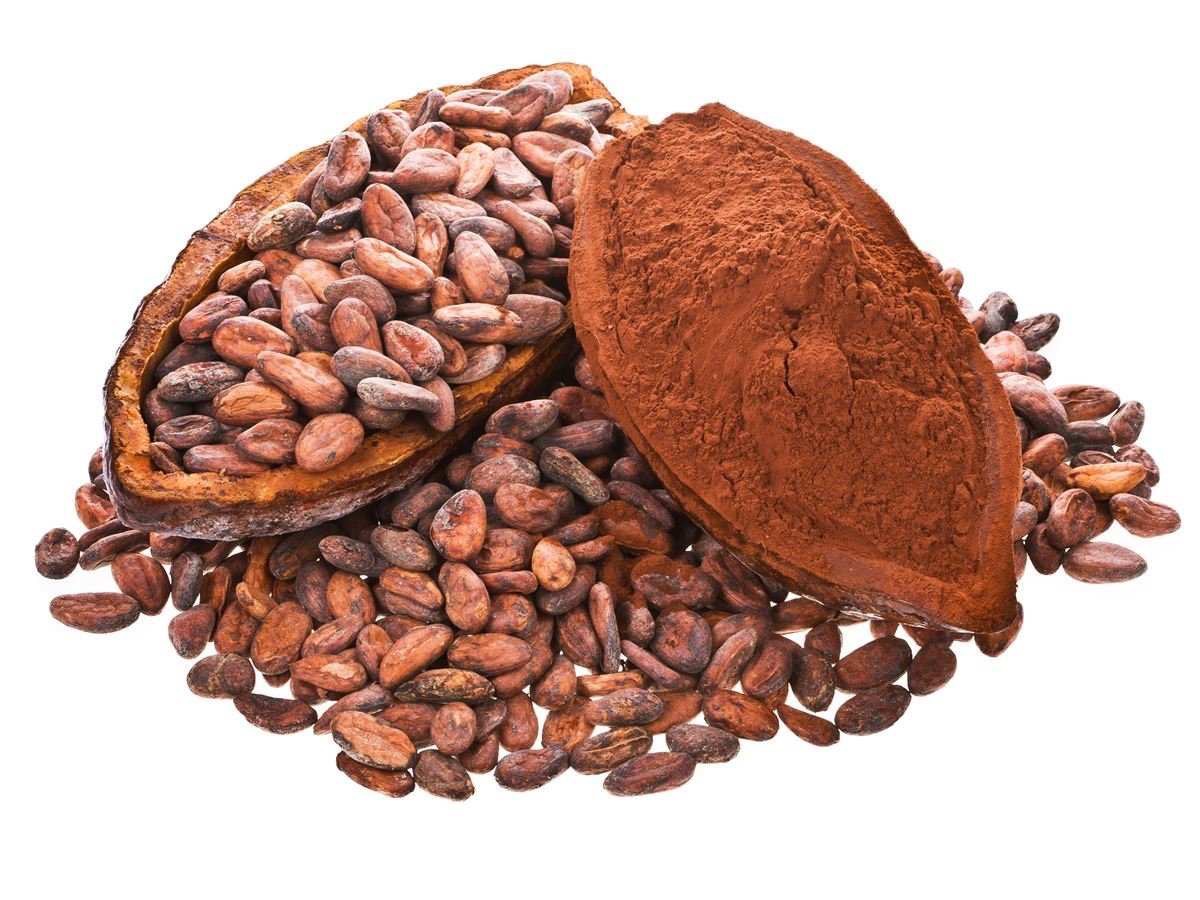 Cacao can fuel energy and mood. It is an excellent source of fiber good source of protein and iron. It is high in antioxidants and polyphenols. A half half a cup of raw organic cocoa powder has 110 cal, 2 g of fat 16 carbohydrates, 10 of which is dietary fiber. It contains 8 g of protein and will give you 10% of the iron you need for your daily requirements. It is considered a stimulant and should be eaten occasionally not every day.
Cocoa beans are the fermented seeds of the cacao tree. The fruit of the cocoa tree is a pod full of sweet pulp enfolding a cluster of about 20-40 cacao seeds. Cocoa refers to the low-fat constituent of the finely ground cacao beans. These ground beans, known as cocoa liquor or cocoa mass, also contains cocoa butter which is a non-dairy, naturally occurring fat. Cocoa butter is a mixture of monounsaturated fats like oleic acid and saturated fats, namely stearic acid and palmitic acid. About 50-60% of cocoa liquor consists of cocoa butter.
Cacao bark, butter and flowers have also been valued since ancient times for treating various diseases like skin ailments, bowel malfunction and wounds. Cocoa has anti-inflammatory, anti-allergenic, anti-carcinogenic and antioxidant qualities. Health benefits include relief from high blood pressure, cholesterol, obesity, constipation, diabetes, bronchial asthma, cancer, Chronic fatigue syndrome and various neurodegenerative diseases. It helps to improve cardiovascular health and brain health. It also helps in treating copper deficiency.
Commercially available chocolates and cocoa-products may not be rich in the original beneficial flavonols since their properties get destroyed by over-processing and heat. In order to obtain the benefits of cocoa, it is important to consume the correct source of cocoa. Milk/dairy blocks the absorption of the antioxidants in chocolate, so be sure to check the labels!
Antioxidant Capacity: Studies have shown it is evident that cocoa exhibits higher antioxidant activity than against green and black tea, and red wine. Antioxidants helps to neutralize the oxygen-based free radicals that are present in the body. Cacao is abundant in phenolic phytochemicals and possesses a high amount of flavonoids as well.
Of course, everything in moderation!
Jodi's Sweet Potato Brownies
Grain Free, Paleo, GF, Dairy free
Happily serves 12
ALL ORGANIC INGREDIENTS
2 medium Sweet Potatoes
14 Medjool Dates
1 1/2 Cups Quinoa or Almond Flour
4 TBSP Raw CACAO Powder
3 TBSP maple Syrup (Grade B) or Coconut netar
Pinch of sea salt
Peel Sweet Potatoes. Slice/cut and steam for about 20 mins until soft.
The smaller the pieces, the faster it will cook.
Add Sweet Potatoes and Dates to food processor, blend until a creamy smooth texture.
Mix all other ingredients in a bowl, then add cream mixture. Stir well.
Place on Parchment paper lined baking dish and bake for 20-30 mins on 350 until the toothpick comes out dry.
Allow to cool 10 mins for the brownies to gel together, very important step!!
Tip: If you don't use raw cacao powder, you cause conventional cocoa powder but you will need to double the quantity.
Chocolate Nut Butter Cookies
GF, Refined Sugar Free
Happily serves 12
ALL ORGANIC INGREDIENTS
1 Cup Chocolate Peanut or Sunflower butter
3/4 Cup Coconut sugar
1 egg
Combine all ingredients. Bake on 350 for 7-8 mins.
If you are not using an already flavored nut butter, you can use a regular nut butter and ad 1/4 cup raw cacao
Chocolate Iced Coffee Protein Shake
Dairy Free, Vegan, Refined Sugar Free
Happily serves 1
ALL ORGANIC INGREDIENTS
2 TBSP Raw Cacao powder
2 TBSP Collagen Powder
2 oz Coconut milk
2 oz Cold brew (optional)
4-6 oz Chai Tea or water
Dash of cinnamon
Stevia Powder if desired sweeter
Ice
Blend all ingredients in bullet/blender, transfer to shaker bottle.
Sunflower Seed or Tahini Dressing/Sauce
Vegan, GF
Happy serves 4
All Organic Ingredients
1/4 cup (4TBSP) sunflower seed butter or Tahini
2 Tbsp Coconut Aminos
1 tsp maple syrup extract
1-2 TBSP Lime juice
1/2 tsp chili garlic sauce, 1 thai red chili minced, or 1/4 tsp red pepper flake
Hot water to thin
Prepare dipping sauce by adding sunflower seed butter, coconut aminos, maple extract, lime juice, and chili garlic sauce to a small mixing bowl and whisking to combine. Add enough warm water to thin into a thick but pourable dressing.
Adjust portions based on personal preferences for spice, sweetness or acidity.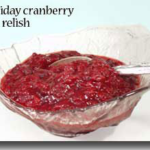 Cranberry Relish
Vegan, GF (gluten free), Refined sugar free
Happily serves 4
All Organic Ingredients
1 16 oz package fresh cranberries
1 pear, diced
1 apple, diced
1/4 cup honey (or maple syrup) or 1/4 tsp stevia 
1 tsp grated ginger
1 TBSP balsamic vinegar
Blend cranberries in a blender or food processor.
In a bowl, combine blended cranberries and rest of ingredients.
Cranberry Relish Nutrition facts:
1 serving (219 g)
Calories: 164
adapted from http://whfoods.org/genpage.php?tname=recipe&dbid=324