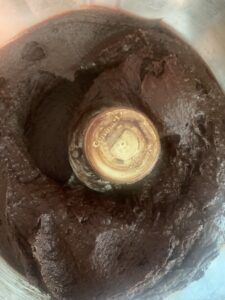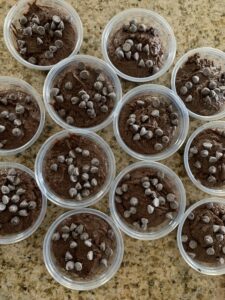 Vegan, Gluten Free
Happily Serves 15 (2oz individual serving size)
ALL ORGANIC INGREDIENTS
3 TBSP Ground Chia Seed + 6 TBSP Water (this equals 2 eggs)
2 Cups Black beans (If you are going to use canned, rinse and drain well)
3/4 Cup Cacao Powder
1/4 tsp Himalayan Sea salt
1/2 Cup Coconut Sugar or Monk Fruit
1 tsp Vanilla Extract
1 1/2 tsp Baking powder
3 TBSP Coconut Oil
Optional:
1/4 Cup Dairy-free chocolate chips
Preheat oven to 350 degrees.
Lightly grease a mini muffin pan, or an 8×8 Bar pan.
Make Chia seed egg by combining ground chia seed and water in the food processor. You can make this in a separate small if you don't have a food processor. Pulse a few times and then let sit for a 2-3 minutes.
Add remaining ingredients (except chocolate chips) and puree about 3 minutes. Scrape down sides to blend until smooth.
If the batter seems too thick, you can add a 1-2 TBSP of water, pulse again. It should not be runny, it should be slightly less thick than chocolate frosting.
Evenly fill the mini muffin tin and tap pan to remove air bubbles.
Optional: Sprinkle with chocolate chips.
Bake for 20-25 minutes or until the tops are dry and the edges start to pull away from the sides.
Remove from oven and let cool for 30 minutes before removing from pan. Remove gently because the insides are meant to be fudgy.
Optional to have this be a NO BAKE BROWNIE. Since there is no raw ingredients, you can individually separate portions and eat the batter plain or cook when you are ready for a hot brownie!