Aduki or Black Bean Brownies
Gluten Free, Dairy Free
Happily serves 24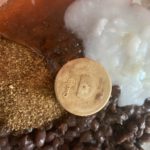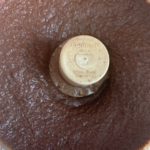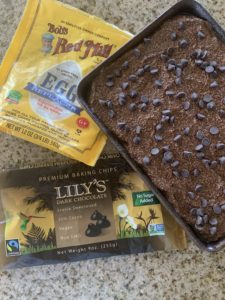 ALL ORGANIC INGREDIENTS
1 1/2 Cups Aduki or Black beans
1/4 Cup Raw Cacao Powder
1/4 Coconut Sugar or Monk Fruit
1/4 Cup Raw Honey
1/3 Cup Coconut Oil
2 Eggs or Egg replaces
1/4 tsp Himalayan Sea Salt
1/2 tsp baking powder
1 tsp Vanilla Extract
Optional:
1/2 Cup Dairy Free Chocolate chips
Preheat Oven to 350.
Grease 8×8 pan. I use coconut oil or avocado oil spray.
Cook beans (I do it in a crock pot for 8-10 hours on low. You can also use an insta pot) or if you are using from a can, rinse and drain well.
Mix beans, coconut sugar, honey and room temp coconut oil in the food processor.
Add Cacao, sea salt, baking powder and vanilla, blend well.
Add eggs or egg replacer and blend well.
Stir in chocolate chips by hand.
Spread in your greased pan (I like my stoneware) and top with extra chips if you want.
Bake 25-30 Minutes.
Let cool. These taste great chilled as well!