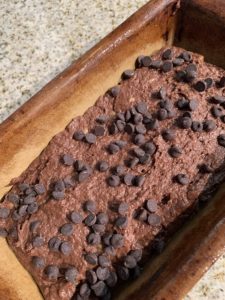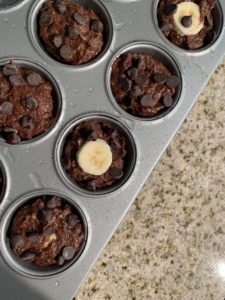 Vegan, Gluten Free
Happily serves 10
ALL ORGANIC INGREDIENTS
4 Ripe Bananas
3/4 Cup Coconut Brown sugar
1/4 cup Monk Fruit
1/2 Cup Coconut oil (room temp)
1 TBSP Apple cider vinegar
1/4 cup Applesauce
2 tsp Vanilla extract
1/4 Cup Almond milk
1 1/2 Cups Gluten Free flour
1/2 Cup Cacao powder
1 tsp Baking powder
1 tsp Baking soda
1/4 tsp Sea alt
1/2 Cup Vegan Chocolate Chips
Preheat oven to 375 degrees. 
Grease bread pan with spray coconut or avocado oil.
Peel bananas and mash well with a fork.  No large chunks should remain.
Add in the sugars, melted coconut oil, apple cider vinegar, applesauce, and vanilla, and nut milk. Whisk together.
Mix the flour, baking powder, baking soda, cocoa powder, and sea salt.
Fold until most the flour has been incorporated. 
Fold in chocolate chips or save and top w/chocolate chips.
Pour into greased bread pan, tap gently to ensure it's evenly leveled. 
Bake for 45-55 minutes. A toothpick should come out clean.
Remove and let cool for 15 minutes in pan.
Carefully remove and completely cool on a cooling rack.