Dairy Free, Gluten Free, Keto Friendly
Happily Serves 9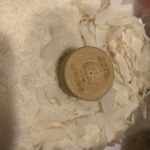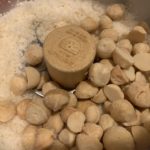 2 Cups Macadamia Nuts
ALL ORGANIC INGREDIENTS
1 Cups Shredded Unsweetened Coconut chips
3 TBSP Maple syrup
1 tsp Himalayan Sea salt
1/2 tsp Vanilla/chocolate extract
2TBSP Gelatin

Place Macadamia nuts in the food processor, blend.
Add coconut flakes, blend until the coconut starts clumping together.
Add maple syrup, salt, and vanilla and mix for 20 seconds.
Add gelatin and pulse several times to combine until a sticky dough has formed.
Scoop into a mini muffin tin for portion control.