tsp
now browsing by tag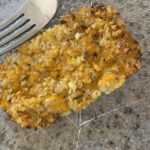 C
Dairy Free, Gluten Free
Happily Serves 4
ALL ORGANIC INGREDIENTS
1 Head of Cauliflower or 2 Cups Cauliflower Rike
1 Egg or egg replacer
¾ Cup Shredded Cheddar Cheese (I used So Delicious Brand)
¼ tsp Garlic Powder
½ tsp Salt
1/8 tsp Sage
Optional:
1/8 tsp White Pepper
If you are using an egg replacer:
Mix 1 TBSP Gelatin, ground chia or flax seed with 3 TBSP water and let sit about 2-3 minutes to "gel".
Grate Cauliflower or use Cauliflower rice.
Steam for 5-7 minutes or place in Airfryer for about 5 minutes.
Place in Paper Towel or Cheesecloth to Remove Excess Water
Add all Ingredients in bowl, mix well.
Spray coconut or avocado oil on a backing sheet or square bar pan.
Form into rectangle shape and place on baking sheet of choice.
Bake on 400° for about 15 minutes.
For extra crispy add to air fryer for up to 5 more minutes, or keep in oven and turn on broiler for 5 minutes.
Collagen Vanilla Beetroot Power Shake
Vegan, Dairy Free, GF, Paleo

Happily serves 1
ALL ORGANIC INGREDIENTS
1 beet, peeled, chopped, steamed
1 cup FROZEN Blueberries or raspberries
2 cups steamed and drained spinach
1-2 TBSP lemon juice and zest
1 scoop Collagen powder
1 tsp wheatgrass powder, spirulina, or chlorella
1 tsp vanilla extract
1/2 tsp Cinnamon
1/2 cup Coconut water
Optional: Stevia
Add all Ingredients to Blender and blend til smooth.
Coconut flour cacao pancakes
GF, Dairy free
Happily serves 12 pancakes
ALL ORGANIC INGREDIENTS
1⁄3 Cup Coconut flour
5 eggs
½ Nut milk of choice
¼ Cup full fat coconut milk
¼ Cup coconut sugar or stevia
3 TBSP Raw Cacao powder
¾ tsp vanilla extract
Dash of Sea salt
Coconut oil spray for each pancake
In a deep bowl, whisk all ingredients except ghee/coconut ghee/coconut oil, until well combined. Batter should be very thick but pourable. Not watery.
Let batter sit for 5 minutes to let the coconut flour absorb the liquid, stirring once more at the end.
Pour about 1⁄3 cup of batter into a frying pan pre-heated with coconut oil. 
If necessary, tilt pan and shake lightly for even distribution of batter. (Batter does not necessarily need to spread throughout the pan).
Fry for a couple of minutes, occasionally covering with a lid, till liquid has almost firmed up
Tip: Covering the pan with a lid occasionally will help keep moisture and enhance even cooking.
Flip with a spatula, and fry the other side for a couple more minutes, then remove from pan.
Repeat for rest of batter, greasing pan between batches as needed, and occasionally stirring the batter left in your bowl for even consistency.
Honey Hemp Vinaigrette
Paleo, GF, Dairy Free
Happily serves 4
ALL ORGANIC INGREDIENTS
1/2 Cup Hemp Seed oil
2 TBSP Coconut Vinegar
2 TBSP Raw Honey
2 garlic cloves, crushed
1/2 Cup Lime juice
2/3 Cup cilantro, chopped
1 tsp Sea Salt
Mix all ingredients together, shake well.  Serve as a dressing or over seafood dish.
Golden Milk
Dairy Free, Soy free, Gluten Free, 
Happily serves 1
ALL ORGANIC INGREDIENTS
1 Cup Almond or non dairy nut milk
1 TBSP Coconut oil
1 tsp Turmeric
1/4 tsp ground ginger
1/2 tsp ground cinnamon
1/8 tsp white pepper (or black)
Optional: scoop of Collagen
Mix all ingredients together, whisk, or nutria bullet or shaker bottle. You can drink warm or cold. Great for inflammation, muscle, and immune support if you add the collagen.
Cucumber Dill Hummus
Vegan, GF
Happily serves 4
ALL ORGANIC INGREDIENTS
2 cups Garbanzo Beans or butter beans, rinsed and drained
2 springs fresh Dill (washed, stems removed) or 1 TBSP dried dill
1 Cucumber (washed, skin on, roughly chopped)
½ tsp Sea Salt
2 TBSP Lemon or Lime Juice
1 TBSP Hemp Seed Oil
2 TBSP Tahini
1 Garlic Clove
Put all ingredients in a food processor or blender and pulse/blend until smooth
Pumpkin Seed Dip 
Vegan, GF, Paleo
Happily serves 6-8
ALL ORGANIC INGREDIENTS
5 ounces Raw pumpkin seeds
2 TBSP Avocado oil
1/2 cup finely chopped shallots
1 large jalapeno, finely chopped
3 garlic cloves, chopped (let sit 5 min)
1/4 Cup Parsley
1/4 Cup Cilantro
Juice of a lime
1 TBSP Extra-virgin Olive oil or Avocado oil
1/4 tsp finely grated orange zest
2 TBSP Maple syrup or 1/4 tsp maple extract and stevia
Blend seeds in a food processor.
Cook shallots & garlic in the avocado oil.
*Add Sea salt and pepper, let cool.*
Add parsley, cilantro, lime juice, maple syrup, orange zest (and water if needed)
Add shallot mix when cooled, mix thoroughly
Sea salt to taste.
Variation: Can also be used a spread in a lettuce wrap.
Chipotle Sauce/Dressing
GF, Refined Sugar Free, Vegan
Happily serves 2
ALL ORGANIC INGREDIENTS
1 TBSP Tahini (can sub Sunflower butter)
1 TBSP Hemp Seed oil
2 Garlic cloves, crushed
1 TBSP Coconut Aminos
1 tsp chili powder
½ tsp Chipotle powder
½ tsp Cayenne
¼ tsp Sea salt
Mix all ingredients together. Can be used as a salad dressing or over stir fry and quinoa.  Great Sauce for lettuce wraps!
OR:
Optional: ADD 1TBSP Nutritional Yeast if you want to toss it on Collard Greens and bake.
Indian Inspired Baked Kale
Gluten Free, Vegetarian
Happily serves 2
ALL ORGANIC INGREDIENTS
1 TBSP Tahini or Almond butter
1 TBSP Coconut oil, melted
Zest of 1 Orange or Lime
2 garlic cloves, crushed
1 tsp garma masala
¼ tsp Cardamom
Optional: 1 TBSP Nutritional yeast
Optional: 1 TBSP Coconut Aminos to thin if you aren't baking kale and just want a salad dressing.
Preheat oven at 275 degrees.
Prepare baking stone with parchment paper.
Mix all the ingredients together until smooth.
In a large bowl, pour the dressing over the chopped kale.
Mix the dressing into the kale thoroughly, spread evenly on baking stone.
Make sure the leaves aren't overlapping, this prevents sogginess.
Bake for 15 minutes and rotate pan.
Bake for another 15 minutes, check for crispness.
If the chips aren't crisp yet, rotate again and bake for 5-10 minutes more.
Allow the chips to cool for about 5 minutes before serving.


Urinary tract Info

:
Commonly also call bladder infections. There is a disturbance in the bacterial flora that protects the urinary track and anabiotic's lead to reoccurring infections.
Doubling probiotics such as L. Acidophilus is highly recommended. At least 20 billion CFU's. 50-100Billion CFU's would be more beneficial and HIGHLY recommended.
Acidity levels are too high in the body when the pH is disrupted there is fermentation of vaginal glycogen to lactic acid. Alkalinity is Key, must add more Green into the diet. ORGANIC EATING is SO Very IMPORTANT!!!
Eliminating of dairy, yeast, and soy products are recommended to rebalance pH. Limiting grains, sugar, caffeine, and alcohol, and refined carbohydrates.
At least 64 oz water a day. Decaffeinated tea counts as water. Eliminate food allergens. Allergy Blood work is your best Road map to gut and immune support and healing.  Blood Tests are available and easy!
Recommended foods:
Use healthy cooking oil such as olive oil (don't heat olive oil) or coconut oil.
Eat Less red meats and more lean meats such as fish, but no soy.
High fiber foods include beans root vegetables such as yams or sweet potatoes and psyllium husk.
Antioxidant rich foods including vegetables like bell peppers and squash.
**Fruit in the morning including cranberries, blueberries,and cherries. If you're going to drink juice make sure that it is unsweetened. Please eat your fruit, better for you unless you are juicing. Best for digestion if fruit is first thing in the morning and by itself or for your first snack, eaten alone.**
Recommended Vitamins:
Probiotics and digestive enzymes ALWAYS!! Double if taking antibiotics!
Multi Vitamin
Vit D: 2000-4000 IU
Fish oils 1000mg and or Flax seed, 3x a day. Could go up to 6000mg
Super Greens
Amino Acids
Vit C: 1000mg a day
Grape seed oil 100-300mg
Magnesium 200-300mg 3x a day
Zinc: 30mg a day
Recommended Botanicals:
Cranberry
Aloe Vera: up to 32oz per day
Gotu Kola is great extract tea to help balance pH. 60-120mg
Uva Ursi ( upland cranberry or bearberry) is a powerful antiseptic herb.
Dried leaves or tea: 1.5-4.0 (1-2 tsp)
Goldenseal herb has antimicrobial agents. Dried root or tea: 1-2g
Other herbs that are recommended: green tea, cats claw, milk thistle, and reishi mushroom.