Purple Sweet Potato Brownies

Grain Free, Paleo, Gluten Free, Dairy free
Happily serves 12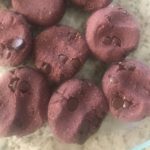 ALL ORGANIC INGREDIENTS
2 Purple Sweet Potatoes
14 Medjool Dates
1 1/2 Paleo Nut Flour
4 TBSP Raw CACAO Powder
3 TBSP Maple Butter
1/4 tsp Himalayan sea salt
Soak Date about 1-4 hours. Remove seeds.
Peel Sweet Potatoes. Slice/cut and steam for about 15 mins or until soft.
The smaller the pieces, the faster it will cook, the less nutrients you'll lose.
Add Sweet Potatoes and Dates to food processor, blend until a creamy smooth texture.
Mix all other ingredients in a bowl, then add cream mixture. Stir well.
Bake for 20-30 mins on 350 until the toothpick comes out dry.
Allow to cool 10 mins for the brownies to gel together.