cup coconut
now browsing by tag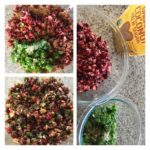 Fresh Cranberry Salsa
Vegan, Gluten Free, Refined Sugar free
Happily serves 24
ALL ORGANIC INGREDIENTS 
12 oz package fresh Cranberries
1/4 Cup Green onion
1/4 Cup Cilantro
1 Jalapeño pepper
1/2 Cup Coconut Sugar 
1/4 tsp Cumin
2 TBSP Lemon or Lime juice
Himalayan Sea salt to taste
Chop the cranberries in the food processor and the rest by hand.
Put everything in the bowl and then stir.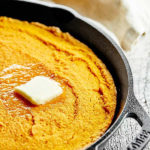 PUMPKIN CORNBREAD
Vegan, GF, Dairy Free
Happily Serves 8
ALL ORGANIC INGREDIENTS
¾ cup almond or coconut milk, room temperature
¼ cup Coconut vinegar
1 cup cornmeal
1 cup GF All purpose flour (can sub quinoa flour)
½ teaspoon Himalayan Sea salt
½ teaspoon cinnamon
½ teaspoon baking soda
½ cup softened coconut oil
⅓ cup brown sugar, packed (can sub coconut sugar)
1 can pumpkin puree or 2 cups fresh pumpkin
Preheat oven to 375 degrees F and prepare a 9 in cast iron skillet (or square pan) with cooking spray.
Stir together nut milk and vinegar. Let sit for 10 minutes while you prep the rest of the ingredients.
Whisk together your dry ingredients: cornmeal, whole wheat pastry flour, salt, cinnamon, and baking soda and set aside.
Whisk together coconut oil and granulated sugar until well combined.
Whisk in pumpkin puree.
Stir in almond milk/vinegar mixture.
Now stir in your dry ingredients.
Mix until just combined.
Don't over mix, or you'll end up with tough bread!
Bake for about 25-35 minutes, or until an inserted toothpick comes out clean.
Remove from the oven, let cool slightly and then serve immediately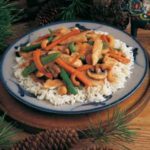 Amino Turkey Veggie Stir Fry
Happily serves 4
Gluten Free
All Organic ingredients:
2 tsp avocado oil
1 lb ground turkey (can sub Bison)
1 cup broccoli 
1 cup red and or green cabbage
1 medium yellow onion
3 cloves garlic
1 tsp ground ginger or ginger powder
¼ cup coconut aminos
Salt and black pepper to taste
2-3 green onion stalks, finely chopped
Optional: ¼ tsp red pepper flakes 
Brown the meat in cast iron pan.  Cover and remove from heat while preparing the veggie mix.
On medium to high heat saute chopped yellow onion (not the green onions) and avocado oil for 3 mins.
In a small bowl, mix together the garlic, ginger and aminos and add to pan, and then immediately add veggies.
Cook for a 3-5 minutes, stirring often
Add chopped green onions and meat, combine well.
Salt and black pepper to taste
Cilantro Lime Vinaigrette
Refined Sugar Free, GF
Happily serves 16
All Organic Ingredients:
1/4 Cup Lime juice
1/2 cup chopped cilantro
1/4 Cup Coconut vinegar
5 crushed garlic cloves
1/2 tsp Sea Salt
2 TBSP Coconut sugar (I use less and usually use stevia)
1 Cup Avocado Oil
Mix or blend well.  Shake before use.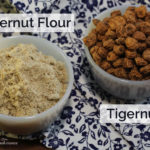 Tigernut Flour Pancakes
GF, Refined Sugar free
Happily serves 4-6
ALL ORGANIC INGREDIENTS 
4 organic cage free eggs
½ cup tigernut flour
¼ cup coconut flour
½ cup dairy free milk (coconut milk)
½ tsp cinnamon
½ tsp raw apple cider vinegar
¼ tsp baking soda
Properly measuring the flours is key to the recipe. Stir the tigernut flour with a fork to "loosen" it, then dip in the measuring cup and level the top with a knife. Measure the coconut flour the same way. Combine the flours and eggs to create a smooth batter. Mixing these ingredients first allows you to smooth out the clumps of tigernut flour. Add remaining ingredients, stir until combined.  Cook pancakes as usual
You can store leftover pancakes in an airtight container in the fridge for a few days. The leftover pancakes actually make a delicious "bread" for grain free sandwiches!
Broccoli Sweet Potato Poppy Seed Salad
Gluten Free
Happily Serves 8
ALL ORGANIC INGREDIENTS
4 cups fresh quick steamed broccoli, chopped into bite-size pieces
1 cup sweet potato or yam
¼ cup finely chopped red onion
¼ cup sunflower seeds or pumpkin seeds
1 tablespoon lemon juice
Dressing
1 cup Coconut kefir or small avocado, smashed
¼ cup raw organic honey
1 tablespoon lemon juice
2 teaspoons coconut vinegar
1 tablespoon water
1 tablespoon poppy seeds
Combine broccoli, sweet potato, red onion, and sunflower/pumpkin seeds.
In a small bowl, whisk together all dressing ingredients.
Pour dressing over the salad and gently combine.
Salad may be served immediately or refrigerated until serving.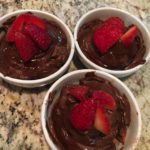 Cacao Avocado Mousse
Gluten Free, Vegan
Happily serves 4
ALL ORGANIC INGREDIENTS
3 Avocados
1/3 Cup Coconut nectar
1/2 Cup Raw cacao
1 tsp ground cinnamon
dash of allspice (optional)
2 vanilla beans, split and seeded
1/4 tsp Himalayan sea salt
Stevia drops if desired sweeter
Mash all ingredients together and enjoy!
Optional to add nut milk to thin out consistency.
Fresh mint leaf for garnish or chopped for added flavor
The Cacao is antioxidant rich, high in flavonoids, which are essential to a healthy cardiovascular system.  Cacao provides a natural form of iron for a natural energy boost.
The avocado provides heart healthy monounsaturated fats as well as a good amount of vitamin B5 and Vitamin K.  Avocados are known for promoting heart health, regulating blood sugar and are believed to potentially offer anti-cancer benefits, specifically when it comes to cancer of the mouth, skin and prostate gland. Avocados are very alkalizing to the body.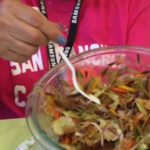 Spaghetti Squash Chow Mein
GF, Vegan, Paleo
Happily Serves 6-8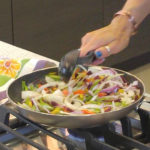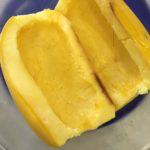 ALL ORGANIC INGREDIENTS
1 Spaghetti squash
1/4 cup Coconut Aminos
3 Garlic cloves, minced
1 TBSP Coconut sugar
2 tsp freshly grated ginger
1/4 tsp white or black pepper
2 TBSP Avocado oil
1 Diced yellow onion
3 Celery stalks
2 Cups cole slaw mix (shredded cabbage, broccoli, and or carrots)
Cut spaghetti squash in half length wise and carefully scoop out seeds. Lay skin side up in a glass dish, place 1/2 inch of water in the bottom of the pan.
Bake at 400 degrees for 30-40 minutes, until flesh is very tender. Shred flesh with a fork so it breaks apart into strings, set aside.
In a small bowl, whisk together Coconut aminos, garlic, coconut sugar, ginger, and pepper.
Heat avocado oil in a large cast iron skillet over medium high heat.
Add onion, celery, stirring often, steam for no more than 3 mins.
Stir in cabbage until heated.  This should take no more than 7 mins total.
Stir in spaghetti squash and "soy" sauce mixture until well combined.