Spaghetti Squash Chow Mein
GF, Vegan, Paleo
Happily Serves 6-8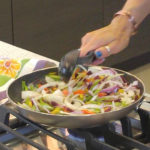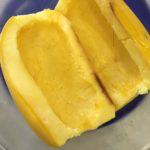 ALL ORGANIC INGREDIENTS
1 Spaghetti squash
1/4 cup Coconut Aminos
3 Garlic cloves, minced
1 TBSP Coconut sugar
2 tsp freshly grated ginger
1/4 tsp white or black pepper
2 TBSP Avocado oil
1 Diced yellow onion
3 Celery stalks
2 Cups cole slaw mix (shredded cabbage, broccoli, and or carrots)
Cut spaghetti squash in half length wise and carefully scoop out seeds. Lay skin side up in a glass dish, place 1/2 inch of water in the bottom of the pan.
Bake at 400 degrees for 30-40 minutes, until flesh is very tender. Shred flesh with a fork so it breaks apart into strings, set aside.
In a small bowl, whisk together Coconut aminos, garlic, coconut sugar, ginger, and pepper.
Heat avocado oil in a large cast iron skillet over medium high heat.
Add onion, celery, stirring often, steam for no more than 3 mins.
Stir in cabbage until heated.  This should take no more than 7 mins total.
Stir in spaghetti squash and "soy" sauce mixture until well combined.