cup coconut
now browsing by tag
Collagen Vanilla Beetroot Power Shake
Vegan, Dairy Free, GF, Paleo

Happily serves 1
ALL ORGANIC INGREDIENTS
1 beet, peeled, chopped, steamed
1 cup FROZEN Blueberries or raspberries
2 cups steamed and drained spinach
1-2 TBSP lemon juice and zest
1 scoop Collagen powder
1 tsp wheatgrass powder, spirulina, or chlorella
1 tsp vanilla extract
1/2 tsp Cinnamon
1/2 cup Coconut water
Optional: Stevia
Add all Ingredients to Blender and blend til smooth.
Coconut flour cacao pancakes
GF, Dairy free
Happily serves 12 pancakes
ALL ORGANIC INGREDIENTS
1⁄3 Cup Coconut flour
5 eggs
½ Nut milk of choice
¼ Cup full fat coconut milk
¼ Cup coconut sugar or stevia
3 TBSP Raw Cacao powder
¾ tsp vanilla extract
Dash of Sea salt
Coconut oil spray for each pancake
In a deep bowl, whisk all ingredients except ghee/coconut ghee/coconut oil, until well combined. Batter should be very thick but pourable. Not watery.
Let batter sit for 5 minutes to let the coconut flour absorb the liquid, stirring once more at the end.
Pour about 1⁄3 cup of batter into a frying pan pre-heated with coconut oil. 
If necessary, tilt pan and shake lightly for even distribution of batter. (Batter does not necessarily need to spread throughout the pan).
Fry for a couple of minutes, occasionally covering with a lid, till liquid has almost firmed up
Tip: Covering the pan with a lid occasionally will help keep moisture and enhance even cooking.
Flip with a spatula, and fry the other side for a couple more minutes, then remove from pan.
Repeat for rest of batter, greasing pan between batches as needed, and occasionally stirring the batter left in your bowl for even consistency.
Coconut Oil Biscuits
Dairy Free, GF, Vegan
Happily serves 12
ALL ORGANIC INGREDIENTS
2 cups self-rising GF flour
1/4 cup coconut oil (solid, not melted)
3/4 cup Non Dairy Milk
Preheat oven to 425 degrees.
Add self-rising GF flour and coconut oil to a mixing bowl, use a pastry cutter or fork to cut the coconut oil into the flour until the mixture is like fine crumbs.
Stir in the milk until mixture forms a soft dough and no longer sticks to the sides of the bowl.
Knead the mixture until combined, but be careful not to over-knead.
Turn the dough out onto a cutting board that has been lightly dusted with flour.
Gently roll the dough out until it reaches a 1/2-inch thickness.
Use a biscuit cutter to cut out the biscuits, and transfer to a baking sheet.
Bake for 10 minutes, or until the biscuits have risen and ever so slightly begin to brown on top.
Remove and serve immediately.
Bone Broth Protein Pancakes
Paleo, Gluten Free, Dairy free
Happily serves 2-4
ALL ORGANIC INGREDIENTS
1/2 Cup Applesauce
3–4 Free Range eggs
1/4 Cup melted Coconut oil
1/2 Cup Coconut flour
4 scoops Bone Broth Protein Powder
1/8 tsp cinnamon
1/8 tsp Himalayan sea salt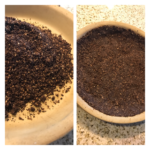 Triple Raw Chocolate Cheesecake
Vegan, GF, Refined sugar free
Happily serves 8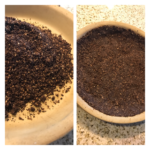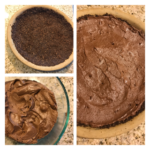 ALL ORGANIC INGREDIENTS
CRUST
1 cup pecans, ground (or mixture of pecans and walnuts)
3 medjool dates, soaked
1 tbsp maple syrup or coconut nectar
1/2 cup raw cacao powder
FILLING
8oz Vegan cream cheese
1/2 cup raw cocoa butter, melted
1/2 cup maple syrup or coconut nectar
1/2 cup water
1/2 cup raw cacao powder
2 tsp vanilla extract
CHOCOLATE GANACHE TOPPING
1/4 cup coconut oil, melted
1/4 cup raw cocoa butter melted
3 tbsp maple syrup or coconut palm syrup or coconut nectar
5 tsp raw cacao powder
1 tsp vanilla extract
Mix all the crust ingredients together in a food processor until crumbly and just starting to stick together. Press the mixture into the bottom of an 8 inch dish. Keep in the fridge while you make the filling.
Blend cream cheese with the melted cocoa butter, water and maple syrup until smooth and creamy. Then add in the cacao and vanilla, blend well. Spoon the mixture on to the base and smooth down evenly. Put in the freezer while you make the ganache topping. If you do not have the crust cold it will be hard to spread.
Stir maple syrup, cacao and vanilla into the melted oils until well combined and glossy. Let cool slightly but not so much that it starts to harden. Pour over the cheesecake, place in the fridge to set. Best if refrigerated for 4 hours or overnight before serving. I put mine in the freezer, cover to preserve.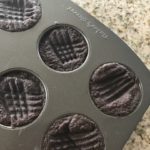 Chocolate Nut Butter Cookies
GF, Refined Sugar Free
Happily serves 12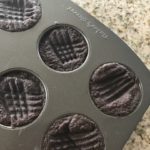 ALL ORGANIC INGREDIENTS
1 Cup Chocolate Peanut or Sunflower butter
3/4 Cup Coconut sugar
1 egg
Combine all ingredients. Bake on 350 for 7-8 mins.
If you are not using an already flavored nut butter, you can use a regular nut butter and ad 1/4 cup raw cacao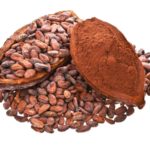 Cooking Class 2.12.2017
Chocolate Info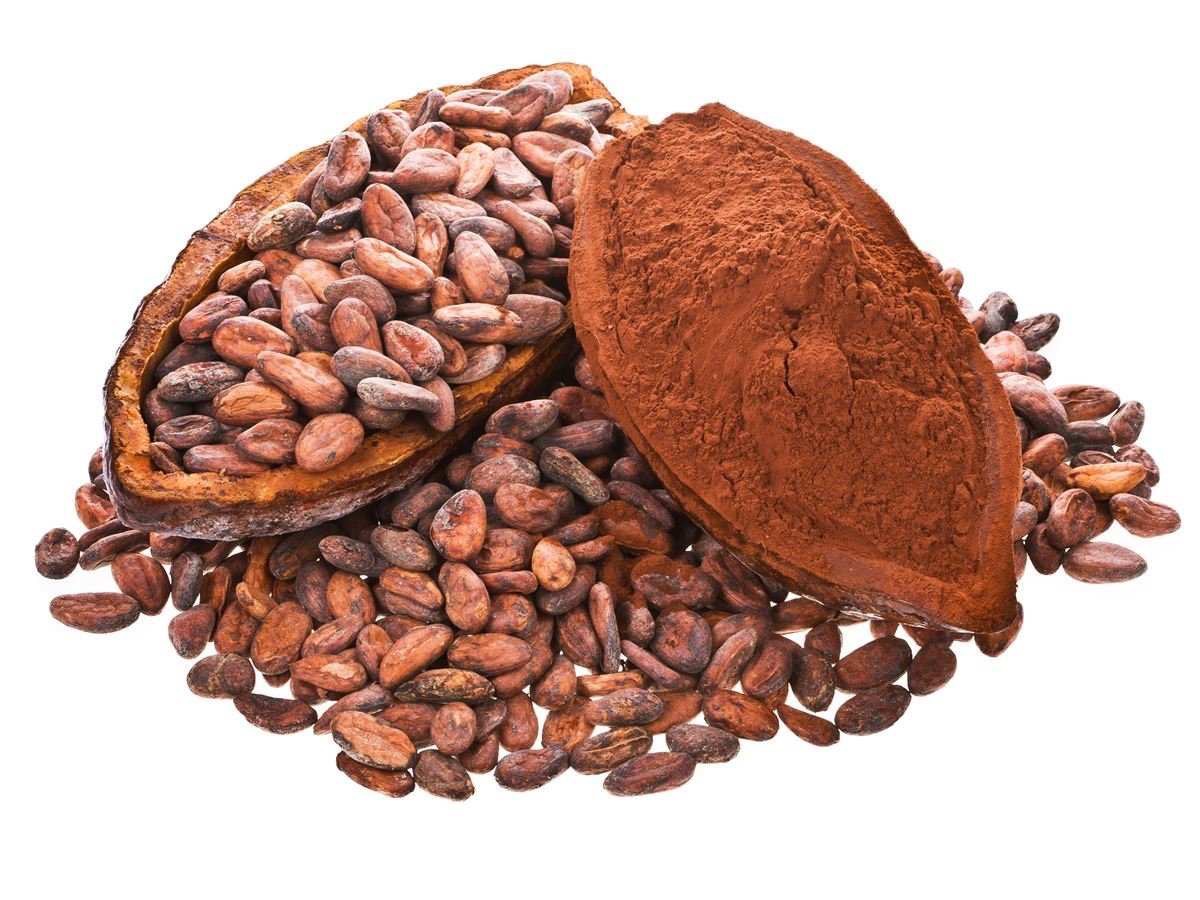 Cacao can fuel energy and mood. It is an excellent source of fiber good source of protein and iron. It is high in antioxidants and polyphenols. A half half a cup of raw organic cocoa powder has 110 cal, 2 g of fat 16 carbohydrates, 10 of which is dietary fiber. It contains 8 g of protein and will give you 10% of the iron you need for your daily requirements. It is considered a stimulant and should be eaten occasionally not every day.
Cocoa beans are the fermented seeds of the cacao tree. The fruit of the cocoa tree is a pod full of sweet pulp enfolding a cluster of about 20-40 cacao seeds. Cocoa refers to the low-fat constituent of the finely ground cacao beans. These ground beans, known as cocoa liquor or cocoa mass, also contains cocoa butter which is a non-dairy, naturally occurring fat. Cocoa butter is a mixture of monounsaturated fats like oleic acid and saturated fats, namely stearic acid and palmitic acid. About 50-60% of cocoa liquor consists of cocoa butter.
Cacao bark, butter and flowers have also been valued since ancient times for treating various diseases like skin ailments, bowel malfunction and wounds. Cocoa has anti-inflammatory, anti-allergenic, anti-carcinogenic and antioxidant qualities. Health benefits include relief from high blood pressure, cholesterol, obesity, constipation, diabetes, bronchial asthma, cancer, Chronic fatigue syndrome and various neurodegenerative diseases. It helps to improve cardiovascular health and brain health. It also helps in treating copper deficiency.
Commercially available chocolates and cocoa-products may not be rich in the original beneficial flavonols since their properties get destroyed by over-processing and heat. In order to obtain the benefits of cocoa, it is important to consume the correct source of cocoa. Milk/dairy blocks the absorption of the antioxidants in chocolate, so be sure to check the labels!
Antioxidant Capacity: Studies have shown it is evident that cocoa exhibits higher antioxidant activity than against green and black tea, and red wine. Antioxidants helps to neutralize the oxygen-based free radicals that are present in the body. Cacao is abundant in phenolic phytochemicals and possesses a high amount of flavonoids as well.
Of course, everything in moderation!
Jodi's Sweet Potato Brownies
Grain Free, Paleo, GF, Dairy free
Happily serves 12
ALL ORGANIC INGREDIENTS
2 medium Sweet Potatoes
14 Medjool Dates
1 1/2 Cups Quinoa or Almond Flour
4 TBSP Raw CACAO Powder
3 TBSP maple Syrup (Grade B) or Coconut netar
Pinch of sea salt
Peel Sweet Potatoes. Slice/cut and steam for about 20 mins until soft.
The smaller the pieces, the faster it will cook.
Add Sweet Potatoes and Dates to food processor, blend until a creamy smooth texture.
Mix all other ingredients in a bowl, then add cream mixture. Stir well.
Place on Parchment paper lined baking dish and bake for 20-30 mins on 350 until the toothpick comes out dry.
Allow to cool 10 mins for the brownies to gel together, very important step!!
Tip: If you don't use raw cacao powder, you cause conventional cocoa powder but you will need to double the quantity.
Chocolate Nut Butter Cookies
GF, Refined Sugar Free
Happily serves 12
ALL ORGANIC INGREDIENTS
1 Cup Chocolate Peanut or Sunflower butter
3/4 Cup Coconut sugar
1 egg
Combine all ingredients. Bake on 350 for 7-8 mins.
If you are not using an already flavored nut butter, you can use a regular nut butter and ad 1/4 cup raw cacao
Chocolate Iced Coffee Protein Shake
Dairy Free, Vegan, Refined Sugar Free
Happily serves 1
ALL ORGANIC INGREDIENTS
2 TBSP Raw Cacao powder
2 TBSP Collagen Powder
2 oz Coconut milk
2 oz Cold brew (optional)
4-6 oz Chai Tea or water
Dash of cinnamon
Stevia Powder if desired sweeter
Ice
Blend all ingredients in bullet/blender, transfer to shaker bottle.
Want to make your own muscle relaxing lotion? Such a simple recipe and easy to make! If you do not wish to take the short time to make it, you can see my dear friend, Colleen Sinclair, owner of the Siphon Draw Apothecary.  She makes wonderfully combined skin care products from all natural organic food sources.  Also as a Holistic Nutritionist, she understands the biochemistry of the body and that's it's not just what we put in our body, it's what's absorbed on and in our bodies and skin. Www.siphondraw.com for more information.
This recipe contains avocado oil, which has naturally occurring magnesium and potassium that help hydrate the skin. Avocados are one of the most mineral-rich superfoods in the world. In addition, magnesium oil is added — it's transdermal so can pass through the skin into the body.
Also, to naturally calm the body, this recipe contains lavender essential oil, which can relax muscles and reduce the effects of stress.
Apply this CALM magnesium body butter recipe today to naturally increase minerals and healing compounds in your body!
Dr. Axe explains it very simply:
Check out this video on YouTube:

Homemade CALM Body Butter Lotion
Total Time: 45 mins to an hour
Serves: 30-90
ALL ORGANIC INGREDIENTS:
1/4 cup Avocado oil
1/4 cup Magnesium oil
1/2 cup Cocoa Butter
30 drops Lavender Essential Oil
Large Glass Jar or Small glass Jar
DIRECTIONS:
In saucepan with water over low heat, place a jar containing the cocoa butter.
Once melted, pour into bowl and let cool in fridge for 30 minutes.
Using a standard mixer blend and whip it.
Once whipped add in magnesium oil, avocado oil and essential oils and mix.
Transfer to glass jar or plastic container and keep in refrigerator for 90 days.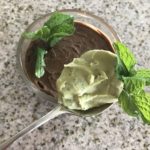 Cacao Mint Avocado Mousse
Vegan, GF, Paleo
Happily Serves 4-8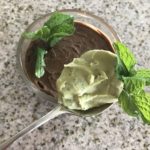 All Organic Ingredients


3 Avocados
1/2 cup coconut Nectar
1 Tsp vanilla extract
1/2 Cup Coconut oil, melted
2/3 cup fresh mint, stems off
1/4 tsp Himalayan Sea Salt
Lime juice to equal 3/4 cup plus zest
Optional: 1/2 cup Raw Cacao and stevia to sweetness desired

Place pitted avocado in food processor, blend well.
Add coconut oil, lime juice, vanilla, sea salt, coconut nectar, and add Mint leaves. Blend well.
Put in the freezer for 30 mints for a frosty treat.

Can change the taste of this by omitting the mint or the cacao to change things up a bit depending on cravings.
Winter Squash Pancakes
Vegan, GF, Refined Sugar free
Happily serves 4
ALL ORGANIC INGREDIENTS
PANCAKES
1 cup Cooked and smashed winter squash
1/3 cup cashew cream or vegan cream cheese
2 large eggs (or flax egg)
1/2 cup coconut yogurt
3/4 teaspoon sea salt
A dash black pepper
1 teaspoon baking powder
1 cup all-purpose GF flour
coconut oil for frying pan
TO FINISH:
Crispy Sage Brown Butter:
2 to 3 tablespoons butter
A pinch or two of salt
A few fresh sage leaves
In a large bowl, whisk squash, yogurt, eggs, cheese, salt, pepper and baking powder until smooth.
Add flour and stir until just combined. Batter will be thick.
Heat skillet medium-low to medium.  Coat the bottom with coconut oil, and spoon in pancake batter,  flatten the pancake slightly.
Cook until golden brown underneath, flip and cook until golden brown.
Lower your heat, if it's cooking too fast. If you're worried pancakes have not cooked in the center, you can finish them for 10 minutes in a 250 degrees oven.
To finish, wipe out frying pan and add butter (or you can use coconut oil), a Dash of salt and sage leaves, heating over medium heat. The sage leaves will crisp and the butter will brown in a minute or two so keep a close watch on it. Pour leaves and butter over pancakes
To roast squash: For butternut or kabocha, roast it face-down on an a baking sheet sprinkled with coarse salt at 375 for 40 to 50 minutes, until tender.