Cacao Mint Avocado Mousse
Vegan, GF, Paleo
Happily Serves 4-8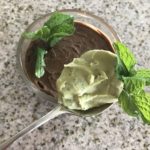 All Organic Ingredients


3 Avocados
1/2 cup coconut Nectar
1 Tsp vanilla extract
1/2 Cup Coconut oil, melted
2/3 cup fresh mint, stems off
1/4 tsp Himalayan Sea Salt
Lime juice to equal 3/4 cup plus zest
Optional: 1/2 cup Raw Cacao and stevia to sweetness desired

Place pitted avocado in food processor, blend well.
Add coconut oil, lime juice, vanilla, sea salt, coconut nectar, and add Mint leaves. Blend well.
Put in the freezer for 30 mints for a frosty treat.

Can change the taste of this by omitting the mint or the cacao to change things up a bit depending on cravings.