teaspoon
now browsing by tag
BiotaGen
Klaire Labs
$22.95 5.3oz powder
Versatile prebiotic formula to optimize gut microflora, improve bowel function 
and support the immune system.
BiotaGen is a distinctive formulation of soluble dietary fiber with prebiotic 
activities that stimulates growth of colonic populations of beneficial bacteria 
and enhances gastrointestinal and systemic immune function in multiple ways. 
BiotaGen combines chicory inulin and oligofructose, highly effective 
prebiotics, with the immunomodulating actions of larch arabinogalactan and 
purified yeast beta-glucan.
Chicory-derived inulin and oligofructose are inulin-type fructans best known 
for their ability to sustain increases in populations of Bifidobacterium, 
Lactobacillus, and Eubacterium, an important butyrate-producing species 
indigenous to the bowel. By escaping digestion and absorption in the small 
intestine, inulin-type fructans arrive largely intact in the colon where they 
selectively feed beneficial gut microbiota. In addition, inulin-type fructans 
promote normal colon transit times, enhance absorption of calcium and 
magnesium, favorably modulate lipid levels, improve gut mucosal barrier and 
immune function, regulate intestinal epithelial cell growth, and reduce the 
number of potentially harmful bacterial species.
Arabinogalactan, a polysaccharide derived from the Western Larch tree, is a 
highly soluble dietary fiber that enhances immune function by promoting 
cytokine production and increasing the number of natural killer cells. 
Indigestible by human enzymes, arabinogalactan exerts prebiotic properties 
including the ability to selectively stimulate Lactobacillus species. 
Arabinogalactan is metabolized to short-chain fatty acids acetate, butyrate, 
and propionate and reduces ammonia production.
Beta-glucan, a glucose polysaccharide prebiotic fiber, has broad, beneficial 
effect on immune function through enhancement of monocytes, macrophages, and 
natural killer cells. Beta-glucan stimulates immune response to a wide spectrum 
of pathogens, including fungal (Candida albicans), Gram-positive 
(Staphylococcus aureus), and Gram-negative (Escherichia coli) microorganisms.
BiotaGen is recommended to nutritionally support optimal gastrointestinal 
function, promote populations of healthful colonic bacteria, and enhance 
gastrointestinal and systemic immune function. BiotaGen® works synergistically 
with probiotics to assure intestinal microflora balance. Available in both 
powder and vegetarian capsule form.
Servings Per Container: 30
1 to 2 scoops daily with food or as directed by a healthcare practitioner..
Serving Size: 1 Scoop (Approx. 1 teaspoon or 5 grams)
Amount Per Serving
Calories … 5g
Total Carbohydrate … 5g
Dietary Fiber … 4g
BiotaGen Prebiotic Blend … 5g
Inulin (derived from chicory root) Oligofructose (derived from chicory root) 
Beta-Glucan (purified from Saccharomyces cerevisiae) Larch Arabinogalactan 
(Larix occidentalis), dried water-soluble extract
Other Ingredients: None.
Winter Squash Pancakes
Vegan, GF, Refined Sugar free
Happily serves 4
ALL ORGANIC INGREDIENTS
PANCAKES
1 cup Cooked and smashed winter squash
1/3 cup cashew cream or vegan cream cheese
2 large eggs (or flax egg)
1/2 cup coconut yogurt
3/4 teaspoon sea salt
A dash black pepper
1 teaspoon baking powder
1 cup all-purpose GF flour
coconut oil for frying pan
TO FINISH:
Crispy Sage Brown Butter:
2 to 3 tablespoons butter
A pinch or two of salt
A few fresh sage leaves
In a large bowl, whisk squash, yogurt, eggs, cheese, salt, pepper and baking powder until smooth.
Add flour and stir until just combined. Batter will be thick.
Heat skillet medium-low to medium.  Coat the bottom with coconut oil, and spoon in pancake batter,  flatten the pancake slightly.
Cook until golden brown underneath, flip and cook until golden brown.
Lower your heat, if it's cooking too fast. If you're worried pancakes have not cooked in the center, you can finish them for 10 minutes in a 250 degrees oven.
To finish, wipe out frying pan and add butter (or you can use coconut oil), a Dash of salt and sage leaves, heating over medium heat. The sage leaves will crisp and the butter will brown in a minute or two so keep a close watch on it. Pour leaves and butter over pancakes
To roast squash: For butternut or kabocha, roast it face-down on an a baking sheet sprinkled with coarse salt at 375 for 40 to 50 minutes, until tender.
Garlic Shrimp Salad
Gluten Free, Dairy Free
Happily serves 4
ALL ORGANIC INGREDIENTS
SALAD
3 c Garlic Cloves
1 lb Cooked Wild caught Shrimp
1 Cup Asparagus
1 Cup Artichoke
3 TBSP Bone broth
1 Red bell pepper
3 TBSP chopped fresh parsley (or 3 tsp dried parsley)
Bam Box Greens and Sprouts
http://Www.bamboxproduce.com
DRESSING
3 TBSP  fresh lemon juice
2 TBSP Extra-virgin Olive oil
1 TBSP Dijon mustard
1 tsp honey or Stevia
Himalayan Seasalt
Cracked black pepper to taste
Press Garlic, Let sit 5-10 mins. Chop bell pepper and asparagus. Cut Artichoke.
Pat shrimp dry
Add bone broth to cast iron skillet and saute asparagus, artichokes, and bell peppers.
Whisk it together lemon juice, EVOO, mustard, honey (or stevia) and garlic.
Toss shrimp with veggies,  dressing and herbs, lay on a bed of MicroGreens.
Best if you let the shrimp marinade at least 15 minutes.

Use the Code JLDFIT for 25% off your first month's membership on BamBoxProduce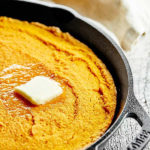 PUMPKIN CORNBREAD
Vegan, GF, Dairy Free
Happily Serves 8
ALL ORGANIC INGREDIENTS
¾ cup almond or coconut milk, room temperature
¼ cup Coconut vinegar
1 cup cornmeal
1 cup GF All purpose flour (can sub quinoa flour)
½ teaspoon Himalayan Sea salt
½ teaspoon cinnamon
½ teaspoon baking soda
½ cup softened coconut oil
⅓ cup brown sugar, packed (can sub coconut sugar)
1 can pumpkin puree or 2 cups fresh pumpkin
Preheat oven to 375 degrees F and prepare a 9 in cast iron skillet (or square pan) with cooking spray.
Stir together nut milk and vinegar. Let sit for 10 minutes while you prep the rest of the ingredients.
Whisk together your dry ingredients: cornmeal, whole wheat pastry flour, salt, cinnamon, and baking soda and set aside.
Whisk together coconut oil and granulated sugar until well combined.
Whisk in pumpkin puree.
Stir in almond milk/vinegar mixture.
Now stir in your dry ingredients.
Mix until just combined.
Don't over mix, or you'll end up with tough bread!
Bake for about 25-35 minutes, or until an inserted toothpick comes out clean.
Remove from the oven, let cool slightly and then serve immediately 
Easiest Pumpkin Soup
Vegan, GF, Dairy free
Happily Serves 4 
ALL ORGANIC INGREDIENTS 
1/2 medium onion, finely chopped 
2 TBSP Avocado oil
1 Large can pure pumpkin or fresh pumpkin
4 Cups bone broth (or vegetable broth if a Vegan)
1/2 cup Coconut Milk or 3/4 cup soaked cashews
2 tsp Pumpkin pie spice
3/4 tsp Sea salt
1 garlic clove
Black pepper
Optional: Add Curry powder and Coconut milk to desired texture
Heat Avocado oil over medium-high heat. 
Add the onion and cook, stirring, 3 minutes
Cream cashews in food processor.
Stir in the pure pumpkin, bone (or chicken) broth, milk or cashews, pumpkin pie spice, and sea salt.  
Cook, stir occasionally for 3 minutes or until soup simmers.
Soup can be stored in the refrigerator for up to 3 days.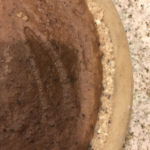 Raw Pumpkin Pie Recipe
Happily serves 8
Raw ,Vegan, Paleo, GF (Gluten Free
All organic ingredients
Crust
1 cup soaked dates 
1 cup pecans 
I cup walnuts (can use sub cashews or almonds) 
Optional: 1/4 cup figs 
1/8 teaspoon of Himalayan salt
To make the crust:
Add the nuts to the food processor and blend until they are like a rough flower then add the dates and salt.  Pulse together until it becomes a lumpy ball and then press into the bottom of a pie dish and refrigerate. 
Filling
1 baking pumpkin (about4-6cups) 
1 cup dates
4 TBSP softened coconut oil or coconut cream 
1/3 cup maple syrup (can sub coconut nectar)
1-4 TBSP Pumpkin pie spice (cinnamon, nutmeg, ginger and cloves)
To make the filling
Add pumpkin to the food processor until smooth. Add the other ingredients and process until smooth.  At this point you can transfer the filling to a high-powered blender and blend on the highest setting until It is smooth like the cooked version of pumpkin pie, or if you have a high-powered food processor you may blend it until smooth. Transfer the filling to your piecrust and let refrigerate for a few hours. 
You can used canned pumpkin, but fresh pumpkin is so much better tasting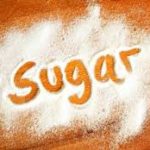 How Much Sugar is Too Much?
Calculating Refined Sugar Intake In Teaspoons 
A healthy adult human being has approximately 5 liters of blood circulating at any given moment.
 In that 5 Liters of Blood a grand total of 1 teaspoon of sugar is available during a fasting state. That's all the body needs to function.
 In 12-ounces of soda or energy drinks typically contain approximately 10 teaspoons of sugar.
 That little beverage effectively raises the blood sugar 10 times above what the body needs to function and typically within a matter of minutes.
To Decode the refined sugar in your diet simply do the following wherever refined sugars are listed in the ingredients.
1 Teaspoon of Sugar = Approximately 4 Grams of Sugar
In other words take the total grams of refined sugar and divide by 4 to learn how many teaspoons of sugar you are consuming per serving.
More About Refined Sugar
The Recommended Total Consumption of Refined Sugar & High Fructose Corn Syrup is less than 1 pound per month for Optimal Immune Health. Use the conversions below to assess how much sugar you are consuming each day.
1 teaspoon of Sugar = 4.2 grams = approximately 4 grams
453 grams of Sugar = 1 pound of Sugar
115 teaspoons of Sugar = 1 pound of Sugar
11 Sodas (132 Ounces) = 2, 2-Liter Bottles of Soda =
1 pound of Sugar 1 Soda (12 Ounces) = 39 grams of Sugar = Approximately 10 teaspoons of Sugar
1 Soda (20 Ounces) = 69 grams of Sugar = Approx. 16.5 teaspoons of Sugar
1 Soda (2 Liters) = 67 ounces of Soda = 221 grams of Sugar = ½ pound of Sugar
Drinking 1 Soda (12 Ounces) per day = 30 Sodas per month = 2.65 pounds of Sugar per month from Soda alone = 360 teaspoons of sugar your body will have to use, store or eliminate in order to remain in balance at 1 teaspoon circulating in the blood stream.
I would also say that I would not count fruits, vegetables, and whole grains to this total…just refined sugars like white sugar, brown sugar, high fructose corn syrup, dextrose, dextrin, maltodextrin, agave syrup, maple syrup, and evaporated cane juice.
The US governments projects that average annual refined sugar consumption alone…not counting any other sweetener will be 74 or more pounds per year for the next 20 years. And we wonder why diabetes is the fastest growing pathology in the United States today.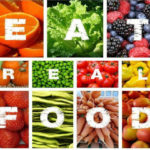 What does Eating Healthy Mean?
1- Mitochondrial Energy Production:
Mitochondria definition: and organelle found in large number in most cells, in which the biochemical process of energy production occurs. It has an inner and outer layer.
2-Organic sourced foods: look up EWG.org
The environmental working group is a nonprofit, nonpartisan organization dedicated to protecting human health and the environment.  Learn what organic means
U.S. Environmental Protection Agency (EPA) is a great resource
3- Delayed food allergens: and allergy is an adverse reaction due to immunologic mechanism. A delayed onset food allergy is an auto immune disease that causes your immune system to overact when you ingest certain foods. The immune cells mistakenly attack food particles and treat them as foreign invaders and produce anti-bodies to try to fight what they perceive as toxins. Known allergies we can the immune and digestive systems, draining the body of energy.
Energetic Health Institute…an innovative 501(c)3 California Non-Profit & Gold Rated by GuideStar.org for transparency. School approved by the National Association of Nutrition Professionals (NANP)
I'm a Certified Holistic Nutritionist who can order you the right lab work to complete and over see this process.
https://www.energetichealthinstitute.org
4- 60% Alkalizing   pH scale  0-14   Acid vs. Alkaline
Certain foods can effect of the acidity and pH of bodily fluids, including the urine or blood, and therefore can be used to treat and prevent disease
5- Green Food
Chlorophyll turns into new blood. Green promotes health and energy.
6- ORAC Value of Food
Oxygen radical absorbance capacity Is the unit of measurements of antioxidants found in food. (calories are a unit of energy)
http://superfoodly.com/orac-values/
7-Refined Sugar
A healthy adult has approx 5 liters of blood circulating at any given moment and needs 1 teaspoon of sugar available during a fasting state. That's all the body needs to function.
12-ounces of soda or energy drinks typically contain approx 10 tsp of sugar. That raises the blood sugar 10x above what the body needs to function and typically within a matter of minutes.
1 Teaspoon of Sugar = Approx 4 Grams of Sugar
Take the total grams of refined sugar & divide by 4 to learn how many teaspoons of sugar you are consuming per serving.
8-Naturally sweet:
Think Real food
9- Fiber: 8-12 grams  per meal.  Average 25-30 grams a day.
Adds bulk to you diet and aids in digestion.
Insoluble fiber: found in wheat, bran, vegetables, and whole grains. It helps speed passage of food through the stomach and intestines.
Soluble Fiber: attacks water and turns into gel, slowing digestion.  Found in foods like oat bran, barley, nuts, seeds, beans, lentils, peas, and some other veggies and fruits.  Can help lower cholesterol.
10-Raw foods
Raw foods contain enzymes.  Enzymes help break down food and aid in digestion.
Proteases: breaks down Protein
Lipase: breaks down fat
Amylase: breaks downs carbs
11- Healthy Preparation Methods
12-Environmentally Safe Meats and Fish
13-Environmentally safe Cookware
NO TEFLON!
14-Friends and Family MOODS
15- Beverage 8oz or less
16- Burn off what you consume!
Exercise/movement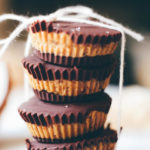 Salted Nutbutter Cups
Paleo, Vegan, Gluten Free
Happily Serves 24 mini cups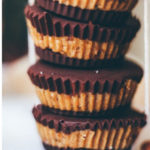 ALL ORGANIC INGREDIENTS
CHOCOLATE SHELL
3 cups Lily's chocolate chips
1 TBSP Coconut oil
1 tsp Vanilla
FILLING
3 TBSP Sunflower butter
1 tsp  Himalayan sea salt
1 tsp Coconut oil
1/4 Cup Dates
TOPPING
Pink Himalayan salt, to taste
Soak Dates 1-4 hours.  Remove seeds.
In a double boiler, add in dark chocolate chips, coconut oil and vanilla.
Melt over a pot of simmering (not boiling) hot water until well incorporated.
Fill the bottom of each muffin liner with 1-2 tsp of the chocolate mixture.
Set aside leftover chocolate to put on top of the cups.
Set the muffin pans in the freezer.
In a food processor add in Sunflower butter, sea salt, coconut oil and dates.
Blend until smooth and creamy.
Spoon 1 tsp of the sunflower butter mixture on top of each chocolate filled muffin liner.
Then spoon out 1-2 tsp chocolate mixture to cover each cup.
Sprinkle Himalayan salt on top.
Place the cups in the freezer for 30 minutes or until set.  Serve frozen.


Cauliflower Crust Pizza
ALL ORGANIC INGREDIENTS
Crust
1 small to medium sized head of cauliflower – should yield 2 to 3 cups once processed
¼ cup shredded Parmesan cheese, or vegan cheese
¼ cup mozzarella cheese or vegan cheese
1 egg or 1 flax egg
¼ teaspoon salt
½ teaspoon garlic powder
½ teaspoon basil or rosemary
½ teaspoon oregano
Optional Toppings:
1 cup Organic marinara sauce
1-2 cups vegan Organic mozzarella cheese
Preheat oven to 500 degrees F.
Remove the stems from the cauliflower and cut into chunks, place the cauliflower into a food processor, pulse it until it resembles the texture of rice. If you don't have a food processor, you can use a cheese grater or chop it very finely.
Place the cauliflower in a kitchen towel and squeeze all the liquid out of it. Be sure to squeeze as much liquid as possible!!! Very important!
Combine the cooked cauliflower, egg or flax egg, garlic, cheese, and seasonings. Stir until a dough texture forms. Spread the cauliflower mixture out onto lightly greased parchment paper or a pizza pan in the shape of a pizza crust.
Bake the crust for approximately 10-15 minutes (depending on your oven), or until the crust is golden and crispy. After the crust is golden remove it from the oven and add your toppings.
Place the pizza back in the oven but this time turn on the broiler, bake for about 2-5 minutes until the cheese melts. be sure to keep an eye on it because the broiler can burn the cheese quickly.
Make sure you add love!  Slice and serve smiles!