Salted Nutbutter Cups
Paleo, Vegan, Gluten Free
Happily Serves 24 mini cups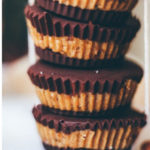 ALL ORGANIC INGREDIENTS
CHOCOLATE SHELL
3 cups Lily's chocolate chips
1 TBSP Coconut oil
1 tsp Vanilla
FILLING
3 TBSP Sunflower butter
1 tsp Himalayan sea salt
1 tsp Coconut oil
1/4 Cup Dates
TOPPING
Pink Himalayan salt, to taste
Soak Dates 1-4 hours. Remove seeds.
In a double boiler, add in dark chocolate chips, coconut oil and vanilla.
Melt over a pot of simmering (not boiling) hot water until well incorporated.
Fill the bottom of each muffin liner with 1-2 tsp of the chocolate mixture.
Set aside leftover chocolate to put on top of the cups.
Set the muffin pans in the freezer.
In a food processor add in Sunflower butter, sea salt, coconut oil and dates.
Blend until smooth and creamy.
Spoon 1 tsp of the sunflower butter mixture on top of each chocolate filled muffin liner.
Then spoon out 1-2 tsp chocolate mixture to cover each cup.
Sprinkle Himalayan salt on top.
Place the cups in the freezer for 30 minutes or until set. Serve frozen.