salt
now browsing by tag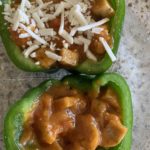 Stuffed Bell Peppers
Dairy Free, Gluten Free
Happily serves 2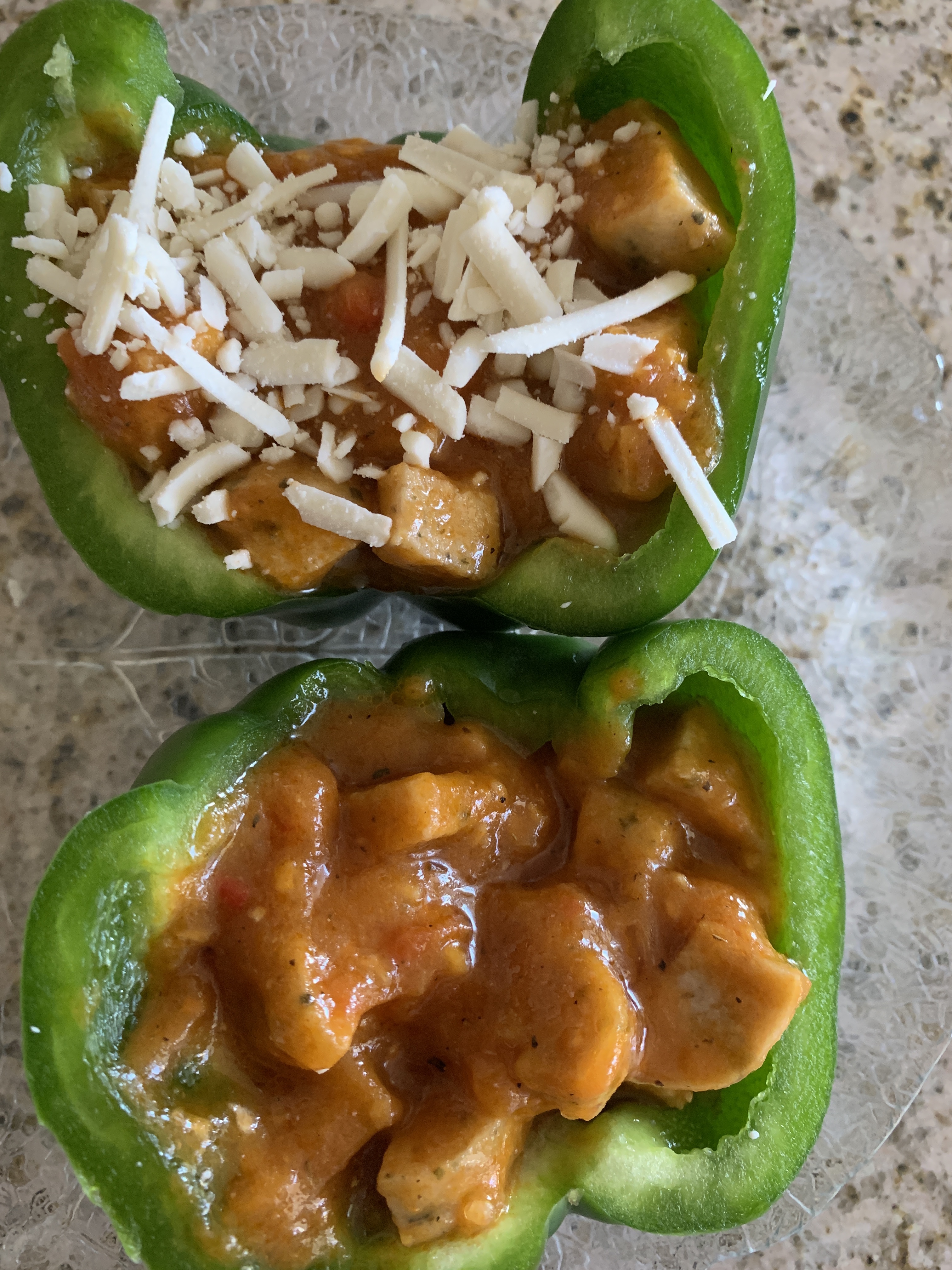 ALL ORGANIC INGREDIENTS
2 Green Bell Peppers
2 Chicken Sausages
1/2-1 Cup Butternut squash pasta sauce (you can use marinara)
2 TBSP Avocado Oil
1/2 Cup Dairy Free Mozzarella Cheese
1 tsp Minced Garlic
1 tsp Minced Onion
1 tsp Herb seasoning
1-2 tsp Himalayan Sea Salt
Cut Bell Pepper in half.  Remove seeds.
Dice Sausage or you use ground meat.
Mix sauce, seasons, salt and meat together.
Lay bell pepper in a stone pan and fill with sauce mixture.
Bake 10 minutes.
Add cheese and bake 5 more minutes until melted.
Coconut flour cacao pancakes
GF, Dairy free
Happily serves 12 pancakes
ALL ORGANIC INGREDIENTS
1⁄3 Cup Coconut flour
5 eggs
½ Nut milk of choice
¼ Cup full fat coconut milk
¼ Cup coconut sugar or stevia
3 TBSP Raw Cacao powder
¾ tsp vanilla extract
Dash of Sea salt
Coconut oil spray for each pancake
In a deep bowl, whisk all ingredients except ghee/coconut ghee/coconut oil, until well combined. Batter should be very thick but pourable. Not watery.
Let batter sit for 5 minutes to let the coconut flour absorb the liquid, stirring once more at the end.
Pour about 1⁄3 cup of batter into a frying pan pre-heated with coconut oil. 
If necessary, tilt pan and shake lightly for even distribution of batter. (Batter does not necessarily need to spread throughout the pan).
Fry for a couple of minutes, occasionally covering with a lid, till liquid has almost firmed up
Tip: Covering the pan with a lid occasionally will help keep moisture and enhance even cooking.
Flip with a spatula, and fry the other side for a couple more minutes, then remove from pan.
Repeat for rest of batter, greasing pan between batches as needed, and occasionally stirring the batter left in your bowl for even consistency.
Honey Hemp Vinaigrette
Paleo, GF, Dairy Free
Happily serves 4
ALL ORGANIC INGREDIENTS
1/2 Cup Hemp Seed oil
2 TBSP Coconut Vinegar
2 TBSP Raw Honey
2 garlic cloves, crushed
1/2 Cup Lime juice
2/3 Cup cilantro, chopped
1 tsp Sea Salt
Mix all ingredients together, shake well.  Serve as a dressing or over seafood dish.
Cucumber Dill Hummus
Vegan, GF
Happily serves 4
ALL ORGANIC INGREDIENTS
2 cups Garbanzo Beans or butter beans, rinsed and drained
2 springs fresh Dill (washed, stems removed) or 1 TBSP dried dill
1 Cucumber (washed, skin on, roughly chopped)
½ tsp Sea Salt
2 TBSP Lemon or Lime Juice
1 TBSP Hemp Seed Oil
2 TBSP Tahini
1 Garlic Clove
Put all ingredients in a food processor or blender and pulse/blend until smooth
Pumpkin Seed Dip 
Vegan, GF, Paleo
Happily serves 6-8
ALL ORGANIC INGREDIENTS
5 ounces Raw pumpkin seeds
2 TBSP Avocado oil
1/2 cup finely chopped shallots
1 large jalapeno, finely chopped
3 garlic cloves, chopped (let sit 5 min)
1/4 Cup Parsley
1/4 Cup Cilantro
Juice of a lime
1 TBSP Extra-virgin Olive oil or Avocado oil
1/4 tsp finely grated orange zest
2 TBSP Maple syrup or 1/4 tsp maple extract and stevia
Blend seeds in a food processor.
Cook shallots & garlic in the avocado oil.
*Add Sea salt and pepper, let cool.*
Add parsley, cilantro, lime juice, maple syrup, orange zest (and water if needed)
Add shallot mix when cooled, mix thoroughly
Sea salt to taste.
Variation: Can also be used a spread in a lettuce wrap.
Artichoke Green Chili Hummus
Vegan, Paleo, GF
Happily serves 4
ALL ORGANIC INGREDIENTS
2 Cups Butter Beans
1/2-1 Cup Artichoke (with about 1/4 cup juice)
1-2 TBSP Hemp Seed oil
1/2 Cup Hatch Green chili
1 TBSP Sea Salt
1 TBSP Garlic, Fresh or dried
1 TBSP Onion Flakes
1 TBSP Coconut Aminos
1 TBSP Lime juice
Optional: Red Pepper Flakes, mixed in or sprinkled on top
MIx all Ingredients in food processor until smooth.
1/2 cup serving size served with Veggies.
Chipotle Sauce/Dressing
GF, Refined Sugar Free, Vegan
Happily serves 2
ALL ORGANIC INGREDIENTS
1 TBSP Tahini (can sub Sunflower butter)
1 TBSP Hemp Seed oil
2 Garlic cloves, crushed
1 TBSP Coconut Aminos
1 tsp chili powder
½ tsp Chipotle powder
½ tsp Cayenne
¼ tsp Sea salt
Mix all ingredients together. Can be used as a salad dressing or over stir fry and quinoa.  Great Sauce for lettuce wraps!
OR:
Optional: ADD 1TBSP Nutritional Yeast if you want to toss it on Collard Greens and bake.
Lemon Sautéed Spinach & Quinoa

 
Vegan, Vegetarian
Happily serves 4

ALL ORGANIC INGREDIENTS

1 bag spinach
¼ Cup pumpkin seeds
1 Cup tri color Quinoa, cooked
3 garlic cloves, chopped
1/2 chopped yellow onion
1 TBSP of Avocado oil
1 lemon, juiced
Salt and pepper to taste

Pre-heat cast iron pan over medium heat.
Saute chopped garlic and onion, remove and keep aside.
Add a portion of the baby spinach to the pan, stir frequently continuing to add spinach until entire bag is added.
Steam spinach until soft bright green (only takes about a minute.)
Remove from heat! Drain off water!
Stir in Quinoa, oil, spinach, garlic, onion, and pumpkin seeds
Sea Salt and pepper to taste .
Squeeze a bit of fresh lemon juice over spinach before serving.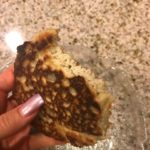 Protein Collagen Pancakes
Gluten Free, Dairy free
Happily serves 2-3
ALL ORGANIC INGREDIENTS
2 Free Range Pasture raised eggs
1 egg white
1/8 Cup melted Coconut oil
1/4Cup Coconut flour
2 scoops Bone Broth Protein Powder
Dash cinnamon
1/8 tsp Himalayan sea salt
Liquid Bone broth or water to thin (I only needed about a TBSP)
Stevia if desired sweeter
Whisk eggs and oil together thoroughly.
Stir in coconut flour, protein powder and Himalayan sea salt and allow to sit for 5 minutes
Heat coconut oil in a large skillet over medium-low heat.
Once hot, drop batter into cast iron skillet, cook until bubbles form on one side, flip and repeat.
Serve Hot