place
now browsing by tag
Sriracha Aioli

Vegetarian, Gluten Free
Happily Serves 3-4
ALL ORGANIC INGREDIENTS
3/4 Cup Raw Cashews
5  Garlic cloves, minced
1/4 Cup water
1-2 TBSP Avocado oil
1 tsp Maple syrup
1 TBSP Lime juice
Sea salt + black pepper to taste
1 tsp Sriracha (or other hot sauce), plus more to taste
Pinch each chili powder, smoked paprika, and ground cumin
Optional: 1/2 tsp Nutritional yeast (for a little cheesiness)
Place cashews in a bowl and cover with boiling hot water.
Let set, uncovered, for about 1 hour or until very soft, drain thoroughly and Rinse.
Add cashews to the blender or food processor with fresh garlic, water, 1 Tbsp Avocado oil, maple syrup, lime juice, salt, pepper, Sriracha, and spices.
(Nutritional yeast is optional.)
Blend on high until creamy and smooth.
Add more water if it's too thick.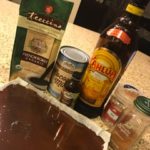 Kahlua Chocolate Fudge
Vegan, GF, Refined Sugar free
Happily serves 20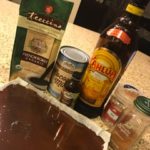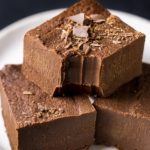 ALL ORGANIC INGREDIENTS
20 oz Lily's chocolate chips
14 oz Can full fat coconut milk
3 TBSP Ghee (or butter) cubed at room temperature
2 TBSP Kahlua
1/4 tsp cinnamon
1/2 tsp vanilla extract
1/4 tsp Sea salt
1 tsp espresso powder or 1 TBSP cold brew
Lightly grease an 8 x 8-inch baking pan.
Line with parchment paper, allowing the excess paper to overlap on two of the sides, set aside.
Add the chocolate and espresso powder into a large, heatproof bowl; set aside.
Fill a saucepan with a little water (about 1/4 full) bring it to a boil.
Reduce to barely a simmer. Place the bowl containing the chocolate and espresso powder on top of the pot.
Cook, stirring frequently, until the chocolate has melted and the mixture is completely smooth, about 8-10 minutes.
Add coconut milk and ghee, cook for another 2-3 minutes, or until it is completely melted. Remove from heat.
Whisk in the Kahlua, vanilla, sea salt, and cinnamon. The mixture will be VERY thick.
Transfer to pan and refrigerate for at least 2 hours, or until firm enough to slice.
Remove the fudge and transfer it to a cutting board. Peel off parchment paper and slice into small pieces.
Serve at once or store in the refrigerator for up to 1 month or freezer up to 2 months.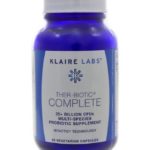 Probiotics in A Nutshell…
The human gut contains 10x more bacteria than all the human cells in the body. 400 known species equaling 100trillion in the intestinal tract.
Probiotics are ESSENTIAL for normal digestive, endocrine, and immunological functions of the bowel. They are therapeutic for treatment of variety of gastrointestinal and systemic disorders. Definitely needed if your gall bladder or spleen has been removed.
Goal is to have an 80 to 20% ratio of good bateria verses harmful bacteria.
In general, 1 billion CFU's (colony forming units) is REQUIRED to deliver to the intestines. You can safely take up to 450 billion for patients with IBS, and even 200 billion following liver transplant.
Do they need to be refrigerated? It is recommended it maximizes freshness. Probiotics that have micro encapsulated with fatty acids are the only exception. Probiotics sold in health stores are often not and have about 30-50% less viable microorganisms that they claim on their label.
Probiotics live in the absence of oxygen. Dark Glass bottles are recommended. Moisture also kills micro organisms, keep in a cool dark place.
Deliver systems are important because we want the absorption to happen in the intestines not the stomach. Stomach acid plays apart in breakdowns and absorption.
The use of antibiotics feeds bacteria growth so it is important to double amounts during infectious times or if you are put on antibiotics or have heavily used them in the past.
It is important to have B complex vitamins, especially B12, folates, and Vitamin K for probiotics absorption.
When do you take them? Everyone is different but generally between meals or bed time is ideal so food or stomach acid isn't interfering with absorption.
Prebiotics are carbohydrates that are indigestible by the human intestine and selectively stimulate the activity and growth of certain bacteria in the COLON. Most are chains of 2-9 sugar molecules (oligosaccharides). They are commonly found in chicory, asparagus, artichoke, onions, leeks, garlic, and human breast milk. If you want to use food as medicine, consume those veggies. They should pass through the small intestine to the colon.
There are different strains of probiotics that are more beneficial to your health issues which is why not guessing is important, research is good, but science based research is what professionals do. Knowing your source and trusting your health care practitioner to make the best recommendations for you. They may cost a little more, but why waste money and time guessing when you don't have to?
Gut health leads to immune health. If you want to power your body, supplementation is necessary.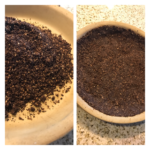 Triple Raw Chocolate Cheesecake
Vegan, GF, Refined sugar free
Happily serves 8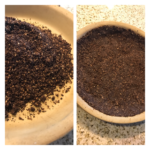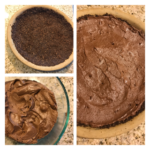 ALL ORGANIC INGREDIENTS
CRUST
1 cup pecans, ground (or mixture of pecans and walnuts)
3 medjool dates, soaked
1 tbsp maple syrup or coconut nectar
1/2 cup raw cacao powder
FILLING
8oz Vegan cream cheese
1/2 cup raw cocoa butter, melted
1/2 cup maple syrup or coconut nectar
1/2 cup water
1/2 cup raw cacao powder
2 tsp vanilla extract
CHOCOLATE GANACHE TOPPING
1/4 cup coconut oil, melted
1/4 cup raw cocoa butter melted
3 tbsp maple syrup or coconut palm syrup or coconut nectar
5 tsp raw cacao powder
1 tsp vanilla extract
Mix all the crust ingredients together in a food processor until crumbly and just starting to stick together. Press the mixture into the bottom of an 8 inch dish. Keep in the fridge while you make the filling.
Blend cream cheese with the melted cocoa butter, water and maple syrup until smooth and creamy. Then add in the cacao and vanilla, blend well. Spoon the mixture on to the base and smooth down evenly. Put in the freezer while you make the ganache topping. If you do not have the crust cold it will be hard to spread.
Stir maple syrup, cacao and vanilla into the melted oils until well combined and glossy. Let cool slightly but not so much that it starts to harden. Pour over the cheesecake, place in the fridge to set. Best if refrigerated for 4 hours or overnight before serving. I put mine in the freezer, cover to preserve.
Chocolate Iced Coffee Protein Shake
Dairy Free, Vegan, Refined Sugar Free
Happily serves 1
ALL ORGANIC INGREDIENTS
2 TBSP Raw Cacao powder
2 TBSP Collagen Powder
2 oz Coconut milk
2 oz Cold brew (optional)
2-6 oz Chai Tea or water
Dash of cinnamon
Stevia Powder if desired sweeter
Ice
You can use Chicory Herbal Roast in place of the cod brew if you don't consume coffee or caffeine.  Great benefits of extras herbs and barley.
Blend all ingredients in bullet/blender, transfer to shaker bottle.
You can also quick steam this recipe for a hot "chocolate" protein drink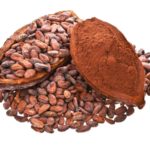 Cooking Class 2.12.2017
Chocolate Info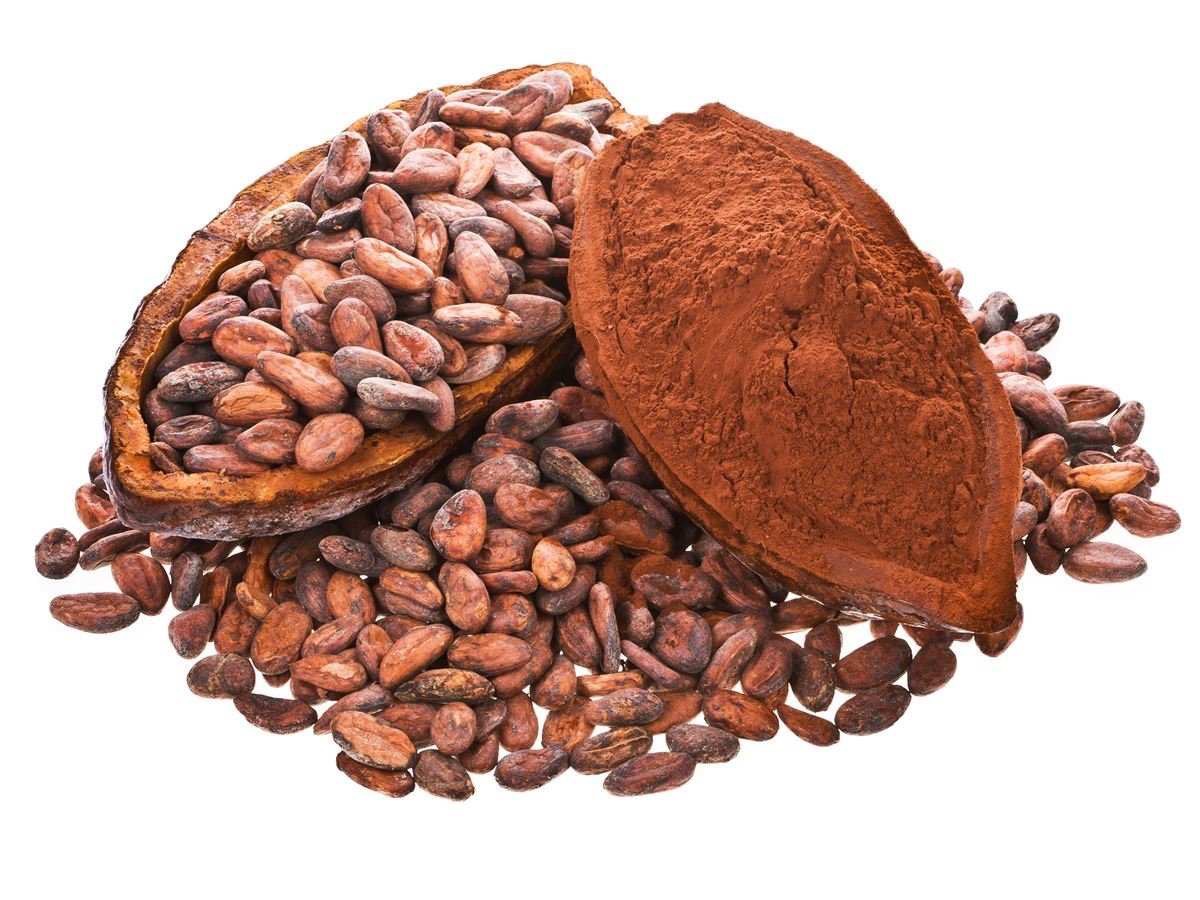 Cacao can fuel energy and mood. It is an excellent source of fiber good source of protein and iron. It is high in antioxidants and polyphenols. A half half a cup of raw organic cocoa powder has 110 cal, 2 g of fat 16 carbohydrates, 10 of which is dietary fiber. It contains 8 g of protein and will give you 10% of the iron you need for your daily requirements. It is considered a stimulant and should be eaten occasionally not every day.
Cocoa beans are the fermented seeds of the cacao tree. The fruit of the cocoa tree is a pod full of sweet pulp enfolding a cluster of about 20-40 cacao seeds. Cocoa refers to the low-fat constituent of the finely ground cacao beans. These ground beans, known as cocoa liquor or cocoa mass, also contains cocoa butter which is a non-dairy, naturally occurring fat. Cocoa butter is a mixture of monounsaturated fats like oleic acid and saturated fats, namely stearic acid and palmitic acid. About 50-60% of cocoa liquor consists of cocoa butter.
Cacao bark, butter and flowers have also been valued since ancient times for treating various diseases like skin ailments, bowel malfunction and wounds. Cocoa has anti-inflammatory, anti-allergenic, anti-carcinogenic and antioxidant qualities. Health benefits include relief from high blood pressure, cholesterol, obesity, constipation, diabetes, bronchial asthma, cancer, Chronic fatigue syndrome and various neurodegenerative diseases. It helps to improve cardiovascular health and brain health. It also helps in treating copper deficiency.
Commercially available chocolates and cocoa-products may not be rich in the original beneficial flavonols since their properties get destroyed by over-processing and heat. In order to obtain the benefits of cocoa, it is important to consume the correct source of cocoa. Milk/dairy blocks the absorption of the antioxidants in chocolate, so be sure to check the labels!
Antioxidant Capacity: Studies have shown it is evident that cocoa exhibits higher antioxidant activity than against green and black tea, and red wine. Antioxidants helps to neutralize the oxygen-based free radicals that are present in the body. Cacao is abundant in phenolic phytochemicals and possesses a high amount of flavonoids as well.
Of course, everything in moderation!
Jodi's Sweet Potato Brownies
Grain Free, Paleo, GF, Dairy free
Happily serves 12
ALL ORGANIC INGREDIENTS
2 medium Sweet Potatoes
14 Medjool Dates
1 1/2 Cups Quinoa or Almond Flour
4 TBSP Raw CACAO Powder
3 TBSP maple Syrup (Grade B) or Coconut netar
Pinch of sea salt
Peel Sweet Potatoes. Slice/cut and steam for about 20 mins until soft.
The smaller the pieces, the faster it will cook.
Add Sweet Potatoes and Dates to food processor, blend until a creamy smooth texture.
Mix all other ingredients in a bowl, then add cream mixture. Stir well.
Place on Parchment paper lined baking dish and bake for 20-30 mins on 350 until the toothpick comes out dry.
Allow to cool 10 mins for the brownies to gel together, very important step!!
Tip: If you don't use raw cacao powder, you cause conventional cocoa powder but you will need to double the quantity.
Chocolate Nut Butter Cookies
GF, Refined Sugar Free
Happily serves 12
ALL ORGANIC INGREDIENTS
1 Cup Chocolate Peanut or Sunflower butter
3/4 Cup Coconut sugar
1 egg
Combine all ingredients. Bake on 350 for 7-8 mins.
If you are not using an already flavored nut butter, you can use a regular nut butter and ad 1/4 cup raw cacao
Chocolate Iced Coffee Protein Shake
Dairy Free, Vegan, Refined Sugar Free
Happily serves 1
ALL ORGANIC INGREDIENTS
2 TBSP Raw Cacao powder
2 TBSP Collagen Powder
2 oz Coconut milk
2 oz Cold brew (optional)
4-6 oz Chai Tea or water
Dash of cinnamon
Stevia Powder if desired sweeter
Ice
Blend all ingredients in bullet/blender, transfer to shaker bottle.
Want to make your own muscle relaxing lotion? Such a simple recipe and easy to make! If you do not wish to take the short time to make it, you can see my dear friend, Colleen Sinclair, owner of the Siphon Draw Apothecary.  She makes wonderfully combined skin care products from all natural organic food sources.  Also as a Holistic Nutritionist, she understands the biochemistry of the body and that's it's not just what we put in our body, it's what's absorbed on and in our bodies and skin. Www.siphondraw.com for more information.
This recipe contains avocado oil, which has naturally occurring magnesium and potassium that help hydrate the skin. Avocados are one of the most mineral-rich superfoods in the world. In addition, magnesium oil is added — it's transdermal so can pass through the skin into the body.
Also, to naturally calm the body, this recipe contains lavender essential oil, which can relax muscles and reduce the effects of stress.
Apply this CALM magnesium body butter recipe today to naturally increase minerals and healing compounds in your body!
Dr. Axe explains it very simply:
Check out this video on YouTube:

Homemade CALM Body Butter Lotion
Total Time: 45 mins to an hour
Serves: 30-90
ALL ORGANIC INGREDIENTS:
1/4 cup Avocado oil
1/4 cup Magnesium oil
1/2 cup Cocoa Butter
30 drops Lavender Essential Oil
Large Glass Jar or Small glass Jar
DIRECTIONS:
In saucepan with water over low heat, place a jar containing the cocoa butter.
Once melted, pour into bowl and let cool in fridge for 30 minutes.
Using a standard mixer blend and whip it.
Once whipped add in magnesium oil, avocado oil and essential oils and mix.
Transfer to glass jar or plastic container and keep in refrigerator for 90 days.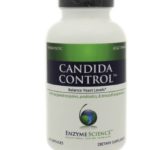 Candida Control
Enzyme Science
$34.50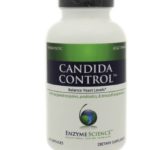 Candida Control™ includes two enzymes for maintaining normal yeast production.* The enzyme cellulase breaks down the cell wall of candida, while protease removes the toxins expelled during cell death.* This combination may ease discomforts common to cleansing (die-off).* Broccoli Seed extract, as well as beneficial microflora (probiotics), work together to support healthy detoxification.* Enzyme Sciences exclusive Thera-blend™ enzymes are effective throughout the entire digestive system, thereby ensuring complete digestion.* When formulated for therapeutic purposes, Thera-blend enzymes are customized for optimal performance throughout the entire body.
Servings Per Container: 42
Take 2 capsules three times per day on an empty stomach (1/2 hour before or 2 hours after a meal). More may be taken as directed by your healthcare practitioner.*
Serving Size: 2 capsules
Amount Per Serving
Cellulase Thera-blend™ … 70, 000CU
Protease Thera-Blend™ … 230, 000HUT
Broccoli Seed Extract … 40mg
Probiotic Blend … 1 Billion CFU
Bacillus subtilis, l.rhamnosus, l.casei, L.acidophilus, L.plantarum, L.bulgaricus, L.salivarius, L.paracasei
Other Ingredients: 100% vegetarian capsule (cellulose, water)
Contains NO: Dairy, egg, preservatives, salt, sucrose, soy, wheat, yeast, nuts, corn, gluten, casein, potato, rice, artificial colors or flavors
Contraindications: Candida Control should not be taken with any timed released medications that use cellulose as its time-release mechanism. Keep closed in dry place; avoid excessive heat.