lime juice
now browsing by tag
Honey Hemp Vinaigrette
Paleo, GF, Dairy Free
Happily serves 4
ALL ORGANIC INGREDIENTS
1/2 Cup Hemp Seed oil
2 TBSP Coconut Vinegar
2 TBSP Raw Honey
2 garlic cloves, crushed
1/2 Cup Lime juice
2/3 Cup cilantro, chopped
1 tsp Sea Salt
Mix all ingredients together, shake well.  Serve as a dressing or over seafood dish.
Cucumber Dill Hummus
Vegan, GF
Happily serves 4
ALL ORGANIC INGREDIENTS
2 cups Garbanzo Beans or butter beans, rinsed and drained
2 springs fresh Dill (washed, stems removed) or 1 TBSP dried dill
1 Cucumber (washed, skin on, roughly chopped)
½ tsp Sea Salt
2 TBSP Lemon or Lime Juice
1 TBSP Hemp Seed Oil
2 TBSP Tahini
1 Garlic Clove
Put all ingredients in a food processor or blender and pulse/blend until smooth
Pumpkin Seed Dip 
Vegan, GF, Paleo
Happily serves 6-8
ALL ORGANIC INGREDIENTS
5 ounces Raw pumpkin seeds
2 TBSP Avocado oil
1/2 cup finely chopped shallots
1 large jalapeno, finely chopped
3 garlic cloves, chopped (let sit 5 min)
1/4 Cup Parsley
1/4 Cup Cilantro
Juice of a lime
1 TBSP Extra-virgin Olive oil or Avocado oil
1/4 tsp finely grated orange zest
2 TBSP Maple syrup or 1/4 tsp maple extract and stevia
Blend seeds in a food processor.
Cook shallots & garlic in the avocado oil.
*Add Sea salt and pepper, let cool.*
Add parsley, cilantro, lime juice, maple syrup, orange zest (and water if needed)
Add shallot mix when cooled, mix thoroughly
Sea salt to taste.
Variation: Can also be used a spread in a lettuce wrap.
Artichoke Green Chili Hummus
Vegan, Paleo, GF
Happily serves 4
ALL ORGANIC INGREDIENTS
2 Cups Butter Beans
1/2-1 Cup Artichoke (with about 1/4 cup juice)
1-2 TBSP Hemp Seed oil
1/2 Cup Hatch Green chili
1 TBSP Sea Salt
1 TBSP Garlic, Fresh or dried
1 TBSP Onion Flakes
1 TBSP Coconut Aminos
1 TBSP Lime juice
Optional: Red Pepper Flakes, mixed in or sprinkled on top
MIx all Ingredients in food processor until smooth.
1/2 cup serving size served with Veggies.
Sriracha Aioli

Vegetarian, Gluten Free
Happily Serves 3-4
ALL ORGANIC INGREDIENTS
3/4 Cup Raw Cashews
5  Garlic cloves, minced
1/4 Cup water
1-2 TBSP Avocado oil
1 tsp Maple syrup
1 TBSP Lime juice
Sea salt + black pepper to taste
1 tsp Sriracha (or other hot sauce), plus more to taste
Pinch each chili powder, smoked paprika, and ground cumin
Optional: 1/2 tsp Nutritional yeast (for a little cheesiness)
Place cashews in a bowl and cover with boiling hot water.
Let set, uncovered, for about 1 hour or until very soft, drain thoroughly and Rinse.
Add cashews to the blender or food processor with fresh garlic, water, 1 Tbsp Avocado oil, maple syrup, lime juice, salt, pepper, Sriracha, and spices.
(Nutritional yeast is optional.)
Blend on high until creamy and smooth.
Add more water if it's too thick.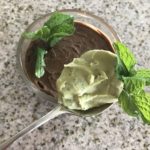 Cacao Mint Avocado Mousse
Vegan, GF, Paleo
Happily Serves 4-8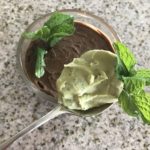 All Organic Ingredients


3 Avocados
1/2 cup coconut Nectar
1 Tsp vanilla extract
1/2 Cup Coconut oil, melted
2/3 cup fresh mint, stems off
1/4 tsp Himalayan Sea Salt
Lime juice to equal 3/4 cup plus zest
Optional: 1/2 cup Raw Cacao and stevia to sweetness desired

Place pitted avocado in food processor, blend well.
Add coconut oil, lime juice, vanilla, sea salt, coconut nectar, and add Mint leaves. Blend well.
Put in the freezer for 30 mints for a frosty treat.

Can change the taste of this by omitting the mint or the cacao to change things up a bit depending on cravings.
Sunflower Seed or Tahini Dressing/Sauce
Vegan, GF
Happy serves 4
All Organic Ingredients
1/4 cup (4TBSP) sunflower seed butter or Tahini
2 Tbsp Coconut Aminos
1 tsp maple syrup extract
1-2 TBSP Lime juice
1/2 tsp chili garlic sauce, 1 thai red chili minced, or 1/4 tsp red pepper flake
Hot water to thin
Prepare dipping sauce by adding sunflower seed butter, coconut aminos, maple extract, lime juice, and chili garlic sauce to a small mixing bowl and whisking to combine. Add enough warm water to thin into a thick but pourable dressing.
Adjust portions based on personal preferences for spice, sweetness or acidity.
Cilantro Lime Vinaigrette
Refined Sugar Free, GF
Happily serves 16
All Organic Ingredients:
1/4 Cup Lime juice
1/2 cup chopped cilantro
1/4 Cup Coconut vinegar
5 crushed garlic cloves
1/2 tsp Sea Salt
2 TBSP Coconut sugar (I use less and usually use stevia)
1 Cup Avocado Oil
Mix or blend well.  Shake before use.
Watermelon Salsa
GF, Refined Sugar Free
Happily serves 6-8
Sweet salsa could be served as a breakfast side dish.
ALL ORGAINC INGREDIENTS
1 1/2 teaspoons lime zest (from about 1 lime)
1/4 cup fresh lime juice (from about 3 limes)
1 TBSP Organic raw sugar, or coconut sugar
Freshly ground pepper
3 C seeded and finely chopped watermelon
1 organic cucumber, peeled, seeded, diced
1 jalapeno pepper, seeded, minced
1 small red onion, finely chopped
8 fresh basil leaves, finely chopped
1/2 tsp garlic salt
Sea Salt to taste
 Stir together the lime zest, lime juice, sugar and 3/4 teaspoon pepper in a bowl.
Add the watermelon, cucumber, jalapeno, onion and basil and toss gently.
Chill the salsa until ready to serve.
Add the garlic salt just before serving.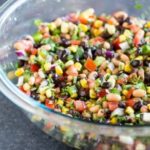 Cowboy Salsa
Vegetarian, Gluten Free
Happily serves 8-10
 
ALL ORGANIC INGREDIENTS
1/2 Cup Avocado oil
1-2 TBSP Raw Coconut sugar or Monk Fruit
1/3 Cup Coconut vinegar
1 tsp Chili powder
1 tsp Himalayan Sea salt
1 Cup black-eyed peas or Kidney beans
1 Cup black beans
1 Cup Aduki Beans
1 Yellow Onion
2 Green Onions
2 Garlic Cloves
1 diced Green bell pepper
1 diced Red bell pepper
1 diced Yellow bell pepper
 Handful chopped cilantro
2 TBSP Lime juice
Optional: 1/4 Cup Jodi's Salsa
Whisk together the Avocado oil, coconut sugar, coconut vinegar, chili powder, and salt.
Combine beans, red onion, and bell peppers.  Stir in cilantro.
Cover and chill at least 1 hour or overnight to blend flavors.
Serve chilled or at room temperature.