White
now browsing by tag
Control Pre-Meal CapsulesTM
30 servings $38.95
Self-control now comes in a capsule
Benefits:
* Can help curb cravings and reduce appetite
* Neutralizes starches found in processed carbohydrates
* Can support stabilized blood glucose
* May enhance mental alertness, endurance and stamina
* Helps you feel satisfied faster and takes the edge off your cravings
Purium`s CONTROL Pre-Meal CapsulesTM are specifically designed to help you eat less and reduce the impact of simple carbohydrates and sugars, lessening the possibility that your body will convert them into fat. It is a great addition to any weight loss regimen.
Instructions: Take two capsules three times per day (approximately one hour prior to meals) with 8oz of water or, take two to three capsules prior to any fatty meal or dessert followed by 8oz of water.
Interesting Facts:
* Nopal (Opuntia Streptacantha): promotes weight loss by absorbing water and providing a feeling of satiety. It has a positive effect on blood sugar and helps reduce the appetite and control carbohydrate cravings. It can also reduce cholesterol by promoting the excretion of fats from the body, and aids digestion by absorbing toxins from the bowel as well as increasing the rate at which food passes through the system.
* Garcinia Cambogia (fruit): inhibits the synthesis of fatty acids in the liver and promotes an increased availability of glycogen in the liver, thus sending a "full" signal to the brain sooner.
* Green Tea Extract: Extract: research has found that green tea increases the amount of energy spent by the body and holds promise as a treatment for obesity and other weight problems.
* American Ginseng (Panax quinquefolius): Dr Lin Yutang, a Chinese research scientist who spent a lifetime learning about ginseng, summed up his work by saying that, "The magic tonic and building qualities of ginseng are the most enduring, the most energy-giving, restorative qualities known to mankind, yet it is distinguished by the slowness and gentleness of its action."
* White Kidney Bean Extract (Phaseolus Vulgaris):
Final word from Dave:
Drawing from the wisdom of ancient culture, we have put together a product for the ages. From the shaman we take Opuntia, from Chinese medicine – Green Tea, from Ayurvedic – the garcinia cambogia, and the power of White American Ginseng and the newly discovered effect of the amazing white kidney bean. Brought together to give you the ultimate in CONTROL, self control, appetite control, glucose control, energy and most importantly, your weight.
- Dave Sandoval
Who understands auto immune disorders and how they affects us and our loved ones?  Here is a brief overview of what it is and a link if you want to research correct information further.
When an intruder invades your body—like a cold virus or bacteria on a thorn that pricks your skin—your immune system protects you. It tries to identify, kill, and eliminate the invaders that might hurt you. But sometimes problems with your immune system cause it to mistake your body's own healthy cells as invaders and then repeatedly attacks them. This is called an autoimmune disease. ("Autoimmune" means immunity against the self.)
Autoimmune diseases can affect almost any part of the body, including the heart, brain, nerves, muscles, skin, eyes, joints, lungs, kidneys, glands, the digestive tract, and blood vessels. The classic sign of an autoimmune disease is inflammation, which can cause redness, heat, pain, and swelling. How an autoimmune disease affects you depends on what part of the body is targeted. If the disease affects the joints, as in rheumatoid arthritis, you might have joint pain, stiffness, and loss of function. If it affects the thyroid, as in Graves' disease and thyroiditis, it might cause tiredness, weight gain, and muscle aches. If it attacks the skin, as it does in scleroderma/systemic sclerosis, vitiligo, and systemic lupus erythematosus (SLE), it can cause rashes, blisters, and color changes.
Many autoimmune diseases don't restrict themselves to one part of the body. For example, SLE can affect the skin, joints, kidneys, heart, nerves, blood vessels, and more. Type 1 diabetes can affect your glands, eyes, kidneys, muscles, and more.
KEY WORDS
Acquired immune system. The part of the immune system that develops as a person grows. It employs antibodies and immune cells to fight harmful substances.
Antibody. A special protein produced by the body's immune system that recognizes and helps fight infectious agents and other foreign substances that invade the body.
Antigen. A foreign substance that triggers the production of antibodies when it is introduced into the body.
Autoimmune disease. A disease that results when the immune system mistakenly attacks the body's own tissues.
Corticosteroids. Potent anti-inflammatory hormones that are made naturally in the body or synthetically (man-made) for use as drugs. They are also called glucocorticoids. The most commonly prescribed drug of this type is prednisone.
Diabetes, type 1. A condition in which the immune system destroys insulin-producing cells of the pancreas, making it impossible for the body to use glucose (blood sugar) for energy. Type 1 diabetes usually occurs in children and young adults.
Graves' disease. An autoimmune disease of the thyroid gland that results in the overproduction of thyroid hormone. This causes such symptoms as nervousness, heat intolerance, heart palpitations, and unexplained weight loss.
Immune system. A complex network of specialized cells and organs that work together to defend the body against attacks by foreign invaders, such as bacteria and viruses.
Thyroiditis. An inflammation of the thyroid gland that causes the gland to become underactive. This results in symptoms such as fatigue, weakness, weight gain, cold intolerance, and muscle aches.
Vitiligo. A disorder in which the immune system destroys pigment-making cells called melanocytes. This results in white patches of skin on different parts of the body.
The National Institutes of Health (NIH)—The Nation's Medical Research Agency—includes 27 Institutes and Centers and is a component of the U.S. Department of Health and Human Services. It is the primary Federal agency for conducting and supporting basic, clinical, and translational medical research, and it investigates the causes, treatments, and cures for both common and rare diseases. For more information about NIH visit:
https://www.niams.nih.gov/Health_Info/
Golden Milk
Dairy Free, Soy free, Gluten Free, 
Happily serves 1
ALL ORGANIC INGREDIENTS
1 Cup Almond or non dairy nut milk
1 TBSP Coconut oil
1 tsp Turmeric
1/4 tsp ground ginger
1/2 tsp ground cinnamon
1/8 tsp white pepper (or black)
Optional: scoop of Collagen
Mix all ingredients together, whisk, or nutria bullet or shaker bottle. You can drink warm or cold. Great for inflammation, muscle, and immune support if you add the collagen.
Potassium Rich Foods-Top ten
Potassium is an essential nutrient used to maintain fluid and electrolyte balance in the body.
Potassium is the third most abundant mineral in the body and is a required mineral for the function of several organs including the heart, kidneys, brain and muscular tissues.
Potassium also plays an important role in keeping the body hydrated and works with sodium to support cellular function with your bodies sodium-potassium pump.
Potassium deficiency symptoms can include severe headaches, dehydration, heart palpitations and swelling of glands and tissues.
Also, potassium deficiency can lead to:
* Fatigue
* Irritability
* Muscle cramps
* Weight gain
* Increased blood pressure
* Cellulite buildup
The main culprits that can cause low levels of potassium are endurance cardiovascular exercise without proper hydration, vomiting, diarrhea and a diet low in fruits and vegetables.
Unless you are on dialysis, or have a special condition, overdose of potassium from natural sources is very rare.
The RDA for potassium is 4700 mg/day.
Keeping in mind Sodium should be 2300mg.
Think Double potassium for your sodium intake!
Consuming these 3 servings of this high potassium foods list daily to ensure optimal levels of potassium.
Top 10 Potassium Rich Foods List
1) Avocado. 1 whole: 1068 mg (30% DV)
2) Spinach. 1 cup: 839mg (24% DV)
3) Sweet potato. 1 medium: 952 mg (27% DV)
4) Coconut Water. 1 cup 600 mg (17% DV)
5) Kefir or Yogurt 1 cup: 579 mg (15% DV)
6) White Beans ½ cup: 502 mg (15% DV)
7) Banana 1 large: 422 mg (12% DV)
8) Acorn squash 1 cup: 899 mg (26% DV)
9) Dried apricots ½ cup: 755 mg (22% DV)
10) Mushrooms 1 cup: 428 mg (27% DV)
Potassium Health Benefits
Cramps
: One of the main benefits of consuming high potassium foods is decreased muscle cramping and improved muscle strength.  Muscle cramps are a common side effects of low potassium levels.  This can happen if an athlete becomes dehydrated and isn't consuming enough potassium rich foods before and after exercise.
Reduced Risk of Stroke
: Several observational studies have found that those with high potassium levels experience a lower risk of stroke. The health benefits of potassium are likely through reduction of blood pressure combined with a diet high in fruits and vegetables.
Alleviation of High Blood Pressure (Hypertension): 
Studies show that a diet high in potassium, especially potassium from fruits and vegetables, lowers blood pressure. This is especially true if the increase in potassium foods is not accompanied by an increase in high sodium foods.
Reduced Cellulite Appearance
: One of the main causative factors of cellulite buildup is fluid retention.  Most people consume far too much sodium and not near enough potassium.  Sodium brings nutrients into your cells where potassium helps flush excess waste out of your cells.  For this reason, if you reduce sodium intake and start consuming potassium rich foods you can reduce the appearance of cellulite.
Osteoporosis Protection
: Several studies have found a relation between increased bone density and increased intake of dietary potassium. These studies were true even for post- menopausal women and older men.
https://draxe.com/top-10-potassium-rich-foods/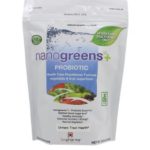 NanoGreens Plus Probiotic
BioPharma Scientific
300grams $54.95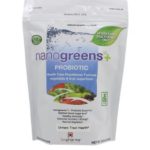 What makes nanogreens + probiotics different?
*Green powder mixed with DE111 Probiotic
*UTI Health Support
*Pouch Form -> Nitrogen Flushed
*5 Billion CFU dose after 2+ years
*DE111 Probiotic does not require special storage conditions like many other probiotics.
*Oral administration of Bacillus Subtilis DE111 helps digest and convert sugars and fats, and helps maintain glucose, cholesterol and triglyceride levels in the blood.
Vegan
Vegetarian
Gluten Free
All Natural
Non-GMO
Probiotic
Kid Friendly
How To Enjoy: Mix one scoop of nanogreens + probiotic with 6-8 oz of cold water, milk or juice. For best results, use shaker cup. Children under 12 should take 1/2 serving.  Refrigerate after opening.
Servings Per Container: 30
Serving Size: 10g (1 scoop)
Amount Per Serving
Calories … 45
Calories from Fat … 10
Total Fat … 1g
Total Carbohydrate … 7g
Dietary Fiber … 2g
Sugar … 2g
Protein … 2g
Vitamin A … 2500IU
(as Beta Carotene)
Vitamin C … 30mg
Sodium … 20mg
Potassium … 130mg
DE111®
Bacillus subtilis … 5 billion CFU
Greens Blend … 2250mg
(Proprietary)
Organic Barley Grass Juice, Spiruline, Chlorella
Phytonutrient Blend … 360mg
(Proprietary)
Green Tea Extract, Silybin (from Milk Thistle), Grape Seed Extract, Blueberry, Cranberry, Raspberry, Tart Cherry, Pine Bark Extract, Organic Broccoli, Tomato, Organic Carrot, Organic Spinach, Organic Kale, Bilberry, Elderberry, Pomegranate, Blackberry
Quercetin/Rutin … 100mg
50/50
Organic Rice Bran Soluble … 2081mg
Raspberry Extract … 50mg
(20% Ellagic Acid)
Organic Aloe Vera Powder Extract … 30mg
(100:1 freeze dried)
Fruit & Vegetable Blend … 930mg
(Proprietary) (freeze-dried, low temperature dried)
Organic Apple, Organic Carrot, Organic Mango, Organic Lemon, Organic Sweet Potato, Organic Peach, Organic Parsley, Organic Kale, Organic Broccoli, Organic Spinach, Organic Leek, Organic Cabbage, Beet, Organic Cranberry (Quinic Acid 6%)
Organic Acerola Cherry Powder … 175mg
(17.5% AscorbiC Acid)
Green Tea Extract, White Tea Extract … 100mg
(decaffeinated 50% Polyphenol)
Polygonum Cuspidatum Extract … 70mg
(15% Resveratrol)
Oat Beta Glucan … 1500mg
Cinnamon Blend … 50mg
(Proprietary)
cinnamon Extract 8%, Organic Cinnamon Bark Powder
Milk Thistle … 50mg
(20% Silymarin)
Marigold Extract … 50mg
(5% Lutein with Zeaxanthin)
Dunaliella Salina Extract … 100mg
(Natural Carotenoids)
Enzymes … 40mg
(Plant-based)
Alpha Amylase, Bromelain, Cellulase, Galactosidase, Glucoamylase, Hemicellulase, Lipase, Papain, Protease
Lecithin … 1000mg
(non GMO)
Lycopene Extract-10% … 25mg
(from tomato)
Organic Lemon Peel Powder … 25mg
Organic Quinoa Sprout … 90mg
Artichoke Extract … 20mg
(5% Cynarin)
Organic Atlantic Kelp Powder … 20mg
(laminaria Digitata, 0.4% Iodine)
Stevia Leaf Crystals … 200mg
(Stevia Rebaudiana)
Other Ingredients: Natural Flavors (Plant Based), Citric Acid, Soy Phospholipds.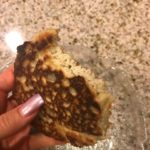 Protein Collagen Pancakes
Gluten Free, Dairy free
Happily serves 2-3
ALL ORGANIC INGREDIENTS
2 Free Range Pasture raised eggs
1 egg white
1/8 Cup melted Coconut oil
1/4Cup Coconut flour
2 scoops Bone Broth Protein Powder
Dash cinnamon
1/8 tsp Himalayan sea salt
Liquid Bone broth or water to thin (I only needed about a TBSP)
Stevia if desired sweeter
Whisk eggs and oil together thoroughly.
Stir in coconut flour, protein powder and Himalayan sea salt and allow to sit for 5 minutes
Heat coconut oil in a large skillet over medium-low heat.
Once hot, drop batter into cast iron skillet, cook until bubbles form on one side, flip and repeat.
Serve Hot
Allergy testing At a Glance
I'm all about questions and explaining why. When we understand "Why" we do things, programs or guidelines become easier to follow and results tend to be easier to maintain when education is behind our actions.  Let me help you stop the guess work and customize your eating and supplement plan so you can be the best version of yourself you can be!!!
Formal name:
Allergen-specific IgE Antibody Test
Why Get Tested?
To help diagnose allergies; sometimes to monitor the effectiveness of immunotherapy (desensitization) treatment
When to Get Tested?
When you have symptoms such as hives, dermatitis, nasal congestion, red itchy eyes, asthma, or abdominal pain that your health care provider suspects may be caused by an allergy
A Sample is Required
A blood sample drawn from a vein in your arm or finger prick at home test.
No Test Preparation Needed
What is being tested?
Immunoglobulin E (IgE) is a class of antibody (immune protein) associated with allergic reactions. It is normally found in very small amounts in the blood. This test measures the amount of allergen-specific IgE in the blood in order to detect an allergy to a particular substance.
IgE is an antibody that functions as part of the body's immune system, its defense against "intruders." When someone with a predisposition to allergies is exposed to a potential allergen such as food, grass, or animal dander for the first time, that person becomes sensitized. The person's body perceives the potential allergen as a foreign substance and produces a specific IgE antibody that binds to specialized mast cells in the skin, respiratory system, and gastrointestinal tract, and to basophils (a type of white blood cell) in the bloodstream. With the next exposure, these attached IgE antibodies recognize the allergen and cause the mast and basophil cells to release histamine and other chemicals, resulting in an allergic reaction that begins at the exposure site.
Each allergen-specific IgE antibody test performed is separate and very specific: honeybee versus bumblebee, egg white versus egg yolk, giant ragweed versus western ragweed. Groupings of these tests, such as food panels or regional weed, grass, and mold panels, can be done. Alternatively, the health practitioner may pick and choose selectively from a long list of individual allergens suspected of causing a person's allergies.
When is it ordered?
One or more allergen-specific IgE antibody tests are usually ordered when a person has signs or symptoms that suggest an allergy to one or more substances. Signs and symptoms MAY include:
**Fatigue is number one symptom!**
* Hives
* Dermatitis
* Eczema
* Red itchy eyes
* Coughing, nasal congestion, sneezing
* Itching and tingling in the mouth
* Asthma
* Abdominal pain or vomiting and diarrhea
* Bloating, excessive gas
* Skin breakouts
* Sluggish
* Stomachache, discomfort within 30 mins of eating
* Trouble concentrating, brain fog
A test may also be ordered occasionally to help evaluate the effectiveness of immunotherapy or to determine whether a child has outgrown an allergy.
Sources:
American Academy of Allergy, Asthma, and Immunology
Asthma and Allergy Foundation of America: What are allergies?
American College of Allergy, Asthma,
American Academy of Family Physicians: Food Allergies
Food Allergy & Anaphylaxis Network (FAAN)
Nemours Foundation: All About Allergies
American Academy of Allergy Asthma and Immunology: What is Allergy Testing
American Academy of Allergy Asthma and Immunology: Tips to Remember: Allergy Testing
National Institute of Allergy and Infectious Diseases