black pepper
now browsing by tag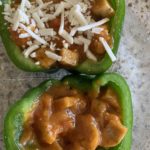 Stuffed Bell Peppers
Dairy Free, Gluten Free
Happily serves 2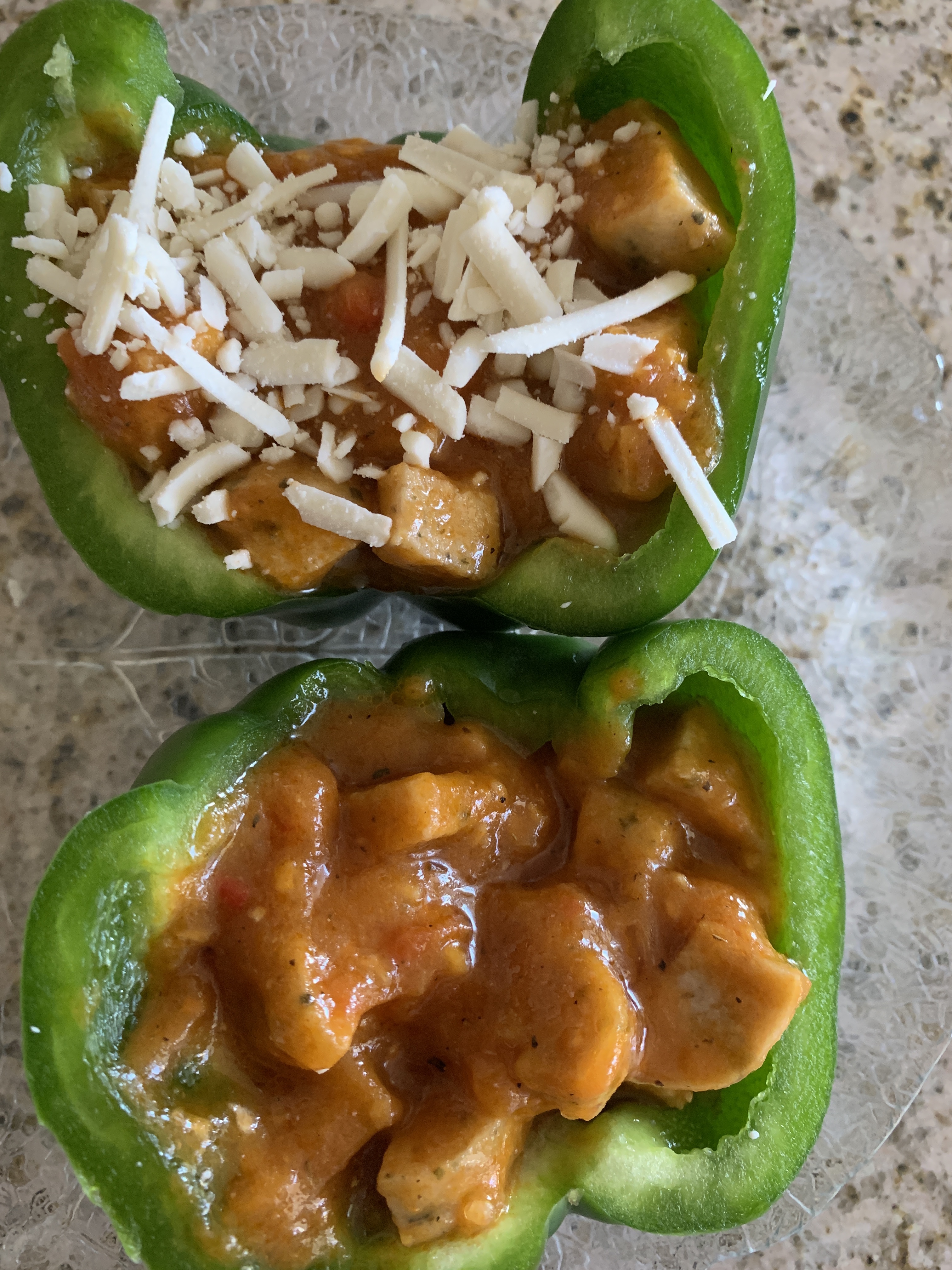 ALL ORGANIC INGREDIENTS
2 Green Bell Peppers
2 Chicken Sausages
1/2-1 Cup Butternut squash pasta sauce (you can use marinara)
2 TBSP Avocado Oil
1/2 Cup Dairy Free Mozzarella Cheese
1 tsp Minced Garlic
1 tsp Minced Onion
1 tsp Herb seasoning
1-2 tsp Himalayan Sea Salt
Cut Bell Pepper in half.  Remove seeds.
Dice Sausage or you use ground meat.
Mix sauce, seasons, salt and meat together.
Lay bell pepper in a stone pan and fill with sauce mixture.
Bake 10 minutes.
Add cheese and bake 5 more minutes until melted.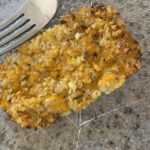 C
Dairy Free, Gluten Free
Happily Serves 4
ALL ORGANIC INGREDIENTS
1 Head of Cauliflower or 2 Cups Cauliflower Rike
1 Egg or egg replacer
¾ Cup Shredded Cheddar Cheese (I used So Delicious Brand)
¼ tsp Garlic Powder
½ tsp Salt
1/8 tsp Sage
Optional:
1/8 tsp White Pepper
If you are using an egg replacer:
Mix 1 TBSP Gelatin, ground chia or flax seed with 3 TBSP water and let sit about 2-3 minutes to "gel".
Grate Cauliflower or use Cauliflower rice.
Steam for 5-7 minutes or place in Airfryer for about 5 minutes.
Place in Paper Towel or Cheesecloth to Remove Excess Water
Add all Ingredients in bowl, mix well.
Spray coconut or avocado oil on a backing sheet or square bar pan.
Form into rectangle shape and place on baking sheet of choice.
Bake on 400° for about 15 minutes.
For extra crispy add to air fryer for up to 5 more minutes, or keep in oven and turn on broiler for 5 minutes.
Turmeric Curcumin 1000mg
Patient One MediNutritionals
60 capsules $21.25
Promotes normal inflammatory response while also supporting joint, immune, gastrointestinal, and cardiovascular function
Promotes immune system function
* Supports brain and joint health
* Promotes healthy liver, gall bladder and digestive function
* Free radical scavenging properties
* Supports cardiovascular function
* Black pepper included for enhanced absorption
Unique Properties
Curcumin, a polyphenol nutrient found in the spice turmeric (Curcuma longa), has beneficial effects for nearly every organ system in the body. Used for its medicinal effects for centuries and extensively studied, Curcumin has been shown to help maintain the bodys normal inflammatory response while also supporting joint, liver, gastrointestinal, and cardiovascular function. To enhance the normally poor bioavailability of curcumin, our potent formula also contains black pepper extract that promotes rapid absorption of nutrients from the gastrointestinal tract.
Key Ingredients
Turmeric (Curcuma longa)
Patient One Turmeric Curcumin combines the benefits of both whole Turmeric root and Turmeric extract (standardized to 95% curcuminoids), along with black pepper extract for enhanced absorption.
Curcumin is the orange pigment in turmeric (the primary ingredient in curry) and has been studied for its effective therapeutic outcomes acting as an antioxidant, anti-inflammatory, antispasmodic, anticoagulant, immuno-modulatory activities and even in wound healing. Research suggests support for joint, eye, GI tract, liver, prostate and nerve health.
Curcumin supports production of B and T cells which is useful for promoting proper immune function. It also supports production of bile and enzymes that digest sugars and fats. This helps to maintain cholesterol levels within normal range. Turmeric supports intestinal flora and the mucus membranes of the body, including those of the digestive tract. As such, it may be beneficial after a course of antibiotics and for those with unbalanced intestinal flora. It also helps protect the stomach against excess acid and is used for its soothing effect on the mucosa of the gut.
Black Pepper Extract (as BioPerine®)
It has been found that the therapeutic effectiveness of curcumin is often limited due to its poor absorption from the GI tract. When taken orally only traces appear in the blood, whereas most of the dose is excreted though the feces. Our formula includes BioPerine®, a patented extract derived from the common black pepper fruit that contains the alkaloid piperine. Black pepper has been shown to enhance the bioavailability and promote absorption of curcumin both in pre-clinical studies and in studies on human volunteers.
Research
* Several studies have illustrated curcumins hepatoprotective effects, leading researchers to suggest its use in protecting the liver from exogenous insults from environmental toxins.
Servings Per Container: 60
Take 1 capsule daily, preferably with a meal, or as directed by a qualified healthcare professional.
Serving Size: 1 capsule
Amount Per Serving
Turmeric Complex Proprietary Blend … 1000mg
Turmeric (Curcuma longa) (root) and Turmeric Extract (Curcuma longa) (root) (Standardized to contain 95% Curcuminoids) 
BioPerine® Black Pepper Extract … 5mg
(Piper nigrum) (fruit) (Standardized to contain 95% piperine)
Other Ingredients: vegetable cellulose (capsule), rice powder, l-leucine
This product is free of milk, egg, fish, peanuts, crustacean shellfish (lobster, crab, shrimp), soybeans, tree nuts, wheat, yeast, gluten, corn, sugar, and artificial sweeteners, flavors, colors and preservatives. This product is free of ingredients derived from genetically modified organisms (GMOs).
BioPerine® is a registered trademark and patented product of Sabinsa Corporation
References
* Shoba G, Joy D, Joseph T, et al. Influence of piperine on the pharmacokinetics of curcumin in animals and human volunteers. Planta Med 1998 May;64(4):353-56. [PMID: 9619120]
* Jagetia GC, Aggarwal BB. "Spicing up" of the immune system by curcumin. J Clin Immunol. 2007 Jan;27(1):19-35. [PMID: 17211725]
* Funk JL, Oyarzo JN, Frye JB, et al. Turmeric extracts containing curcuminoids prevent experimental rheumatoid arthritis. J Nat Prod. 2006 Mar;69(3):351-55. [PMID: 16562833]
* Jurenka JS. Anti-inflammatory properties of curcumin, a major constituent of Curcuma longa: a review of preclinical and clinical research. Altern Med Rev. 2009 Jun;14(2):141-53. [PMID: 19594223]
* Ng T, et al. Am J Epidemiol. 2006;164:898-906.
* Sun AY, Wang Q, Simonyi A, et al. Botanical phenolics and brain health. Neuromolecular Med. 2008;10(4):259-74. [PMID: 19191039]
* Neelofar K, Shreaz S, Rimple B, et al. Curcumin as a promising anticandidal of clinical interest. Can J Microbiol. 2011 Mar;57(3):204-10. [PMID: 21358761]
* Epstein J, Docena G, MacDonald TT, et al. Curcumin suppresses p38 mitogen-activated protein kinase activation, reduces IL-1beta and matrix metalloproteinase-3 and enhances IL-10 in the mucosa of children and adults with inflammatory bowel disease. Br J Nutr. 2010 Mar;103(6):824-32. [PMID: 19878610]
* Ukil A, Maity S, Karmakar S, et al. Curcumin, the major component of food flavour turmeric, reduces mucosal injury in trinitrobenzene sulphonic acid-induced colitis. Br J Pharmacol. 2003 May;139(2):209-18. [PMID: 12770926]
* Holt PR, Katz S, Kirshoff R. Curcumin therapy in inflammatory bowel disease: a pilot study. Dig Dis Sci. 2005 Nov;50(11):2191-93. [PMID:16240238]
* Lal B, Kapoor AK, Asthana OP, et al. Efficacy of curcumin in the management of chronic anterior uveitis. Phytother Res. 1999 Jun;13(4):318-22. [PMID: 10404539]
* Xie L, Li XK, Takahara S. Curcumin has bright prospects for the treatment of multiple sclerosis. Int Immunopharmacol . 2011 Mar;11(3):323-30. [20828641]
* Martins CV, da Silva DL, Neres AT, et al. Curcumin as a promising antifungal of clinical interest. J Antimicrob Chemother. 2009 Feb;63(2):337-39. [PMID: 19038979]
* Mythri RB, Harish G, Dubey SK, et al. Glutamoyl diester of the dietary polyphenol curcumin offers improved protection against peroxynitrite-mediated nitrosative stress and damage of brain mitochondria in vitro: implications for Parkinsons disease. Mol Cell Biochem. 2011 Jan;347(1-2):135-43. [PMID: 20972609]
* Ravindran J, Prasad S, Aggarwal BB. Curcumin and cancer cells: how many ways can curry kill tumor cells selectively? AAPS J . 2009 Sep;11(3):495-510. [PMID: 9619120]
* Goel A, Aggarwal BB. Curcumin, the golden spice from Indian saffron, is a chemosensitizer and radiosensitizer for tumors and chemoprotector and radioprotector for normal organs. Nutr Cancer. 2010 Oct;62(7):919-30. [PMID: 20924967]
* Choi H, Chun YS, Shin YJ, et al. Curcumin attenuates cytochrome P450 induction in response to 2, 3, 7, 8-tetrachlorodibenzo-p-dioxin by ROS- dependently degrading AhR and ARNT. Cancer Sci. 2008 Dec;99(12):2518-24. [PMID: 19018768]
* Zhang, Dong Wei, Chuang Fang Huang, Chang Fu Yang, Ren Zuo Liu, Ji Feng Wang, Jian Zhao Niu, and Dieter Bromme. "Antifibrotic Effects of Curcumin Are Associated with over Expression of Cathespins K and L in Bleomycin Treated Mice and Human Fibroblasts." Respiratory Research. Respiratory Research, 2011.
* Davis, J. Mark. "Curcumin Effects on Inflammation and Performance Recovery following Eccentric Exercise-induced Muscle Damage." Am J Physiol Regul Integr Comp Physiol. American Physiological Society, 2007.
* Karlstetter, Marcus, Elena Lippe, Yana Walczak, Chistoph Moehle, Alexander Aslanidis, Myriam Mirza, and Thomas Langmann. "Curcumin Is a Potent Modulator of Microglial Gene Expression and Migration." Journal of Neuroinflammation. Journal of Neuroinflammation, 2011.
Warnings
If pregnant, nursing, have gall stones or gall bladder disease, consult your healthcare practitioner before taking this product. Individuals taking medication, especially blood thinners or cancer treatment, should discuss potential interactions with their healthcare practitioner. Discontinue use and consult doctor if any adverse reactions occur.
Honey Ginger Dressing
GF, Paleo
Happily serves 2
ALL ORGANIC INGREDIENTS
1 Tbsp Avocado Oil
Zest of 1 lime
2 Tbsp coriander
1 tsp minced fresh ginger
2 Tbsp Raw honey
1/4 tsp black pepper
2 Tbsp Coconut Aminos
Mix all ingredients.
Shake before serving.
Sriracha Aioli

Vegetarian, Gluten Free
Happily Serves 3-4
ALL ORGANIC INGREDIENTS
3/4 Cup Raw Cashews
5  Garlic cloves, minced
1/4 Cup water
1-2 TBSP Avocado oil
1 tsp Maple syrup
1 TBSP Lime juice
Sea salt + black pepper to taste
1 tsp Sriracha (or other hot sauce), plus more to taste
Pinch each chili powder, smoked paprika, and ground cumin
Optional: 1/2 tsp Nutritional yeast (for a little cheesiness)
Place cashews in a bowl and cover with boiling hot water.
Let set, uncovered, for about 1 hour or until very soft, drain thoroughly and Rinse.
Add cashews to the blender or food processor with fresh garlic, water, 1 Tbsp Avocado oil, maple syrup, lime juice, salt, pepper, Sriracha, and spices.
(Nutritional yeast is optional.)
Blend on high until creamy and smooth.
Add more water if it's too thick.
Winter Squash Pancakes
Vegan, GF, Refined Sugar free
Happily serves 4
ALL ORGANIC INGREDIENTS
PANCAKES
1 cup Cooked and smashed winter squash
1/3 cup cashew cream or vegan cream cheese
2 large eggs (or flax egg)
1/2 cup coconut yogurt
3/4 teaspoon sea salt
A dash black pepper
1 teaspoon baking powder
1 cup all-purpose GF flour
coconut oil for frying pan
TO FINISH:
Crispy Sage Brown Butter:
2 to 3 tablespoons butter
A pinch or two of salt
A few fresh sage leaves
In a large bowl, whisk squash, yogurt, eggs, cheese, salt, pepper and baking powder until smooth.
Add flour and stir until just combined. Batter will be thick.
Heat skillet medium-low to medium.  Coat the bottom with coconut oil, and spoon in pancake batter,  flatten the pancake slightly.
Cook until golden brown underneath, flip and cook until golden brown.
Lower your heat, if it's cooking too fast. If you're worried pancakes have not cooked in the center, you can finish them for 10 minutes in a 250 degrees oven.
To finish, wipe out frying pan and add butter (or you can use coconut oil), a Dash of salt and sage leaves, heating over medium heat. The sage leaves will crisp and the butter will brown in a minute or two so keep a close watch on it. Pour leaves and butter over pancakes
To roast squash: For butternut or kabocha, roast it face-down on an a baking sheet sprinkled with coarse salt at 375 for 40 to 50 minutes, until tender.
Garlic Shrimp Salad
Gluten Free, Dairy Free
Happily serves 4
ALL ORGANIC INGREDIENTS
SALAD
3 c Garlic Cloves
1 lb Cooked Wild caught Shrimp
1 Cup Asparagus
1 Cup Artichoke
3 TBSP Bone broth
1 Red bell pepper
3 TBSP chopped fresh parsley (or 3 tsp dried parsley)
Bam Box Greens and Sprouts
http://Www.bamboxproduce.com
DRESSING
3 TBSP  fresh lemon juice
2 TBSP Extra-virgin Olive oil
1 TBSP Dijon mustard
1 tsp honey or Stevia
Himalayan Seasalt
Cracked black pepper to taste
Press Garlic, Let sit 5-10 mins. Chop bell pepper and asparagus. Cut Artichoke.
Pat shrimp dry
Add bone broth to cast iron skillet and saute asparagus, artichokes, and bell peppers.
Whisk it together lemon juice, EVOO, mustard, honey (or stevia) and garlic.
Toss shrimp with veggies,  dressing and herbs, lay on a bed of MicroGreens.
Best if you let the shrimp marinade at least 15 minutes.

Use the Code JLDFIT for 25% off your first month's membership on BamBoxProduce
Easiest Pumpkin Soup
Vegan, GF, Dairy free
Happily Serves 4 
ALL ORGANIC INGREDIENTS 
1/2 medium onion, finely chopped 
2 TBSP Avocado oil
1 Large can pure pumpkin or fresh pumpkin
4 Cups bone broth (or vegetable broth if a Vegan)
1/2 cup Coconut Milk or 3/4 cup soaked cashews
2 tsp Pumpkin pie spice
3/4 tsp Sea salt
1 garlic clove
Black pepper
Optional: Add Curry powder and Coconut milk to desired texture
Heat Avocado oil over medium-high heat. 
Add the onion and cook, stirring, 3 minutes
Cream cashews in food processor.
Stir in the pure pumpkin, bone (or chicken) broth, milk or cashews, pumpkin pie spice, and sea salt.  
Cook, stir occasionally for 3 minutes or until soup simmers.
Soup can be stored in the refrigerator for up to 3 days.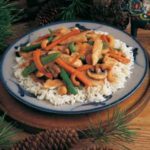 Amino Turkey Veggie Stir Fry
Happily serves 4
Gluten Free
All Organic ingredients:
2 tsp avocado oil
1 lb ground turkey (can sub Bison)
1 cup broccoli 
1 cup red and or green cabbage
1 medium yellow onion
3 cloves garlic
1 tsp ground ginger or ginger powder
¼ cup coconut aminos
Salt and black pepper to taste
2-3 green onion stalks, finely chopped
Optional: ¼ tsp red pepper flakes 
Brown the meat in cast iron pan.  Cover and remove from heat while preparing the veggie mix.
On medium to high heat saute chopped yellow onion (not the green onions) and avocado oil for 3 mins.
In a small bowl, mix together the garlic, ginger and aminos and add to pan, and then immediately add veggies.
Cook for a 3-5 minutes, stirring often
Add chopped green onions and meat, combine well.
Salt and black pepper to taste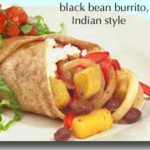 Indian Style Black Bean Wrap
Vegan, Vegetarian, GF
Happily serves 4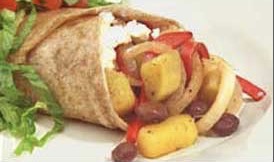 ALL ORGANIC INGREDIENTS
1 yellow onion
4 cloves garlic
1 tsp fresh grated ginger
1 Cup sweet potatoes or quinoa (or half cup of each)
1 Cup green bell pepper
1 Cup Red bell pepper
1 tsp garam masala
1 TBSp +1/2 cup vegetable or bone broth
2 cups black beans drained and rinsed
Sea Salt and black pepper to taste
Romaine lettuce
Chop onions and garlic. Let sit for 5-10 minutes
Prepare other vegetables.
Salute onion, garlic, ginger, and peppers in broth over medium heat for about 5 minutes, stirring frequently.
Add garam masala and sweet potatoes and mix well.
Add 1/2 cup broth and cook covered on low heat for about 10 minutes, or until potatoes are tender.
Add beans, Season with salt and pepper to taste.
Lettuce wrap all veggies and Enjoy!