soy
now browsing by tag
GI Guard PM
Protocol for life balance
60 capsules $32.00
Maintains Healthy Mucosal Integrity
-With PepZin GI®, Melatonin, L-Tryptophan & B Vitamins
-Nighttime GI Support*
-A Dietary Supplement
-Vegetarian/Vegan
GI Guard™ PM is a nutritional formula with PepZin GI®, Melatonin, amino acids, and B Vitamins designed to help maintain the strength and integrity of the gastrointestinal mucosal barrier.* GI Guard™ PM features PepZin GI®, which has been shown in clinical studies to promote a healthy stomach lining and to support proper gut repair processes.* Melatonin, a potent free radical scavenger, is known to exist at high levels in the gut, where it exerts its protective effects against oxidative stress throughout the gastrointestinal tract.* Melatonin also helps support healthy gastric pH levels, normal pepsin production in the stomach, and helps to regulate proper intestinal motility.* B Vitamins and Amino Acids, such as L-Tryptophan are necessary for Melatonin synthesis.
Servings Per Container: 30
As a dietary supplement, take 1-2 capsules 30 to 60 minutes before bedtime, or take as directed by your healthcare practitioner.
Serving Size: 2 Veg Capsules
Amount Per Serving
Vitamin B-6 … 25mg 
(from Pyridoxine HCl)
Vitamin B-12 … 50mcg 
(as Cyanocobalamin)
Folic Acid … 800mcg
Zinc … 14mg 
(from PepZin GI®)
PepZin GI® … 75mg 
(Zinc-L-Carnosine Complex)
L-Carnosine … 57mg 
(from PepZin GI®)
Melatonin … 6mg
L-Tryptophan … 200mg
L-Methionine … 100mg
Trimethylglycine … 100mg 
(TMG)
Taurine … 100mg
Other Ingredients: Cellulose Powder, Cellulose (capsule), Silica and Magnesium Stearate (vegetable source).
Not manufactured with wheat, gluten, soy, milk, egg, fish, shellfish or tree nut ingredients. Produced in a GMP facility that processes other ingredients containing these allergens. CAUTIONS/INTERACTIONS: Do not drive or use machinery for 4 to 5 hours after taking melatonin. Theoretically, concomitant use of melatonin with alcohol, benzodiazepines, or other sedative drugs might cause additive sedation. Melatonin may interact with anticoagulant/anti-platelet medications, antidepressants, anti-hypertensives, anti-diabetes drugs, anti-neoplastic agents and other drugs. If you are taking any prescription medications or if you have glaucoma, consult your healthcare practitioner before using this product.
Golden Milk
Dairy Free, Soy free, Gluten Free, 
Happily serves 1
ALL ORGANIC INGREDIENTS
1 Cup Almond or non dairy nut milk
1 TBSP Coconut oil
1 tsp Turmeric
1/4 tsp ground ginger
1/2 tsp ground cinnamon
1/8 tsp white pepper (or black)
Optional: scoop of Collagen
Mix all ingredients together, whisk, or nutria bullet or shaker bottle. You can drink warm or cold. Great for inflammation, muscle, and immune support if you add the collagen.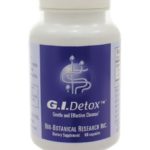 G.I. Detox (With Pyrophyllite Clay)
Bio-Botanical Research
60 capsules $31.50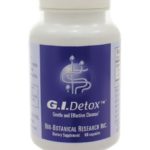 Removal of debris and toxins from the intestinal tract is an important part of any comprehensive cleansing program. G.I. Detox™ contains both pyrophyllite healing clay and activated charcoal for a simple and well tolerated cleansing regime.
-Removes Debris, Toxins and Accumulated Waste 
-Excellent Support when used with the Bioclear® Program
-Assists in "Mop Up" Phase of Biofilm Treatment
General Cleansing for Adults: For twice monthly use: 1 – 2 capsules with a large glass of water 3 times daily taken between meals, for 3 days. During use of G.I. Detox eat a diet high in leafy greens and low in refined carbohydrates. A minimum of 64 ounces of water a day should be taken. Take 1 – 2 hours apart from other supplements or medications. When using G.I. Detox™ during a course of Biocidin® or Olivirex®, resume these at a lower dosage and gradually increase to the recommended levels again as the effects will be more powerful after the colon is cleansed.
Servings Per Container: 60
Serving Size: 1 capsule
Amount Per Serving
Proprietary Herbal Blend … 750mg
Pyrophyllite Clay 562mg
Activated Charcoal 188mg
Other Ingredients: Cellulose and water
Contains no allergens such as dairy, wheat, gluten, sugar, soy, preservatives, animal products, artificial flavorings or colorings.
For "mop-up" of die off reactions take 1 – 2 capsules of  GI Detox™ 1 hour apart from Biocidin®, Olivirex® or other medications. Discontinue use should adverse reactions occur. Not intended for use during pregnancy.
Urinary tract Info

:
Commonly also call bladder infections. There is a disturbance in the bacterial flora that protects the urinary track and anabiotic's lead to reoccurring infections.
Doubling probiotics such as L. Acidophilus is highly recommended. At least 20 billion CFU's. 50-100Billion CFU's would be more beneficial and HIGHLY recommended.
Acidity levels are too high in the body when the pH is disrupted there is fermentation of vaginal glycogen to lactic acid. Alkalinity is Key, must add more Green into the diet. ORGANIC EATING is SO Very IMPORTANT!!!
Eliminating of dairy, yeast, and soy products are recommended to rebalance pH. Limiting grains, sugar, caffeine, and alcohol, and refined carbohydrates.
At least 64 oz water a day. Decaffeinated tea counts as water. Eliminate food allergens. Allergy Blood work is your best Road map to gut and immune support and healing.  Blood Tests are available and easy!
Recommended foods:
Use healthy cooking oil such as olive oil (don't heat olive oil) or coconut oil.
Eat Less red meats and more lean meats such as fish, but no soy.
High fiber foods include beans root vegetables such as yams or sweet potatoes and psyllium husk.
Antioxidant rich foods including vegetables like bell peppers and squash.
**Fruit in the morning including cranberries, blueberries,and cherries. If you're going to drink juice make sure that it is unsweetened. Please eat your fruit, better for you unless you are juicing. Best for digestion if fruit is first thing in the morning and by itself or for your first snack, eaten alone.**
Recommended Vitamins:
Probiotics and digestive enzymes ALWAYS!! Double if taking antibiotics!
Multi Vitamin
Vit D: 2000-4000 IU
Fish oils 1000mg and or Flax seed, 3x a day. Could go up to 6000mg
Super Greens
Amino Acids
Vit C: 1000mg a day
Grape seed oil 100-300mg
Magnesium 200-300mg 3x a day
Zinc: 30mg a day
Recommended Botanicals:
Cranberry
Aloe Vera: up to 32oz per day
Gotu Kola is great extract tea to help balance pH. 60-120mg
Uva Ursi ( upland cranberry or bearberry) is a powerful antiseptic herb.
Dried leaves or tea: 1.5-4.0 (1-2 tsp)
Goldenseal herb has antimicrobial agents. Dried root or tea: 1-2g
Other herbs that are recommended: green tea, cats claw, milk thistle, and reishi mushroom.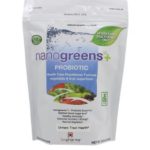 NanoGreens Plus Probiotic
BioPharma Scientific
300grams $54.95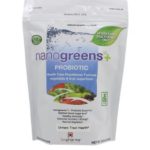 What makes nanogreens + probiotics different?
*Green powder mixed with DE111 Probiotic
*UTI Health Support
*Pouch Form -> Nitrogen Flushed
*5 Billion CFU dose after 2+ years
*DE111 Probiotic does not require special storage conditions like many other probiotics.
*Oral administration of Bacillus Subtilis DE111 helps digest and convert sugars and fats, and helps maintain glucose, cholesterol and triglyceride levels in the blood.
Vegan
Vegetarian
Gluten Free
All Natural
Non-GMO
Probiotic
Kid Friendly
How To Enjoy: Mix one scoop of nanogreens + probiotic with 6-8 oz of cold water, milk or juice. For best results, use shaker cup. Children under 12 should take 1/2 serving.  Refrigerate after opening.
Servings Per Container: 30
Serving Size: 10g (1 scoop)
Amount Per Serving
Calories … 45
Calories from Fat … 10
Total Fat … 1g
Total Carbohydrate … 7g
Dietary Fiber … 2g
Sugar … 2g
Protein … 2g
Vitamin A … 2500IU
(as Beta Carotene)
Vitamin C … 30mg
Sodium … 20mg
Potassium … 130mg
DE111®
Bacillus subtilis … 5 billion CFU
Greens Blend … 2250mg
(Proprietary)
Organic Barley Grass Juice, Spiruline, Chlorella
Phytonutrient Blend … 360mg
(Proprietary)
Green Tea Extract, Silybin (from Milk Thistle), Grape Seed Extract, Blueberry, Cranberry, Raspberry, Tart Cherry, Pine Bark Extract, Organic Broccoli, Tomato, Organic Carrot, Organic Spinach, Organic Kale, Bilberry, Elderberry, Pomegranate, Blackberry
Quercetin/Rutin … 100mg
50/50
Organic Rice Bran Soluble … 2081mg
Raspberry Extract … 50mg
(20% Ellagic Acid)
Organic Aloe Vera Powder Extract … 30mg
(100:1 freeze dried)
Fruit & Vegetable Blend … 930mg
(Proprietary) (freeze-dried, low temperature dried)
Organic Apple, Organic Carrot, Organic Mango, Organic Lemon, Organic Sweet Potato, Organic Peach, Organic Parsley, Organic Kale, Organic Broccoli, Organic Spinach, Organic Leek, Organic Cabbage, Beet, Organic Cranberry (Quinic Acid 6%)
Organic Acerola Cherry Powder … 175mg
(17.5% AscorbiC Acid)
Green Tea Extract, White Tea Extract … 100mg
(decaffeinated 50% Polyphenol)
Polygonum Cuspidatum Extract … 70mg
(15% Resveratrol)
Oat Beta Glucan … 1500mg
Cinnamon Blend … 50mg
(Proprietary)
cinnamon Extract 8%, Organic Cinnamon Bark Powder
Milk Thistle … 50mg
(20% Silymarin)
Marigold Extract … 50mg
(5% Lutein with Zeaxanthin)
Dunaliella Salina Extract … 100mg
(Natural Carotenoids)
Enzymes … 40mg
(Plant-based)
Alpha Amylase, Bromelain, Cellulase, Galactosidase, Glucoamylase, Hemicellulase, Lipase, Papain, Protease
Lecithin … 1000mg
(non GMO)
Lycopene Extract-10% … 25mg
(from tomato)
Organic Lemon Peel Powder … 25mg
Organic Quinoa Sprout … 90mg
Artichoke Extract … 20mg
(5% Cynarin)
Organic Atlantic Kelp Powder … 20mg
(laminaria Digitata, 0.4% Iodine)
Stevia Leaf Crystals … 200mg
(Stevia Rebaudiana)
Other Ingredients: Natural Flavors (Plant Based), Citric Acid, Soy Phospholipds.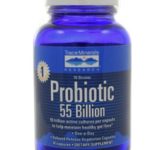 Probiotic 55 Billion
Trace Mineral Research
30 capsules
$38.99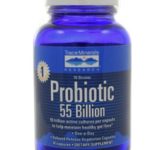 Probiotic 55 Billion is formulated with 10 strains of viable organisms including 11 billion Bifidobacterium CFUs‡ and 44 billion Lactobacillus CFUs‡, the bacteria most dominantly found in the large and small intestines. It's a well known fact that intestinal flora often decreases as we get older. Decreased intestinal flora can cause your digestive system to function incorrectly, allowing important nutrients your body needs to pass through the digestive system without being broken down and absorbed.† Therefore, taking a probiotic like Probiotic 55 Billion daily can help your body maintain a healthy functioning digestive system.*
Servings Per Container: 30
Take 1 capsule daily on an empty stomach. Refrigerate after opening to best preserve bacteria potency.
Serving Size: 1 capsule
Amount Per Serving
Probiotic … 55 Billion CFUs‡ 
Proprietary Blend … 307mg
Lactobacillus acidophilus, Bifidobacterium bifidum, Lactobacillus rhamnosus, Bifidobacterium breve, Bifidobacterium longum, Lactobacillus casei, Lactobacillus plantarum, Bifidobacterium lactis, Lactobacillus bulgaricus, Lactobacillus salivarius.
Fructooligosaccharide … 33mg
Other Ingredients: Stearic acid, hypromellose.
‡Colony Forming Units (CFUs).
Allergen Info: contains traces of milk & soy; contains <10 ppm gluten.
If you missed the Local education night here is a few things we discussed:
Muscle building with Plant Protein
*How do you support a body on a plant based diet without eating meat?
Earth is the ultimate prism. Every green plant captures a different wavelength of light and energy from the sun. A collection of juices from sea plants, field grasses and garden vegetables will alkalize your body, build up your blood, and cleanse your cells.
What is a Carbohydrate? Fruit, vegetable, starch, grain, pasta
What is a Protein? Animal meat, dairy
What is a Fat? Nut, seed or oil
How Much do we need daily? Age/Gender/Health History
Carbs: Weight loss must be under 50g a day, aim for no more than 30g of carbs at a meal and 8g of sugars within those carbs. Think higher fiber foods.
Protein: 1g per 1kg body weight (think about half your body weight)
Fat: 25-30% daily calories can come from the pure sources of healthy fats.
***Ratios are different for everyone and Should be evaluated by a Certified Health Professional or Holistic Professional based on your health history.***
What are Amino Acids? What do they do?
Assists with the stabilization or recovery of muscle strength, endurance, and volume
Helps keep body tissues firm
Helps minimize body fat
May support a weight loss regimen
Aid in normalizing protein synthesis
If the essential amino acids are not present in the daily diet the body will break down existing proteins in order to supply the body with the missing amino acids.
Essential Amino Acids:
Cannot be produced in our body and thus must be consumed in our diets. The essential amino acids humans cannot synthesize are:
Phenylalanine, valine, threonine, tryptophan, methionine, leucine, isoleucine, lysine, and histidine. (Arginine is mostly required in young children and not as important as adults)
Non-Essential Amino Acids: These can be synthesized by the body.
Proteins drive ALL functions of the various organs of the human body.
Alanine (from pyruvic acid)
Arginine (from glutamic acid)
Asparagine (from aspartic acid)
Aspartic Acid (from oxaloacetic acid)
Cysteine
Glutamic Acid (from oxoglutaric acid)
Glutamine (from glutamic acid)
Glycine (from serine and threonine)
Proline (from glutamic acid)
Serine (from glucose)
Tyrosine (from phenylalanine)
If you fail to obtain even just one out of the essential amino acids, your body's proteins so not complete and the body is forced to steal from bones and elsewhere to create metabolic processes in your body. Also, unlike fats and carbohydrates, your body does not store excess supplies of amino acids for later use – you need a regular supply of them everyday.
Foods with amino acids include animal and vegetable sources. Most of the animal sources such as meat, eggs and milk are considered to be "complete protein sources" meaning that these contain all the essential amino acids that your body needs.
Vegetables are also good amino acid food sources but most of them do not usually contain all essential aminos.
Amino Acid Deficiency and Supplementation
Many people who are sick, fatigued, or trying weight loss programs, vegetarians or Vegans consume insufficient amounts of protein. Thus, supplementation of amino acids has been increasingly necessary. B6 and B12 are the most common of deficiencies when not consuming animal protein.
Non Meat Forms of Amino Acids: Think SEA LIFE!
*How can I combat muscle fatigue or just plain being tired all the time?
More GREEN foods create energy in the body! How do plants grow? They need sun, water, rest, minerals and vitamins, and time.
Antioxidant Rich foods: EAT FROM THE RAINBOW!
RED: Lycopene
YELLOW/ORANGE: Beta Carotene & Beta Crytoxanthin
BLUE/PURPLE: Anthocyanins
GREEN: Chlorophyll
GREEN FOOD BASICS:
*Green foods have a high content of chlorophyll due to porphyrin rings.
* Chlorophyll and heme units of red blood cells are virtually identical except the center molecule
* Chlorophyll-magnesium
* Heme-Iron
* Heme units are the building blocks for red blood cells
* Therefore, all green foods help the body to create new blood.
*How do we use food as medicine so we can fuel the body, heal and repair?
Basic Weight management Strategies and Lifestyle Strategies
1-Adequate ATP
2-Nutrient Density-Organic Foods. **A MUST!!!**
3-Balance-60-80% Alkalizing (pH Balance)
4-Moderation-Limited Refined Sugar
5-Calorie Control=Calorie Restriction
6-Variety= Seasonal Eating VS Emotional Eating
Refer to www.healthywithjodi.com for my Sweet 16 Eating Healthy Guidelines and how to achieve balance.
Definitions and menu DeCoding:
Vegan: A strict vegetarian who consumes no products from an animal, such as meat eggs or dairy products or stains from using animal products such as the leather.
Vegetarian: does not eat or believe in eating meat, fish, Fowl or any food drive from animals such as eggs or cheese. Uses fruits, vegetables, and grains for food sources.
Paleo: consume vegetables, fruits, nuts, lean meats, no grains, no processed foods.
Pescatarians: do not eat any land animals or birds such as beef pork chicken or turkey. Will eat fish and other seafood such as shrimp and clams. They do eat fruits, vegetables, beans, greens and nuts.
Lacto vegetarian: includes vegetables and dairy products such as milk, cheese, yogurt, butter, ghee, cream, Keefer but excludes eggs.
Food Catagories: Do you now what you are eating and how to combine them? (Just a few listed below)
Whole Grain, Gluten
Tamari, Coconut Aminos, Soy Sauce
Flax Seed, Chia Seed, hemp hearts, Tahini
Hummus, lentils, Tofu, beans
Nut Meat, Nut Milk, Quinoa
Micro greens, Sprouts
Spices: parts of the plant other than the leafy bit such as the root, stem, Bulb, bark or seeds ex: cinnamon, cloves, ginger and pepper.
Herbs: come from the leafy and green part of the plant. Ex: Basil, oregano, rosemary, Parsley, mint.
Spices and herbs add MAJOR nutrients to your meals, you can achieve therapeutic ranges when you use ORGANIC spices/herbs daily. Www.superfoodly.com
*What do I pair together to equal complete protein meal?
A nut or seed plus a legume equals a complete Protein.
BASIC PROTEIN NUTRITION INFO:**Even though you are worried about getting enough protein, you need to watch the Carbohydrate content of your meal. **
1/2 cup beans: average 7g protein Black, 7g protein garbanzo (20g carbs) 120 cal
1 small sweet potato: Not a nightshade 2g protein (22g carbs) 95 cal
1/2 cup yam: 2g protein (22g carb) ROOT Vegetable 95 cal
1/2 cup lentils (Legumes): average 9g protein (20g carb) 7g fiber
1/4cup Quinoa equals a cup cooked: 6g protein (29g carbs) 160 cal.
HAS ALL 9 ESSENTIAL AA
1 TBSP or 1/8cup nuts: walnuts: 2g protein (1g carb) 90cal
1 TBSP seeds: flax seeds: 3g protein (7g carb) 60 cal
1/2 cup brown rice: 5g protein (23g carbs) 150 cal
1/2 cup Black Rice: 10 LESS carbs than brown rice
4oz Tofu: 9g protein (3g carbs) 90cal
1/2 cup Soy beans: 14g (9g carbs) 150 cal
1 cup Avocado: balanced Meal!!! 3g protein (11g carbs) 7g fiber 22g fat 250 cal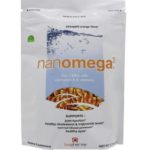 NanOmega3 Pineapple Orange
BioPharma Scientific.
$46.65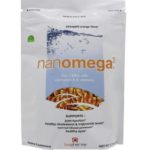 HEALTH PROFESSIONAL FORMULA
1000 IU of Vitamin D
Good Source of Fiber, Pineapple Orange
SuperFood SOLUTION™. NanOmega3™
Heart, Brain & Vision SuperFoodlifesDHA™.
HEALTHY BRAIN, EYES, HEART
SuperSorb® DELIVERY
DIETARY SUPPLEMENT
NET WT. 12.7 OZ (360g)
More Info:
Omega-3s are essential for fatty acids (EFAs) for supporting:
* heart health
* joint health
* healthy skin
* maintenance of normal blood lipids
* healthy brain function
* healthy eyes (retina)
* immune health
* general health and wellness
Truly a breakthrough functional food formula, NanOmega3 provides essential fatty acids (EFAs) from both:
-ALA, alpha-linolenic acid, from specially stabilized, organic MeadowPure™ golden flaxseed and
-DHA oil (lifesDHA™ from Martek) derived from plant marine algae, with
-Synergistic vitamins E, D3, folic acid, B6 and B12.
Supplemental Facts:
SuperSorb® is BioPharma Scientifics registered name for its enhanced delivery systems wherein highly bioavailable forms of micronutrient and microencapsulation are utilized to help maximize nutrient absorption.
In order to ensure correct usage of BioPharmas high potency formulas, BioPharma sells only through licensed healthcare practitioners.
Servings Per Container: 30
SUGGESTED USE:
Mix one [1] scoop (12 g) with 6-8 ounces of cold water, juice or milk to taste. Shake or blend briskly. Enjoy one (1) to two (2) times a day unless otherwise directed by your health professional. Children under 12 take 1/2 serving. NanOmega3 is scientifically formulated to taste great with BioPharmas entire SuperFood Solution™ line. For a wealth of SuperFood Smoothie/Shake recipes, ask your health professional for a copy of The SuperFood Solution™ Users Guide.
Refrigerate after opening.
Benefit:
YES:
*Great tasting, instant mixing
*Made with organic flax
*Vegan & non GMO
*Low net carb
*Low peroxide value (pv)
*Fortified with Vitamins D, E, & B
NO:
*Fishy tastes, smells or toxins
*Fish oil "burps"
*Animal or fish products
*Eggs, dairy, wheat, yeast, soy, gluten
*Artificial flavors, MSG, or glutamate peptides
Serving Size: 12g (1 scoop)
Amount Per Serving
Calories …57
Calories from fat …122
Total Fat …2.5g / 4% DV
Saturated Fat …Total Carbohydrate …7g / 2% DV
Dietary Fiber …2.5g / 10% DV
Sugars …1g
Protein …1g
Vitamin D3 …1000 IU / 250% DV
(cholecalciferol)
Vitamin E …30 IU / 100% DV
(d-alpha tocopherol succinate)
Vitamin B6 …1mg / 50% DV
(as pyridoxal-5-phosphate)
Vitamin B9 …2000mcg / 50% DV
(as folic acid)
Vitamin B12 …85.5mcg / 1, 425% DV
(as cyanocobalamin)
Calcium …21mg / 2% DV
Iron …425mcg / 2% DV
Magnesium …22mg / 5% DV
Sodium …5mg / <1% DV
Potassium …36mg / 1% DV
Total Omega-3 …1100mg #
Omega-3/DHA …100mg #
Omega-3/Linolenic Acid …1000mg #
Omega-6 …300mg #
Lignans …50mg #
Turmeric …70mg #
Stevia Leaf Crystals …70mg #
(stevia rebaudiana)
* Percent Daily Values are based on a 2, 000 calorie diet.
# Daily Value not established.
OTHER INGREDIENTS: Meadow Pure™ Omega-3 Ultra Golden Flax™ with Marteks DHA oil derived from marine algae, Natural Flavors (plant based), Rice Bran Soluble fiber*, Vitafiber™ (isomalto-oligosaccharides from non-GMO corn and/or potato starch), Rice Malto-dexrin*, Xanthan Gum, Natural Curcumin Color (plant based).
*Organic ingredients
IMPORTANT:
Best if stored in cool, dark conditions. After each use close tightly and refrigerate immediately. Contains an oxygen absorbent packet to preserve freshness.
Pregnant and nursing mothers, anyone taking prescription medications, or prior to any surgical procedures, inform their healthcare practitioner and/or pharmacist before taking this or any other dietary supplement.
Coconut Milk Coffee Creamer
Dairy Free, Vegan, Soy Free
Happily Serves: 4-8
ALL ORGANIC INGREDIENTS
1 Can Coconut Milk
1-2 TBSP Vanilla to taste
2 TBSP Melted Coconut oil
1 Tsp Honey OR Maple syrup OR Stevia to taste
Optional: Sea salt to taste
Add all ingredients in a blender/Vitamix and blend until well combined.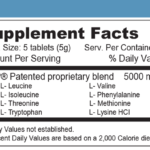 Purium Super Amino 23
100% Vegetarian
Vegan Friendly
Superior for Athletes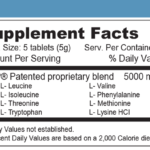 Super Amino 23 is pre-digested 100% vegetarian and vegan protein that has been featured in the Physician`s Desk Reference* and is comprised of non-soy legumes.
Benefits:
Aids in normalizing protein synthesis
Assists with the stabilization or recovery of muscle strength, endurance, and volume
Helps keep body tissues firm
Helps minimize body fat
May support a weight loss regimen
Interesting Facts:
Super Amino 23 is PREDIGESTED protein and it is 400% to 500% more nutritionally effective than isolates from whey casein and safer than soy. "Pre-digested" means Super Amino 23 does not enter the intestines and is absorbed into the lymph system; thus, Super Amino 23 produces no fecal residue. Because it is pre-digested, it is available to the body within 23 minutes of ingestion.
Super Amino 23 has 99% NNU or Net Nitrogen Utilization, which is why there is no burden on your kidneys or liver like other proteins. This is because the liver and kidneys do not have to clear catabolic waste that comes with the digestion of common dietary protein.
Super Amino 23 has over 30 clinical studies published on its uses and is listed in the Physician`s Desk Reference.
Super Amino 23 is protected by 27 international patents and available in North America. (US Patent no. 5,132,113)
There have been 8 years of field trials on the Super Amino 23
18 years clinical trials: Super Amino 23 was first used for patients with stomach removed because of cancer. Then, elderly patients were given it for nutrition and recovery of lean tissue. Now, the terminally ill are also given Super Amino 23 to improve their quality of life.
Medical doctors use Super Amino 23 to maximize protein utilization and minimize the negative effects of protein diets.
Olympic athletes and fitness buffs around the world use the Super Amino 23.
Super Amino 23 is also used by the Vatican (through its Caritas Foundation) to treat malnutrition & the effects of starvation in developing countries.
Super Amino 23 is an all-natural way to build muscle mass, it also maximizes strength & endurance, minimizes body fat, and reduces recovery time.
The Super Amino 23 formulation can be used for different purposes; as nutrition for people who need more and better protein, as part of a weight control program, for strength building, and as a muscle mass enhancement.