G.I. Detox (With Pyrophyllite Clay)
Bio-Botanical Research
60 capsules $31.50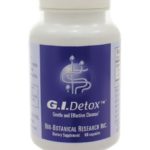 Removal of debris and toxins from the intestinal tract is an important part of any comprehensive cleansing program. G.I. Detox™ contains both pyrophyllite healing clay and activated charcoal for a simple and well tolerated cleansing regime.
-Removes Debris, Toxins and Accumulated Waste 
-Excellent Support when used with the Bioclear® Program
-Assists in "Mop Up" Phase of Biofilm Treatment
General Cleansing for Adults: For twice monthly use: 1 – 2 capsules with a large glass of water 3 times daily taken between meals, for 3 days. During use of G.I. Detox eat a diet high in leafy greens and low in refined carbohydrates. A minimum of 64 ounces of water a day should be taken. Take 1 – 2 hours apart from other supplements or medications. When using G.I. Detox™ during a course of Biocidin® or Olivirex®, resume these at a lower dosage and gradually increase to the recommended levels again as the effects will be more powerful after the colon is cleansed.
Servings Per Container: 60
Serving Size: 1 capsule
Amount Per Serving
Proprietary Herbal Blend … 750mg
Pyrophyllite Clay 562mg
Activated Charcoal 188mg
Other Ingredients: Cellulose and water
Contains no allergens such as dairy, wheat, gluten, sugar, soy, preservatives, animal products, artificial flavorings or colorings.
For "mop-up" of die off reactions take 1 – 2 capsules of  GI Detox™ 1 hour apart from Biocidin®, Olivirex® or other medications. Discontinue use should adverse reactions occur. Not intended for use during pregnancy.