Probiotic 55 Billion
Trace Mineral Research
30 capsules
$38.99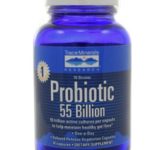 Probiotic 55 Billion is formulated with 10 strains of viable organisms including 11 billion Bifidobacterium CFUs‡ and 44 billion Lactobacillus CFUs‡, the bacteria most dominantly found in the large and small intestines. It's a well known fact that intestinal flora often decreases as we get older. Decreased intestinal flora can cause your digestive system to function incorrectly, allowing important nutrients your body needs to pass through the digestive system without being broken down and absorbed.† Therefore, taking a probiotic like Probiotic 55 Billion daily can help your body maintain a healthy functioning digestive system.*
Servings Per Container: 30
Take 1 capsule daily on an empty stomach. Refrigerate after opening to best preserve bacteria potency.
Serving Size: 1 capsule
Amount Per Serving
Probiotic … 55 Billion CFUs‡ 
Proprietary Blend … 307mg
Lactobacillus acidophilus, Bifidobacterium bifidum, Lactobacillus rhamnosus, Bifidobacterium breve, Bifidobacterium longum, Lactobacillus casei, Lactobacillus plantarum, Bifidobacterium lactis, Lactobacillus bulgaricus, Lactobacillus salivarius.
Fructooligosaccharide … 33mg
Other Ingredients: Stearic acid, hypromellose.
‡Colony Forming Units (CFUs).
Allergen Info: contains traces of milk & soy; contains <10 ppm gluten.