tsp sea salt
now browsing by tag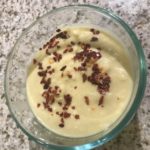 Cauliflower Cheese Sauce
Vegan, Gluten free
Happily Serves 4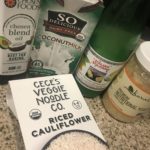 ALL ORGANIC INGREDIENTS
2 Cups cauliflower
1/4 Cup Coconut Milk, unsweetened
4 TBSP Nutritional Yeast
2 TBSP Avocado Oil
1/4 Cup Lemon Juice
1 Garlic Clove
1-2 tsp Sea Salt
Black pepper to taste
Cut and press garlic, let it 5 mins.
Steam Cauliflower about 10 Minutes. You can buy it whole or buy it "Riced".
Drain cauliflower if there is any excess water, and add it to the food processor.
Add the rest of the ingredients and blend until smooth.

Honey Hemp Vinaigrette
Paleo, GF, Dairy Free
Happily serves 4
ALL ORGANIC INGREDIENTS
1/2 Cup Hemp Seed oil
2 TBSP Coconut Vinegar
2 TBSP Raw Honey
2 garlic cloves, crushed
1/2 Cup Lime juice
2/3 Cup cilantro, chopped
1 tsp Sea Salt
Mix all ingredients together, shake well.  Serve as a dressing or over seafood dish.
Cucumber Dill Hummus
Vegan, GF
Happily serves 4
ALL ORGANIC INGREDIENTS
2 cups Garbanzo Beans or butter beans, rinsed and drained
2 springs fresh Dill (washed, stems removed) or 1 TBSP dried dill
1 Cucumber (washed, skin on, roughly chopped)
½ tsp Sea Salt
2 TBSP Lemon or Lime Juice
1 TBSP Hemp Seed Oil
2 TBSP Tahini
1 Garlic Clove
Put all ingredients in a food processor or blender and pulse/blend until smooth
Chipotle Sauce/Dressing
GF, Refined Sugar Free, Vegan
Happily serves 2
ALL ORGANIC INGREDIENTS
1 TBSP Tahini (can sub Sunflower butter)
1 TBSP Hemp Seed oil
2 Garlic cloves, crushed
1 TBSP Coconut Aminos
1 tsp chili powder
½ tsp Chipotle powder
½ tsp Cayenne
¼ tsp Sea salt
Mix all ingredients together. Can be used as a salad dressing or over stir fry and quinoa.  Great Sauce for lettuce wraps!
OR:
Optional: ADD 1TBSP Nutritional Yeast if you want to toss it on Collard Greens and bake.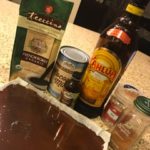 Kahlua Chocolate Fudge
Vegan, GF, Refined Sugar free
Happily serves 20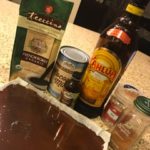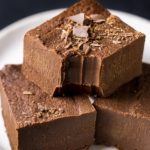 ALL ORGANIC INGREDIENTS
20 oz Lily's chocolate chips
14 oz Can full fat coconut milk
3 TBSP Ghee (or butter) cubed at room temperature
2 TBSP Kahlua
1/4 tsp cinnamon
1/2 tsp vanilla extract
1/4 tsp Sea salt
1 tsp espresso powder or 1 TBSP cold brew
Lightly grease an 8 x 8-inch baking pan.
Line with parchment paper, allowing the excess paper to overlap on two of the sides, set aside.
Add the chocolate and espresso powder into a large, heatproof bowl; set aside.
Fill a saucepan with a little water (about 1/4 full) bring it to a boil.
Reduce to barely a simmer. Place the bowl containing the chocolate and espresso powder on top of the pot.
Cook, stirring frequently, until the chocolate has melted and the mixture is completely smooth, about 8-10 minutes.
Add coconut milk and ghee, cook for another 2-3 minutes, or until it is completely melted. Remove from heat.
Whisk in the Kahlua, vanilla, sea salt, and cinnamon. The mixture will be VERY thick.
Transfer to pan and refrigerate for at least 2 hours, or until firm enough to slice.
Remove the fudge and transfer it to a cutting board. Peel off parchment paper and slice into small pieces.
Serve at once or store in the refrigerator for up to 1 month or freezer up to 2 months.

Cilantro Lime Vinaigrette
Refined Sugar Free, GF
Happily serves 16
All Organic Ingredients:
1/4 Cup Lime juice
1/2 cup chopped cilantro
1/4 Cup Coconut vinegar
5 crushed garlic cloves
1/2 tsp Sea Salt
2 TBSP Coconut sugar (I use less and usually use stevia)
1 Cup Avocado Oil
Mix or blend well.  Shake before use.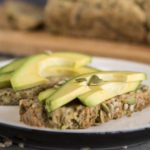 Gluten Free Zucchini Bread is free from dairy, gluten, soy products and refined sugars!
INGREDIENTS
2 Organic Zucchini, finely grated
2 C almond meal
2/3 C tapioca starch/arrowroot flour
2 tbsp flax/chia meal
1 tbsp chia seeds
1 tsp baking soda
1-2 tbsp dried rosemary
1 tsp sea salt
3 eggs (or flax egg substitute)
1/4 cup (2 oz) Organic coconut milk
1/4 cup (2 oz) Organic coconut oil
1 tsp apple cider vinegar
Directions:
Preheat oven to 350º F.
Line a loaf tin with parchment paper.
Combine the dry ingredients together in one bowl and whisk the wet ingredients together in another bowl.
Combine both wet and dry ingredients together, pour into a loaf tin.
Bake in the oven for 30-40 mins or until golden brown on top and cooked through. When the toothpick comes out clean, the bread is ready.
Serve warm or toasted.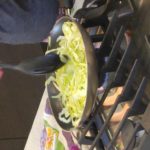 Black Bean Lentil & Quinoa Salad
w/Cumin-Lime Dressing
Vegetarian, Gluten free, Vegan
Happily serves 6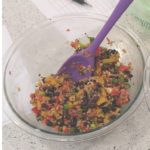 ALL ORGANIC INGREDIENTS
1 Cup dry lentils or Quinoa (or 1/2 Cup each)
2 Cup Black beans (if using canned, rinse well)
1 Red bell pepper
1/2 Red onion
3 Green onion stalks
1 Yellow Zucchini
Bunch of cilantro to taste, stems removed
Dressing
1/4 Cup Lime juice
2 TBSP Avocado or olive oil
1 tsp dijon or flavored mustard
1-2 Garlic cloves
1 tsp Cumin
1/2 tsp Oregano
1/8 tsp Himalayan Sea salt
Optional: chipotle powder, chili powder, pepper
Cook lentils according to package directions, leaving firm not mushy. Drain.
Cut or mince Galice, let sit 5 minutes.
While lentils are cooking, make the dressing: place all ingredients in a small bowl and whisk to combine. Set aside.
Finely dice the bell pepper, onion, and green onion.  Roughly chop the cilantro.
In a large bowl, place black beans, bell pepper, onion, zucchini and lentils.
Add the dressing.  Add cilantro, and lightly toss.
Serve or chill covered in the fridge for at least an hour.
Tomatillo Salsa
8-9 tomatillos, husks removed and rinsed
1-2 fresh jalapeños, seeds removed unless you want it really spicy
1 clove garlic
1 handful organic fresh cilantro
1/2 medium sweet organic onion
2 Tbsp lime juice
1 tsp sea salt (to taste)
Optional: Drizzle of raw honey
Optional: Avocado
Mix cilantro, onion, jalapenos, garlic and lime juice in the Vitamin or blender.  Add Sea salt, and Tomatillos.