Black Bean Lentil & Quinoa Salad
w/Cumin-Lime Dressing
Vegetarian, Gluten free, Vegan
Happily serves 6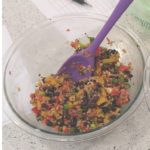 ALL ORGANIC INGREDIENTS
1 Cup dry lentils or Quinoa (or 1/2 Cup each)
2 Cup Black beans (if using canned, rinse well)
1 Red bell pepper
1/2 Red onion
3 Green onion stalks
1 Yellow Zucchini
Bunch of cilantro to taste, stems removed
Dressing
1/4 Cup Lime juice
2 TBSP Avocado or olive oil
1 tsp dijon or flavored mustard
1-2 Garlic cloves
1 tsp Cumin
1/2 tsp Oregano
1/8 tsp Himalayan Sea salt
Optional: chipotle powder, chili powder, pepper
Cook lentils according to package directions, leaving firm not mushy. Drain.
Cut or mince Galice, let sit 5 minutes.
While lentils are cooking, make the dressing: place all ingredients in a small bowl and whisk to combine. Set aside.
Finely dice the bell pepper, onion, and green onion. Roughly chop the cilantro.
In a large bowl, place black beans, bell pepper, onion, zucchini and lentils.
Add the dressing. Add cilantro, and lightly toss.
Serve or chill covered in the fridge for at least an hour.