food
now browsing by tag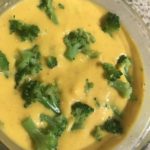 Roasted Red Bell Pepper Soup
Vegan, Gluten Free
Happily Serves 2-3
ALL ORGANIC INGREDIENTS
2 Cups Cauliflower 
1 Cup Roasted Red/Orange Bell Peppers
2 Cups Almond Milk
3 TBSP Avocado oil
1/2 TBSP Minced Garlic
1/2 TBSP Minced Onion
1/2 TBSP Sea Salt
1/2 TBSP Smoked Paprika 
1/4 Cup Reserved Cauliflower 
Optional: 
1 Hatch Green Chili (more if you want it spicy)
Top with 1/4 Cup Broccoli 
Roast Bell peppers in the convention oven for 5 minutes.  
Roast Cauliflower in oven for 7 minutes. (Riced is easiest, but not necessary).
Roast Broccoli 7 Minutes.
Put aside 1/4 Cup Cauliflower and 1/4 Cup Roasted Broccoli 
Put all ingredients except the broccoli and 1/4 cup riced Cauliflower.  Blend on high until smooth.
Add extra riced Cauliflower and broccoli for texture.
Add or omit Green Chili depending on spice.  
Run on VitaMix for 7 minutes and it will heat to just below 118 degrees.  
OR Blend in food processor of blender/vitamix and transfer to Stop top and heat til warm enough to eat, not to boiling as to not destroy nutrients.
Control Pre-Meal CapsulesTM
30 servings $38.95
Self-control now comes in a capsule
Benefits:
* Can help curb cravings and reduce appetite
* Neutralizes starches found in processed carbohydrates
* Can support stabilized blood glucose
* May enhance mental alertness, endurance and stamina
* Helps you feel satisfied faster and takes the edge off your cravings
Purium`s CONTROL Pre-Meal CapsulesTM are specifically designed to help you eat less and reduce the impact of simple carbohydrates and sugars, lessening the possibility that your body will convert them into fat. It is a great addition to any weight loss regimen.
Instructions: Take two capsules three times per day (approximately one hour prior to meals) with 8oz of water or, take two to three capsules prior to any fatty meal or dessert followed by 8oz of water.
Interesting Facts:
* Nopal (Opuntia Streptacantha): promotes weight loss by absorbing water and providing a feeling of satiety. It has a positive effect on blood sugar and helps reduce the appetite and control carbohydrate cravings. It can also reduce cholesterol by promoting the excretion of fats from the body, and aids digestion by absorbing toxins from the bowel as well as increasing the rate at which food passes through the system.
* Garcinia Cambogia (fruit): inhibits the synthesis of fatty acids in the liver and promotes an increased availability of glycogen in the liver, thus sending a "full" signal to the brain sooner.
* Green Tea Extract: Extract: research has found that green tea increases the amount of energy spent by the body and holds promise as a treatment for obesity and other weight problems.
* American Ginseng (Panax quinquefolius): Dr Lin Yutang, a Chinese research scientist who spent a lifetime learning about ginseng, summed up his work by saying that, "The magic tonic and building qualities of ginseng are the most enduring, the most energy-giving, restorative qualities known to mankind, yet it is distinguished by the slowness and gentleness of its action."
* White Kidney Bean Extract (Phaseolus Vulgaris):
Final word from Dave:
Drawing from the wisdom of ancient culture, we have put together a product for the ages. From the shaman we take Opuntia, from Chinese medicine – Green Tea, from Ayurvedic – the garcinia cambogia, and the power of White American Ginseng and the newly discovered effect of the amazing white kidney bean. Brought together to give you the ultimate in CONTROL, self control, appetite control, glucose control, energy and most importantly, your weight.
- Dave Sandoval
BiotaGen
Klaire Labs
$22.95 5.3oz powder
Versatile prebiotic formula to optimize gut microflora, improve bowel function 
and support the immune system.
BiotaGen is a distinctive formulation of soluble dietary fiber with prebiotic 
activities that stimulates growth of colonic populations of beneficial bacteria 
and enhances gastrointestinal and systemic immune function in multiple ways. 
BiotaGen combines chicory inulin and oligofructose, highly effective 
prebiotics, with the immunomodulating actions of larch arabinogalactan and 
purified yeast beta-glucan.
Chicory-derived inulin and oligofructose are inulin-type fructans best known 
for their ability to sustain increases in populations of Bifidobacterium, 
Lactobacillus, and Eubacterium, an important butyrate-producing species 
indigenous to the bowel. By escaping digestion and absorption in the small 
intestine, inulin-type fructans arrive largely intact in the colon where they 
selectively feed beneficial gut microbiota. In addition, inulin-type fructans 
promote normal colon transit times, enhance absorption of calcium and 
magnesium, favorably modulate lipid levels, improve gut mucosal barrier and 
immune function, regulate intestinal epithelial cell growth, and reduce the 
number of potentially harmful bacterial species.
Arabinogalactan, a polysaccharide derived from the Western Larch tree, is a 
highly soluble dietary fiber that enhances immune function by promoting 
cytokine production and increasing the number of natural killer cells. 
Indigestible by human enzymes, arabinogalactan exerts prebiotic properties 
including the ability to selectively stimulate Lactobacillus species. 
Arabinogalactan is metabolized to short-chain fatty acids acetate, butyrate, 
and propionate and reduces ammonia production.
Beta-glucan, a glucose polysaccharide prebiotic fiber, has broad, beneficial 
effect on immune function through enhancement of monocytes, macrophages, and 
natural killer cells. Beta-glucan stimulates immune response to a wide spectrum 
of pathogens, including fungal (Candida albicans), Gram-positive 
(Staphylococcus aureus), and Gram-negative (Escherichia coli) microorganisms.
BiotaGen is recommended to nutritionally support optimal gastrointestinal 
function, promote populations of healthful colonic bacteria, and enhance 
gastrointestinal and systemic immune function. BiotaGen® works synergistically 
with probiotics to assure intestinal microflora balance. Available in both 
powder and vegetarian capsule form.
Servings Per Container: 30
1 to 2 scoops daily with food or as directed by a healthcare practitioner..
Serving Size: 1 Scoop (Approx. 1 teaspoon or 5 grams)
Amount Per Serving
Calories … 5g
Total Carbohydrate … 5g
Dietary Fiber … 4g
BiotaGen Prebiotic Blend … 5g
Inulin (derived from chicory root) Oligofructose (derived from chicory root) 
Beta-Glucan (purified from Saccharomyces cerevisiae) Larch Arabinogalactan 
(Larix occidentalis), dried water-soluble extract
Other Ingredients: None.
Power Kids Nutrition Drink
The Anti Soda
30 servings $85.75

THE ANTI-SODA
Power Kids delivers whole food nutrients that support the normal functions of the brain and body. Soda is exactly what kids DON'T need – sugar, caffeine, carbonation and artificial ingredients. It's like a scientist created the perfect chemical cocktail to disrupt a child's normal body functions. And, unfortunately, sports drinks, and juice boxes really aren't much better. But now, you have healthy choice! Certified organic fruits and greens that really make a difference.
* USDA organic certified, 100% non-GMO whole food nutrition
* Protects teeth and gums
* Healthy "growth factor"
* Balances blood sugar for sustained energy
* Great raspberry flavor
Instructions: Add one scoop to 8-10oz of water. Best mixed with cold water in a shaker cup or bottle. Can also be added to a smoothie or your favorite plain yogurt, almond milk or applesauce.
Purium`s Power Shake was created so that you can easily consume several energizing, gluten-free superfoods all at once, saving you time and money!
30 servings $99.95

Ingredients:
Rice Bran Solubles – vital for maintaining normal cholesterol levels and blood glucose control. They are also an all-natural source of vitamin E type tocopherols and tocotreinols and contain a variety of B vitamins, Q-10, gamma oryzanol, folic acid, and more. Rice Bran Solubles is the outer, soluble part of brown rice that normally gets cooked away. Soluble rice bran is the fuel of many Asian martial artists.
Organic oats – great source of fiber and manganese that may also help support healthy blood sugar levels and enhance immune system response.
Organic spirulina – nature's most complete nutrient source, containing over 60% complete vegetarian protein, an abundance of chlorophyll and essential fatty acids, vitamins, minerals, and nucleic acids, as well as nature's highest source of a new class of immune enhancers, a photosynthetic pigment called phyco-can. An all-natural 'multivitamin' in and of itself. Used for centuries, Spirulina was the fuel of the Aztecs.
Organic carrot juice – Known as one of the most important parts of any juice fast or raw food regimen, their deep, rich, orange color comes from the abundance of beta-carotene, minerals, and other phyto-nutrients that are unique to the tuber family. It also has a naturally sweet taste that perfectly complements the other super foods
Organic wheatgrass – Clinics all over the world have been set up to administer the miraculous juices extracted from sprouted wheat plants. People report that the intensive cleaning the chlorophyll and enzymes provide is unsurpassed in its abilities to stimulate the immune system response and instigate healing.
Organic millet – rich in fiber and the B complex vitamins, also aids in digestive health.
Organic amaranth – great source of most of the B vitamins and vitamin A.
Organic buckwheat – Not technically a grain, it comes from a fruit seed in the rhubarb family, and is therefore gluten free. Buckwheat contains a rich supply of flavonoids, particularly rutin, and may help support healthy blood sugar levels. Very high in many vitamins and minerals, especially vitamin K, vitamin B1, B2, B3, B6, B9, magnesium, potassium, phosphorus, zinc, iron, copper, and manganese.
Organic quinoa – this gluten-free grain has grown in popularity due to its nutrient density, it contains more calcium than milk and is also a great source of protein.
Organic chia – a staple in Mayan and Aztec diets for centuries, chia is a rich source of fiber, omega-3 fatty acids, fiber, and antioxidants.
Organic alfalfa leaf juice – The father of all foods, alfalfa has roots that reach up to 60 ft. into the soil to absorb trace minerals. Its lightweight proteins stimulate the rebuilding of tissues and strengthen the hair, skin, and nails.
Organic oat grass juice – One of the little known superstars among cereal grasses. Recent and ongoing studies indicate that unique proteins, lipids and other factors in oat greens may possibly help revive reproductive function.
For APPLE-BERRY POWER SHAKE ONLY: Organic raspberry flavor and Organic apple flavor were added to give the Power Shake a sweeter taste without adding anything harmful, unnatural or sugar based.
Lo han berry – contains a natural sweetening agent called Mogroside that is ten times sweeter than fructose, so a small amount means less calories.
Cucumber Dill Hummus
Vegan, GF
Happily serves 4
ALL ORGANIC INGREDIENTS
2 cups Garbanzo Beans or butter beans, rinsed and drained
2 springs fresh Dill (washed, stems removed) or 1 TBSP dried dill
1 Cucumber (washed, skin on, roughly chopped)
½ tsp Sea Salt
2 TBSP Lemon or Lime Juice
1 TBSP Hemp Seed Oil
2 TBSP Tahini
1 Garlic Clove
Put all ingredients in a food processor or blender and pulse/blend until smooth
Turmeric Curcumin 1000mg
Patient One MediNutritionals
60 capsules $21.25
Promotes normal inflammatory response while also supporting joint, immune, gastrointestinal, and cardiovascular function
Promotes immune system function
* Supports brain and joint health
* Promotes healthy liver, gall bladder and digestive function
* Free radical scavenging properties
* Supports cardiovascular function
* Black pepper included for enhanced absorption
Unique Properties
Curcumin, a polyphenol nutrient found in the spice turmeric (Curcuma longa), has beneficial effects for nearly every organ system in the body. Used for its medicinal effects for centuries and extensively studied, Curcumin has been shown to help maintain the bodys normal inflammatory response while also supporting joint, liver, gastrointestinal, and cardiovascular function. To enhance the normally poor bioavailability of curcumin, our potent formula also contains black pepper extract that promotes rapid absorption of nutrients from the gastrointestinal tract.
Key Ingredients
Turmeric (Curcuma longa)
Patient One Turmeric Curcumin combines the benefits of both whole Turmeric root and Turmeric extract (standardized to 95% curcuminoids), along with black pepper extract for enhanced absorption.
Curcumin is the orange pigment in turmeric (the primary ingredient in curry) and has been studied for its effective therapeutic outcomes acting as an antioxidant, anti-inflammatory, antispasmodic, anticoagulant, immuno-modulatory activities and even in wound healing. Research suggests support for joint, eye, GI tract, liver, prostate and nerve health.
Curcumin supports production of B and T cells which is useful for promoting proper immune function. It also supports production of bile and enzymes that digest sugars and fats. This helps to maintain cholesterol levels within normal range. Turmeric supports intestinal flora and the mucus membranes of the body, including those of the digestive tract. As such, it may be beneficial after a course of antibiotics and for those with unbalanced intestinal flora. It also helps protect the stomach against excess acid and is used for its soothing effect on the mucosa of the gut.
Black Pepper Extract (as BioPerine®)
It has been found that the therapeutic effectiveness of curcumin is often limited due to its poor absorption from the GI tract. When taken orally only traces appear in the blood, whereas most of the dose is excreted though the feces. Our formula includes BioPerine®, a patented extract derived from the common black pepper fruit that contains the alkaloid piperine. Black pepper has been shown to enhance the bioavailability and promote absorption of curcumin both in pre-clinical studies and in studies on human volunteers.
Research
* Several studies have illustrated curcumins hepatoprotective effects, leading researchers to suggest its use in protecting the liver from exogenous insults from environmental toxins.
Servings Per Container: 60
Take 1 capsule daily, preferably with a meal, or as directed by a qualified healthcare professional.
Serving Size: 1 capsule
Amount Per Serving
Turmeric Complex Proprietary Blend … 1000mg
Turmeric (Curcuma longa) (root) and Turmeric Extract (Curcuma longa) (root) (Standardized to contain 95% Curcuminoids) 
BioPerine® Black Pepper Extract … 5mg
(Piper nigrum) (fruit) (Standardized to contain 95% piperine)
Other Ingredients: vegetable cellulose (capsule), rice powder, l-leucine
This product is free of milk, egg, fish, peanuts, crustacean shellfish (lobster, crab, shrimp), soybeans, tree nuts, wheat, yeast, gluten, corn, sugar, and artificial sweeteners, flavors, colors and preservatives. This product is free of ingredients derived from genetically modified organisms (GMOs).
BioPerine® is a registered trademark and patented product of Sabinsa Corporation
References
* Shoba G, Joy D, Joseph T, et al. Influence of piperine on the pharmacokinetics of curcumin in animals and human volunteers. Planta Med 1998 May;64(4):353-56. [PMID: 9619120]
* Jagetia GC, Aggarwal BB. "Spicing up" of the immune system by curcumin. J Clin Immunol. 2007 Jan;27(1):19-35. [PMID: 17211725]
* Funk JL, Oyarzo JN, Frye JB, et al. Turmeric extracts containing curcuminoids prevent experimental rheumatoid arthritis. J Nat Prod. 2006 Mar;69(3):351-55. [PMID: 16562833]
* Jurenka JS. Anti-inflammatory properties of curcumin, a major constituent of Curcuma longa: a review of preclinical and clinical research. Altern Med Rev. 2009 Jun;14(2):141-53. [PMID: 19594223]
* Ng T, et al. Am J Epidemiol. 2006;164:898-906.
* Sun AY, Wang Q, Simonyi A, et al. Botanical phenolics and brain health. Neuromolecular Med. 2008;10(4):259-74. [PMID: 19191039]
* Neelofar K, Shreaz S, Rimple B, et al. Curcumin as a promising anticandidal of clinical interest. Can J Microbiol. 2011 Mar;57(3):204-10. [PMID: 21358761]
* Epstein J, Docena G, MacDonald TT, et al. Curcumin suppresses p38 mitogen-activated protein kinase activation, reduces IL-1beta and matrix metalloproteinase-3 and enhances IL-10 in the mucosa of children and adults with inflammatory bowel disease. Br J Nutr. 2010 Mar;103(6):824-32. [PMID: 19878610]
* Ukil A, Maity S, Karmakar S, et al. Curcumin, the major component of food flavour turmeric, reduces mucosal injury in trinitrobenzene sulphonic acid-induced colitis. Br J Pharmacol. 2003 May;139(2):209-18. [PMID: 12770926]
* Holt PR, Katz S, Kirshoff R. Curcumin therapy in inflammatory bowel disease: a pilot study. Dig Dis Sci. 2005 Nov;50(11):2191-93. [PMID:16240238]
* Lal B, Kapoor AK, Asthana OP, et al. Efficacy of curcumin in the management of chronic anterior uveitis. Phytother Res. 1999 Jun;13(4):318-22. [PMID: 10404539]
* Xie L, Li XK, Takahara S. Curcumin has bright prospects for the treatment of multiple sclerosis. Int Immunopharmacol . 2011 Mar;11(3):323-30. [20828641]
* Martins CV, da Silva DL, Neres AT, et al. Curcumin as a promising antifungal of clinical interest. J Antimicrob Chemother. 2009 Feb;63(2):337-39. [PMID: 19038979]
* Mythri RB, Harish G, Dubey SK, et al. Glutamoyl diester of the dietary polyphenol curcumin offers improved protection against peroxynitrite-mediated nitrosative stress and damage of brain mitochondria in vitro: implications for Parkinsons disease. Mol Cell Biochem. 2011 Jan;347(1-2):135-43. [PMID: 20972609]
* Ravindran J, Prasad S, Aggarwal BB. Curcumin and cancer cells: how many ways can curry kill tumor cells selectively? AAPS J . 2009 Sep;11(3):495-510. [PMID: 9619120]
* Goel A, Aggarwal BB. Curcumin, the golden spice from Indian saffron, is a chemosensitizer and radiosensitizer for tumors and chemoprotector and radioprotector for normal organs. Nutr Cancer. 2010 Oct;62(7):919-30. [PMID: 20924967]
* Choi H, Chun YS, Shin YJ, et al. Curcumin attenuates cytochrome P450 induction in response to 2, 3, 7, 8-tetrachlorodibenzo-p-dioxin by ROS- dependently degrading AhR and ARNT. Cancer Sci. 2008 Dec;99(12):2518-24. [PMID: 19018768]
* Zhang, Dong Wei, Chuang Fang Huang, Chang Fu Yang, Ren Zuo Liu, Ji Feng Wang, Jian Zhao Niu, and Dieter Bromme. "Antifibrotic Effects of Curcumin Are Associated with over Expression of Cathespins K and L in Bleomycin Treated Mice and Human Fibroblasts." Respiratory Research. Respiratory Research, 2011.
* Davis, J. Mark. "Curcumin Effects on Inflammation and Performance Recovery following Eccentric Exercise-induced Muscle Damage." Am J Physiol Regul Integr Comp Physiol. American Physiological Society, 2007.
* Karlstetter, Marcus, Elena Lippe, Yana Walczak, Chistoph Moehle, Alexander Aslanidis, Myriam Mirza, and Thomas Langmann. "Curcumin Is a Potent Modulator of Microglial Gene Expression and Migration." Journal of Neuroinflammation. Journal of Neuroinflammation, 2011.
Warnings
If pregnant, nursing, have gall stones or gall bladder disease, consult your healthcare practitioner before taking this product. Individuals taking medication, especially blood thinners or cancer treatment, should discuss potential interactions with their healthcare practitioner. Discontinue use and consult doctor if any adverse reactions occur.