food
now browsing by tag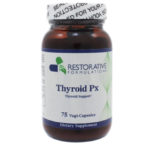 Are you fatigued?  Have you had your thyroid checked?  If your liver is sluggish how do you suppose you'll have enough energy in your body to go towards metabolism or thyroid production?  You have to treat the body as a whole and give it what it needs.  If you are not willing to change your diet, how do you expect to have more energy? If we get our nutrients from food…how long will your body function properly before it starts to fail on you?  Everyone wants a magic pill…so why not take whole food supplements?  Sounds like an easy start.  Call me and I can help you make sense of it all.
Here is one of the supplements that can help someone with a low thyroid.  No, I'm not a drug rep, just a Certified Holistic Nutritionist and this is PART of my job…
Thyroid Px, 75 capsules , $39.50
Features herbs and nutrients to support thyroid function. This formula is the most potent support we offer for healthy thyroid function. Provides the thyroid with the required nutrition and substrates. Supplies the building blocks for T3/T4 hormone synthesis. Promotes the activation of thyroid hormone.
Supports Metabolism

Promotes T4-T3 Conversion

Stabilizes Thyroid Peroxidase Antibodies

Optimizes Body Temperature

High dose Iodine/Iodide
Thyroid Px is a balanced blend of minerals and botanicals designed to support the healthy functioning of the thyroid gland while simultaneously maintaining healthy metabolic function. Thyroid Px optimizes thyroid function, normal body temperature and general metabolic rate.
This formula can help stabilize thyroid peroxidase immunoglobulins which is essential for normal thyroid activity. The powerful antioxidants selenium and zinc, as well as the myrrh guggul gum resin, help neutralize free radicals that affect iodothryonine-5-monodeiodinase enzyme activity, which is involved in the conversion of T4 to the active T3 hormone.
Iris species contain oleoresins in their roots and are historically claimed to move fluid (lymph). Myrrh Gum Resin is a powerful adaptogen which not only augments the thyroid, but also the liver and kidney. Studies suggest that Commiphoras constituents may help to increase iodine metabolism in the thyroid and T4-T3 conversion in peripheral tissues. Given the important role iodine plays in thyroid function, Thyroid Px includes 12 mg of Potassium iodide in 2 capsules.
Servings Per Container: 37
Adults take 1 to 2 capsules twice daily, with or without food, or as recommended by your health care practitioner. When increasing dose, do so gradually to a maximum dose of 4 capsules, twice daily. Never to exceed 8 capsules in a 24 hour period, nor to take high doses for more than 3 months.
Serving Size: Two capsules
Amount Per Serving
Vitamin D3 … 10mcg
(Cholecalciferol)(400IU)
Vitamin B12 … 400mcg
(Methylcobalamin)
Iodine … 12mg
(as Potassium Iodide)
Zinc … 6mg
(as Zinc Citrate)
Selenium … 200mcg
(as L-Selenomethionine)
Organic Blue Flag Root … 410mg†
(Iris spp.)
Guggul Myrrh Gum Resin … 240mg†
Organic Triphala Fruits … 160mg†
(Amla Fruit, Belleric myrobalan Fruit, Chebulic myrobalan Fruit)
Organic Ashwagandha Root … 150mg†
Organic Nettle Leaf … 150mg†
Organic Kelp … 110mg†
Organic Ginger Root … 20mg
Other Ingredients: Vegetable Cellulose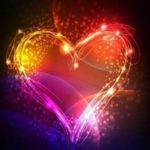 We are told we need to be mindful.  In Food, exercise, school, meditation and relationships.  That goes for our kids, coworkers, friends and family right?  Why wouldn't we nurture nurture our spouse or partner the same as we do our children?  There is nor should  be no difference.  Being mindful in dating is especially important as well.  Not a subject most want to talk about and it easily become uncomfortable.  I work with this on a daily basis as I train and coach clients on workout habits and eatings habits.  We ALL want to look and feel good.  My clients express concerns with their bodies and wanting to look "the way they did before" or tone up.  Whatever your verbiage, we all love to rock a great outfit but ultimately want to feel comfortable being naked.  I know, I know….touchy subject but necessary to address.  Dealing with emotional issues and trauma leaves my clients vulnerable and fearful of judgement.  I spend a great deal of time with my clients uncovering body issues to help identify those fears so that ultimately we can create new habits around food and nutrition choices. We must do this before we are going to get a handle on our eating disorders and skewed thinking around "what's healthy".
I was researching articles today and came across this fabulous article by Cara Kovacs  that I think you'll enjoy and help shed some light on the dating scene or even help you in your current situation whether it's a boyfriend/girlfriend, fiancé, or spouse because truly, you should never stop dating.
YES, I SAID NEVER…I don't do that often.
http://healthywithjodi.com/recipes/mint-mojito-virgin-thyroid-stimulating-energy-replacement-drink/
How can you create more space in your life for positive energy?  We must eliminate and make space for it! Negative thoughts weigh us down, if you want a positive life you must create it, it doesn't just happen. 
Food is one way we can introduce good energy to our body.
Meditation is powerful for healing and making space.
Exercise and sweating are key to any cleansing of space and feeling lighter. 
Holistic health is mind body spirit.
Maybe just drinking out of glass and eliminating plastics is where you want to start.  Maybe you can start being "healthy" by updating your cooking to safe cookware that doesn't emit toxins.  Maybe you can learn breathing techniques to help reduce stress and get healthier that way.  It just takes ONE action, and WE can BUILD on that!
Call me and we can design a plan that makes sense in your life and doesn't overwhelm you.
https://amzn.to/2D7954q Ceramic flat iron
Ceramic cookware
https://amzn.to/2D9D102 Cast iron cookware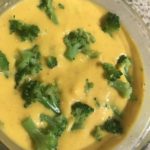 Roasted Red Bell Pepper Soup
Vegan, Gluten Free
Happily Serves 2-3
ALL ORGANIC INGREDIENTS
2 Cups Cauliflower 
1 Cup Roasted Red/Orange Bell Peppers
2 Cups Almond Milk
3 TBSP Avocado oil
1/2 TBSP Minced Garlic
1/2 TBSP Minced Onion
1/2 TBSP Sea Salt
1/2 TBSP Smoked Paprika 
1/4 Cup Reserved Cauliflower 
Optional: 
1 Hatch Green Chili (more if you want it spicy)
Top with 1/4 Cup Broccoli 
Roast Bell peppers in the convention oven for 5 minutes.  
Roast Cauliflower in oven for 7 minutes. (Riced is easiest, but not necessary).
Roast Broccoli 7 Minutes.
Put aside 1/4 Cup Cauliflower and 1/4 Cup Roasted Broccoli 
Put all ingredients except the broccoli and 1/4 cup riced Cauliflower.  Blend on high until smooth.
Add extra riced Cauliflower and broccoli for texture.
Add or omit Green Chili depending on spice.  
Run on VitaMix for 7 minutes and it will heat to just below 118 degrees.  
OR Blend in food processor of blender/vitamix and transfer to Stop top and heat til warm enough to eat, not to boiling as to not destroy nutrients.
Control Pre-Meal CapsulesTM
30 servings $38.95
Self-control now comes in a capsule
Benefits:
* Can help curb cravings and reduce appetite
* Neutralizes starches found in processed carbohydrates
* Can support stabilized blood glucose
* May enhance mental alertness, endurance and stamina
* Helps you feel satisfied faster and takes the edge off your cravings
Purium`s CONTROL Pre-Meal CapsulesTM are specifically designed to help you eat less and reduce the impact of simple carbohydrates and sugars, lessening the possibility that your body will convert them into fat. It is a great addition to any weight loss regimen.
Instructions: Take two capsules three times per day (approximately one hour prior to meals) with 8oz of water or, take two to three capsules prior to any fatty meal or dessert followed by 8oz of water.
Interesting Facts:
* Nopal (Opuntia Streptacantha): promotes weight loss by absorbing water and providing a feeling of satiety. It has a positive effect on blood sugar and helps reduce the appetite and control carbohydrate cravings. It can also reduce cholesterol by promoting the excretion of fats from the body, and aids digestion by absorbing toxins from the bowel as well as increasing the rate at which food passes through the system.
* Garcinia Cambogia (fruit): inhibits the synthesis of fatty acids in the liver and promotes an increased availability of glycogen in the liver, thus sending a "full" signal to the brain sooner.
* Green Tea Extract: Extract: research has found that green tea increases the amount of energy spent by the body and holds promise as a treatment for obesity and other weight problems.
* American Ginseng (Panax quinquefolius): Dr Lin Yutang, a Chinese research scientist who spent a lifetime learning about ginseng, summed up his work by saying that, "The magic tonic and building qualities of ginseng are the most enduring, the most energy-giving, restorative qualities known to mankind, yet it is distinguished by the slowness and gentleness of its action."
* White Kidney Bean Extract (Phaseolus Vulgaris):
Final word from Dave:
Drawing from the wisdom of ancient culture, we have put together a product for the ages. From the shaman we take Opuntia, from Chinese medicine – Green Tea, from Ayurvedic – the garcinia cambogia, and the power of White American Ginseng and the newly discovered effect of the amazing white kidney bean. Brought together to give you the ultimate in CONTROL, self control, appetite control, glucose control, energy and most importantly, your weight.
- Dave Sandoval
BiotaGen
Klaire Labs
$22.95 5.3oz powder
Versatile prebiotic formula to optimize gut microflora, improve bowel function 
and support the immune system.
BiotaGen is a distinctive formulation of soluble dietary fiber with prebiotic 
activities that stimulates growth of colonic populations of beneficial bacteria 
and enhances gastrointestinal and systemic immune function in multiple ways. 
BiotaGen combines chicory inulin and oligofructose, highly effective 
prebiotics, with the immunomodulating actions of larch arabinogalactan and 
purified yeast beta-glucan.
Chicory-derived inulin and oligofructose are inulin-type fructans best known 
for their ability to sustain increases in populations of Bifidobacterium, 
Lactobacillus, and Eubacterium, an important butyrate-producing species 
indigenous to the bowel. By escaping digestion and absorption in the small 
intestine, inulin-type fructans arrive largely intact in the colon where they 
selectively feed beneficial gut microbiota. In addition, inulin-type fructans 
promote normal colon transit times, enhance absorption of calcium and 
magnesium, favorably modulate lipid levels, improve gut mucosal barrier and 
immune function, regulate intestinal epithelial cell growth, and reduce the 
number of potentially harmful bacterial species.
Arabinogalactan, a polysaccharide derived from the Western Larch tree, is a 
highly soluble dietary fiber that enhances immune function by promoting 
cytokine production and increasing the number of natural killer cells. 
Indigestible by human enzymes, arabinogalactan exerts prebiotic properties 
including the ability to selectively stimulate Lactobacillus species. 
Arabinogalactan is metabolized to short-chain fatty acids acetate, butyrate, 
and propionate and reduces ammonia production.
Beta-glucan, a glucose polysaccharide prebiotic fiber, has broad, beneficial 
effect on immune function through enhancement of monocytes, macrophages, and 
natural killer cells. Beta-glucan stimulates immune response to a wide spectrum 
of pathogens, including fungal (Candida albicans), Gram-positive 
(Staphylococcus aureus), and Gram-negative (Escherichia coli) microorganisms.
BiotaGen is recommended to nutritionally support optimal gastrointestinal 
function, promote populations of healthful colonic bacteria, and enhance 
gastrointestinal and systemic immune function. BiotaGen® works synergistically 
with probiotics to assure intestinal microflora balance. Available in both 
powder and vegetarian capsule form.
Servings Per Container: 30
1 to 2 scoops daily with food or as directed by a healthcare practitioner..
Serving Size: 1 Scoop (Approx. 1 teaspoon or 5 grams)
Amount Per Serving
Calories … 5g
Total Carbohydrate … 5g
Dietary Fiber … 4g
BiotaGen Prebiotic Blend … 5g
Inulin (derived from chicory root) Oligofructose (derived from chicory root) 
Beta-Glucan (purified from Saccharomyces cerevisiae) Larch Arabinogalactan 
(Larix occidentalis), dried water-soluble extract
Other Ingredients: None.
Power Kids Nutrition Drink
The Anti Soda
30 servings $85.75

THE ANTI-SODA
Power Kids delivers whole food nutrients that support the normal functions of the brain and body. Soda is exactly what kids DON'T need – sugar, caffeine, carbonation and artificial ingredients. It's like a scientist created the perfect chemical cocktail to disrupt a child's normal body functions. And, unfortunately, sports drinks, and juice boxes really aren't much better. But now, you have healthy choice! Certified organic fruits and greens that really make a difference.
* USDA organic certified, 100% non-GMO whole food nutrition
* Protects teeth and gums
* Healthy "growth factor"
* Balances blood sugar for sustained energy
* Great raspberry flavor
Instructions: Add one scoop to 8-10oz of water. Best mixed with cold water in a shaker cup or bottle. Can also be added to a smoothie or your favorite plain yogurt, almond milk or applesauce.
Purium`s Power Shake was created so that you can easily consume several energizing, gluten-free superfoods all at once, saving you time and money!
30 servings $99.95

Ingredients:
Rice Bran Solubles – vital for maintaining normal cholesterol levels and blood glucose control. They are also an all-natural source of vitamin E type tocopherols and tocotreinols and contain a variety of B vitamins, Q-10, gamma oryzanol, folic acid, and more. Rice Bran Solubles is the outer, soluble part of brown rice that normally gets cooked away. Soluble rice bran is the fuel of many Asian martial artists.
Organic oats – great source of fiber and manganese that may also help support healthy blood sugar levels and enhance immune system response.
Organic spirulina – nature's most complete nutrient source, containing over 60% complete vegetarian protein, an abundance of chlorophyll and essential fatty acids, vitamins, minerals, and nucleic acids, as well as nature's highest source of a new class of immune enhancers, a photosynthetic pigment called phyco-can. An all-natural 'multivitamin' in and of itself. Used for centuries, Spirulina was the fuel of the Aztecs.
Organic carrot juice – Known as one of the most important parts of any juice fast or raw food regimen, their deep, rich, orange color comes from the abundance of beta-carotene, minerals, and other phyto-nutrients that are unique to the tuber family. It also has a naturally sweet taste that perfectly complements the other super foods
Organic wheatgrass – Clinics all over the world have been set up to administer the miraculous juices extracted from sprouted wheat plants. People report that the intensive cleaning the chlorophyll and enzymes provide is unsurpassed in its abilities to stimulate the immune system response and instigate healing.
Organic millet – rich in fiber and the B complex vitamins, also aids in digestive health.
Organic amaranth – great source of most of the B vitamins and vitamin A.
Organic buckwheat – Not technically a grain, it comes from a fruit seed in the rhubarb family, and is therefore gluten free. Buckwheat contains a rich supply of flavonoids, particularly rutin, and may help support healthy blood sugar levels. Very high in many vitamins and minerals, especially vitamin K, vitamin B1, B2, B3, B6, B9, magnesium, potassium, phosphorus, zinc, iron, copper, and manganese.
Organic quinoa – this gluten-free grain has grown in popularity due to its nutrient density, it contains more calcium than milk and is also a great source of protein.
Organic chia – a staple in Mayan and Aztec diets for centuries, chia is a rich source of fiber, omega-3 fatty acids, fiber, and antioxidants.
Organic alfalfa leaf juice – The father of all foods, alfalfa has roots that reach up to 60 ft. into the soil to absorb trace minerals. Its lightweight proteins stimulate the rebuilding of tissues and strengthen the hair, skin, and nails.
Organic oat grass juice – One of the little known superstars among cereal grasses. Recent and ongoing studies indicate that unique proteins, lipids and other factors in oat greens may possibly help revive reproductive function.
For APPLE-BERRY POWER SHAKE ONLY: Organic raspberry flavor and Organic apple flavor were added to give the Power Shake a sweeter taste without adding anything harmful, unnatural or sugar based.
Lo han berry – contains a natural sweetening agent called Mogroside that is ten times sweeter than fructose, so a small amount means less calories.