scoop
now browsing by tag
Collagen Vanilla Beetroot Power Shake
Vegan, Dairy Free, GF, Paleo

Happily serves 1
ALL ORGANIC INGREDIENTS
1 beet, peeled, chopped, steamed
1 cup FROZEN Blueberries or raspberries
2 cups steamed and drained spinach
1-2 TBSP lemon juice and zest
1 scoop Collagen powder
1 tsp wheatgrass powder, spirulina, or chlorella
1 tsp vanilla extract
1/2 tsp Cinnamon
1/2 cup Coconut water
Optional: Stevia
Add all Ingredients to Blender and blend til smooth.
Power Kids Nutrition Drink
The Anti Soda
30 servings $85.75

THE ANTI-SODA
Power Kids delivers whole food nutrients that support the normal functions of the brain and body. Soda is exactly what kids DON'T need – sugar, caffeine, carbonation and artificial ingredients. It's like a scientist created the perfect chemical cocktail to disrupt a child's normal body functions. And, unfortunately, sports drinks, and juice boxes really aren't much better. But now, you have healthy choice! Certified organic fruits and greens that really make a difference.
* USDA organic certified, 100% non-GMO whole food nutrition
* Protects teeth and gums
* Healthy "growth factor"
* Balances blood sugar for sustained energy
* Great raspberry flavor
Instructions: Add one scoop to 8-10oz of water. Best mixed with cold water in a shaker cup or bottle. Can also be added to a smoothie or your favorite plain yogurt, almond milk or applesauce.
Golden Milk
Dairy Free, Soy free, Gluten Free, 
Happily serves 1
ALL ORGANIC INGREDIENTS
1 Cup Almond or non dairy nut milk
1 TBSP Coconut oil
1 tsp Turmeric
1/4 tsp ground ginger
1/2 tsp ground cinnamon
1/8 tsp white pepper (or black)
Optional: scoop of Collagen
Mix all ingredients together, whisk, or nutria bullet or shaker bottle. You can drink warm or cold. Great for inflammation, muscle, and immune support if you add the collagen.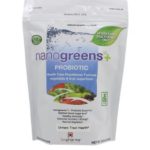 NanoGreens Plus Probiotic
BioPharma Scientific
300grams $54.95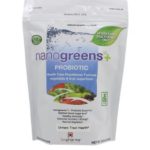 What makes nanogreens + probiotics different?
*Green powder mixed with DE111 Probiotic
*UTI Health Support
*Pouch Form -> Nitrogen Flushed
*5 Billion CFU dose after 2+ years
*DE111 Probiotic does not require special storage conditions like many other probiotics.
*Oral administration of Bacillus Subtilis DE111 helps digest and convert sugars and fats, and helps maintain glucose, cholesterol and triglyceride levels in the blood.
Vegan
Vegetarian
Gluten Free
All Natural
Non-GMO
Probiotic
Kid Friendly
How To Enjoy: Mix one scoop of nanogreens + probiotic with 6-8 oz of cold water, milk or juice. For best results, use shaker cup. Children under 12 should take 1/2 serving.  Refrigerate after opening.
Servings Per Container: 30
Serving Size: 10g (1 scoop)
Amount Per Serving
Calories … 45
Calories from Fat … 10
Total Fat … 1g
Total Carbohydrate … 7g
Dietary Fiber … 2g
Sugar … 2g
Protein … 2g
Vitamin A … 2500IU
(as Beta Carotene)
Vitamin C … 30mg
Sodium … 20mg
Potassium … 130mg
DE111®
Bacillus subtilis … 5 billion CFU
Greens Blend … 2250mg
(Proprietary)
Organic Barley Grass Juice, Spiruline, Chlorella
Phytonutrient Blend … 360mg
(Proprietary)
Green Tea Extract, Silybin (from Milk Thistle), Grape Seed Extract, Blueberry, Cranberry, Raspberry, Tart Cherry, Pine Bark Extract, Organic Broccoli, Tomato, Organic Carrot, Organic Spinach, Organic Kale, Bilberry, Elderberry, Pomegranate, Blackberry
Quercetin/Rutin … 100mg
50/50
Organic Rice Bran Soluble … 2081mg
Raspberry Extract … 50mg
(20% Ellagic Acid)
Organic Aloe Vera Powder Extract … 30mg
(100:1 freeze dried)
Fruit & Vegetable Blend … 930mg
(Proprietary) (freeze-dried, low temperature dried)
Organic Apple, Organic Carrot, Organic Mango, Organic Lemon, Organic Sweet Potato, Organic Peach, Organic Parsley, Organic Kale, Organic Broccoli, Organic Spinach, Organic Leek, Organic Cabbage, Beet, Organic Cranberry (Quinic Acid 6%)
Organic Acerola Cherry Powder … 175mg
(17.5% AscorbiC Acid)
Green Tea Extract, White Tea Extract … 100mg
(decaffeinated 50% Polyphenol)
Polygonum Cuspidatum Extract … 70mg
(15% Resveratrol)
Oat Beta Glucan … 1500mg
Cinnamon Blend … 50mg
(Proprietary)
cinnamon Extract 8%, Organic Cinnamon Bark Powder
Milk Thistle … 50mg
(20% Silymarin)
Marigold Extract … 50mg
(5% Lutein with Zeaxanthin)
Dunaliella Salina Extract … 100mg
(Natural Carotenoids)
Enzymes … 40mg
(Plant-based)
Alpha Amylase, Bromelain, Cellulase, Galactosidase, Glucoamylase, Hemicellulase, Lipase, Papain, Protease
Lecithin … 1000mg
(non GMO)
Lycopene Extract-10% … 25mg
(from tomato)
Organic Lemon Peel Powder … 25mg
Organic Quinoa Sprout … 90mg
Artichoke Extract … 20mg
(5% Cynarin)
Organic Atlantic Kelp Powder … 20mg
(laminaria Digitata, 0.4% Iodine)
Stevia Leaf Crystals … 200mg
(Stevia Rebaudiana)
Other Ingredients: Natural Flavors (Plant Based), Citric Acid, Soy Phospholipds.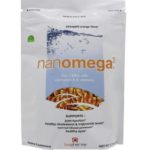 NanOmega3 Pineapple Orange
BioPharma Scientific.
$46.65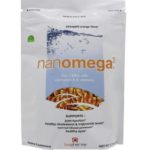 HEALTH PROFESSIONAL FORMULA
1000 IU of Vitamin D
Good Source of Fiber, Pineapple Orange
SuperFood SOLUTION™. NanOmega3™
Heart, Brain & Vision SuperFoodlifesDHA™.
HEALTHY BRAIN, EYES, HEART
SuperSorb® DELIVERY
DIETARY SUPPLEMENT
NET WT. 12.7 OZ (360g)
More Info:
Omega-3s are essential for fatty acids (EFAs) for supporting:
* heart health
* joint health
* healthy skin
* maintenance of normal blood lipids
* healthy brain function
* healthy eyes (retina)
* immune health
* general health and wellness
Truly a breakthrough functional food formula, NanOmega3 provides essential fatty acids (EFAs) from both:
-ALA, alpha-linolenic acid, from specially stabilized, organic MeadowPure™ golden flaxseed and
-DHA oil (lifesDHA™ from Martek) derived from plant marine algae, with
-Synergistic vitamins E, D3, folic acid, B6 and B12.
Supplemental Facts:
SuperSorb® is BioPharma Scientifics registered name for its enhanced delivery systems wherein highly bioavailable forms of micronutrient and microencapsulation are utilized to help maximize nutrient absorption.
In order to ensure correct usage of BioPharmas high potency formulas, BioPharma sells only through licensed healthcare practitioners.
Servings Per Container: 30
SUGGESTED USE:
Mix one [1] scoop (12 g) with 6-8 ounces of cold water, juice or milk to taste. Shake or blend briskly. Enjoy one (1) to two (2) times a day unless otherwise directed by your health professional. Children under 12 take 1/2 serving. NanOmega3 is scientifically formulated to taste great with BioPharmas entire SuperFood Solution™ line. For a wealth of SuperFood Smoothie/Shake recipes, ask your health professional for a copy of The SuperFood Solution™ Users Guide.
Refrigerate after opening.
Benefit:
YES:
*Great tasting, instant mixing
*Made with organic flax
*Vegan & non GMO
*Low net carb
*Low peroxide value (pv)
*Fortified with Vitamins D, E, & B
NO:
*Fishy tastes, smells or toxins
*Fish oil "burps"
*Animal or fish products
*Eggs, dairy, wheat, yeast, soy, gluten
*Artificial flavors, MSG, or glutamate peptides
Serving Size: 12g (1 scoop)
Amount Per Serving
Calories …57
Calories from fat …122
Total Fat …2.5g / 4% DV
Saturated Fat …Total Carbohydrate …7g / 2% DV
Dietary Fiber …2.5g / 10% DV
Sugars …1g
Protein …1g
Vitamin D3 …1000 IU / 250% DV
(cholecalciferol)
Vitamin E …30 IU / 100% DV
(d-alpha tocopherol succinate)
Vitamin B6 …1mg / 50% DV
(as pyridoxal-5-phosphate)
Vitamin B9 …2000mcg / 50% DV
(as folic acid)
Vitamin B12 …85.5mcg / 1, 425% DV
(as cyanocobalamin)
Calcium …21mg / 2% DV
Iron …425mcg / 2% DV
Magnesium …22mg / 5% DV
Sodium …5mg / <1% DV
Potassium …36mg / 1% DV
Total Omega-3 …1100mg #
Omega-3/DHA …100mg #
Omega-3/Linolenic Acid …1000mg #
Omega-6 …300mg #
Lignans …50mg #
Turmeric …70mg #
Stevia Leaf Crystals …70mg #
(stevia rebaudiana)
* Percent Daily Values are based on a 2, 000 calorie diet.
# Daily Value not established.
OTHER INGREDIENTS: Meadow Pure™ Omega-3 Ultra Golden Flax™ with Marteks DHA oil derived from marine algae, Natural Flavors (plant based), Rice Bran Soluble fiber*, Vitafiber™ (isomalto-oligosaccharides from non-GMO corn and/or potato starch), Rice Malto-dexrin*, Xanthan Gum, Natural Curcumin Color (plant based).
*Organic ingredients
IMPORTANT:
Best if stored in cool, dark conditions. After each use close tightly and refrigerate immediately. Contains an oxygen absorbent packet to preserve freshness.
Pregnant and nursing mothers, anyone taking prescription medications, or prior to any surgical procedures, inform their healthcare practitioner and/or pharmacist before taking this or any other dietary supplement.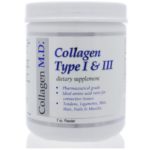 Collagen I and III Dietary Supplement
Collagen M.D.
7oz $18.95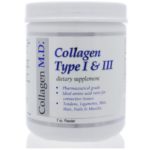 Collagen Type I & III together account for 90%
of the collagen present in the dermis with up to
60-80% for Collagen Type I and 15-20% for
Collagen Type III. This collection of fibers is
responsible for maintaining the structure and
resistance of tissues and constitutes a dynamic
network which anchors the skin in the deeper
layers, thereby creating a support base for the
skin. In addition to its architectural properties,
collagen also regulates the activity of fibroblasts,
playing a role in their migration, proliferation and
differentiation, and in their adhesion to various
elements of the extracellular matrix.
Collagen Type I & III are the main components
of hair, nails, ligaments, tendons, muscles, gums,
teeth, bones, blood vessels and eyes.
In 6oz of water or juice, blend 2 scoops of powder (over 35 years old) or 1 scoop (under 35 years old) or as directed by your physician. Use juice containing Vitamin C or take with a Vitamin C supplement for maximum collagen support.
For optimal nutritional benefits, take on an empty stomach and wait 20 minutes before eating
Do not add to milk or other protein dinks/powders as this will decrease the benefits. May be take with other vitamins and minerals.
Collagen Type I & II …6.6g
Collagen Type I and III protein peptides 
derived from 100% pure bovine collagen.
Contains no gluten, dairy sucrose, starch, yeast, wheat, corn, cholesterol, fat, additives, colorings, flavorings or preservatives.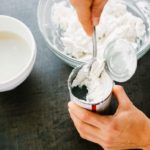 Coconut Whipped Cream
Vegan, GF, Refined Sugar Free
Happily serves 2
ALL ORGANIC INGREDIENTS
1 Can full-fat Coconut milk
1 TBSP Maple syrup or Stevia
1 tsp vanilla
Allow can of coconut milk to sit in fridge overnight, untouched.
In the morning, open the can and scoop out the solid cream on top. Pour the liquid into a different container.
Add vanilla and stevia or syrup to taste and use a high-powered hand blender to whip the cream into soft peaks.
Serve immediately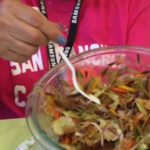 Spaghetti Squash Chow Mein
GF, Vegan, Paleo
Happily Serves 6-8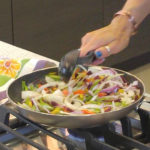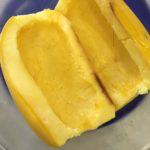 ALL ORGANIC INGREDIENTS
1 Spaghetti squash
1/4 cup Coconut Aminos
3 Garlic cloves, minced
1 TBSP Coconut sugar
2 tsp freshly grated ginger
1/4 tsp white or black pepper
2 TBSP Avocado oil
1 Diced yellow onion
3 Celery stalks
2 Cups cole slaw mix (shredded cabbage, broccoli, and or carrots)
Cut spaghetti squash in half length wise and carefully scoop out seeds. Lay skin side up in a glass dish, place 1/2 inch of water in the bottom of the pan.
Bake at 400 degrees for 30-40 minutes, until flesh is very tender. Shred flesh with a fork so it breaks apart into strings, set aside.
In a small bowl, whisk together Coconut aminos, garlic, coconut sugar, ginger, and pepper.
Heat avocado oil in a large cast iron skillet over medium high heat.
Add onion, celery, stirring often, steam for no more than 3 mins.
Stir in cabbage until heated.  This should take no more than 7 mins total.
Stir in spaghetti squash and "soy" sauce mixture until well combined.