HyaluronicAcid Dietary Supplement
Collagen M.D.
60 capsules $27.95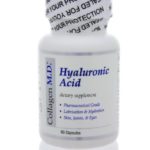 HyaluronicAcid supports and promotes
healthy skin, functioning as a tissue lubricant
and is known as nature's moisturizer.
With age, Hyaluronic Acid levels decline
in the body and HA dietary supplementation
provides nutritional support for connective
tissue, cartilage, joint, skin and eye health.
Hyaluronic Acid works synergistically
with collagen Type I, II, and III to help
support skin, connective tissue, cartilage
and joint health.
Servings Per Container: 30
As a dietary supplement, take 1 capsule twice
daily on an empty stomach. Wait 20 minutes
before eating. Do not mix with other protein
liquids or protein supplements for optimal
nutritional beneft.
Serving Size: 2 capsules
Amount Per Serving:
Hyaluronic Acid … 100mg
Other Ingredients: 
Microcrystalline Cellulose, Magnesium Stearate, 
Kosher Gelatin Capsule.
Collagen M.D.® products are free from gluten, 
dairy, sucrose, starch, yeast, wheat, corn and
cholesterol.