medium heat
now browsing by tag
Holiday drinks!! What to do if you drink to little water and become dehydrated and have a hangover the following day?
If you are going to drink this holiday season, please be responsible and smart.  Always choose good quality ingredients and ORGANIC where you can.  Good rule of thumb is drink a glass of water after each mixed drink. This will not affect your "Buzz" It allows your body to metabolize the alcohol content.
Following the "fun" recipes I have listed a few tips to help sooth your guts.  Remember: if you are a coffee/caffeine person or drinker, those two deplete your B vitamins and fatigue/stress your adrenals out.  Supplements are strongly recommended to help keep levels normal.
I'd be more than happy to help create a meal plan for you to keep you on track during the holidays.  Happy creating!!
I found Bailey's Almond cream, it's gluten free and vegan.  Was a total hit at class.  The salted Caramel Kaula was a second win!  The Staff at Total Wine was so helpful in answering my questions since my knowledge lacks in this department.  Don't be afraid to ask….remember you are the consumer and you vote with your dollars so do so wisely.

Vegan Eggnog Chai Latte
Dairy Free, Vegan
Happily serves 1
ALL ORGANIC INGREDIENTS
8 oz So Delicious Eggnog
2 Chai Tea bags
1/2 cup espresso or Cold Brew
Optional: 2oz Kahula
Heat eggnog and 2 tea bags over medium heat, never allowing it to come to a boil. Stir often.
As soon as eggnog begins to form little bubbles remove from the heat.
Remove tea bags from eggnog.
Pour coffee in a mug and top with the chai spiced eggnog.
Serve immediately.
Peppermint White Russian Cocktail
Dairy Free
Happily serves 2
1/2 cup Kahlúa coffee liqueur
1/4 cup Peppermint flavored vodka (2 oz)
1/2 cup Coconut Cream or coconut egg nog
6-8 Ice cubes
Top of Glass:
1/8 cup vanilla frosting
1/4 cup peppermint candy bits
Apply a thin layer of vanilla frosting around the rims of both glasses.
Add the peppermint bits to a shallow bowl. Dip the rims of each glass into the candy, covering the frosting entirely. Chill for 10 minutes.
In a cocktail shaker, add the Kahlúa, vodka and coconut cream.
Shake it!
Pour into the peppermint-rimmed serving glasses filled with ice.
Hot Caramel Apple Cider
Vegan, Gluten Free (Use Tito's vodka or Towers-it's Gluten Free)
Happily serves 4
ALL ORGANIC INGREDIENTS
32 oz apple cider (Four 8 oz servings)
8 oz Caramel vodka
1 TBSP Cinnamon
OPTIONAL: 1/4 cup Coconut brown sugar (for rimming your glasses)
Mix all of the ingredients in a large pot.
Heat over medium-low heat, stirring occasionally until liquid just begins to steam
TIP: Heat to your desired temperature and then add the vodka to ensure the alcohol doesn't burn off.
Optional: While cider is warming up rim the mugs with brown sugar
BAILEYS Spiced Iced Cold Brew
Gluten Free, Dairy Free, Vegan
Happily serves 1
ALL ORGANIC INGREDIENTS
2 oz Baileys Almond Milk Liqueur
15 oz Cold brew
Cinnamon essential oil or cinnamon stevia
Nutmeg
Ice if desired
Combine Baileys with cinnamon oil/stevia, cold brew over ice.
Top with grated nutmeg.
Golden Milk
Dairy Free, Soy free, Gluten Free, Vegan, Yeast Free
Happily serves 1
ALL ORGANIC INGREDIENTS
1 Cup Almond or non dairy nut milk
1 TBSP Coconut oil
1 tsp Turmeric
1/4 tsp ground ginger
1/2 tsp ground cinnamon
1/8 tsp white pepper (or black)
1 scoop of collagen
Hangover Remedies:
1 scoop Can't Beet this (Purium)
8 oz Organic Coconut water
Optional but strongly recommended:
1 scoop Green Spectrum or "More Greens" (Purium)
8oz Bone Broth before bed
8oz Bone Broth first thing in the morning.
Avocado and sea salt for your first meal.
Cooking Class 7.7.2017
********************************************************
Taco Salad
Gluten Free, Vegan
Happily serves 3-4
ALL ORGANIC INGREDIENTS
Salad
2-4 Zucchini
2 Cups Kidney Beans
2 green onions
1 Red Bell pepper
4 Cups Mixed Greens
1 Jalapeño
Handful Cilantro
1 avocado
1-2 TBSP lemon or lime juice
Sea salt to taste
Dressing
8 oz Coconut yogurt
1 cup Salsa
Sprialize Zucchini.
Soak, rinse and drain beans.
Dice Bell pepper, Cilantro and jalapeño, and Avocado.
Adding lemon juice for taste if needed.
Mix salsa and yogurt together.
Mix the veggies and Dressing and place on a bed of greens.
******************************************************************
Sauerkraut Dill Coleslaw
Vegan, Gluten Free, Soy Free
Happily serves 12
ALL ORGANIC INGREDIENTS
1 head Purple Cabbage, Sliced
1 Cup Sauerkraut, plus juice
1 Cup Dill Pickles, save juice
1/2 Red onion
1/2 Yellow onion
1 Tbsp minced garlic
1 tsp ginger, powdered (or Finely chopped fresh)
2 TBSP Hemp Seed oil
2 TBSP Balsamic Vinegar
2 TBSP Coconut Aminos
2 TBSP Lime juice
Slice and quick roast/bake Cabbage for 5-7 minutes until bright purple and still crunchy.
Dice onions and pickles. (You can use dill relish)
Combine all ingredients. Adjusting taste to preference. I used juice from the pickles and sauerkraut for a stronger flavor. You can use any where from 2-4 TBSP of the last 4 ingredients to fine tune to your desired taste.
*****************************************************************
Avocado Sweet Potato Breakfast Salad
Vegan, Gluten Free, Refined sugar Free
Happily serves 2
ALL ORGANIC INGREDIENTS
Salad
1 Purple or orange sweet potato, cubed
1 Tbsp avocado oil
Himalayan Sea salt and pepper
4 cups mixed greens (not raw spinach or kale)
1 ripe avocado, chopped
2 Tbsp hemp seeds
1-2 TBSP Fresh chopped parsley
1 cup blueberries, Optional
Dressing
3 Tbsp lemon juice
1 Tbsp Avocado oil or Hemp seed oil
Himalayan sea salt and pepper
Heat a cast iron skillet over medium heat. Once hot, add oil, sweet potatoes, salt, and pepper. Coat well. Arrange in a single layer to ensure even cooking and place a lid on top to steam.
Cook for 3-4 minutes.
Uncover and turn the potatoes. Use medium-low heat. Cook about 10 minutes until golden brown and tender.
Prepare dressing. Add lemon juice, olive oil, salt, and pepper to a mixing bowl and shaking or whisking to combine. Set aside.
To serve, divide greens and top with roasted sweet potatoes, blueberries, avocado, hemp seeds and parsley.
Top with Dressing or Serve on the side.

Lemon Sautéed Spinach & Quinoa

 
Vegan, Vegetarian
Happily serves 4

ALL ORGANIC INGREDIENTS

1 bag spinach
¼ Cup pumpkin seeds
1 Cup tri color Quinoa, cooked
3 garlic cloves, chopped
1/2 chopped yellow onion
1 TBSP of Avocado oil
1 lemon, juiced
Salt and pepper to taste

Pre-heat cast iron pan over medium heat.
Saute chopped garlic and onion, remove and keep aside.
Add a portion of the baby spinach to the pan, stir frequently continuing to add spinach until entire bag is added.
Steam spinach until soft bright green (only takes about a minute.)
Remove from heat! Drain off water!
Stir in Quinoa, oil, spinach, garlic, onion, and pumpkin seeds
Sea Salt and pepper to taste .
Squeeze a bit of fresh lemon juice over spinach before serving.
Winter Squash Pancakes
Vegan, GF, Refined Sugar free
Happily serves 4
ALL ORGANIC INGREDIENTS
PANCAKES
1 cup Cooked and smashed winter squash
1/3 cup cashew cream or vegan cream cheese
2 large eggs (or flax egg)
1/2 cup coconut yogurt
3/4 teaspoon sea salt
A dash black pepper
1 teaspoon baking powder
1 cup all-purpose GF flour
coconut oil for frying pan
TO FINISH:
Crispy Sage Brown Butter:
2 to 3 tablespoons butter
A pinch or two of salt
A few fresh sage leaves
In a large bowl, whisk squash, yogurt, eggs, cheese, salt, pepper and baking powder until smooth.
Add flour and stir until just combined. Batter will be thick.
Heat skillet medium-low to medium.  Coat the bottom with coconut oil, and spoon in pancake batter,  flatten the pancake slightly.
Cook until golden brown underneath, flip and cook until golden brown.
Lower your heat, if it's cooking too fast. If you're worried pancakes have not cooked in the center, you can finish them for 10 minutes in a 250 degrees oven.
To finish, wipe out frying pan and add butter (or you can use coconut oil), a Dash of salt and sage leaves, heating over medium heat. The sage leaves will crisp and the butter will brown in a minute or two so keep a close watch on it. Pour leaves and butter over pancakes
To roast squash: For butternut or kabocha, roast it face-down on an a baking sheet sprinkled with coarse salt at 375 for 40 to 50 minutes, until tender.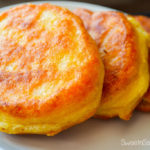 JAMAICAN CORNMEAL FRITTERS
Vegan, GF
Happily serves 10
All ORGANIC INGREDIENTS
1½ cup corn flour 
½ cup GF flour
2 tbsp Coconut sugar
2 tsp baking powder
½ tsp Himalayan sea salt
1½ cup room temperature water
2 tbsp coconut or avocado oil
Coconut Oil for frying
Heat a cast iron skillet with about ½ cup oil on medium heat.
While its heating, mix all ingredients into a bowl (will take on a thick pancake consistency).
Once oil is hot in pan, add several large dollops of cornmeal mixture into pan.
Fry 5 minutes or so on each side until golden yellow.
Remove fritters when evenly golden yellow on both sides, and place on paper towel to clean excess oil.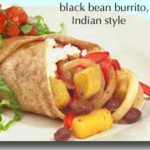 Indian Style Black Bean Wrap
Vegan, Vegetarian, GF
Happily serves 4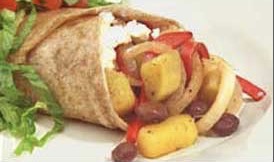 ALL ORGANIC INGREDIENTS
1 yellow onion
4 cloves garlic
1 tsp fresh grated ginger
1 Cup sweet potatoes or quinoa (or half cup of each)
1 Cup green bell pepper
1 Cup Red bell pepper
1 tsp garam masala
1 TBSp +1/2 cup vegetable or bone broth
2 cups black beans drained and rinsed
Sea Salt and black pepper to taste
Romaine lettuce
Chop onions and garlic. Let sit for 5-10 minutes
Prepare other vegetables.
Salute onion, garlic, ginger, and peppers in broth over medium heat for about 5 minutes, stirring frequently.
Add garam masala and sweet potatoes and mix well.
Add 1/2 cup broth and cook covered on low heat for about 10 minutes, or until potatoes are tender.
Add beans, Season with salt and pepper to taste.
Lettuce wrap all veggies and Enjoy!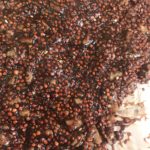 Quinoa Brittle
Vegan, Gluten free, Refined Sugar Free
Happily Serves 10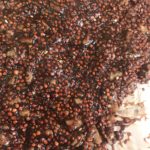 ALL ORGANIC INGREDIENTS 
3/4 Cup Tricolor uncooked quinoa
3/4 cup Pecans
2 TBSP Coconut sugar
1/2 tsp Pumpkin pie or allspice
2 TBSP Coconut oil
1/4 cup Blackstrap Molasses
1/4 cinnamon
Pinch of Himalayan sea salt
Stevia, if you desire it sweeter
Preheat oven to 325.
Line a baking sheet with parchment paper. (Cover all edges)
Combine quinoa, pecans, coconut sugar, salt, and cinnamon/spices in a bowl and set aside.
Over low to medium heat, add the coconut oil and black strap molasses (and optional Stevia). Stir until there is no visible separation.  Pour over the dry ingredients, combine and coat evenly,  spread on a parchment lined baking sheet with a metal spoon.
Try to get it as even as possible or the edges will burn in the center won't crisp up.
Bake for 15 minutes and turn the pan around to ensure even baking and Browning. Back 5 to 10 minutes more and watch carefully so it does not burn. The edges will get crisp and caramelized, and the color will be uniformly deep golden brown in color.
Let it cool completely before breaking it into serving pieces.   You can store leftovers in a sealed container at room temperature for a week, or in the freezer for up to one month.