Quinoa Brittle
Vegan, Gluten free, Refined Sugar Free
Happily Serves 10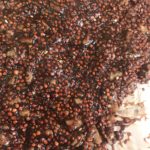 ALL ORGANIC INGREDIENTS
3/4 Cup Tricolor uncooked quinoa
3/4 cup Pecans
2 TBSP Coconut sugar
1/2 tsp Pumpkin pie or allspice
2 TBSP Coconut oil
1/4 cup Blackstrap Molasses
1/4 cinnamon
Pinch of Himalayan sea salt
Stevia, if you desire it sweeter
Preheat oven to 325.
Line a baking sheet with parchment paper. (Cover all edges)
Combine quinoa, pecans, coconut sugar, salt, and cinnamon/spices in a bowl and set aside.
Over low to medium heat, add the coconut oil and black strap molasses (and optional Stevia). Stir until there is no visible separation. Pour over the dry ingredients, combine and coat evenly, spread on a parchment lined baking sheet with a metal spoon.
Try to get it as even as possible or the edges will burn in the center won't crisp up.
Bake for 15 minutes and turn the pan around to ensure even baking and Browning. Back 5 to 10 minutes more and watch carefully so it does not burn. The edges will get crisp and caramelized, and the color will be uniformly deep golden brown in color.
Let it cool completely before breaking it into serving pieces. You can store leftovers in a sealed container at room temperature for a week, or in the freezer for up to one month.