liquid
now browsing by tag
Coconut flour cacao pancakes
GF, Dairy free
Happily serves 12 pancakes
ALL ORGANIC INGREDIENTS
1⁄3 Cup Coconut flour
5 eggs
½ Nut milk of choice
¼ Cup full fat coconut milk
¼ Cup coconut sugar or stevia
3 TBSP Raw Cacao powder
¾ tsp vanilla extract
Dash of Sea salt
Coconut oil spray for each pancake
In a deep bowl, whisk all ingredients except ghee/coconut ghee/coconut oil, until well combined. Batter should be very thick but pourable. Not watery.
Let batter sit for 5 minutes to let the coconut flour absorb the liquid, stirring once more at the end.
Pour about 1⁄3 cup of batter into a frying pan pre-heated with coconut oil. 
If necessary, tilt pan and shake lightly for even distribution of batter. (Batter does not necessarily need to spread throughout the pan).
Fry for a couple of minutes, occasionally covering with a lid, till liquid has almost firmed up
Tip: Covering the pan with a lid occasionally will help keep moisture and enhance even cooking.
Flip with a spatula, and fry the other side for a couple more minutes, then remove from pan.
Repeat for rest of batter, greasing pan between batches as needed, and occasionally stirring the batter left in your bowl for even consistency.
Ionic Elements
4 oz  $38.95
THE LEADING SPORTS DRINK HAS 2 ELECTROLYTES.
This formula HAS 70!
* Great for athletes or anyone in need of proper hydration
* May promote restful sleep
* May prevent mineral deficiencies
* May increase alkalinity
Purium`s Ionic ElementsTM is a specially formulated combination of fulvic acid and ocean trace minerals – it is a great source of magnesium and other important nutrients such as electrolytes. A rare source of humic and fulvic base and use our proprietary (acid-free) refining method to accelerate the concentration and purity of the fulvic acid, which leaves it with a fresh, clean taste. We recommend adding Ionic ElementsTM to your Power ShakeTM or any other green drink or to your drinking water.
Servings per container: 25
Instructions: Adults take 20 drops three times per day. For optimum results, dilute with water and circulate the liquid in your mouth for ten to twenty seconds before swallowing. You can also simply drink it after diluting it in water or juice.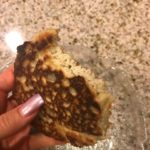 Protein Collagen Pancakes
Gluten Free, Dairy free
Happily serves 2-3
ALL ORGANIC INGREDIENTS
2 Free Range Pasture raised eggs
1 egg white
1/8 Cup melted Coconut oil
1/4Cup Coconut flour
2 scoops Bone Broth Protein Powder
Dash cinnamon
1/8 tsp Himalayan sea salt
Liquid Bone broth or water to thin (I only needed about a TBSP)
Stevia if desired sweeter
Whisk eggs and oil together thoroughly.
Stir in coconut flour, protein powder and Himalayan sea salt and allow to sit for 5 minutes
Heat coconut oil in a large skillet over medium-low heat.
Once hot, drop batter into cast iron skillet, cook until bubbles form on one side, flip and repeat.
Serve Hot
Micro D-3 w/ Vitamin K and Trace Minerals
Nutrasal
2 oz. $16.95
Micro D-3 w/ KTM is an optimized form of Vitamin D3 in a base of Vitamin K2 and Trace Minerals. And, unlike other Vitamin D, Micro D-3 w/ KTM is superior in particle size, delivery technology, absorption and bioavailability. Vitamin D-3 doses have been steadily increasing from 400 IU to 2000 IU per day. And, in many cases, Doctors and Healthcare Professionals are recommending doses in excess of 5000 IU per day. Because Micro D-3 w/ KTM leverages the power of our new breakthrough delivery system (M.E.D.S Technology), you can get up to 10 times more vitamin D into the blood and body when compared to ordinary soft gelatin capsules and other liquid formulations.
Servings Per Container: 240
As a dietary supplement, take 1250IU )0.25ml) per day or as directed by your physician.
Serving Size: 0.25ml = 1250IU
Amount Per Serving
Vitamin D-3 … 1250IU
Other Ingredients: DI Water, Proprietary Blend of (Magnesium Lactate, Zinc Lactate, Copper, Chromium) MCT Oil, Phosphatidylcholine, Vitamin K2
Contains NO: wheat, gluten, corn, soy protein, yeast, dairy products, artificial colors, sweeteners, or preservatives.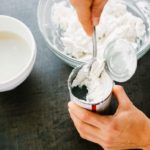 Coconut Whipped Cream
Vegan, GF, Refined Sugar Free
Happily serves 2
ALL ORGANIC INGREDIENTS
1 Can full-fat Coconut milk
1 TBSP Maple syrup or Stevia
1 tsp vanilla
Allow can of coconut milk to sit in fridge overnight, untouched.
In the morning, open the can and scoop out the solid cream on top. Pour the liquid into a different container.
Add vanilla and stevia or syrup to taste and use a high-powered hand blender to whip the cream into soft peaks.
Serve immediately
Cauliflower Crust Pizza
ALL ORGANIC INGREDIENTS
Crust
1 small to medium sized head of cauliflower – should yield 2 to 3 cups once processed
¼ cup shredded Parmesan cheese, or vegan cheese
¼ cup mozzarella cheese or vegan cheese
1 egg or 1 flax egg
¼ teaspoon salt
½ teaspoon garlic powder
½ teaspoon basil or rosemary
½ teaspoon oregano
Optional Toppings:
1 cup Organic marinara sauce
1-2 cups vegan Organic mozzarella cheese
Preheat oven to 500 degrees F.
Remove the stems from the cauliflower and cut into chunks, place the cauliflower into a food processor, pulse it until it resembles the texture of rice. If you don't have a food processor, you can use a cheese grater or chop it very finely.
Place the cauliflower in a kitchen towel and squeeze all the liquid out of it. Be sure to squeeze as much liquid as possible!!! Very important!
Combine the cooked cauliflower, egg or flax egg, garlic, cheese, and seasonings. Stir until a dough texture forms. Spread the cauliflower mixture out onto lightly greased parchment paper or a pizza pan in the shape of a pizza crust.
Bake the crust for approximately 10-15 minutes (depending on your oven), or until the crust is golden and crispy. After the crust is golden remove it from the oven and add your toppings.
Place the pizza back in the oven but this time turn on the broiler, bake for about 2-5 minutes until the cheese melts. be sure to keep an eye on it because the broiler can burn the cheese quickly.
Make sure you add love!  Slice and serve smiles!
Herbs for Anxiety
Not looking to use Conventional Drugs to help ease Anxiety?  Try some of these herbs.
Licorice Root contains a natural hormone alternative to cortisone, which can help the body handle stressful situations, and can help to normalize blood sugar levels as well as your adrenal glands, providing you with the energy necessary to deal with the stressful situation at hand. Some claim licorice stimulates cranial and cerebrospinal fluid, thereby calming the mind.As a soothing tonic, drink it warm as in a tea.
Kava Kava, an herb from the South Pacific, is a powerful muscle relaxer and analgesic. Kava Kava is also effective at treating depression and anxiety associated with menopause. http://www.care2.com/greenliving/5-herbs-that-reduce-stress-and-anxiety.html#ixzz3zjWfhIxL
Valerian
Some herbal supplements reduce anxiety without making you sleepy (such as L-theanine), while others are sedatives. Valerian (Valeriana officinalis) is squarely in the second category. It is a sleep aid, for insomnia. It contains sedative compounds; the German government has approved it as a treatment for sleep problems.
Valerian smells kind of nasty, so most people take it as a capsule or tincture, rather than a tea. If you want to try it, take it in the evening—not before you go to work! Valerian is often combined with other sedative herbs such as hops, chamomile, and lemon balm.
Hops
Yes, it's in beer, but you won't get the tranquilizing benefits of the bitter herb hops (Humulus lupulus)from a brew. The sedative compound in hops is a volatile oil, so you get it in extracts and tinctures—and as aromatherapy in hops pillows.
"It's very bitter, so you don't see it in tea much, unless combined with chamomile or mint," says Blumenthal. Hops is often used as a sedative, to promote sleep, often with another herb, valerian. Note: Don't take sedative herbs if you are taking a prescription tranquilizer or sedative, and let your doctor know any supplements you are taking.
Chamomile
If you have a jittery moment, a cuppa chamomile tea might help calm you down. Some compounds in chamomile (Matricaria recutita) bind to the same brain receptors as drugs like Valium.
You can also take it as a supplement, typically standardized to contain 1.2% apigenin (an active ingredient), along with dried chamomile flowers. In one study at the University of Pennsylvania Medical Center, in Philadelphia, patients with generalized anxiety disorder (GAD) who took chamomile supplements for eight weeks had a significant decrease in anxiety symptoms compared to patients taking placebo.
Passion Flower
The University of Maryland Medical Center states that passionflower has shown in a few studies to work as well as some of the benzodiazepine medications that are usually prescribed for treating anxiety.
A four-week double-blind study, for example, compared passionflower with oxazepam. Results showed oxazepam worked more quickly, but by the end of the study period, both treatments were shown to be equally effective. Bonus—side effects like daytime drowsiness were fewer with passionflower.
A second study also showed that passionflower helped ease symptoms like anxiety, irritability, agitation, and depression in participants going through withdrawal from an opiate drug addiction.
Dosage: Try one cup of passionflower tea three times daily, 45 drops of liquid extract daily, or about 90 mg/day.
Lavendar
A 2010 multi-center, a double-blind randomized study of lavender oil compared to anti-anxiety medication lorazepam found that both were effective against generalized and persistent anxiety. Bonus — lavender had no sedative side effects.
"Since lavender oil showed no sedative effects," researchers stated, it could be an effective and "well-tolerated alternative to benzodiazepines" to treat generalized anxiety. An earlier 2000 study found similar results.
Dosage: Try about 80 mg/day of the supplement, or use the oil as an aromatherapy solution.
Lemon Balm
Though usually found in combination with other herbs, lemon balm also has anti-anxiety powers on its own.
Research published in 2004, for instance, gave participants a single dose of lemon balm extract (300 mg or 600 mg) or a placebo, then measured their mood after one hour. The higher dose resulted in reduced stress and improved calmness and alertness. Even the lower dose helped participants do math problems more quickly.
Dosage: Use in aromatherapy, try 300-500 mg of dried lemon balm three times daily, 60 drops daily, or 1/4 to 1 teaspoon of dried lemon balm herb in hot water for a tea four times daily.
Ashwagandha
A 2012 double-blind, placebo-controlled study gave participants either placebo or a capsule containing 300 mg of high-concentration full-spectrum ashwagandha extract, twice a day. The study lasted for 60 days. Those taking the ashwagandha showed significant improvements. Even the levels of the stress hormone cortisol were substantially reduced in those taking the extract. And there were no serious side effects.
In an earlier 2000 study, ashwagandha had anxiety-relieving effects similar to those of lorazepam.
Dosage: Typical dosage is 300 mg standardized to at least one to five percent withanolides, once or twice a day.
L-Theanine
This one isn't really a herb — it's a water-soluble amino acid,  but it's gotten such good research behind it, we had to include it here. It's found mainly in green tea and black tea and is also available as a supplement.
Studies have found that it acts directly on the brain, helping to reduce stress and anxiety—without causing drowsiness.
Research from 2008, for example, found that those participants taking 50 mg of L-theanine a day had a greater increase in alpha (relaxed brain waves) activity than those who took a placebo.
An earlier 1998 study found that 200 mg a day leads to increased alpha brain waves and a relaxed, yet alert, a state of mind.
A later 2011 study found that it was also associated with reduced anxiety, and was well tolerated and safe for participants.
Dosage: A typical cup of black tea contains only about 25 mg of l-theanine and green tea only about 8 mg. While a cup of tea may be calming, if you want more potent effects, try a supplement, about 200 mg a day.