half
now browsing by tag
Environmental allergens/Cross-Reacting Foods
I hear my clients or friends talk about the plants they are allergic to, what about the foods that we take in from those same plants and trees, do you consider those? It's easy to feel the immediate effects of the blooming trees but not the delayed response of gluten or dairy allergy 2-5 days later.  
When your immune System is low, the outside allergies present themselves quickly.  A food panel is more valuable and  important to your health then knowing what tree you are allergic too.  Let's take a look at the inside of our bodies first and build those systems up so the outside environment has less of an affect on us.  
Five categories of cross reaction and some of the key foods involved.
This is not intended to represent all possible environmental allergens, or all possible cross-reacting foods. Instead, it is meant to provide you with examples of common pollen allergens and commonly cross-reacting foods.
Environmental Allergen                  Cross-Reacting Foods
1. alder tree pollen                               1. almonds, apples, celery, cherries, peaches, pears, parsley, hazelnuts
2.grass pollen                                       2.melons, tomatoes, oranges
3.mugwort weed pollen                    3.carrots, celery, coriander, fennel, parsley, bell peppers, hot peppers, sunflower seeds
4.ragweed pollen                                 4.bananas, cantaloupe, cucumbers, zucchini, honeydew, watermelon, chamomile
5.birch tree pollen                             5. almonds, apples, apricots, carrots, celery, cherries, coriander/cilantro, fennel, hazelnuts, kiwifruit, lychee fruit, nectarines, oranges, parsley, parsnips, peaches, pears, bell peppers, hot peppers, persimmons, plums/prunes, potaotes, soybeans, wheat
Environment-food cross reactions can be as complicated or even more complicated to recognize as food allergies and food intolerances. On the environment side, they might be seasonal and only a problem during certain times of year. On the food side, they are likely to be year round, and may involve a half dozen or more foods. Blood work is strongly recommended to identify the cause of "allergy Symptoms".
For more information I can order the correc labs for you to get the answers you are looking for, just email, call or text me and we can set up a consultation.  If you would like more information on this article:
http://whfoods.org/genpage.php?tname=faq&dbid=51
If you missed the Local education night here is a few things we discussed:
Muscle building with Plant Protein
*How do you support a body on a plant based diet without eating meat?
Earth is the ultimate prism. Every green plant captures a different wavelength of light and energy from the sun. A collection of juices from sea plants, field grasses and garden vegetables will alkalize your body, build up your blood, and cleanse your cells.
What is a Carbohydrate? Fruit, vegetable, starch, grain, pasta
What is a Protein? Animal meat, dairy
What is a Fat? Nut, seed or oil
How Much do we need daily? Age/Gender/Health History
Carbs: Weight loss must be under 50g a day, aim for no more than 30g of carbs at a meal and 8g of sugars within those carbs. Think higher fiber foods.
Protein: 1g per 1kg body weight (think about half your body weight)
Fat: 25-30% daily calories can come from the pure sources of healthy fats.
***Ratios are different for everyone and Should be evaluated by a Certified Health Professional or Holistic Professional based on your health history.***
What are Amino Acids? What do they do?
Assists with the stabilization or recovery of muscle strength, endurance, and volume
Helps keep body tissues firm
Helps minimize body fat
May support a weight loss regimen
Aid in normalizing protein synthesis
If the essential amino acids are not present in the daily diet the body will break down existing proteins in order to supply the body with the missing amino acids.
Essential Amino Acids:
Cannot be produced in our body and thus must be consumed in our diets. The essential amino acids humans cannot synthesize are:
Phenylalanine, valine, threonine, tryptophan, methionine, leucine, isoleucine, lysine, and histidine. (Arginine is mostly required in young children and not as important as adults)
Non-Essential Amino Acids: These can be synthesized by the body.
Proteins drive ALL functions of the various organs of the human body.
Alanine (from pyruvic acid)
Arginine (from glutamic acid)
Asparagine (from aspartic acid)
Aspartic Acid (from oxaloacetic acid)
Cysteine
Glutamic Acid (from oxoglutaric acid)
Glutamine (from glutamic acid)
Glycine (from serine and threonine)
Proline (from glutamic acid)
Serine (from glucose)
Tyrosine (from phenylalanine)
If you fail to obtain even just one out of the essential amino acids, your body's proteins so not complete and the body is forced to steal from bones and elsewhere to create metabolic processes in your body. Also, unlike fats and carbohydrates, your body does not store excess supplies of amino acids for later use – you need a regular supply of them everyday.
Foods with amino acids include animal and vegetable sources. Most of the animal sources such as meat, eggs and milk are considered to be "complete protein sources" meaning that these contain all the essential amino acids that your body needs.
Vegetables are also good amino acid food sources but most of them do not usually contain all essential aminos.
Amino Acid Deficiency and Supplementation
Many people who are sick, fatigued, or trying weight loss programs, vegetarians or Vegans consume insufficient amounts of protein. Thus, supplementation of amino acids has been increasingly necessary. B6 and B12 are the most common of deficiencies when not consuming animal protein.
Non Meat Forms of Amino Acids: Think SEA LIFE!
*How can I combat muscle fatigue or just plain being tired all the time?
More GREEN foods create energy in the body! How do plants grow? They need sun, water, rest, minerals and vitamins, and time.
Antioxidant Rich foods: EAT FROM THE RAINBOW!
RED: Lycopene
YELLOW/ORANGE: Beta Carotene & Beta Crytoxanthin
BLUE/PURPLE: Anthocyanins
GREEN: Chlorophyll
GREEN FOOD BASICS:
*Green foods have a high content of chlorophyll due to porphyrin rings.
* Chlorophyll and heme units of red blood cells are virtually identical except the center molecule
* Chlorophyll-magnesium
* Heme-Iron
* Heme units are the building blocks for red blood cells
* Therefore, all green foods help the body to create new blood.
*How do we use food as medicine so we can fuel the body, heal and repair?
Basic Weight management Strategies and Lifestyle Strategies
1-Adequate ATP
2-Nutrient Density-Organic Foods. **A MUST!!!**
3-Balance-60-80% Alkalizing (pH Balance)
4-Moderation-Limited Refined Sugar
5-Calorie Control=Calorie Restriction
6-Variety= Seasonal Eating VS Emotional Eating
Refer to www.healthywithjodi.com for my Sweet 16 Eating Healthy Guidelines and how to achieve balance.
Definitions and menu DeCoding:
Vegan: A strict vegetarian who consumes no products from an animal, such as meat eggs or dairy products or stains from using animal products such as the leather.
Vegetarian: does not eat or believe in eating meat, fish, Fowl or any food drive from animals such as eggs or cheese. Uses fruits, vegetables, and grains for food sources.
Paleo: consume vegetables, fruits, nuts, lean meats, no grains, no processed foods.
Pescatarians: do not eat any land animals or birds such as beef pork chicken or turkey. Will eat fish and other seafood such as shrimp and clams. They do eat fruits, vegetables, beans, greens and nuts.
Lacto vegetarian: includes vegetables and dairy products such as milk, cheese, yogurt, butter, ghee, cream, Keefer but excludes eggs.
Food Catagories: Do you now what you are eating and how to combine them? (Just a few listed below)
Whole Grain, Gluten
Tamari, Coconut Aminos, Soy Sauce
Flax Seed, Chia Seed, hemp hearts, Tahini
Hummus, lentils, Tofu, beans
Nut Meat, Nut Milk, Quinoa
Micro greens, Sprouts
Spices: parts of the plant other than the leafy bit such as the root, stem, Bulb, bark or seeds ex: cinnamon, cloves, ginger and pepper.
Herbs: come from the leafy and green part of the plant. Ex: Basil, oregano, rosemary, Parsley, mint.
Spices and herbs add MAJOR nutrients to your meals, you can achieve therapeutic ranges when you use ORGANIC spices/herbs daily. Www.superfoodly.com
*What do I pair together to equal complete protein meal?
A nut or seed plus a legume equals a complete Protein.
BASIC PROTEIN NUTRITION INFO:**Even though you are worried about getting enough protein, you need to watch the Carbohydrate content of your meal. **
1/2 cup beans: average 7g protein Black, 7g protein garbanzo (20g carbs) 120 cal
1 small sweet potato: Not a nightshade 2g protein (22g carbs) 95 cal
1/2 cup yam: 2g protein (22g carb) ROOT Vegetable 95 cal
1/2 cup lentils (Legumes): average 9g protein (20g carb) 7g fiber
1/4cup Quinoa equals a cup cooked: 6g protein (29g carbs) 160 cal.
HAS ALL 9 ESSENTIAL AA
1 TBSP or 1/8cup nuts: walnuts: 2g protein (1g carb) 90cal
1 TBSP seeds: flax seeds: 3g protein (7g carb) 60 cal
1/2 cup brown rice: 5g protein (23g carbs) 150 cal
1/2 cup Black Rice: 10 LESS carbs than brown rice
4oz Tofu: 9g protein (3g carbs) 90cal
1/2 cup Soy beans: 14g (9g carbs) 150 cal
1 cup Avocado: balanced Meal!!! 3g protein (11g carbs) 7g fiber 22g fat 250 cal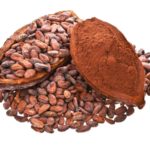 Cooking Class 2.12.2017
Chocolate Info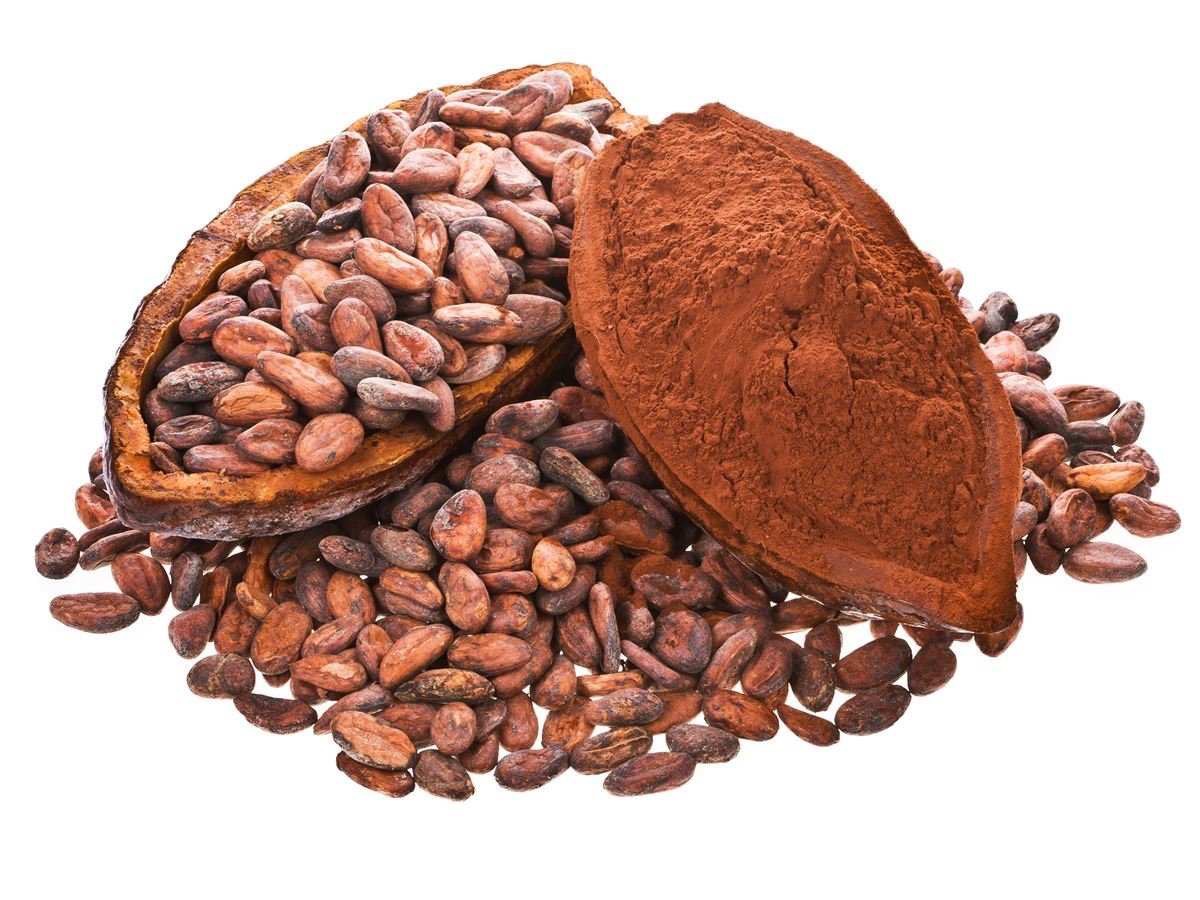 Cacao can fuel energy and mood. It is an excellent source of fiber good source of protein and iron. It is high in antioxidants and polyphenols. A half half a cup of raw organic cocoa powder has 110 cal, 2 g of fat 16 carbohydrates, 10 of which is dietary fiber. It contains 8 g of protein and will give you 10% of the iron you need for your daily requirements. It is considered a stimulant and should be eaten occasionally not every day.
Cocoa beans are the fermented seeds of the cacao tree. The fruit of the cocoa tree is a pod full of sweet pulp enfolding a cluster of about 20-40 cacao seeds. Cocoa refers to the low-fat constituent of the finely ground cacao beans. These ground beans, known as cocoa liquor or cocoa mass, also contains cocoa butter which is a non-dairy, naturally occurring fat. Cocoa butter is a mixture of monounsaturated fats like oleic acid and saturated fats, namely stearic acid and palmitic acid. About 50-60% of cocoa liquor consists of cocoa butter.
Cacao bark, butter and flowers have also been valued since ancient times for treating various diseases like skin ailments, bowel malfunction and wounds. Cocoa has anti-inflammatory, anti-allergenic, anti-carcinogenic and antioxidant qualities. Health benefits include relief from high blood pressure, cholesterol, obesity, constipation, diabetes, bronchial asthma, cancer, Chronic fatigue syndrome and various neurodegenerative diseases. It helps to improve cardiovascular health and brain health. It also helps in treating copper deficiency.
Commercially available chocolates and cocoa-products may not be rich in the original beneficial flavonols since their properties get destroyed by over-processing and heat. In order to obtain the benefits of cocoa, it is important to consume the correct source of cocoa. Milk/dairy blocks the absorption of the antioxidants in chocolate, so be sure to check the labels!
Antioxidant Capacity: Studies have shown it is evident that cocoa exhibits higher antioxidant activity than against green and black tea, and red wine. Antioxidants helps to neutralize the oxygen-based free radicals that are present in the body. Cacao is abundant in phenolic phytochemicals and possesses a high amount of flavonoids as well.
Of course, everything in moderation!
Jodi's Sweet Potato Brownies
Grain Free, Paleo, GF, Dairy free
Happily serves 12
ALL ORGANIC INGREDIENTS
2 medium Sweet Potatoes
14 Medjool Dates
1 1/2 Cups Quinoa or Almond Flour
4 TBSP Raw CACAO Powder
3 TBSP maple Syrup (Grade B) or Coconut netar
Pinch of sea salt
Peel Sweet Potatoes. Slice/cut and steam for about 20 mins until soft.
The smaller the pieces, the faster it will cook.
Add Sweet Potatoes and Dates to food processor, blend until a creamy smooth texture.
Mix all other ingredients in a bowl, then add cream mixture. Stir well.
Place on Parchment paper lined baking dish and bake for 20-30 mins on 350 until the toothpick comes out dry.
Allow to cool 10 mins for the brownies to gel together, very important step!!
Tip: If you don't use raw cacao powder, you cause conventional cocoa powder but you will need to double the quantity.
Chocolate Nut Butter Cookies
GF, Refined Sugar Free
Happily serves 12
ALL ORGANIC INGREDIENTS
1 Cup Chocolate Peanut or Sunflower butter
3/4 Cup Coconut sugar
1 egg
Combine all ingredients. Bake on 350 for 7-8 mins.
If you are not using an already flavored nut butter, you can use a regular nut butter and ad 1/4 cup raw cacao
Chocolate Iced Coffee Protein Shake
Dairy Free, Vegan, Refined Sugar Free
Happily serves 1
ALL ORGANIC INGREDIENTS
2 TBSP Raw Cacao powder
2 TBSP Collagen Powder
2 oz Coconut milk
2 oz Cold brew (optional)
4-6 oz Chai Tea or water
Dash of cinnamon
Stevia Powder if desired sweeter
Ice
Blend all ingredients in bullet/blender, transfer to shaker bottle.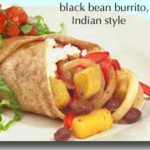 Indian Style Black Bean Wrap
Vegan, Vegetarian, GF
Happily serves 4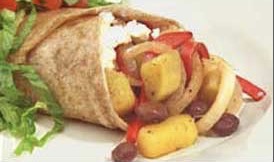 ALL ORGANIC INGREDIENTS
1 yellow onion
4 cloves garlic
1 tsp fresh grated ginger
1 Cup sweet potatoes or quinoa (or half cup of each)
1 Cup green bell pepper
1 Cup Red bell pepper
1 tsp garam masala
1 TBSp +1/2 cup vegetable or bone broth
2 cups black beans drained and rinsed
Sea Salt and black pepper to taste
Romaine lettuce
Chop onions and garlic. Let sit for 5-10 minutes
Prepare other vegetables.
Salute onion, garlic, ginger, and peppers in broth over medium heat for about 5 minutes, stirring frequently.
Add garam masala and sweet potatoes and mix well.
Add 1/2 cup broth and cook covered on low heat for about 10 minutes, or until potatoes are tender.
Add beans, Season with salt and pepper to taste.
Lettuce wrap all veggies and Enjoy!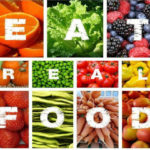 Vitamin D
Vitamin D is essential to the body.   A few of Best sources of Vitamin D come from shrimp, sardines, cod and eggs. The FDA has set the reference value for nutrition label for vitamin D at 400 IU's. Therapeutic ranges fall between 400 to 1000 IU's.
Vitamin D is a fat soluble vitamin, and actually functions more like a hormone then vitamin. It works with the parathyroid hormone to maintain proper levels of calcium in the blood.
We need vitamin D to help our bones and teeth. It also helps regulate the growth and activity of cells. Vitamin D also helps prevent excessive inflammatory immune related activity, it builds your immune system and helps protect against disease.
Vitamin D deficiency results in decreased absorption of calcium and phosphorus. Prolonged deficiency can lead to an impact on your bone mineralization, Thus experiencing bone thinning (osteopenia), bone pain and or soft bones (osteomalacia).
It is estimated that nearly 75% of Americans are deficient in vitamin D1.  For many people, basking in the sun may not be an answer because of skin conditions and sensitivities. Eating oily fish on a regular basis also may not be an option, much of our seafood is over-fished or contaminated from pollution so it can be difficult to find pure sources. Surprisingly, there are several foods packed with vitamin D that are easy to incorporate into your everyday routine.
If you think you're going to get enough vitamin D from the sun you need to have at least 40% of your skin exposed for at least 15 minutes a day.  Otherwise you will need to get your vitamin D from food and or supplementation.
If you prefer to get your protein vitamins or minerals from a plant-based diet, try mushrooms. 3 ounces portobello mushrooms is 20 cal, 3 g of protein, 1 g dietary fiber, zero cholesterol, 15 mg of sodium, 300 mg of potassium and 4% of your vitamin D for the day.
Other Great Sources of  Vitamin D:
Swiss Chard
Most leafy greens are high in vitamin D, but chard trumps them all.  Add to your omelet or steam with garlic and onions.  Try swiss chart instead of raw Kale in your smoothie and your stomach will thank you for the easier digestion.
Squash and Pumpkin Seeds
Go for Raw and sprouted!My favorite variety of pumpkin seeds are pepitas, the shelled pumpkin seed that has been roasted and sometimes tossed with spices and sea salt.
Beef Liver
Most people remember (not-so-fondly) being forced to eat liver and onions, but beef liver can actually be delicious. Try it in chili or even mix half beef liver and half bison or beef in your favorite meatball recipe.  Organic is SO Important!
Mushrooms
Mushrooms, especially ones grown in sunlight, are very high in vitamin D. Portobello mushrooms are actually considered one of the best vegan sources of vitamin D.3
Caviar
It may not be for everyone and it can be quite expensive, but caviar is also high in vitamin D. If you can't afford a fresh tin of expensive caviar (which typically isn't sustainable anyways), try fresh fish roe next time you go out for sushi. Many brands carry organic, sustainably roe at affordable prices.
Almond Milk
While almonds are very high in vitamin D, many people don't remember to eat a couple handfuls every day. Try buying almond milk instead of dairy.
Chicken Liver
Liver may turn some people off, but they can be so tasty if cooked right. Try it with Black rice, which has sautéed onions, garlic,  peppers, spices and chicken livers.
Dark Chocolate
Good news! Dark chocolate that has over 60% cacao content is packed with vitamin D, so the next time you have a sweet craving, indulge in a few small pieces of high-quality dark chocolate, Organic of course! Look for Cacao not Cocoa.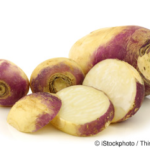 Rutabaga Sweet Potato Soup
Vegan, Gluten Free
Happily Serves 4
ALL ORGANIC INGREDIENTS
1 butternut squash, cut in half
3 garlic cloves
2 cups rutabaga, peeled and diced
2 cups sweet potato, peeled and diced
Coconut Oil
1 tsp. Sea salt
½ tsp pepper
1 Yellow onion, chopped
¾ Cup soaked cashews
2½ Cups Coconut milk
2 Cups vegetable or chicken broth
½ tsp nutmeg
1 tsp thyme
Directions
Preheat oven to 400º .
Rub the squash with oil and place cut-side down on a baking sheet.
Cut garlic and let sit 5-10 mins.
Coat the rutabaga and sweet potato in oil and sprinkle with salt and pepper.
Add both to baking sheet. Bake for 50-60 minutes, rotate half way through.
Sauté onion and garlic until soft and caramelized.
Remove roasted veggies from oven and blend all of the above in a food processor until smooth. The nuts may remain grainy, but that's okay. You can add water to reach desired consistency.
Rutabagas Nutrition Facts
Serving Size: 3.5 ounces (100 grams), raw
Calories 39
Calories from fat 2
Total fat 0 g 0%
Saturated fat 0 g 0%
Trans fat
Cholesterol 0 mg 0%
Sodium 20 mg 1%
Total Carbohydrate 9 g 3%
Dietary Fiber 2 g 7%
Sugar 6 g
Protein 1 g
Vitamin A 0% Vitamin C 31%  Calcium 5% Iron 3%
Health Benefits of Rutabagas
All crucifers (brassicas or cole crops) are high in antioxidant and anti-cancer compounds. The anti-cancer properties of these vegetables are so well established that the American Cancer Society recommends that Americans increase their intake of cruciferous vegetables.
Rutabaga's most significant nutrient comes from vitamin C. One cup contains 53% of the daily recommended value, providing antioxidants and immune system-supporting functions that help protect the cells from free radical damage. Although rutabagas provide only 5% of the iron needed for healthy blood on a daily basis, vitamin C enhances its absorption, while helping to form both collagen and the thyroid hormone thyroxine, which protect cells against damage, encourage wounds to heal, fight infections, and promote healthy bones, teeth, gums, and blood vessels.
Beta-carotene-rich rutabagas are also an excellent source of potassium and manganese (for energy), and a good source of fiber, thiamin, vitamin B6 (helps support the nervous system), calcium (for strong bones), magnesium (helps absorb calcium and combat stress), and phosphorus (helps metabolize proteins and sugars).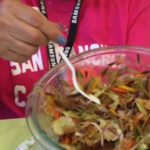 Spaghetti Squash Chow Mein
GF, Vegan, Paleo
Happily Serves 6-8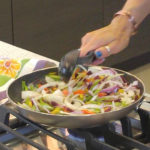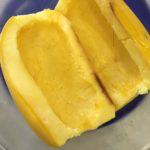 ALL ORGANIC INGREDIENTS
1 Spaghetti squash
1/4 cup Coconut Aminos
3 Garlic cloves, minced
1 TBSP Coconut sugar
2 tsp freshly grated ginger
1/4 tsp white or black pepper
2 TBSP Avocado oil
1 Diced yellow onion
3 Celery stalks
2 Cups cole slaw mix (shredded cabbage, broccoli, and or carrots)
Cut spaghetti squash in half length wise and carefully scoop out seeds. Lay skin side up in a glass dish, place 1/2 inch of water in the bottom of the pan.
Bake at 400 degrees for 30-40 minutes, until flesh is very tender. Shred flesh with a fork so it breaks apart into strings, set aside.
In a small bowl, whisk together Coconut aminos, garlic, coconut sugar, ginger, and pepper.
Heat avocado oil in a large cast iron skillet over medium high heat.
Add onion, celery, stirring often, steam for no more than 3 mins.
Stir in cabbage until heated.  This should take no more than 7 mins total.
Stir in spaghetti squash and "soy" sauce mixture until well combined.
Celery Detox Juice
Gluten Free, Vegan
Happily serves 2
ALL ORGANIC INGREDIENTS
2 Stalks Celery
4 Carrots
Fresh grated Ginger
1/2 cup Lemon juice
1/2 cup Aloe Vera Juice
dash of Clove and cinnamon
Stevia to taste
I blend it all up in the Vitamix.  I Store in mason glass jars.
I use my shaker bottle  (22oz) I fill up half way with Green Tea and then add about 1/2 of the juice mixture and ice to the top.