cilantro
now browsing by tag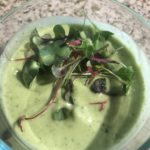 Creamy Avocado Spicy Lime Dressing
Keto, Vegan, Gluten Free
Happily Serves 4
ALL ORGANIC INGREDIENTS
1 Avocado
1 Garlic clove
1 Jalapeño
1 handful Cilantro
1 Cup Unsweetened Almond milk
1/3 Cup Lime juice
¼ Cup Avocado Oil
¼ tsp Himalayan Sea salt
¼ tsp White Pepper
Cut Garlic, Let sit 5 mins.
Chop Jalapeño and cilantro.
Add all ingredients except Almond Milk to high power blender and blend until smooth.
Add Almond Milk in slowly until desired consistency.
Top with Micro green Sprouts and pour over BamBox Salad
Use the code JLDFIT for 25% off your first months order.
http://Www.bamboxproduce.com
Honey Hemp Vinaigrette
Paleo, GF, Dairy Free
Happily serves 4
ALL ORGANIC INGREDIENTS
1/2 Cup Hemp Seed oil
2 TBSP Coconut Vinegar
2 TBSP Raw Honey
2 garlic cloves, crushed
1/2 Cup Lime juice
2/3 Cup cilantro, chopped
1 tsp Sea Salt
Mix all ingredients together, shake well.  Serve as a dressing or over seafood dish.
Environmental allergens/Cross-Reacting Foods
I hear my clients or friends talk about the plants they are allergic to, what about the foods that we take in from those same plants and trees, do you consider those? It's easy to feel the immediate effects of the blooming trees but not the delayed response of gluten or dairy allergy 2-5 days later.  
When your immune System is low, the outside allergies present themselves quickly.  A food panel is more valuable and  important to your health then knowing what tree you are allergic too.  Let's take a look at the inside of our bodies first and build those systems up so the outside environment has less of an affect on us.  
Five categories of cross reaction and some of the key foods involved.
This is not intended to represent all possible environmental allergens, or all possible cross-reacting foods. Instead, it is meant to provide you with examples of common pollen allergens and commonly cross-reacting foods.
Environmental Allergen                  Cross-Reacting Foods
1. alder tree pollen                               1. almonds, apples, celery, cherries, peaches, pears, parsley, hazelnuts
2.grass pollen                                       2.melons, tomatoes, oranges
3.mugwort weed pollen                    3.carrots, celery, coriander, fennel, parsley, bell peppers, hot peppers, sunflower seeds
4.ragweed pollen                                 4.bananas, cantaloupe, cucumbers, zucchini, honeydew, watermelon, chamomile
5.birch tree pollen                             5. almonds, apples, apricots, carrots, celery, cherries, coriander/cilantro, fennel, hazelnuts, kiwifruit, lychee fruit, nectarines, oranges, parsley, parsnips, peaches, pears, bell peppers, hot peppers, persimmons, plums/prunes, potaotes, soybeans, wheat
Environment-food cross reactions can be as complicated or even more complicated to recognize as food allergies and food intolerances. On the environment side, they might be seasonal and only a problem during certain times of year. On the food side, they are likely to be year round, and may involve a half dozen or more foods. Blood work is strongly recommended to identify the cause of "allergy Symptoms".
For more information I can order the correc labs for you to get the answers you are looking for, just email, call or text me and we can set up a consultation.  If you would like more information on this article:
http://whfoods.org/genpage.php?tname=faq&dbid=51
Pumpkin Seed Dip 
Vegan, GF, Paleo
Happily serves 6-8
ALL ORGANIC INGREDIENTS
5 ounces Raw pumpkin seeds
2 TBSP Avocado oil
1/2 cup finely chopped shallots
1 large jalapeno, finely chopped
3 garlic cloves, chopped (let sit 5 min)
1/4 Cup Parsley
1/4 Cup Cilantro
Juice of a lime
1 TBSP Extra-virgin Olive oil or Avocado oil
1/4 tsp finely grated orange zest
2 TBSP Maple syrup or 1/4 tsp maple extract and stevia
Blend seeds in a food processor.
Cook shallots & garlic in the avocado oil.
*Add Sea salt and pepper, let cool.*
Add parsley, cilantro, lime juice, maple syrup, orange zest (and water if needed)
Add shallot mix when cooled, mix thoroughly
Sea salt to taste.
Variation: Can also be used a spread in a lettuce wrap.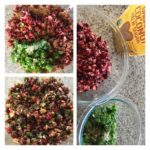 Fresh Cranberry Salsa
Vegan, Gluten Free, Refined Sugar free
Happily serves 24
ALL ORGANIC INGREDIENTS 
12 oz package fresh Cranberries
1/4 Cup Green onion
1/4 Cup Cilantro
1 Jalapeño pepper
1/2 Cup Coconut Sugar 
1/4 tsp Cumin
2 TBSP Lemon or Lime juice
Himalayan Sea salt to taste
Chop the cranberries in the food processor and the rest by hand.
Put everything in the bowl and then stir.
Cilantro Lime Vinaigrette
Refined Sugar Free, GF
Happily serves 16
All Organic Ingredients:
1/4 Cup Lime juice
1/2 cup chopped cilantro
1/4 Cup Coconut vinegar
5 crushed garlic cloves
1/2 tsp Sea Salt
2 TBSP Coconut sugar (I use less and usually use stevia)
1 Cup Avocado Oil
Mix or blend well.  Shake before use.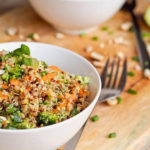 THAI VEGGIE QUINOA BOWLS

 
Gluten Free, Vegan
Happily serves 2
ALL ORGANIC INGREDIENTS 
1/2 cup Steamed broccoli, finely diced
1/2 cup Tricolor sprouted quinoa, rinsed and cooked
1/2 small red onion, diced
1/4 cup grated carrots
Handful of chopped cilantro
1/4 cup chopped green onions
2 tablespoons pumpkin seeds or sliced almonds
Dressing:
1 lime, zest and juice 
1 tablespoon Coco Aminos
1 tablespoon Sesame oil (or sub avocado oil)
1 tablespoon Coconut vinegar
2 crushed garlic cloves 
ginger, minced to taste
Combine cooked quinoa, streamed broccoli, red onion, carrots, cilantro, green onions and almonds and/or pumpkin seeds together.
In a small bowl combine dressing ingredients and pour dressing over quinoa mixture.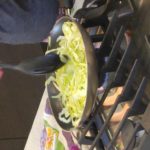 Black Bean Lentil & Quinoa Salad
w/Cumin-Lime Dressing
Vegetarian, Gluten free, Vegan
Happily serves 6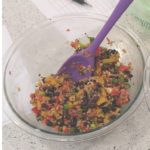 ALL ORGANIC INGREDIENTS
1 Cup dry lentils or Quinoa (or 1/2 Cup each)
2 Cup Black beans (if using canned, rinse well)
1 Red bell pepper
1/2 Red onion
3 Green onion stalks
1 Yellow Zucchini
Bunch of cilantro to taste, stems removed
Dressing
1/4 Cup Lime juice
2 TBSP Avocado or olive oil
1 tsp dijon or flavored mustard
1-2 Garlic cloves
1 tsp Cumin
1/2 tsp Oregano
1/8 tsp Himalayan Sea salt
Optional: chipotle powder, chili powder, pepper
Cook lentils according to package directions, leaving firm not mushy. Drain.
Cut or mince Galice, let sit 5 minutes.
While lentils are cooking, make the dressing: place all ingredients in a small bowl and whisk to combine. Set aside.
Finely dice the bell pepper, onion, and green onion.  Roughly chop the cilantro.
In a large bowl, place black beans, bell pepper, onion, zucchini and lentils.
Add the dressing.  Add cilantro, and lightly toss.
Serve or chill covered in the fridge for at least an hour.
Tomatillo Salsa
8-9 tomatillos, husks removed and rinsed
1-2 fresh jalapeños, seeds removed unless you want it really spicy
1 clove garlic
1 handful organic fresh cilantro
1/2 medium sweet organic onion
2 Tbsp lime juice
1 tsp sea salt (to taste)
Optional: Drizzle of raw honey
Optional: Avocado
Mix cilantro, onion, jalapenos, garlic and lime juice in the Vitamin or blender.  Add Sea salt, and Tomatillos.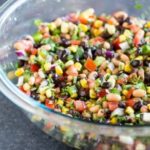 Cowboy Salsa
Vegetarian, Gluten Free
Happily serves 8-10
 
ALL ORGANIC INGREDIENTS
1/2 Cup Avocado oil
1-2 TBSP Raw Coconut sugar or Monk Fruit
1/3 Cup Coconut vinegar
1 tsp Chili powder
1 tsp Himalayan Sea salt
1 Cup black-eyed peas or Kidney beans
1 Cup black beans
1 Cup Aduki Beans
1 Yellow Onion
2 Green Onions
2 Garlic Cloves
1 diced Green bell pepper
1 diced Red bell pepper
1 diced Yellow bell pepper
 Handful chopped cilantro
2 TBSP Lime juice
Optional: 1/4 Cup Jodi's Salsa
Whisk together the Avocado oil, coconut sugar, coconut vinegar, chili powder, and salt.
Combine beans, red onion, and bell peppers.  Stir in cilantro.
Cover and chill at least 1 hour or overnight to blend flavors.
Serve chilled or at room temperature.