Vitamin
now browsing by tag
Stressed? Pretty typical these days, so why not support the adrenal glands?  Instead of reaching for another cup of coffee, educate yourself on how to feel better naturally, the way the body intended.  There are several formulations out there, I can help you find the right herb/vitamin combination that stimulates your glands to help control cortisol levels. Here are a few of my favorites….
Purium`s Power Shake was created so that you can easily consume several energizing, gluten-free superfoods all at once, saving you time and money!
30 servings $99.95

Ingredients:
Rice Bran Solubles – vital for maintaining normal cholesterol levels and blood glucose control. They are also an all-natural source of vitamin E type tocopherols and tocotreinols and contain a variety of B vitamins, Q-10, gamma oryzanol, folic acid, and more. Rice Bran Solubles is the outer, soluble part of brown rice that normally gets cooked away. Soluble rice bran is the fuel of many Asian martial artists.
Organic oats – great source of fiber and manganese that may also help support healthy blood sugar levels and enhance immune system response.
Organic spirulina – nature's most complete nutrient source, containing over 60% complete vegetarian protein, an abundance of chlorophyll and essential fatty acids, vitamins, minerals, and nucleic acids, as well as nature's highest source of a new class of immune enhancers, a photosynthetic pigment called phyco-can. An all-natural 'multivitamin' in and of itself. Used for centuries, Spirulina was the fuel of the Aztecs.
Organic carrot juice – Known as one of the most important parts of any juice fast or raw food regimen, their deep, rich, orange color comes from the abundance of beta-carotene, minerals, and other phyto-nutrients that are unique to the tuber family. It also has a naturally sweet taste that perfectly complements the other super foods
Organic wheatgrass – Clinics all over the world have been set up to administer the miraculous juices extracted from sprouted wheat plants. People report that the intensive cleaning the chlorophyll and enzymes provide is unsurpassed in its abilities to stimulate the immune system response and instigate healing.
Organic millet – rich in fiber and the B complex vitamins, also aids in digestive health.
Organic amaranth – great source of most of the B vitamins and vitamin A.
Organic buckwheat – Not technically a grain, it comes from a fruit seed in the rhubarb family, and is therefore gluten free. Buckwheat contains a rich supply of flavonoids, particularly rutin, and may help support healthy blood sugar levels. Very high in many vitamins and minerals, especially vitamin K, vitamin B1, B2, B3, B6, B9, magnesium, potassium, phosphorus, zinc, iron, copper, and manganese.
Organic quinoa – this gluten-free grain has grown in popularity due to its nutrient density, it contains more calcium than milk and is also a great source of protein.
Organic chia – a staple in Mayan and Aztec diets for centuries, chia is a rich source of fiber, omega-3 fatty acids, fiber, and antioxidants.
Organic alfalfa leaf juice – The father of all foods, alfalfa has roots that reach up to 60 ft. into the soil to absorb trace minerals. Its lightweight proteins stimulate the rebuilding of tissues and strengthen the hair, skin, and nails.
Organic oat grass juice – One of the little known superstars among cereal grasses. Recent and ongoing studies indicate that unique proteins, lipids and other factors in oat greens may possibly help revive reproductive function.
For APPLE-BERRY POWER SHAKE ONLY: Organic raspberry flavor and Organic apple flavor were added to give the Power Shake a sweeter taste without adding anything harmful, unnatural or sugar based.
Lo han berry – contains a natural sweetening agent called Mogroside that is ten times sweeter than fructose, so a small amount means less calories.
Selenium Health Benefits and the Best sources
Do you have an under active Thyroid? Are you getting the vitamins and minerals needed to support the process?  Here is some info on why Selenium is important to the process.  Soaking your nuts and seeds for best absorption will help your already stressed out body.
Antioxidant Protection
Selenium is required for the proper activity of a group of enzymes called glutathione peroxidases. (sometimes abbreviated "GPO" or "GPx" for a glutathione peroxidase enzyme.) These enzymes play a key role in the body's detoxification system and they also provide protection against oxidative stress. (Oxidative stress is physiological circumstance in which there is excessive risk of oxygen-related damage to the body.) Of the eight known glutathione peroxidase enzymes, five of them require selenium.
In addition to the activity of glutathione peroxidase, selenium-containing enzymes are involved in recycling of vitamin C from its spent form back to its active one, allowing for greater antioxidant protection.
Support Normal Thyroid Function
A selenium-containing enzyme is responsible for transforming a less active thyroid hormone called T4 into the more active T3. As you'll see below in the Relationship with Other Nutrients section, selenium and iodine work together to keep thyroid function strong and consistent.
Like the antioxidant protection issue, this is not just an esoteric concern. Researchers have been able to induce problems with the thyroid gland in just two months of a low-selenium diet.
Probably, if you've read about food sources of selenium, you've read about Brazil nuts as a strong source of the mineral. Depending on where they are grown, this is likely to be true—one ounce of Brazil nuts may contain as much as 10 times the Dietary Reference Intake (DRI) recommendation for selenium intake.
Other exceptionally selenium-rich foods include oysters, clams, liver, and kidney. Each of these foods is likely to contain double to triple the DRI in a serving.
Fish and shellfish make up an outsized proportion of our excellent and very good sources. After these come other animal meats, many of which fall in the very good category. Close behind are whole grains and seeds, both of which are well-represented in our good selenium sources category.
http://whfoods.org/genpage.php?tname=newtip&dbid=144&utm_source=daily_click&utm_medium=email&utm_campaign=daily_email
Urinary tract Info

:
Commonly also call bladder infections. There is a disturbance in the bacterial flora that protects the urinary track and anabiotic's lead to reoccurring infections.
Doubling probiotics such as L. Acidophilus is highly recommended. At least 20 billion CFU's. 50-100Billion CFU's would be more beneficial and HIGHLY recommended.
Acidity levels are too high in the body when the pH is disrupted there is fermentation of vaginal glycogen to lactic acid. Alkalinity is Key, must add more Green into the diet. ORGANIC EATING is SO Very IMPORTANT!!!
Eliminating of dairy, yeast, and soy products are recommended to rebalance pH. Limiting grains, sugar, caffeine, and alcohol, and refined carbohydrates.
At least 64 oz water a day. Decaffeinated tea counts as water. Eliminate food allergens. Allergy Blood work is your best Road map to gut and immune support and healing.  Blood Tests are available and easy!
Recommended foods:
Use healthy cooking oil such as olive oil (don't heat olive oil) or coconut oil.
Eat Less red meats and more lean meats such as fish, but no soy.
High fiber foods include beans root vegetables such as yams or sweet potatoes and psyllium husk.
Antioxidant rich foods including vegetables like bell peppers and squash.
**Fruit in the morning including cranberries, blueberries,and cherries. If you're going to drink juice make sure that it is unsweetened. Please eat your fruit, better for you unless you are juicing. Best for digestion if fruit is first thing in the morning and by itself or for your first snack, eaten alone.**
Recommended Vitamins:
Probiotics and digestive enzymes ALWAYS!! Double if taking antibiotics!
Multi Vitamin
Vit D: 2000-4000 IU
Fish oils 1000mg and or Flax seed, 3x a day. Could go up to 6000mg
Super Greens
Amino Acids
Vit C: 1000mg a day
Grape seed oil 100-300mg
Magnesium 200-300mg 3x a day
Zinc: 30mg a day
Recommended Botanicals:
Cranberry
Aloe Vera: up to 32oz per day
Gotu Kola is great extract tea to help balance pH. 60-120mg
Uva Ursi ( upland cranberry or bearberry) is a powerful antiseptic herb.
Dried leaves or tea: 1.5-4.0 (1-2 tsp)
Goldenseal herb has antimicrobial agents. Dried root or tea: 1-2g
Other herbs that are recommended: green tea, cats claw, milk thistle, and reishi mushroom.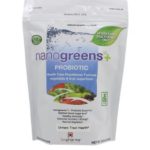 NanoGreens Plus Probiotic
BioPharma Scientific
300grams $54.95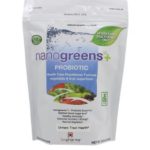 What makes nanogreens + probiotics different?
*Green powder mixed with DE111 Probiotic
*UTI Health Support
*Pouch Form -> Nitrogen Flushed
*5 Billion CFU dose after 2+ years
*DE111 Probiotic does not require special storage conditions like many other probiotics.
*Oral administration of Bacillus Subtilis DE111 helps digest and convert sugars and fats, and helps maintain glucose, cholesterol and triglyceride levels in the blood.
Vegan
Vegetarian
Gluten Free
All Natural
Non-GMO
Probiotic
Kid Friendly
How To Enjoy: Mix one scoop of nanogreens + probiotic with 6-8 oz of cold water, milk or juice. For best results, use shaker cup. Children under 12 should take 1/2 serving.  Refrigerate after opening.
Servings Per Container: 30
Serving Size: 10g (1 scoop)
Amount Per Serving
Calories … 45
Calories from Fat … 10
Total Fat … 1g
Total Carbohydrate … 7g
Dietary Fiber … 2g
Sugar … 2g
Protein … 2g
Vitamin A … 2500IU
(as Beta Carotene)
Vitamin C … 30mg
Sodium … 20mg
Potassium … 130mg
DE111®
Bacillus subtilis … 5 billion CFU
Greens Blend … 2250mg
(Proprietary)
Organic Barley Grass Juice, Spiruline, Chlorella
Phytonutrient Blend … 360mg
(Proprietary)
Green Tea Extract, Silybin (from Milk Thistle), Grape Seed Extract, Blueberry, Cranberry, Raspberry, Tart Cherry, Pine Bark Extract, Organic Broccoli, Tomato, Organic Carrot, Organic Spinach, Organic Kale, Bilberry, Elderberry, Pomegranate, Blackberry
Quercetin/Rutin … 100mg
50/50
Organic Rice Bran Soluble … 2081mg
Raspberry Extract … 50mg
(20% Ellagic Acid)
Organic Aloe Vera Powder Extract … 30mg
(100:1 freeze dried)
Fruit & Vegetable Blend … 930mg
(Proprietary) (freeze-dried, low temperature dried)
Organic Apple, Organic Carrot, Organic Mango, Organic Lemon, Organic Sweet Potato, Organic Peach, Organic Parsley, Organic Kale, Organic Broccoli, Organic Spinach, Organic Leek, Organic Cabbage, Beet, Organic Cranberry (Quinic Acid 6%)
Organic Acerola Cherry Powder … 175mg
(17.5% AscorbiC Acid)
Green Tea Extract, White Tea Extract … 100mg
(decaffeinated 50% Polyphenol)
Polygonum Cuspidatum Extract … 70mg
(15% Resveratrol)
Oat Beta Glucan … 1500mg
Cinnamon Blend … 50mg
(Proprietary)
cinnamon Extract 8%, Organic Cinnamon Bark Powder
Milk Thistle … 50mg
(20% Silymarin)
Marigold Extract … 50mg
(5% Lutein with Zeaxanthin)
Dunaliella Salina Extract … 100mg
(Natural Carotenoids)
Enzymes … 40mg
(Plant-based)
Alpha Amylase, Bromelain, Cellulase, Galactosidase, Glucoamylase, Hemicellulase, Lipase, Papain, Protease
Lecithin … 1000mg
(non GMO)
Lycopene Extract-10% … 25mg
(from tomato)
Organic Lemon Peel Powder … 25mg
Organic Quinoa Sprout … 90mg
Artichoke Extract … 20mg
(5% Cynarin)
Organic Atlantic Kelp Powder … 20mg
(laminaria Digitata, 0.4% Iodine)
Stevia Leaf Crystals … 200mg
(Stevia Rebaudiana)
Other Ingredients: Natural Flavors (Plant Based), Citric Acid, Soy Phospholipds.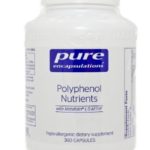 Polyphenol Nutrients
Pure Encapsulations
120 capsules $48.80
360 capsules $82.10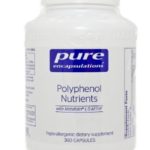 Now with Metafolin® L-5-MTHF Powerful polyphenol-rich multivitamin and multimineral formula with additional protection factors *Packed with flavonoids and phenolic compounds from a unique blend of olive fruit, grape seed, pomegranate, green tea, quercetin and blueberry, this formula offers powerful overall cellular protection. It also contains the protective nutrients alpha lipoic acid, NAC, inositol and choline to complement the neural, cognitive, cardiovascular, liver and skin health properties of this diverse profile. Furthermore, Polyphenol Nutrients provides the advanced mineral delivery systems and active vitamin cofactors found in Nutrient 950® and UltraNutrient® for optimal bioavailability and utilization. As part of a well-balanced diet that is low in saturated fat and cholesterol, folic acid, vitamin B6 and vitamin B12 may reduce the risk of vascular disease.† †FDA evaluated the above claim and found that while it is known that diets low in saturated fats and cholesterol reduce the risk of heart disease and other vascular diseases, the evidence in support of the above claim is inconclusive. Polyphenol Nutrients is a nutrient dense multivitamin and mineral formula enhanced with an exceptional combination of polyphenols and specialized compounds for extensive physiological protection.
Servings Per Container: 30
Take 4–6 capsules per day, in divided doses, with meals.
Serving Size: 6 vegetable capsules
Amount Per Serving
vitamin A … 7, 500IU 
(as beta carotene)
vitamin C … 500mg 
(as ascorbic acid)
vitamin D … 800IU 
(as cholecalciferol)(D3)
vitamin E … 100IU 
(as d-alpha tocopherol succinate)
thiamin … 50mg 
(as thiamin HCl)(B1)
riboflavin … 25mg 
(vitamin B2)
niacin … 75mg 
(as niacin and 67% niacinamide)
vitamin B6 … 12.5mg 
(as pyridoxine HCl)
folate … 800mcg 
(as Metafolin®, L-5-MTHF)
vitamin B12 … 500mcg 
(as methylcobalamin)
biotin … 800mcg
pantothenic acid … 50mg 
(as calcium pantothenate)(B5)
calcium … 300mg 
(as calcium citrate)
iodine … 200mcg 
(as potassium iodide)
magnesium … 150mg 
(as magnesium citrate)
zinc … 15mg 
(as zinc picolinate)
selenium … 200mcg 
(as selenomethionine)
copper … 2mg 
(as copper glycinate)
manganese … 5mg 
(as manganese aspartate)
chromium … 100mcg 
(as chromium polynicotinate)
molybdenum … 100mcg 
(as molybdenum aspartate)
potassium … 99mg 
(as potassium aspartate)
boron … 2mg 
(as boron glycinate)
vanadium … 100mcg 
(as vanadium aspartate)
ascorbyl palmitate … 120mg 
(fat-soluble vitamin C)
riboflavin 5phosphate … 12.5mg 
(activated B2)
pyridoxal 5 phosphate … 12.5mg 
(activated B6)
mixed carotenoids … 425mcg 
(as lutein, lycopene, zeaxanthin)
n-acetyl-l-cysteine … 100mg 
(free-form)
choline bitartrate … 100mg
inositol … 125mg
alpha lipoic acid … 100mg 
(thioctic acid)
MacularSynergy Complex
lutein … 6mg
zeaxanthin … 1mg
CellHealth Polyphenols
quercetin … 50mg
blueberry extract … 100mg
(Vaccinium angustifolium)(fruit)
(standardized to contain 1.5% anthocyanins)1.5 mg.
olive extract … 50mg
(Olea europaea l.)(fruit)
(standardized to provide 1% hydroxytyrosol)
pomegranate extract … 100mg
(Punica granatum l.)(fruit)
(standardized to contain 5% ellagic acid)5 mg.
grape extract … 50mg
(Vitis vinifera)(seed)
(standardized to contain 92% polyphenols)
green tea extract … 100mg
(camellia sinensis)(leaf)
(standardized to contain 65% total tea catechins, 23% epigallocatechin (EGCG))
other ingredients: vegetarian capsule (cellulose, water)
If pregnant or lactating, consult your physician before taking this product. In rare cases, alpha lipoic acid may cause skin rash or hypoglycemia. Individuals who are sensitive may experience heartburn. Rare side effects of NAC may include nausea, vomiting, headache, dry mouth, dizziness, or abdominal pain. Large doses of choline may cause nausea, diarrhea or dizziness.
Polyphenol nutrients contains vitamin E and grape seed extract which may react with blood thinning and other heart medications. Green tea extract may interfere with the absorption and effectiveness of a number of medications including certain heart, blood thinning, antidiarrheal, and cold or hay fever medications. Consult your physician for more information.
FloraGlo lutein is a registered trademark of Kemin Industries, Inc. Zeaxanthin is sourced from OPTISHARP™ brand. OPTISHARP™ is a trademark of DSM Nutritional Products, Inc. Metafolin® is a registered Trademark of Merck KGaA, Darmstadt, Germany.
Which Probiotic is best for you? Here is one of my favorites, but remember everyone is different…
There are several blends and strains depending on your individual ailments.  Let me help you choose the right one to help rebalance your gut flora…remember you need to be an 80% to 20% ratio to make your gut happy and healthy.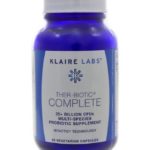 Ther-Biotic Complete
Klair Labs
60 capsules $42.90
120 capsules $79.95
This high-potency, hypoallergenic blend of 12 certified probiotic species offers the most complete spectrum of microorganisms in the Klaire line. Ther-Biotic® Complete is a unique combination of colonizing and transient strains providing broad coverage to support a healthy balance of microflora across the entire gastrointestinal tract. Scientifically formulated with a full spectrum of synergistic and complementary species, Ther-Biotic® Complete is designed for individuals who require significantly higher amounts of several different types of probiotic species to help support intestinal health. Formulated with 25+ billion CFUs per capsule, Ther-Biotic® Complete uses our proprietary InTactic® technology to ensure maximum delivery of live microorganisms throughout the intestinal tract.
FUNCTIONS OF PROBIOTIC STRAINS IN THER-BIOTIC® COMPLETE
• Produce lactic acid, hydrogen peroxide, and other compounds naturally antagonistic to pathogenic bacteria, yeast and viruses
• Interfere with binding of pathogens to the intestinal mucosa
• Compete with pathogenic organisms for nutrients
• Produce short-chain fatty acids (acetate, propionate, and butyrate) that nourish the colon
• Support innate and acquired immune defense mechanisms
• Reduce production of proinflammatory cytokines
• Improve immunological gut barrier function
• Synthesize vitamin K and B vitamins
• Produce lactase enzyme that helps digest the milk sugar lactose
• Support activity of detoxifying enzymes and removal of ammonia and phenol 
• Produce analogs of the DPP-IV enzyme that break down opioid peptides
Servings Per Container: 60
As a dietary supplement take one capsule daily or as directed by a healthcare practitioner.
Serving Size: 1 Capsule
Amount Per Serving
Probiotic Blend … 280mg
(25+ billion CFUs) in a base of inulin (derived from chicory root)
Lactobacillus rhamnosus 6.0+ billion CFUs
Bifidobacterium bifidum 5.0+ billion CFUs
Lactobacillus acidophilus 3.0+ billion CFUs
Lactobacillus casei 2.5+ billion CFUs
Lactobacillus plantarum 2.0+ billion CFUs
Lactobacillus salivarius 2.0+ billion CFUs
Bifidobacterium longum 1.0+ billion CFUs
Streptococcus thermophilus 1.0+ billion CFUs
Lactobacillus bulgaricus 1.0+ billion CFUs
Lactobacillus paracasei 0.5+ billion CFUs
Bifidobacterium lactis 0.5+ billion CFUs
Bifidobacterium breve 0.5+ billion CFUs
Other Ingredients: Vegetarian capsule (hydroxypropyl methylcellulose, water), InTactic® proprietary polysaccharide complex, and L-leucine.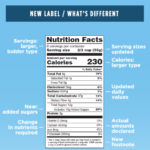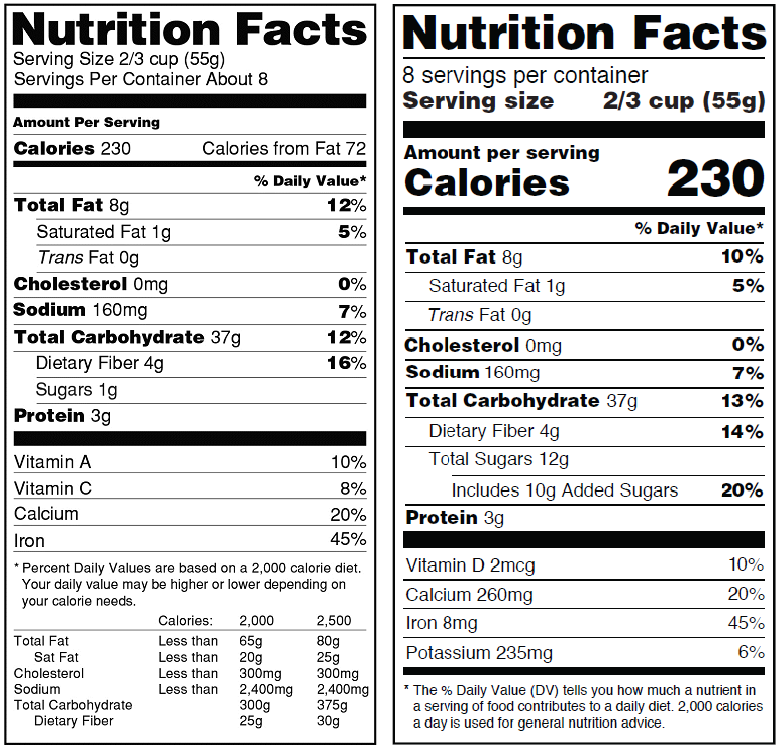 Old vs New Label – What's Different?
While much of the new label's look isn't drastically different from the old label, the information and layout have been revamped. According to the FDA's announcement, the most notable differences between the old and new label include:
* Increasing the type size for "Calories," "servings per container," and the "Serving size" declaration, and bolding the number of calories and the "Serving size" declaration to highlight this information.
* Requiring manufacturers to declare the actual amount, in addition to percent Daily Value of vitamin D, calcium, iron and potassium. (They can voluntarily declare the gram amount for other vitamins and minerals.)
* Changing the footnote to better explain what percent Daily Value means. It will read: "*The % Daily Value tells you how much a nutrient in a serving of food contributes to a daily diet. 2,000 calories a day is used for general nutrition advice."
* Adding the "Added Sugars" declaration directly beneath the listing for "Total Sugars."
* Removing "Calories from Fat" because research shows the type of fat is more important than the amount.
* Serving sizes must be based on amounts of foods and beverages that people are actually eating, not what they should be eating.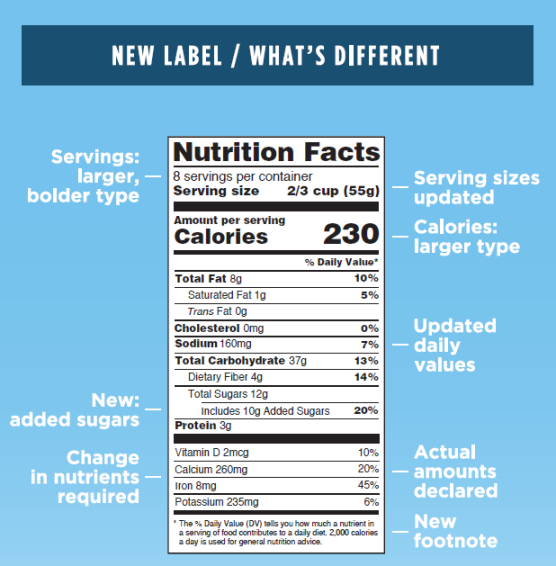 Image source: U.S. Food and Drug Administration
Now that you have a better understanding of the new label, let's discuss some labeling strategies you can use to meet these label requirements without causing major disruptions to your business.
Label Tips for Manufacturers
Updating your labels can be a pain but with some planning, it can be a much easier process. Below are some suggestions to help you get started on your path to FDA label compliance:
* Mask old info with cover-up labels: Also known as "block out labels," this unique label material allows you the ability to completely cover up the old Nutrition Facts while continuing to use the last of your label inventory.
* Embrace a new label look: Updating labels with the new Nutrition Facts can be the perfect opportunity to evaluate your current label design and try something new or make improvements.