minerals
now browsing by tag
Why Bentonite Clay?EAFA2F87-D874-442C-A557-AE0E3EC1BE2E
Clean body and a clean mind.
It is a powerful ADSORBER of Environmental pollutions that are found in our intestines.  It can effectively remove infections, and bind endotoxins, Aflatoxins (found in Peanut butter and some Legumes) so they cannot be reabsorbed into the body.
A true cleansing program requires Bentonite clay to help clean the waters of the body, clean the bile, and clear the Digestive tract.
It promotes wound healing and provides healing in the GI tract.
Clay can also be used on the skin to draw out impurities.
Call me if you are interested in cleansing and clearing the immune system, digestive system, and want to start your healing process.
Purium`s Power Shake was created so that you can easily consume several energizing, gluten-free superfoods all at once, saving you time and money!
30 servings $99.95

Ingredients:
Rice Bran Solubles – vital for maintaining normal cholesterol levels and blood glucose control. They are also an all-natural source of vitamin E type tocopherols and tocotreinols and contain a variety of B vitamins, Q-10, gamma oryzanol, folic acid, and more. Rice Bran Solubles is the outer, soluble part of brown rice that normally gets cooked away. Soluble rice bran is the fuel of many Asian martial artists.
Organic oats – great source of fiber and manganese that may also help support healthy blood sugar levels and enhance immune system response.
Organic spirulina – nature's most complete nutrient source, containing over 60% complete vegetarian protein, an abundance of chlorophyll and essential fatty acids, vitamins, minerals, and nucleic acids, as well as nature's highest source of a new class of immune enhancers, a photosynthetic pigment called phyco-can. An all-natural 'multivitamin' in and of itself. Used for centuries, Spirulina was the fuel of the Aztecs.
Organic carrot juice – Known as one of the most important parts of any juice fast or raw food regimen, their deep, rich, orange color comes from the abundance of beta-carotene, minerals, and other phyto-nutrients that are unique to the tuber family. It also has a naturally sweet taste that perfectly complements the other super foods
Organic wheatgrass – Clinics all over the world have been set up to administer the miraculous juices extracted from sprouted wheat plants. People report that the intensive cleaning the chlorophyll and enzymes provide is unsurpassed in its abilities to stimulate the immune system response and instigate healing.
Organic millet – rich in fiber and the B complex vitamins, also aids in digestive health.
Organic amaranth – great source of most of the B vitamins and vitamin A.
Organic buckwheat – Not technically a grain, it comes from a fruit seed in the rhubarb family, and is therefore gluten free. Buckwheat contains a rich supply of flavonoids, particularly rutin, and may help support healthy blood sugar levels. Very high in many vitamins and minerals, especially vitamin K, vitamin B1, B2, B3, B6, B9, magnesium, potassium, phosphorus, zinc, iron, copper, and manganese.
Organic quinoa – this gluten-free grain has grown in popularity due to its nutrient density, it contains more calcium than milk and is also a great source of protein.
Organic chia – a staple in Mayan and Aztec diets for centuries, chia is a rich source of fiber, omega-3 fatty acids, fiber, and antioxidants.
Organic alfalfa leaf juice – The father of all foods, alfalfa has roots that reach up to 60 ft. into the soil to absorb trace minerals. Its lightweight proteins stimulate the rebuilding of tissues and strengthen the hair, skin, and nails.
Organic oat grass juice – One of the little known superstars among cereal grasses. Recent and ongoing studies indicate that unique proteins, lipids and other factors in oat greens may possibly help revive reproductive function.
For APPLE-BERRY POWER SHAKE ONLY: Organic raspberry flavor and Organic apple flavor were added to give the Power Shake a sweeter taste without adding anything harmful, unnatural or sugar based.
Lo han berry – contains a natural sweetening agent called Mogroside that is ten times sweeter than fructose, so a small amount means less calories.
Ionic Elements
4 oz  $38.95
THE LEADING SPORTS DRINK HAS 2 ELECTROLYTES.
This formula HAS 70!
* Great for athletes or anyone in need of proper hydration
* May promote restful sleep
* May prevent mineral deficiencies
* May increase alkalinity
Purium`s Ionic ElementsTM is a specially formulated combination of fulvic acid and ocean trace minerals – it is a great source of magnesium and other important nutrients such as electrolytes. A rare source of humic and fulvic base and use our proprietary (acid-free) refining method to accelerate the concentration and purity of the fulvic acid, which leaves it with a fresh, clean taste. We recommend adding Ionic ElementsTM to your Power ShakeTM or any other green drink or to your drinking water.
Servings per container: 25
Instructions: Adults take 20 drops three times per day. For optimum results, dilute with water and circulate the liquid in your mouth for ten to twenty seconds before swallowing. You can also simply drink it after diluting it in water or juice.
Selenium Health Benefits and the Best sources
Do you have an under active Thyroid? Are you getting the vitamins and minerals needed to support the process?  Here is some info on why Selenium is important to the process.  Soaking your nuts and seeds for best absorption will help your already stressed out body.
Antioxidant Protection
Selenium is required for the proper activity of a group of enzymes called glutathione peroxidases. (sometimes abbreviated "GPO" or "GPx" for a glutathione peroxidase enzyme.) These enzymes play a key role in the body's detoxification system and they also provide protection against oxidative stress. (Oxidative stress is physiological circumstance in which there is excessive risk of oxygen-related damage to the body.) Of the eight known glutathione peroxidase enzymes, five of them require selenium.
In addition to the activity of glutathione peroxidase, selenium-containing enzymes are involved in recycling of vitamin C from its spent form back to its active one, allowing for greater antioxidant protection.
Support Normal Thyroid Function
A selenium-containing enzyme is responsible for transforming a less active thyroid hormone called T4 into the more active T3. As you'll see below in the Relationship with Other Nutrients section, selenium and iodine work together to keep thyroid function strong and consistent.
Like the antioxidant protection issue, this is not just an esoteric concern. Researchers have been able to induce problems with the thyroid gland in just two months of a low-selenium diet.
Probably, if you've read about food sources of selenium, you've read about Brazil nuts as a strong source of the mineral. Depending on where they are grown, this is likely to be true—one ounce of Brazil nuts may contain as much as 10 times the Dietary Reference Intake (DRI) recommendation for selenium intake.
Other exceptionally selenium-rich foods include oysters, clams, liver, and kidney. Each of these foods is likely to contain double to triple the DRI in a serving.
Fish and shellfish make up an outsized proportion of our excellent and very good sources. After these come other animal meats, many of which fall in the very good category. Close behind are whole grains and seeds, both of which are well-represented in our good selenium sources category.
http://whfoods.org/genpage.php?tname=newtip&dbid=144&utm_source=daily_click&utm_medium=email&utm_campaign=daily_email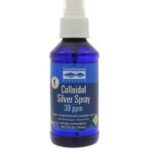 Colloidal Silver Spray 30PPM
Trace Minerals Research
4 oz. $22.99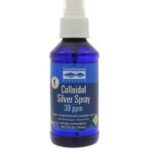 Colloidal Silver is a dietary supplement with over 30 ppm per serving of 99.999% pure colloidal silver to support and maintain a healthy immune system.* We use proprietary technology to process this high quality colloidal silver for maximum effectiveness.
Servings Per Container: 118
Adults take 6 sprays orally 3 times daily for one week. Then take 3 sprays, 3 times daily until desired results are attained. Children age 2-12 take 3 sprays orally, 3 times daily for one week. Then take 1 spray, 3 times daily until desired results are attained. Do not exceed the recommended daily serving without consulting your health care provider.
Serving Size: 6 Sprays (1 mL)
Amount Per Serving 
Silver … 30ppm
Ingredients: Distilled and ozonated water. Contains no additives, coloring or stabilizers.
If you missed the Local education night here is a few things we discussed:
Muscle building with Plant Protein
*How do you support a body on a plant based diet without eating meat?
Earth is the ultimate prism. Every green plant captures a different wavelength of light and energy from the sun. A collection of juices from sea plants, field grasses and garden vegetables will alkalize your body, build up your blood, and cleanse your cells.
What is a Carbohydrate? Fruit, vegetable, starch, grain, pasta
What is a Protein? Animal meat, dairy
What is a Fat? Nut, seed or oil
How Much do we need daily? Age/Gender/Health History
Carbs: Weight loss must be under 50g a day, aim for no more than 30g of carbs at a meal and 8g of sugars within those carbs. Think higher fiber foods.
Protein: 1g per 1kg body weight (think about half your body weight)
Fat: 25-30% daily calories can come from the pure sources of healthy fats.
***Ratios are different for everyone and Should be evaluated by a Certified Health Professional or Holistic Professional based on your health history.***
What are Amino Acids? What do they do?
Assists with the stabilization or recovery of muscle strength, endurance, and volume
Helps keep body tissues firm
Helps minimize body fat
May support a weight loss regimen
Aid in normalizing protein synthesis
If the essential amino acids are not present in the daily diet the body will break down existing proteins in order to supply the body with the missing amino acids.
Essential Amino Acids:
Cannot be produced in our body and thus must be consumed in our diets. The essential amino acids humans cannot synthesize are:
Phenylalanine, valine, threonine, tryptophan, methionine, leucine, isoleucine, lysine, and histidine. (Arginine is mostly required in young children and not as important as adults)
Non-Essential Amino Acids: These can be synthesized by the body.
Proteins drive ALL functions of the various organs of the human body.
Alanine (from pyruvic acid)
Arginine (from glutamic acid)
Asparagine (from aspartic acid)
Aspartic Acid (from oxaloacetic acid)
Cysteine
Glutamic Acid (from oxoglutaric acid)
Glutamine (from glutamic acid)
Glycine (from serine and threonine)
Proline (from glutamic acid)
Serine (from glucose)
Tyrosine (from phenylalanine)
If you fail to obtain even just one out of the essential amino acids, your body's proteins so not complete and the body is forced to steal from bones and elsewhere to create metabolic processes in your body. Also, unlike fats and carbohydrates, your body does not store excess supplies of amino acids for later use – you need a regular supply of them everyday.
Foods with amino acids include animal and vegetable sources. Most of the animal sources such as meat, eggs and milk are considered to be "complete protein sources" meaning that these contain all the essential amino acids that your body needs.
Vegetables are also good amino acid food sources but most of them do not usually contain all essential aminos.
Amino Acid Deficiency and Supplementation
Many people who are sick, fatigued, or trying weight loss programs, vegetarians or Vegans consume insufficient amounts of protein. Thus, supplementation of amino acids has been increasingly necessary. B6 and B12 are the most common of deficiencies when not consuming animal protein.
Non Meat Forms of Amino Acids: Think SEA LIFE!
*How can I combat muscle fatigue or just plain being tired all the time?
More GREEN foods create energy in the body! How do plants grow? They need sun, water, rest, minerals and vitamins, and time.
Antioxidant Rich foods: EAT FROM THE RAINBOW!
RED: Lycopene
YELLOW/ORANGE: Beta Carotene & Beta Crytoxanthin
BLUE/PURPLE: Anthocyanins
GREEN: Chlorophyll
GREEN FOOD BASICS:
*Green foods have a high content of chlorophyll due to porphyrin rings.
* Chlorophyll and heme units of red blood cells are virtually identical except the center molecule
* Chlorophyll-magnesium
* Heme-Iron
* Heme units are the building blocks for red blood cells
* Therefore, all green foods help the body to create new blood.
*How do we use food as medicine so we can fuel the body, heal and repair?
Basic Weight management Strategies and Lifestyle Strategies
1-Adequate ATP
2-Nutrient Density-Organic Foods. **A MUST!!!**
3-Balance-60-80% Alkalizing (pH Balance)
4-Moderation-Limited Refined Sugar
5-Calorie Control=Calorie Restriction
6-Variety= Seasonal Eating VS Emotional Eating
Refer to www.healthywithjodi.com for my Sweet 16 Eating Healthy Guidelines and how to achieve balance.
Definitions and menu DeCoding:
Vegan: A strict vegetarian who consumes no products from an animal, such as meat eggs or dairy products or stains from using animal products such as the leather.
Vegetarian: does not eat or believe in eating meat, fish, Fowl or any food drive from animals such as eggs or cheese. Uses fruits, vegetables, and grains for food sources.
Paleo: consume vegetables, fruits, nuts, lean meats, no grains, no processed foods.
Pescatarians: do not eat any land animals or birds such as beef pork chicken or turkey. Will eat fish and other seafood such as shrimp and clams. They do eat fruits, vegetables, beans, greens and nuts.
Lacto vegetarian: includes vegetables and dairy products such as milk, cheese, yogurt, butter, ghee, cream, Keefer but excludes eggs.
Food Catagories: Do you now what you are eating and how to combine them? (Just a few listed below)
Whole Grain, Gluten
Tamari, Coconut Aminos, Soy Sauce
Flax Seed, Chia Seed, hemp hearts, Tahini
Hummus, lentils, Tofu, beans
Nut Meat, Nut Milk, Quinoa
Micro greens, Sprouts
Spices: parts of the plant other than the leafy bit such as the root, stem, Bulb, bark or seeds ex: cinnamon, cloves, ginger and pepper.
Herbs: come from the leafy and green part of the plant. Ex: Basil, oregano, rosemary, Parsley, mint.
Spices and herbs add MAJOR nutrients to your meals, you can achieve therapeutic ranges when you use ORGANIC spices/herbs daily. Www.superfoodly.com
*What do I pair together to equal complete protein meal?
A nut or seed plus a legume equals a complete Protein.
BASIC PROTEIN NUTRITION INFO:**Even though you are worried about getting enough protein, you need to watch the Carbohydrate content of your meal. **
1/2 cup beans: average 7g protein Black, 7g protein garbanzo (20g carbs) 120 cal
1 small sweet potato: Not a nightshade 2g protein (22g carbs) 95 cal
1/2 cup yam: 2g protein (22g carb) ROOT Vegetable 95 cal
1/2 cup lentils (Legumes): average 9g protein (20g carb) 7g fiber
1/4cup Quinoa equals a cup cooked: 6g protein (29g carbs) 160 cal.
HAS ALL 9 ESSENTIAL AA
1 TBSP or 1/8cup nuts: walnuts: 2g protein (1g carb) 90cal
1 TBSP seeds: flax seeds: 3g protein (7g carb) 60 cal
1/2 cup brown rice: 5g protein (23g carbs) 150 cal
1/2 cup Black Rice: 10 LESS carbs than brown rice
4oz Tofu: 9g protein (3g carbs) 90cal
1/2 cup Soy beans: 14g (9g carbs) 150 cal
1 cup Avocado: balanced Meal!!! 3g protein (11g carbs) 7g fiber 22g fat 250 cal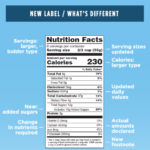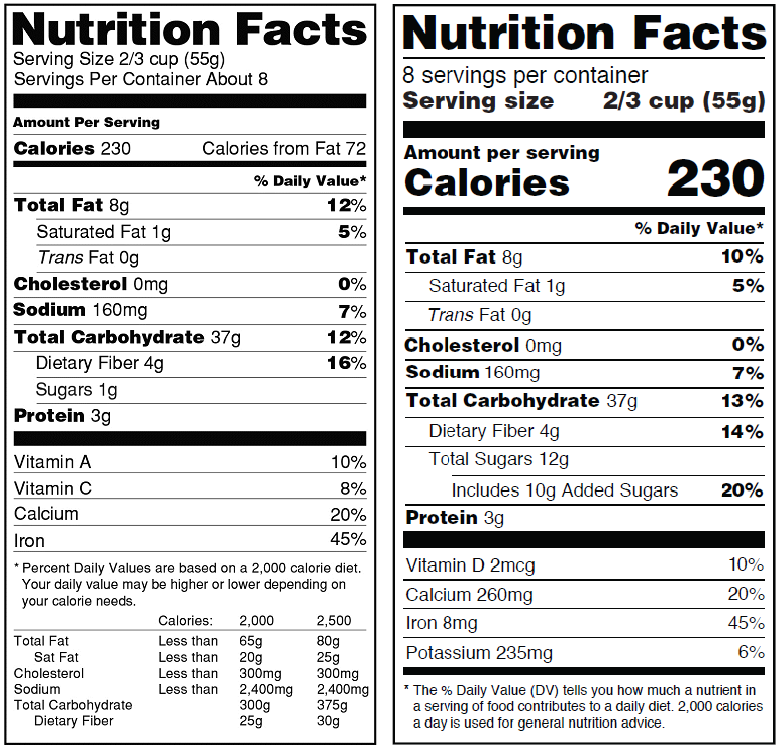 Old vs New Label – What's Different?
While much of the new label's look isn't drastically different from the old label, the information and layout have been revamped. According to the FDA's announcement, the most notable differences between the old and new label include:
* Increasing the type size for "Calories," "servings per container," and the "Serving size" declaration, and bolding the number of calories and the "Serving size" declaration to highlight this information.
* Requiring manufacturers to declare the actual amount, in addition to percent Daily Value of vitamin D, calcium, iron and potassium. (They can voluntarily declare the gram amount for other vitamins and minerals.)
* Changing the footnote to better explain what percent Daily Value means. It will read: "*The % Daily Value tells you how much a nutrient in a serving of food contributes to a daily diet. 2,000 calories a day is used for general nutrition advice."
* Adding the "Added Sugars" declaration directly beneath the listing for "Total Sugars."
* Removing "Calories from Fat" because research shows the type of fat is more important than the amount.
* Serving sizes must be based on amounts of foods and beverages that people are actually eating, not what they should be eating.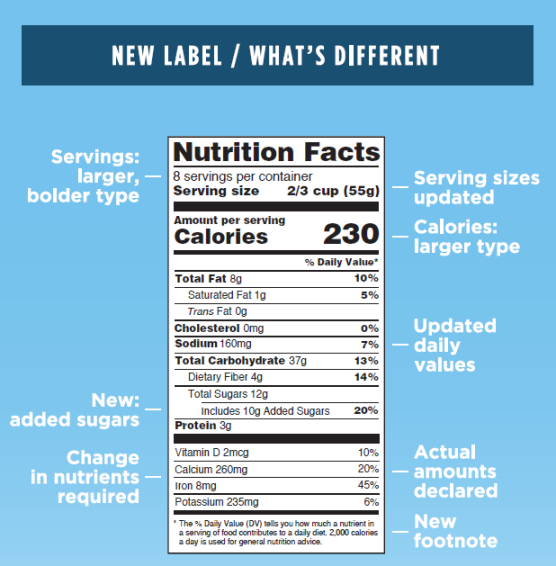 Image source: U.S. Food and Drug Administration
Now that you have a better understanding of the new label, let's discuss some labeling strategies you can use to meet these label requirements without causing major disruptions to your business.
Label Tips for Manufacturers
Updating your labels can be a pain but with some planning, it can be a much easier process. Below are some suggestions to help you get started on your path to FDA label compliance:
* Mask old info with cover-up labels: Also known as "block out labels," this unique label material allows you the ability to completely cover up the old Nutrition Facts while continuing to use the last of your label inventory.
* Embrace a new label look: Updating labels with the new Nutrition Facts can be the perfect opportunity to evaluate your current label design and try something new or make improvements.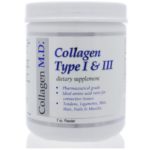 Collagen I and III Dietary Supplement
Collagen M.D.
7oz $18.95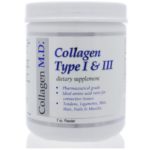 Collagen Type I & III together account for 90%
of the collagen present in the dermis with up to
60-80% for Collagen Type I and 15-20% for
Collagen Type III. This collection of fibers is
responsible for maintaining the structure and
resistance of tissues and constitutes a dynamic
network which anchors the skin in the deeper
layers, thereby creating a support base for the
skin. In addition to its architectural properties,
collagen also regulates the activity of fibroblasts,
playing a role in their migration, proliferation and
differentiation, and in their adhesion to various
elements of the extracellular matrix.
Collagen Type I & III are the main components
of hair, nails, ligaments, tendons, muscles, gums,
teeth, bones, blood vessels and eyes.
In 6oz of water or juice, blend 2 scoops of powder (over 35 years old) or 1 scoop (under 35 years old) or as directed by your physician. Use juice containing Vitamin C or take with a Vitamin C supplement for maximum collagen support.
For optimal nutritional benefits, take on an empty stomach and wait 20 minutes before eating
Do not add to milk or other protein dinks/powders as this will decrease the benefits. May be take with other vitamins and minerals.
Collagen Type I & II …6.6g
Collagen Type I and III protein peptides 
derived from 100% pure bovine collagen.
Contains no gluten, dairy sucrose, starch, yeast, wheat, corn, cholesterol, fat, additives, colorings, flavorings or preservatives.
Want to make your own muscle relaxing lotion? Such a simple recipe and easy to make! If you do not wish to take the short time to make it, you can see my dear friend, Colleen Sinclair, owner of the Siphon Draw Apothecary.  She makes wonderfully combined skin care products from all natural organic food sources.  Also as a Holistic Nutritionist, she understands the biochemistry of the body and that's it's not just what we put in our body, it's what's absorbed on and in our bodies and skin. Www.siphondraw.com for more information.
This recipe contains avocado oil, which has naturally occurring magnesium and potassium that help hydrate the skin. Avocados are one of the most mineral-rich superfoods in the world. In addition, magnesium oil is added — it's transdermal so can pass through the skin into the body.
Also, to naturally calm the body, this recipe contains lavender essential oil, which can relax muscles and reduce the effects of stress.
Apply this CALM magnesium body butter recipe today to naturally increase minerals and healing compounds in your body!
Dr. Axe explains it very simply:
Check out this video on YouTube:

Homemade CALM Body Butter Lotion
Total Time: 45 mins to an hour
Serves: 30-90
ALL ORGANIC INGREDIENTS:
1/4 cup Avocado oil
1/4 cup Magnesium oil
1/2 cup Cocoa Butter
30 drops Lavender Essential Oil
Large Glass Jar or Small glass Jar
DIRECTIONS:
In saucepan with water over low heat, place a jar containing the cocoa butter.
Once melted, pour into bowl and let cool in fridge for 30 minutes.
Using a standard mixer blend and whip it.
Once whipped add in magnesium oil, avocado oil and essential oils and mix.
Transfer to glass jar or plastic container and keep in refrigerator for 90 days.