Ortho Multi Women 40+
Protocol for life Balance
120 Capsules $30.00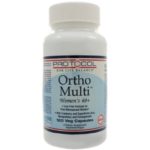 -Iron-Free Formula for Post-Menopausal Women*
-With Cranberry and Superfruits – Acai, Mangosteen and Pomegranated
-A Dietary Supplement
-Vegetarian/Vegan
Iron-Free Ortho Multi™ Women's 40+ provides balanced nutrition for the support of total body wellness for menopausal and post-menopausal women.* In addition to a full range of daily vitamins and minerals, Ortho Multi™ Women's 40+ supplies free radical fighting ingredients such as CoQ10, Alpha Lipoic Acid, Lutein and Lycopene to help fight the ravages of aging.* Calcium, Magnesium, Zinc, Boron, Vitamins D and K have also been included as key bone building nutrients. This comprehensive and completely vegetarian formula features chelated minerals, as well as coenzyme forms of B6 and B12 for enhanced bioavailability.
Servings Per Container: 30
As a dietary supplement, take 4 capsules daily in divided doses with meals or as directed by your healthcare practitioner.
Serving Size: 4 Veg Caps
Amount Per Serving
Vitamin A … 10, 000IU 
(100% as Beta-Carotene)
Vitamin C … 300mg
(from Calcium Ascorbate and Ascorbyl Palmitate)
Vitamin D … 1, 000IU 
(as Ergocalciferol)
Vitamin E … 200IU 
(as d-alpha Tocopheryl Succinate)
Vitamin K … 80mcg 
(as Menaquinone K2 and Phytonadione K1)
Thiamine … 25mg 
(from Thiamine HCI)(Vit. B-1)
Riboflavin … 25mg 
(Vitamin B-2)
Niacin … 30mg 
(Vitamin B-3)(as Niacinamide and from Inositol Hexanicotinate)
Vitamin B-6 … 25mg 
(from Pyridoxine HCI and Pyridoxal-5-Phosphate (P-5-P))
Folate … 800mcg 
(as Folic Acid)
Vitamin B-12 … 200mcg 
(as Methylcobalamin)
Biotin … 300mcg
Pantothenic Acid … 50mg 
(from D-Calcium Pantothenate)
Calcium … 250mg 
(from Calcium Carbonate (Aquamin® TG Red Algae Sea Minerals) and Calcium Ascorbate)
Iodine … 150mcg 
(from Potassium Iodide)
Magnesium … 100mg 
(from Magnesium Citrate and Aquamin® TG Red Algae Sea Minerals)
Zinc … 15mg
(from from Zinc Bisglycinate)(TRAACS®)
Selenium … 200mcg
(from L-Selenomethionine)
Copper … 1mg
(from Copper Bisglycinate)(TRAACS®)
Manganese … 2mg 
(from Manganese Bisglycinate)(TRAACS®)
Chromium … 120mcg 
(from Chromium Picolinate)
Molybdenum … 75mcg 
(from Sodium Molybdate)
Potassium … 25mg 
(from Potassium Chloride)
Cranberry … 100mg
(Vaccinium macrocarpon)(Fruit)(Standardized to min. 6% Quinic Acid)
Pomegranate Extract … 50mg
(Fruit)[min. 40% Punicalagins (Punicosides A and B)]
Organic Acai … 50mg
(Euterpe oleracea)(Fruit Skin and Pulp)
Mangosteen Extract … 50mg
(Fruit Peel)(Garcinia mangostana)(min. 10% Mangostin)
CoQ10 … 30mg 
(Coenzyme Q10)
Alpha Lipoic Acid … 30mg
Choline … 25mg 
(from Choline Bitartrate)
Inositol … 25mg
Aloe Vera … 25mg 
(Leaf)(200:1 Concentrate)
Lycopene … 500mcg 
(from Natural Tomato Extract)
Lutein … 500mcg 
(from Marigold Flowers)
Other Ingredients: Cellulose (capsule), Cellulose Powder, Stearic Acid (vegetable source) and Silica.
CAUTIONS/INTERACTIONS: Iodine may occasionally cause an allergic reaction in some individuals. This product contains Vitamin K, which is contraindicated in individuals taking warfarin. Some ingredients in this formula may affect the absorption or metabolism of medications. If you are taking any pharmaceutical medications, consult your healthcare practitioner before taking this product. If you are pregnant or lactating, consult your healthcare practitioner before taking this product.