type
now browsing by tag
BiotaGen
Klaire Labs
$22.95 5.3oz powder
Versatile prebiotic formula to optimize gut microflora, improve bowel function 
and support the immune system.
BiotaGen is a distinctive formulation of soluble dietary fiber with prebiotic 
activities that stimulates growth of colonic populations of beneficial bacteria 
and enhances gastrointestinal and systemic immune function in multiple ways. 
BiotaGen combines chicory inulin and oligofructose, highly effective 
prebiotics, with the immunomodulating actions of larch arabinogalactan and 
purified yeast beta-glucan.
Chicory-derived inulin and oligofructose are inulin-type fructans best known 
for their ability to sustain increases in populations of Bifidobacterium, 
Lactobacillus, and Eubacterium, an important butyrate-producing species 
indigenous to the bowel. By escaping digestion and absorption in the small 
intestine, inulin-type fructans arrive largely intact in the colon where they 
selectively feed beneficial gut microbiota. In addition, inulin-type fructans 
promote normal colon transit times, enhance absorption of calcium and 
magnesium, favorably modulate lipid levels, improve gut mucosal barrier and 
immune function, regulate intestinal epithelial cell growth, and reduce the 
number of potentially harmful bacterial species.
Arabinogalactan, a polysaccharide derived from the Western Larch tree, is a 
highly soluble dietary fiber that enhances immune function by promoting 
cytokine production and increasing the number of natural killer cells. 
Indigestible by human enzymes, arabinogalactan exerts prebiotic properties 
including the ability to selectively stimulate Lactobacillus species. 
Arabinogalactan is metabolized to short-chain fatty acids acetate, butyrate, 
and propionate and reduces ammonia production.
Beta-glucan, a glucose polysaccharide prebiotic fiber, has broad, beneficial 
effect on immune function through enhancement of monocytes, macrophages, and 
natural killer cells. Beta-glucan stimulates immune response to a wide spectrum 
of pathogens, including fungal (Candida albicans), Gram-positive 
(Staphylococcus aureus), and Gram-negative (Escherichia coli) microorganisms.
BiotaGen is recommended to nutritionally support optimal gastrointestinal 
function, promote populations of healthful colonic bacteria, and enhance 
gastrointestinal and systemic immune function. BiotaGen® works synergistically 
with probiotics to assure intestinal microflora balance. Available in both 
powder and vegetarian capsule form.
Servings Per Container: 30
1 to 2 scoops daily with food or as directed by a healthcare practitioner..
Serving Size: 1 Scoop (Approx. 1 teaspoon or 5 grams)
Amount Per Serving
Calories … 5g
Total Carbohydrate … 5g
Dietary Fiber … 4g
BiotaGen Prebiotic Blend … 5g
Inulin (derived from chicory root) Oligofructose (derived from chicory root) 
Beta-Glucan (purified from Saccharomyces cerevisiae) Larch Arabinogalactan 
(Larix occidentalis), dried water-soluble extract
Other Ingredients: None.
Who understands auto immune disorders and how they affects us and our loved ones?  Here is a brief overview of what it is and a link if you want to research correct information further.
When an intruder invades your body—like a cold virus or bacteria on a thorn that pricks your skin—your immune system protects you. It tries to identify, kill, and eliminate the invaders that might hurt you. But sometimes problems with your immune system cause it to mistake your body's own healthy cells as invaders and then repeatedly attacks them. This is called an autoimmune disease. ("Autoimmune" means immunity against the self.)
Autoimmune diseases can affect almost any part of the body, including the heart, brain, nerves, muscles, skin, eyes, joints, lungs, kidneys, glands, the digestive tract, and blood vessels. The classic sign of an autoimmune disease is inflammation, which can cause redness, heat, pain, and swelling. How an autoimmune disease affects you depends on what part of the body is targeted. If the disease affects the joints, as in rheumatoid arthritis, you might have joint pain, stiffness, and loss of function. If it affects the thyroid, as in Graves' disease and thyroiditis, it might cause tiredness, weight gain, and muscle aches. If it attacks the skin, as it does in scleroderma/systemic sclerosis, vitiligo, and systemic lupus erythematosus (SLE), it can cause rashes, blisters, and color changes.
Many autoimmune diseases don't restrict themselves to one part of the body. For example, SLE can affect the skin, joints, kidneys, heart, nerves, blood vessels, and more. Type 1 diabetes can affect your glands, eyes, kidneys, muscles, and more.
KEY WORDS
Acquired immune system. The part of the immune system that develops as a person grows. It employs antibodies and immune cells to fight harmful substances.
Antibody. A special protein produced by the body's immune system that recognizes and helps fight infectious agents and other foreign substances that invade the body.
Antigen. A foreign substance that triggers the production of antibodies when it is introduced into the body.
Autoimmune disease. A disease that results when the immune system mistakenly attacks the body's own tissues.
Corticosteroids. Potent anti-inflammatory hormones that are made naturally in the body or synthetically (man-made) for use as drugs. They are also called glucocorticoids. The most commonly prescribed drug of this type is prednisone.
Diabetes, type 1. A condition in which the immune system destroys insulin-producing cells of the pancreas, making it impossible for the body to use glucose (blood sugar) for energy. Type 1 diabetes usually occurs in children and young adults.
Graves' disease. An autoimmune disease of the thyroid gland that results in the overproduction of thyroid hormone. This causes such symptoms as nervousness, heat intolerance, heart palpitations, and unexplained weight loss.
Immune system. A complex network of specialized cells and organs that work together to defend the body against attacks by foreign invaders, such as bacteria and viruses.
Thyroiditis. An inflammation of the thyroid gland that causes the gland to become underactive. This results in symptoms such as fatigue, weakness, weight gain, cold intolerance, and muscle aches.
Vitiligo. A disorder in which the immune system destroys pigment-making cells called melanocytes. This results in white patches of skin on different parts of the body.
The National Institutes of Health (NIH)—The Nation's Medical Research Agency—includes 27 Institutes and Centers and is a component of the U.S. Department of Health and Human Services. It is the primary Federal agency for conducting and supporting basic, clinical, and translational medical research, and it investigates the causes, treatments, and cures for both common and rare diseases. For more information about NIH visit:
https://www.niams.nih.gov/Health_Info/
Purium`s Power Shake was created so that you can easily consume several energizing, gluten-free superfoods all at once, saving you time and money!
30 servings $99.95

Ingredients:
Rice Bran Solubles – vital for maintaining normal cholesterol levels and blood glucose control. They are also an all-natural source of vitamin E type tocopherols and tocotreinols and contain a variety of B vitamins, Q-10, gamma oryzanol, folic acid, and more. Rice Bran Solubles is the outer, soluble part of brown rice that normally gets cooked away. Soluble rice bran is the fuel of many Asian martial artists.
Organic oats – great source of fiber and manganese that may also help support healthy blood sugar levels and enhance immune system response.
Organic spirulina – nature's most complete nutrient source, containing over 60% complete vegetarian protein, an abundance of chlorophyll and essential fatty acids, vitamins, minerals, and nucleic acids, as well as nature's highest source of a new class of immune enhancers, a photosynthetic pigment called phyco-can. An all-natural 'multivitamin' in and of itself. Used for centuries, Spirulina was the fuel of the Aztecs.
Organic carrot juice – Known as one of the most important parts of any juice fast or raw food regimen, their deep, rich, orange color comes from the abundance of beta-carotene, minerals, and other phyto-nutrients that are unique to the tuber family. It also has a naturally sweet taste that perfectly complements the other super foods
Organic wheatgrass – Clinics all over the world have been set up to administer the miraculous juices extracted from sprouted wheat plants. People report that the intensive cleaning the chlorophyll and enzymes provide is unsurpassed in its abilities to stimulate the immune system response and instigate healing.
Organic millet – rich in fiber and the B complex vitamins, also aids in digestive health.
Organic amaranth – great source of most of the B vitamins and vitamin A.
Organic buckwheat – Not technically a grain, it comes from a fruit seed in the rhubarb family, and is therefore gluten free. Buckwheat contains a rich supply of flavonoids, particularly rutin, and may help support healthy blood sugar levels. Very high in many vitamins and minerals, especially vitamin K, vitamin B1, B2, B3, B6, B9, magnesium, potassium, phosphorus, zinc, iron, copper, and manganese.
Organic quinoa – this gluten-free grain has grown in popularity due to its nutrient density, it contains more calcium than milk and is also a great source of protein.
Organic chia – a staple in Mayan and Aztec diets for centuries, chia is a rich source of fiber, omega-3 fatty acids, fiber, and antioxidants.
Organic alfalfa leaf juice – The father of all foods, alfalfa has roots that reach up to 60 ft. into the soil to absorb trace minerals. Its lightweight proteins stimulate the rebuilding of tissues and strengthen the hair, skin, and nails.
Organic oat grass juice – One of the little known superstars among cereal grasses. Recent and ongoing studies indicate that unique proteins, lipids and other factors in oat greens may possibly help revive reproductive function.
For APPLE-BERRY POWER SHAKE ONLY: Organic raspberry flavor and Organic apple flavor were added to give the Power Shake a sweeter taste without adding anything harmful, unnatural or sugar based.
Lo han berry – contains a natural sweetening agent called Mogroside that is ten times sweeter than fructose, so a small amount means less calories.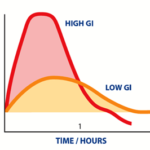 WHAT IS THE GLYCEMIC INDEX?
Carbohydrates are an essential part of our diets, but not all carbohydrate foods are equal. The Glycemic Index (GI) is a relative ranking of carbohydrate in foods according to how they affect blood glucose levels. Carbohydrates with a low GI value (55 or less) are more slowly digested, absorbed and metabolised and cause a lower and slower rise in blood glucose and insulin levels.
There are three ratings for GI:
Low = GI value 55 or less
Medium = GI value of 56 – 69 inclusive
High = GI 70 or more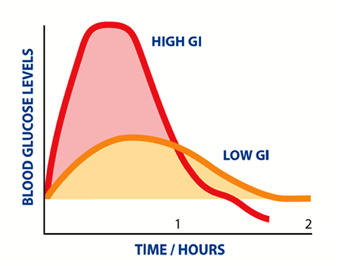 So why do we need good quality Low GI carbohydrates?
You need carbs as they break down into glucose in your body providing the main fuel for our brains and nervous systems, the preferred source of fuel for most organs and our muscles during exercise.
To help make healthy low GI choices quick and easy when you're shopping, the Glycemic Index Foundation developed the GI Symbol. It guarantees that
a food has been tested by independent experts to be low GI and meets strict nutrient criteria.
Source: http://www.gisymbol.com/about/glycemic-index/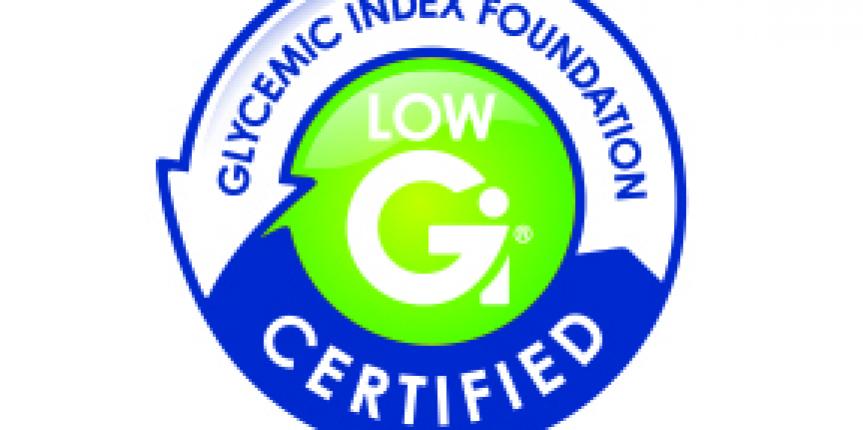 Source: http://www.glycemicindex.com
The glycemic index (GI) is a ranking of carbohydrates on a scale from 0 to 100 according to the extent to which they raise blood sugar levels after eating. Foods with a high GI are those which are rapidly digested and absorbed and result in marked fluctuations in blood sugar levels. Low-GI foods, by virtue of their slow digestion and absorption, produce gradual rises in blood sugar and insulin levels, and have proven benefits for health. Low GI diets have been shown to improve both glucose and lipid levels in people with diabetes (type 1 and type 2). They have benefits for weight control because they help control appetite and delay hunger. Low GI diets also reduce insulin levels and insulin resistance.
Recent studies from Harvard School of Public Health indicate that the risks of diseases such as type 2 diabetes and coronary heart disease are strongly related to the GI of the overall diet. In 1999, the World Health Organisation (WHO) and Food and Agriculture Organisation (FAO) recommended that people in industrialised countries base their diets on low-GI foods in order to prevent the most common diseases of affluence, such as coronary heart disease, diabetes and obesity.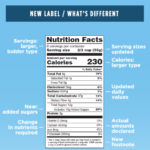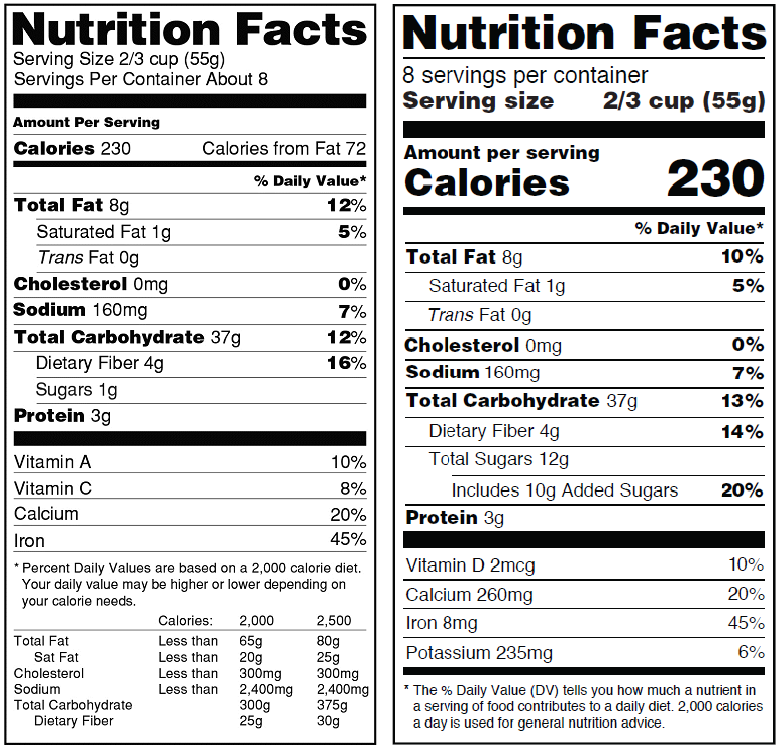 Old vs New Label – What's Different?
While much of the new label's look isn't drastically different from the old label, the information and layout have been revamped. According to the FDA's announcement, the most notable differences between the old and new label include:
* Increasing the type size for "Calories," "servings per container," and the "Serving size" declaration, and bolding the number of calories and the "Serving size" declaration to highlight this information.
* Requiring manufacturers to declare the actual amount, in addition to percent Daily Value of vitamin D, calcium, iron and potassium. (They can voluntarily declare the gram amount for other vitamins and minerals.)
* Changing the footnote to better explain what percent Daily Value means. It will read: "*The % Daily Value tells you how much a nutrient in a serving of food contributes to a daily diet. 2,000 calories a day is used for general nutrition advice."
* Adding the "Added Sugars" declaration directly beneath the listing for "Total Sugars."
* Removing "Calories from Fat" because research shows the type of fat is more important than the amount.
* Serving sizes must be based on amounts of foods and beverages that people are actually eating, not what they should be eating.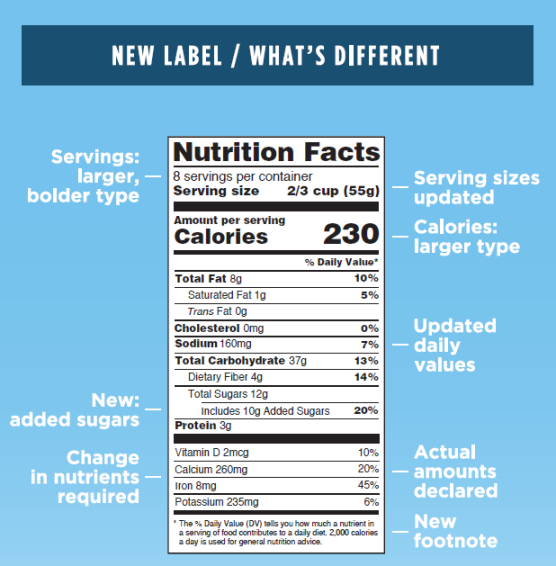 Image source: U.S. Food and Drug Administration
Now that you have a better understanding of the new label, let's discuss some labeling strategies you can use to meet these label requirements without causing major disruptions to your business.
Label Tips for Manufacturers
Updating your labels can be a pain but with some planning, it can be a much easier process. Below are some suggestions to help you get started on your path to FDA label compliance:
* Mask old info with cover-up labels: Also known as "block out labels," this unique label material allows you the ability to completely cover up the old Nutrition Facts while continuing to use the last of your label inventory.
* Embrace a new label look: Updating labels with the new Nutrition Facts can be the perfect opportunity to evaluate your current label design and try something new or make improvements.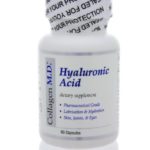 HyaluronicAcid Dietary Supplement
Collagen M.D.
60 capsules $27.95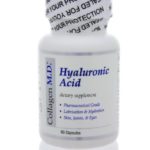 HyaluronicAcid supports and promotes
healthy  skin, functioning as a tissue lubricant
and is known as nature's moisturizer.
With age, Hyaluronic Acid levels decline
in the body and HA dietary supplementation
provides nutritional support for connective
tissue, cartilage, joint, skin and eye health.
Hyaluronic Acid works synergistically
with collagen Type I, II, and III to help
support skin, connective tissue, cartilage
and joint health.
Servings Per Container: 30
As a dietary supplement, take 1 capsule twice
daily on an empty stomach. Wait 20 minutes
before eating. Do not mix with other protein
liquids or protein supplements for optimal
nutritional beneft.
Serving Size: 2 capsules
Amount Per Serving:
Hyaluronic Acid … 100mg
Other Ingredients: 
Microcrystalline Cellulose, Magnesium Stearate, 
Kosher Gelatin Capsule.
Collagen M.D.® products are free from gluten, 
dairy, sucrose, starch, yeast, wheat, corn and
cholesterol.
Gluten-free food labels under new FDA rules
* The terms, "gluten free," "no gluten," "free of gluten" and "without gluten" can be used on labels of foods that meet the FDA gluten-free standard.
* No universal symbol will appear on packages to indicate that a food meets the FDA gluten-free standard. If a food company wants to indicate that a product meets the standard, it has to use one of the gluten-free terms.
* Certification seals from third parties, for example a seal from the Gluten Free Certification Organization, can continue to be used on labels. The FDA says it does not endorse or recommend any particular certification seal. Any food that uses a third party certification seal must meet the FDA labeling requirements at a minimum. Typically the standards for certification seals are stricter than the FDA requirements.
* The label format is left up to food makers; the FDA does not have a mandated design or any requirements for where the gluten-free label has to be placed.
* Food makers can continue to use the terms, "made with no gluten containing ingredients" and "not made with gluten containing ingredients." If the terms are used in conjunction with a gluten-free label, the product must meet the FDA standard. If the terms are used without a gluten-free label, the FDA says, "consumers should not assume the food meets all FDA requirements."
* Food makers can continue to use advisory statements such as, "Made in a factory that also processes wheat products" on a food that also has a gluten-free label. The FDA says it will need to "look at foods on a case by case basis to determine whether a specific advisory statement with a gluten-free claim would be misleading." Any product with the advisory statement and gluten-free label would have to meet the FDA requirements.
* Naturally gluten-free foods can be labeled gluten free. This is a change from the proposed rules which would have prohibited the gluten-free label on inherently gluten-free foods including gluten-free grains and products like bottled water unless the label also said all foods of the same type were also gluten free. The final rule addresses concerns that some gluten-free grains, legumes and seeds have a high risk of cross-contamination. A gluten-free label on these kinds of products "provide the expectation that any gluten is less than 20 ppm," the FDA says.
* Gluten-free labeling continues to be voluntary so even products that are gluten free may not be labeled as such. This is likely to come up most often with naturally gluten-free products with a low risk of cross-contamination, fruits and vegetables for example. The lack of a gluten-free label does not mean the food contains gluten.