weight
now browsing by tag
Control Pre-Meal CapsulesTM
30 servings $38.95
Self-control now comes in a capsule
Benefits:
* Can help curb cravings and reduce appetite
* Neutralizes starches found in processed carbohydrates
* Can support stabilized blood glucose
* May enhance mental alertness, endurance and stamina
* Helps you feel satisfied faster and takes the edge off your cravings
Purium`s CONTROL Pre-Meal CapsulesTM are specifically designed to help you eat less and reduce the impact of simple carbohydrates and sugars, lessening the possibility that your body will convert them into fat. It is a great addition to any weight loss regimen.
Instructions: Take two capsules three times per day (approximately one hour prior to meals) with 8oz of water or, take two to three capsules prior to any fatty meal or dessert followed by 8oz of water.
Interesting Facts:
* Nopal (Opuntia Streptacantha): promotes weight loss by absorbing water and providing a feeling of satiety. It has a positive effect on blood sugar and helps reduce the appetite and control carbohydrate cravings. It can also reduce cholesterol by promoting the excretion of fats from the body, and aids digestion by absorbing toxins from the bowel as well as increasing the rate at which food passes through the system.
* Garcinia Cambogia (fruit): inhibits the synthesis of fatty acids in the liver and promotes an increased availability of glycogen in the liver, thus sending a "full" signal to the brain sooner.
* Green Tea Extract: Extract: research has found that green tea increases the amount of energy spent by the body and holds promise as a treatment for obesity and other weight problems.
* American Ginseng (Panax quinquefolius): Dr Lin Yutang, a Chinese research scientist who spent a lifetime learning about ginseng, summed up his work by saying that, "The magic tonic and building qualities of ginseng are the most enduring, the most energy-giving, restorative qualities known to mankind, yet it is distinguished by the slowness and gentleness of its action."
* White Kidney Bean Extract (Phaseolus Vulgaris):
Final word from Dave:
Drawing from the wisdom of ancient culture, we have put together a product for the ages. From the shaman we take Opuntia, from Chinese medicine – Green Tea, from Ayurvedic – the garcinia cambogia, and the power of White American Ginseng and the newly discovered effect of the amazing white kidney bean. Brought together to give you the ultimate in CONTROL, self control, appetite control, glucose control, energy and most importantly, your weight.
- Dave Sandoval
Who understands auto immune disorders and how they affects us and our loved ones?  Here is a brief overview of what it is and a link if you want to research correct information further.
When an intruder invades your body—like a cold virus or bacteria on a thorn that pricks your skin—your immune system protects you. It tries to identify, kill, and eliminate the invaders that might hurt you. But sometimes problems with your immune system cause it to mistake your body's own healthy cells as invaders and then repeatedly attacks them. This is called an autoimmune disease. ("Autoimmune" means immunity against the self.)
Autoimmune diseases can affect almost any part of the body, including the heart, brain, nerves, muscles, skin, eyes, joints, lungs, kidneys, glands, the digestive tract, and blood vessels. The classic sign of an autoimmune disease is inflammation, which can cause redness, heat, pain, and swelling. How an autoimmune disease affects you depends on what part of the body is targeted. If the disease affects the joints, as in rheumatoid arthritis, you might have joint pain, stiffness, and loss of function. If it affects the thyroid, as in Graves' disease and thyroiditis, it might cause tiredness, weight gain, and muscle aches. If it attacks the skin, as it does in scleroderma/systemic sclerosis, vitiligo, and systemic lupus erythematosus (SLE), it can cause rashes, blisters, and color changes.
Many autoimmune diseases don't restrict themselves to one part of the body. For example, SLE can affect the skin, joints, kidneys, heart, nerves, blood vessels, and more. Type 1 diabetes can affect your glands, eyes, kidneys, muscles, and more.
KEY WORDS
Acquired immune system. The part of the immune system that develops as a person grows. It employs antibodies and immune cells to fight harmful substances.
Antibody. A special protein produced by the body's immune system that recognizes and helps fight infectious agents and other foreign substances that invade the body.
Antigen. A foreign substance that triggers the production of antibodies when it is introduced into the body.
Autoimmune disease. A disease that results when the immune system mistakenly attacks the body's own tissues.
Corticosteroids. Potent anti-inflammatory hormones that are made naturally in the body or synthetically (man-made) for use as drugs. They are also called glucocorticoids. The most commonly prescribed drug of this type is prednisone.
Diabetes, type 1. A condition in which the immune system destroys insulin-producing cells of the pancreas, making it impossible for the body to use glucose (blood sugar) for energy. Type 1 diabetes usually occurs in children and young adults.
Graves' disease. An autoimmune disease of the thyroid gland that results in the overproduction of thyroid hormone. This causes such symptoms as nervousness, heat intolerance, heart palpitations, and unexplained weight loss.
Immune system. A complex network of specialized cells and organs that work together to defend the body against attacks by foreign invaders, such as bacteria and viruses.
Thyroiditis. An inflammation of the thyroid gland that causes the gland to become underactive. This results in symptoms such as fatigue, weakness, weight gain, cold intolerance, and muscle aches.
Vitiligo. A disorder in which the immune system destroys pigment-making cells called melanocytes. This results in white patches of skin on different parts of the body.
The National Institutes of Health (NIH)—The Nation's Medical Research Agency—includes 27 Institutes and Centers and is a component of the U.S. Department of Health and Human Services. It is the primary Federal agency for conducting and supporting basic, clinical, and translational medical research, and it investigates the causes, treatments, and cures for both common and rare diseases. For more information about NIH visit:
https://www.niams.nih.gov/Health_Info/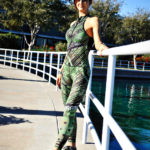 FABRICS & CARE
Wear it once, and you will never want to wear anything else! From petite to tall!
Our Supplex fabric has a weight of 330gm per m2, it is super thick, hiding any imperfections, and can stretch upto 5 times of its size, it is UV Proof, has 4 way stretch, and all fabrics are odour free!
We use the finest Brazilian Supplex and Brazilian Lycra Sport on the market, all from the leading Brazilian manufacturers. Our garments come complete with the official Supplex by Invista hangtags, something you should always look out for when buying your activewear made with Supplex, as to qualify for these brand hangtags the garments must meet the brands certification requirements.
SUPPLEX POWER – 88% Polyamide 12% Elastane. Perfect for high intensity activities and represents the very best in fitness fabric technology. It offers you the feel of cotton with the benefits of an advanced fibre technology, resulting in a fully breathable product which resists moisture and odours. Supplex Power is a firmer/stronger fabric known for its 'hold in' sensation, giving women smoother contours and great support, as the fabric has a mild lift and compressive effect. It is long lasting and doesn't shrink, pill, fade, or lose it's shape.
Main benefits:
Fully breathable
Minimizes the look of cellulite
Faster drying than cotton, lightweight
Colour fast, never fading colour
UV protection
SUPPLEX LIGHT– 90% Polyamide 10% Elastane. Sits at the very top of moisture management stretch fabrics. The fabric is woven and has the ability to wick moisture from the inner to the outer layer where it evaporates, making it perfect for intense high sweat exercises. It offers you the feel of cotton with the benefits of advanced fibre technology. Supplex is a light fabric and provides some support; it's long lasting and doesn't shrink, pill, fade or lose its shape or stretch. It has a matt finish so it doesn't highlight those not so smooth bits!
PRINTED SUPPLEX – is the same fabric as Supplex and has the same qualities, the only difference being it is printed.
LYCRA® SPORT – fabric has revolutionized sports apparel by delivering stretch and recovery power designed to help athletes move and perform at their best. It has been engineered specifically for sporting activities which require a combination of light weight, breathability, muscle support and freedom of movement benefits. LYCRA® SPORT fabric is designed to move with you, in all directions.
CIRE – Is a lightweight performance fabric with a shiny surface and high compression qualities. It has a lustrous patent leather effect. It's name was derived by the French verb cire, meaning to wax or polish. Fabrics like nylon or polyester are 'cired' by calendering with heat and pressure to give our garments a medium shine finish. It hugs the body but is extremeley comfortable, and dries quickly.
DRY – Is a lightweight, breathable fabric which has the ability to facilitate perspiration, keep the body dry and temperature stable.  The fabric has opaque wires which protect against UV A and UV B Rays. This supersoft fabric has a high percentage of elastane to create comfort and give freedom of movement.
AMNI – Polyamide 90% 10% Spandex. Fiber offers a cooler touch to the skin. It is fully breathable, long lasting and colour fast. It gives a close and supportive fit whilst allowing unrestricted freedom of body movement.
JUMP  – 93% Polyamide 7% Elastane. Jump mesh is a mesh with stretch. It provides a silky texture and is soft on the skin. It reduces body heat by wicking sweat away from the skin and is fully breathable.
NEW TRIP – 92% Polyamide 8% Elastane. Another stretch fabric.
VISCOLYCRA – 95% Viscose 5% Spandex Material is soft and similar to cotton offering extreme comfort. It is breathable and absorbs moisture.
EMANA – Rosset – 88% Polyamide 12% Elastane. A unique fabric that combines the polyamides property with bio-active crystals that activate the blood micro-circulation, allowing the creation of sportswear apparel in total interaction with the body. Increased wear will help reduce the signs of cellulite, improve skin tone and firmness when in contact with the skin for more than 6hours. It uses FIR infrared technology and electromagnetic waves, which are invisible to the naked eye, without any collateral damage to biological tissues.
Emana includes a series of benefits, that are:
Increased collagen synthesis in the skin
Reduction of the roughness of the skin
Increased skin elasticity
Reduction in muscular lactic acid
Improvements on the signs of cellulite
A continuous and constant massaging effect of the skin through the natural movements of the body
CARE INSTRUCTIONS
Potassium Rich Foods-Top ten
Potassium is an essential nutrient used to maintain fluid and electrolyte balance in the body.
Potassium is the third most abundant mineral in the body and is a required mineral for the function of several organs including the heart, kidneys, brain and muscular tissues.
Potassium also plays an important role in keeping the body hydrated and works with sodium to support cellular function with your bodies sodium-potassium pump.
Potassium deficiency symptoms can include severe headaches, dehydration, heart palpitations and swelling of glands and tissues.
Also, potassium deficiency can lead to:
* Fatigue
* Irritability
* Muscle cramps
* Weight gain
* Increased blood pressure
* Cellulite buildup
The main culprits that can cause low levels of potassium are endurance cardiovascular exercise without proper hydration, vomiting, diarrhea and a diet low in fruits and vegetables.
Unless you are on dialysis, or have a special condition, overdose of potassium from natural sources is very rare.
The RDA for potassium is 4700 mg/day.
Keeping in mind Sodium should be 2300mg.
Think Double potassium for your sodium intake!
Consuming these 3 servings of this high potassium foods list daily to ensure optimal levels of potassium.
Top 10 Potassium Rich Foods List
1) Avocado. 1 whole: 1068 mg (30% DV)
2) Spinach. 1 cup: 839mg (24% DV)
3) Sweet potato. 1 medium: 952 mg (27% DV)
4) Coconut Water. 1 cup 600 mg (17% DV)
5) Kefir or Yogurt 1 cup: 579 mg (15% DV)
6) White Beans ½ cup: 502 mg (15% DV)
7) Banana 1 large: 422 mg (12% DV)
8) Acorn squash 1 cup: 899 mg (26% DV)
9) Dried apricots ½ cup: 755 mg (22% DV)
10) Mushrooms 1 cup: 428 mg (27% DV)
Potassium Health Benefits
Cramps
: One of the main benefits of consuming high potassium foods is decreased muscle cramping and improved muscle strength.  Muscle cramps are a common side effects of low potassium levels.  This can happen if an athlete becomes dehydrated and isn't consuming enough potassium rich foods before and after exercise.
Reduced Risk of Stroke
: Several observational studies have found that those with high potassium levels experience a lower risk of stroke. The health benefits of potassium are likely through reduction of blood pressure combined with a diet high in fruits and vegetables.
Alleviation of High Blood Pressure (Hypertension): 
Studies show that a diet high in potassium, especially potassium from fruits and vegetables, lowers blood pressure. This is especially true if the increase in potassium foods is not accompanied by an increase in high sodium foods.
Reduced Cellulite Appearance
: One of the main causative factors of cellulite buildup is fluid retention.  Most people consume far too much sodium and not near enough potassium.  Sodium brings nutrients into your cells where potassium helps flush excess waste out of your cells.  For this reason, if you reduce sodium intake and start consuming potassium rich foods you can reduce the appearance of cellulite.
Osteoporosis Protection
: Several studies have found a relation between increased bone density and increased intake of dietary potassium. These studies were true even for post- menopausal women and older men.
https://draxe.com/top-10-potassium-rich-foods/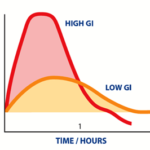 WHAT IS THE GLYCEMIC INDEX?
Carbohydrates are an essential part of our diets, but not all carbohydrate foods are equal. The Glycemic Index (GI) is a relative ranking of carbohydrate in foods according to how they affect blood glucose levels. Carbohydrates with a low GI value (55 or less) are more slowly digested, absorbed and metabolised and cause a lower and slower rise in blood glucose and insulin levels.
There are three ratings for GI:
Low = GI value 55 or less
Medium = GI value of 56 – 69 inclusive
High = GI 70 or more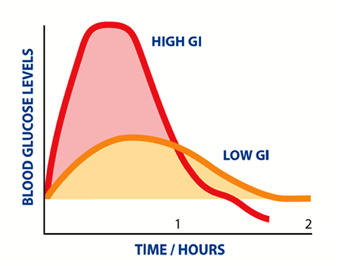 So why do we need good quality Low GI carbohydrates?
You need carbs as they break down into glucose in your body providing the main fuel for our brains and nervous systems, the preferred source of fuel for most organs and our muscles during exercise.
To help make healthy low GI choices quick and easy when you're shopping, the Glycemic Index Foundation developed the GI Symbol. It guarantees that
a food has been tested by independent experts to be low GI and meets strict nutrient criteria.
Source: http://www.gisymbol.com/about/glycemic-index/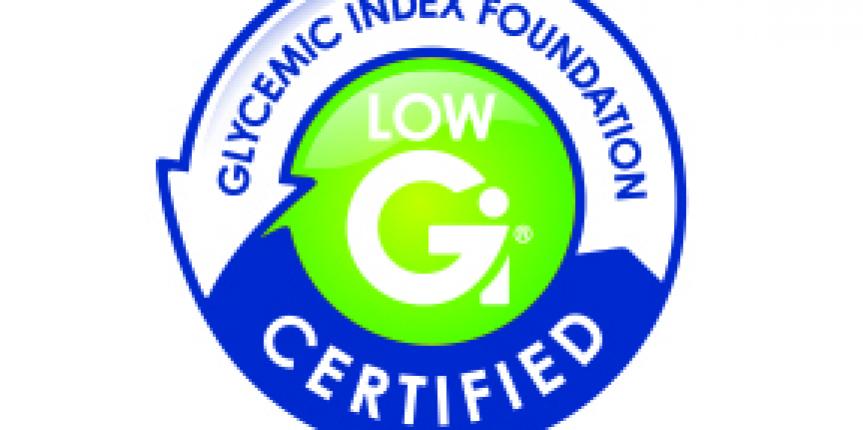 Source: http://www.glycemicindex.com
The glycemic index (GI) is a ranking of carbohydrates on a scale from 0 to 100 according to the extent to which they raise blood sugar levels after eating. Foods with a high GI are those which are rapidly digested and absorbed and result in marked fluctuations in blood sugar levels. Low-GI foods, by virtue of their slow digestion and absorption, produce gradual rises in blood sugar and insulin levels, and have proven benefits for health. Low GI diets have been shown to improve both glucose and lipid levels in people with diabetes (type 1 and type 2). They have benefits for weight control because they help control appetite and delay hunger. Low GI diets also reduce insulin levels and insulin resistance.
Recent studies from Harvard School of Public Health indicate that the risks of diseases such as type 2 diabetes and coronary heart disease are strongly related to the GI of the overall diet. In 1999, the World Health Organisation (WHO) and Food and Agriculture Organisation (FAO) recommended that people in industrialised countries base their diets on low-GI foods in order to prevent the most common diseases of affluence, such as coronary heart disease, diabetes and obesity.
If you missed the Local education night here is a few things we discussed:
Muscle building with Plant Protein
*How do you support a body on a plant based diet without eating meat?
Earth is the ultimate prism. Every green plant captures a different wavelength of light and energy from the sun. A collection of juices from sea plants, field grasses and garden vegetables will alkalize your body, build up your blood, and cleanse your cells.
What is a Carbohydrate? Fruit, vegetable, starch, grain, pasta
What is a Protein? Animal meat, dairy
What is a Fat? Nut, seed or oil
How Much do we need daily? Age/Gender/Health History
Carbs: Weight loss must be under 50g a day, aim for no more than 30g of carbs at a meal and 8g of sugars within those carbs. Think higher fiber foods.
Protein: 1g per 1kg body weight (think about half your body weight)
Fat: 25-30% daily calories can come from the pure sources of healthy fats.
***Ratios are different for everyone and Should be evaluated by a Certified Health Professional or Holistic Professional based on your health history.***
What are Amino Acids? What do they do?
Assists with the stabilization or recovery of muscle strength, endurance, and volume
Helps keep body tissues firm
Helps minimize body fat
May support a weight loss regimen
Aid in normalizing protein synthesis
If the essential amino acids are not present in the daily diet the body will break down existing proteins in order to supply the body with the missing amino acids.
Essential Amino Acids:
Cannot be produced in our body and thus must be consumed in our diets. The essential amino acids humans cannot synthesize are:
Phenylalanine, valine, threonine, tryptophan, methionine, leucine, isoleucine, lysine, and histidine. (Arginine is mostly required in young children and not as important as adults)
Non-Essential Amino Acids: These can be synthesized by the body.
Proteins drive ALL functions of the various organs of the human body.
Alanine (from pyruvic acid)
Arginine (from glutamic acid)
Asparagine (from aspartic acid)
Aspartic Acid (from oxaloacetic acid)
Cysteine
Glutamic Acid (from oxoglutaric acid)
Glutamine (from glutamic acid)
Glycine (from serine and threonine)
Proline (from glutamic acid)
Serine (from glucose)
Tyrosine (from phenylalanine)
If you fail to obtain even just one out of the essential amino acids, your body's proteins so not complete and the body is forced to steal from bones and elsewhere to create metabolic processes in your body. Also, unlike fats and carbohydrates, your body does not store excess supplies of amino acids for later use – you need a regular supply of them everyday.
Foods with amino acids include animal and vegetable sources. Most of the animal sources such as meat, eggs and milk are considered to be "complete protein sources" meaning that these contain all the essential amino acids that your body needs.
Vegetables are also good amino acid food sources but most of them do not usually contain all essential aminos.
Amino Acid Deficiency and Supplementation
Many people who are sick, fatigued, or trying weight loss programs, vegetarians or Vegans consume insufficient amounts of protein. Thus, supplementation of amino acids has been increasingly necessary. B6 and B12 are the most common of deficiencies when not consuming animal protein.
Non Meat Forms of Amino Acids: Think SEA LIFE!
*How can I combat muscle fatigue or just plain being tired all the time?
More GREEN foods create energy in the body! How do plants grow? They need sun, water, rest, minerals and vitamins, and time.
Antioxidant Rich foods: EAT FROM THE RAINBOW!
RED: Lycopene
YELLOW/ORANGE: Beta Carotene & Beta Crytoxanthin
BLUE/PURPLE: Anthocyanins
GREEN: Chlorophyll
GREEN FOOD BASICS:
*Green foods have a high content of chlorophyll due to porphyrin rings.
* Chlorophyll and heme units of red blood cells are virtually identical except the center molecule
* Chlorophyll-magnesium
* Heme-Iron
* Heme units are the building blocks for red blood cells
* Therefore, all green foods help the body to create new blood.
*How do we use food as medicine so we can fuel the body, heal and repair?
Basic Weight management Strategies and Lifestyle Strategies
1-Adequate ATP
2-Nutrient Density-Organic Foods. **A MUST!!!**
3-Balance-60-80% Alkalizing (pH Balance)
4-Moderation-Limited Refined Sugar
5-Calorie Control=Calorie Restriction
6-Variety= Seasonal Eating VS Emotional Eating
Refer to www.healthywithjodi.com for my Sweet 16 Eating Healthy Guidelines and how to achieve balance.
Definitions and menu DeCoding:
Vegan: A strict vegetarian who consumes no products from an animal, such as meat eggs or dairy products or stains from using animal products such as the leather.
Vegetarian: does not eat or believe in eating meat, fish, Fowl or any food drive from animals such as eggs or cheese. Uses fruits, vegetables, and grains for food sources.
Paleo: consume vegetables, fruits, nuts, lean meats, no grains, no processed foods.
Pescatarians: do not eat any land animals or birds such as beef pork chicken or turkey. Will eat fish and other seafood such as shrimp and clams. They do eat fruits, vegetables, beans, greens and nuts.
Lacto vegetarian: includes vegetables and dairy products such as milk, cheese, yogurt, butter, ghee, cream, Keefer but excludes eggs.
Food Catagories: Do you now what you are eating and how to combine them? (Just a few listed below)
Whole Grain, Gluten
Tamari, Coconut Aminos, Soy Sauce
Flax Seed, Chia Seed, hemp hearts, Tahini
Hummus, lentils, Tofu, beans
Nut Meat, Nut Milk, Quinoa
Micro greens, Sprouts
Spices: parts of the plant other than the leafy bit such as the root, stem, Bulb, bark or seeds ex: cinnamon, cloves, ginger and pepper.
Herbs: come from the leafy and green part of the plant. Ex: Basil, oregano, rosemary, Parsley, mint.
Spices and herbs add MAJOR nutrients to your meals, you can achieve therapeutic ranges when you use ORGANIC spices/herbs daily. Www.superfoodly.com
*What do I pair together to equal complete protein meal?
A nut or seed plus a legume equals a complete Protein.
BASIC PROTEIN NUTRITION INFO:**Even though you are worried about getting enough protein, you need to watch the Carbohydrate content of your meal. **
1/2 cup beans: average 7g protein Black, 7g protein garbanzo (20g carbs) 120 cal
1 small sweet potato: Not a nightshade 2g protein (22g carbs) 95 cal
1/2 cup yam: 2g protein (22g carb) ROOT Vegetable 95 cal
1/2 cup lentils (Legumes): average 9g protein (20g carb) 7g fiber
1/4cup Quinoa equals a cup cooked: 6g protein (29g carbs) 160 cal.
HAS ALL 9 ESSENTIAL AA
1 TBSP or 1/8cup nuts: walnuts: 2g protein (1g carb) 90cal
1 TBSP seeds: flax seeds: 3g protein (7g carb) 60 cal
1/2 cup brown rice: 5g protein (23g carbs) 150 cal
1/2 cup Black Rice: 10 LESS carbs than brown rice
4oz Tofu: 9g protein (3g carbs) 90cal
1/2 cup Soy beans: 14g (9g carbs) 150 cal
1 cup Avocado: balanced Meal!!! 3g protein (11g carbs) 7g fiber 22g fat 250 cal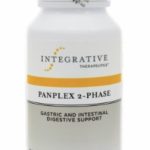 Digestive Enzymes
Panplex-2 Phase   Integrative Therapeutics
60 count $15.20     180 count $43.40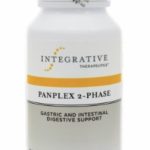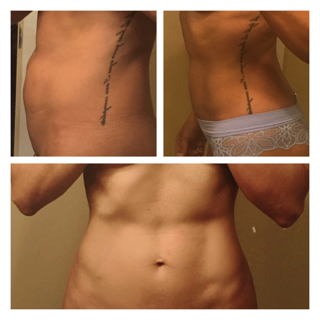 Are you functioning without a Gall Bladder?  Have you had it removed or any other parts missing due to surgery? Yes, you can live without them, but it hinders your health.  Each organ has a specific roll, and we MUST supplement to help our bodies do what it should naturally.  Especially as we age, we lose 50% HCL every decade, then lose the ability to make more the next decade of our lives.  This is one reason why it's harder to loss weight as we get older.  Our body simply can't do it without help.  This is a picture of a current client who started taking digestive enzymes and in a few short days she began to process the food she was eating.  No more "food babies" as I have heard it referred to as, the bloat and pain become so much less.
Panplex 2-Phase is a dual-action formula that provides support for both the gastric and intestinal phases of digestion.† This dual-phase supplement provides support for more complete digestion in both the stomach and intestinal tract. Panplex 2-Phase combines pancreatic enzymes with hydrochloric acid and pepsin for healthy digestion support.† Phase I gastric support includes hydrochloric acid and pepsin.† Phase II intestinal support includes pancreatin and bile salts in a delayed-release matrix designed to protect against deactivation of enzymes by stomach acids.
Servings Per Container: 90
Take 1 or 2 tablets three times daily with meals, or as recommended by your healthcare professional.
Do not chew. Not recommended for use if peptic ulcer, gastritis or heartburn is present.
Serving Size: 2 Tablets
Amount Per Serving
PHASE I
Betaine HCl … 320mg
Pepsin … 220mg 
(Concentrate)
L-Glutamic Acid HCl … 200mg
PHASE II
Pancreatin USP … 168mg    
(6X Concentrate)
Amylase (25, 200 USP units)
Protease (25, 200 USP units)
Lipase (2, 016 USP units)
Ox Bile Extract … 130mg
Other Ingredients: dicalcium phosphate, modified cellulose, stearic acid, calcium carbonate, cellulose, cottonseed oil, magnesium stearate, and silicon dioxide.
This Product Does Not Contain
-artificial coloring
-artificial flavoring
-corn
-dairy products
-gluten
-preservatives
-salt
-soy
-sugar
-yeast-wheat
-this product contains natural ingredients; color variations are normal