coconut nectar
now browsing by tag
Bone Broth Protein Pancakes
Paleo, Gluten Free, Dairy free
Happily serves 2-4
ALL ORGANIC INGREDIENTS
1/2 Cup Applesauce
3–4 Free Range eggs
1/4 Cup melted Coconut oil
1/2 Cup Coconut flour
4 scoops Bone Broth Protein Powder
1/8 tsp cinnamon
1/8 tsp Himalayan sea salt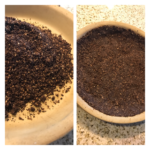 Triple Raw Chocolate Cheesecake
Vegan, GF, Refined sugar free
Happily serves 8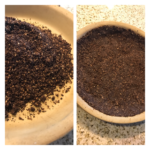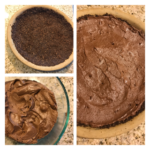 ALL ORGANIC INGREDIENTS
CRUST
1 cup pecans, ground (or mixture of pecans and walnuts)
3 medjool dates, soaked
1 tbsp maple syrup or coconut nectar
1/2 cup raw cacao powder
FILLING
8oz Vegan cream cheese
1/2 cup raw cocoa butter, melted
1/2 cup maple syrup or coconut nectar
1/2 cup water
1/2 cup raw cacao powder
2 tsp vanilla extract
CHOCOLATE GANACHE TOPPING
1/4 cup coconut oil, melted
1/4 cup raw cocoa butter melted
3 tbsp maple syrup or coconut palm syrup or coconut nectar
5 tsp raw cacao powder
1 tsp vanilla extract
Mix all the crust ingredients together in a food processor until crumbly and just starting to stick together. Press the mixture into the bottom of an 8 inch dish. Keep in the fridge while you make the filling.
Blend cream cheese with the melted cocoa butter, water and maple syrup until smooth and creamy. Then add in the cacao and vanilla, blend well. Spoon the mixture on to the base and smooth down evenly. Put in the freezer while you make the ganache topping. If you do not have the crust cold it will be hard to spread.
Stir maple syrup, cacao and vanilla into the melted oils until well combined and glossy. Let cool slightly but not so much that it starts to harden. Pour over the cheesecake, place in the fridge to set. Best if refrigerated for 4 hours or overnight before serving. I put mine in the freezer, cover to preserve.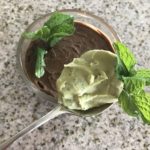 Cacao Mint Avocado Mousse
Vegan, GF, Paleo
Happily Serves 4-8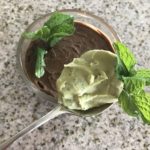 All Organic Ingredients


3 Avocados
1/2 cup coconut Nectar
1 Tsp vanilla extract
1/2 Cup Coconut oil, melted
2/3 cup fresh mint, stems off
1/4 tsp Himalayan Sea Salt
Lime juice to equal 3/4 cup plus zest
Optional: 1/2 cup Raw Cacao and stevia to sweetness desired

Place pitted avocado in food processor, blend well.
Add coconut oil, lime juice, vanilla, sea salt, coconut nectar, and add Mint leaves. Blend well.
Put in the freezer for 30 mints for a frosty treat.

Can change the taste of this by omitting the mint or the cacao to change things up a bit depending on cravings.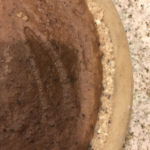 Raw Pumpkin Pie Recipe
Happily serves 8
Raw ,Vegan, Paleo, GF (Gluten Free
All organic ingredients
Crust
1 cup soaked dates 
1 cup pecans 
I cup walnuts (can use sub cashews or almonds) 
Optional: 1/4 cup figs 
1/8 teaspoon of Himalayan salt
To make the crust:
Add the nuts to the food processor and blend until they are like a rough flower then add the dates and salt.  Pulse together until it becomes a lumpy ball and then press into the bottom of a pie dish and refrigerate. 
Filling
1 baking pumpkin (about4-6cups) 
1 cup dates
4 TBSP softened coconut oil or coconut cream 
1/3 cup maple syrup (can sub coconut nectar)
1-4 TBSP Pumpkin pie spice (cinnamon, nutmeg, ginger and cloves)
To make the filling
Add pumpkin to the food processor until smooth. Add the other ingredients and process until smooth.  At this point you can transfer the filling to a high-powered blender and blend on the highest setting until It is smooth like the cooked version of pumpkin pie, or if you have a high-powered food processor you may blend it until smooth. Transfer the filling to your piecrust and let refrigerate for a few hours. 
You can used canned pumpkin, but fresh pumpkin is so much better tasting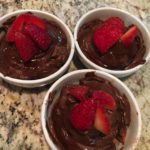 Cacao Avocado Mousse
Gluten Free, Vegan
Happily serves 4
ALL ORGANIC INGREDIENTS
3 Avocados
1/3 Cup Coconut nectar
1/2 Cup Raw cacao
1 tsp ground cinnamon
dash of allspice (optional)
2 vanilla beans, split and seeded
1/4 tsp Himalayan sea salt
Stevia drops if desired sweeter
Mash all ingredients together and enjoy!
Optional to add nut milk to thin out consistency.
Fresh mint leaf for garnish or chopped for added flavor
The Cacao is antioxidant rich, high in flavonoids, which are essential to a healthy cardiovascular system.  Cacao provides a natural form of iron for a natural energy boost.
The avocado provides heart healthy monounsaturated fats as well as a good amount of vitamin B5 and Vitamin K.  Avocados are known for promoting heart health, regulating blood sugar and are believed to potentially offer anti-cancer benefits, specifically when it comes to cancer of the mouth, skin and prostate gland. Avocados are very alkalizing to the body.