Beet
now browsing by tag
Holiday drinks!! What to do if you drink to little water and become dehydrated and have a hangover the following day?
If you are going to drink this holiday season, please be responsible and smart.  Always choose good quality ingredients and ORGANIC where you can.  Good rule of thumb is drink a glass of water after each mixed drink. This will not affect your "Buzz" It allows your body to metabolize the alcohol content.
Following the "fun" recipes I have listed a few tips to help sooth your guts.  Remember: if you are a coffee/caffeine person or drinker, those two deplete your B vitamins and fatigue/stress your adrenals out.  Supplements are strongly recommended to help keep levels normal.
I'd be more than happy to help create a meal plan for you to keep you on track during the holidays.  Happy creating!!
I found Bailey's Almond cream, it's gluten free and vegan.  Was a total hit at class.  The salted Caramel Kaula was a second win!  The Staff at Total Wine was so helpful in answering my questions since my knowledge lacks in this department.  Don't be afraid to ask….remember you are the consumer and you vote with your dollars so do so wisely.

Vegan Eggnog Chai Latte
Dairy Free, Vegan
Happily serves 1
ALL ORGANIC INGREDIENTS
8 oz So Delicious Eggnog
2 Chai Tea bags
1/2 cup espresso or Cold Brew
Optional: 2oz Kahula
Heat eggnog and 2 tea bags over medium heat, never allowing it to come to a boil. Stir often.
As soon as eggnog begins to form little bubbles remove from the heat.
Remove tea bags from eggnog.
Pour coffee in a mug and top with the chai spiced eggnog.
Serve immediately.
Peppermint White Russian Cocktail
Dairy Free
Happily serves 2
1/2 cup Kahlúa coffee liqueur
1/4 cup Peppermint flavored vodka (2 oz)
1/2 cup Coconut Cream or coconut egg nog
6-8 Ice cubes
Top of Glass:
1/8 cup vanilla frosting
1/4 cup peppermint candy bits
Apply a thin layer of vanilla frosting around the rims of both glasses.
Add the peppermint bits to a shallow bowl. Dip the rims of each glass into the candy, covering the frosting entirely. Chill for 10 minutes.
In a cocktail shaker, add the Kahlúa, vodka and coconut cream.
Shake it!
Pour into the peppermint-rimmed serving glasses filled with ice.
Hot Caramel Apple Cider
Vegan, Gluten Free (Use Tito's vodka or Towers-it's Gluten Free)
Happily serves 4
ALL ORGANIC INGREDIENTS
32 oz apple cider (Four 8 oz servings)
8 oz Caramel vodka
1 TBSP Cinnamon
OPTIONAL: 1/4 cup Coconut brown sugar (for rimming your glasses)
Mix all of the ingredients in a large pot.
Heat over medium-low heat, stirring occasionally until liquid just begins to steam
TIP: Heat to your desired temperature and then add the vodka to ensure the alcohol doesn't burn off.
Optional: While cider is warming up rim the mugs with brown sugar
BAILEYS Spiced Iced Cold Brew
Gluten Free, Dairy Free, Vegan
Happily serves 1
ALL ORGANIC INGREDIENTS
2 oz Baileys Almond Milk Liqueur
15 oz Cold brew
Cinnamon essential oil or cinnamon stevia
Nutmeg
Ice if desired
Combine Baileys with cinnamon oil/stevia, cold brew over ice.
Top with grated nutmeg.
Golden Milk
Dairy Free, Soy free, Gluten Free, Vegan, Yeast Free
Happily serves 1
ALL ORGANIC INGREDIENTS
1 Cup Almond or non dairy nut milk
1 TBSP Coconut oil
1 tsp Turmeric
1/4 tsp ground ginger
1/2 tsp ground cinnamon
1/8 tsp white pepper (or black)
1 scoop of collagen
Hangover Remedies:
1 scoop Can't Beet this (Purium)
8 oz Organic Coconut water
Optional but strongly recommended:
1 scoop Green Spectrum or "More Greens" (Purium)
8oz Bone Broth before bed
8oz Bone Broth first thing in the morning.
Avocado and sea salt for your first meal.
Collagen Vanilla Beetroot Power Shake
Vegan, Dairy Free, GF, Paleo

Happily serves 1
ALL ORGANIC INGREDIENTS
1 beet, peeled, chopped, steamed
1 cup FROZEN Blueberries or raspberries
2 cups steamed and drained spinach
1-2 TBSP lemon juice and zest
1 scoop Collagen powder
1 tsp wheatgrass powder, spirulina, or chlorella
1 tsp vanilla extract
1/2 tsp Cinnamon
1/2 cup Coconut water
Optional: Stevia
Add all Ingredients to Blender and blend til smooth.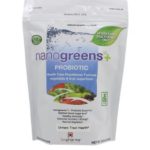 NanoGreens Plus Probiotic
BioPharma Scientific
300grams $54.95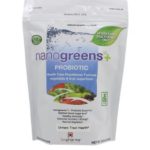 What makes nanogreens + probiotics different?
*Green powder mixed with DE111 Probiotic
*UTI Health Support
*Pouch Form -> Nitrogen Flushed
*5 Billion CFU dose after 2+ years
*DE111 Probiotic does not require special storage conditions like many other probiotics.
*Oral administration of Bacillus Subtilis DE111 helps digest and convert sugars and fats, and helps maintain glucose, cholesterol and triglyceride levels in the blood.
Vegan
Vegetarian
Gluten Free
All Natural
Non-GMO
Probiotic
Kid Friendly
How To Enjoy: Mix one scoop of nanogreens + probiotic with 6-8 oz of cold water, milk or juice. For best results, use shaker cup. Children under 12 should take 1/2 serving.  Refrigerate after opening.
Servings Per Container: 30
Serving Size: 10g (1 scoop)
Amount Per Serving
Calories … 45
Calories from Fat … 10
Total Fat … 1g
Total Carbohydrate … 7g
Dietary Fiber … 2g
Sugar … 2g
Protein … 2g
Vitamin A … 2500IU
(as Beta Carotene)
Vitamin C … 30mg
Sodium … 20mg
Potassium … 130mg
DE111®
Bacillus subtilis … 5 billion CFU
Greens Blend … 2250mg
(Proprietary)
Organic Barley Grass Juice, Spiruline, Chlorella
Phytonutrient Blend … 360mg
(Proprietary)
Green Tea Extract, Silybin (from Milk Thistle), Grape Seed Extract, Blueberry, Cranberry, Raspberry, Tart Cherry, Pine Bark Extract, Organic Broccoli, Tomato, Organic Carrot, Organic Spinach, Organic Kale, Bilberry, Elderberry, Pomegranate, Blackberry
Quercetin/Rutin … 100mg
50/50
Organic Rice Bran Soluble … 2081mg
Raspberry Extract … 50mg
(20% Ellagic Acid)
Organic Aloe Vera Powder Extract … 30mg
(100:1 freeze dried)
Fruit & Vegetable Blend … 930mg
(Proprietary) (freeze-dried, low temperature dried)
Organic Apple, Organic Carrot, Organic Mango, Organic Lemon, Organic Sweet Potato, Organic Peach, Organic Parsley, Organic Kale, Organic Broccoli, Organic Spinach, Organic Leek, Organic Cabbage, Beet, Organic Cranberry (Quinic Acid 6%)
Organic Acerola Cherry Powder … 175mg
(17.5% AscorbiC Acid)
Green Tea Extract, White Tea Extract … 100mg
(decaffeinated 50% Polyphenol)
Polygonum Cuspidatum Extract … 70mg
(15% Resveratrol)
Oat Beta Glucan … 1500mg
Cinnamon Blend … 50mg
(Proprietary)
cinnamon Extract 8%, Organic Cinnamon Bark Powder
Milk Thistle … 50mg
(20% Silymarin)
Marigold Extract … 50mg
(5% Lutein with Zeaxanthin)
Dunaliella Salina Extract … 100mg
(Natural Carotenoids)
Enzymes … 40mg
(Plant-based)
Alpha Amylase, Bromelain, Cellulase, Galactosidase, Glucoamylase, Hemicellulase, Lipase, Papain, Protease
Lecithin … 1000mg
(non GMO)
Lycopene Extract-10% … 25mg
(from tomato)
Organic Lemon Peel Powder … 25mg
Organic Quinoa Sprout … 90mg
Artichoke Extract … 20mg
(5% Cynarin)
Organic Atlantic Kelp Powder … 20mg
(laminaria Digitata, 0.4% Iodine)
Stevia Leaf Crystals … 200mg
(Stevia Rebaudiana)
Other Ingredients: Natural Flavors (Plant Based), Citric Acid, Soy Phospholipds.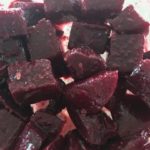 Fennel Seasoned Beets
GF, Vegan, Refined Sugar free
Happily serves 2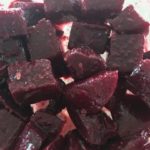 All Organic Ingredients
1 Golden or Red fresh beet
1/2-1 TBSP ground fennel seed
Sea salt to taste
1 TBSP melted coconut oil
1-2 tsp Chinese 5 Spice season.
1/2 TBSP Balsamic Vinegar (optional)
For Sweetness: You can add 1/8-1/4 tsp maple extract and cinnamon with stevia.
Wash and Peel beets. Either spirialize, slice or cube your beets so they cook faster. Roast in Convection oven for 15 mins. Remove and add seasonings. Toss, eat either warm or cold depending on preference.
One cup is recommended due to fiber count.
Option:
Use my coconut fennel sauce over Beets to change it up. Recipe list separate.