Fennel Seasoned Beets
GF, Vegan, Refined Sugar free
Happily serves 2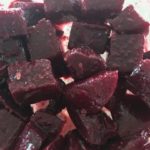 All Organic Ingredients
1 Golden or Red fresh beet
1/2-1 TBSP ground fennel seed
Sea salt to taste
1 TBSP melted coconut oil
1-2 tsp Chinese 5 Spice season.
1/2 TBSP Balsamic Vinegar (optional)
For Sweetness: You can add 1/8-1/4 tsp maple extract and cinnamon with stevia.
Wash and Peel beets. Either spirialize, slice or cube your beets so they cook faster. Roast in Convection oven for 15 mins. Remove and add seasonings. Toss, eat either warm or cold depending on preference.
One cup is recommended due to fiber count.
Option:
Use my coconut fennel sauce over Beets to change it up. Recipe list separate.