product
now browsing by tag
Control Pre-Meal CapsulesTM
30 servings $38.95
Self-control now comes in a capsule
Benefits:
* Can help curb cravings and reduce appetite
* Neutralizes starches found in processed carbohydrates
* Can support stabilized blood glucose
* May enhance mental alertness, endurance and stamina
* Helps you feel satisfied faster and takes the edge off your cravings
Purium`s CONTROL Pre-Meal CapsulesTM are specifically designed to help you eat less and reduce the impact of simple carbohydrates and sugars, lessening the possibility that your body will convert them into fat. It is a great addition to any weight loss regimen.
Instructions: Take two capsules three times per day (approximately one hour prior to meals) with 8oz of water or, take two to three capsules prior to any fatty meal or dessert followed by 8oz of water.
Interesting Facts:
* Nopal (Opuntia Streptacantha): promotes weight loss by absorbing water and providing a feeling of satiety. It has a positive effect on blood sugar and helps reduce the appetite and control carbohydrate cravings. It can also reduce cholesterol by promoting the excretion of fats from the body, and aids digestion by absorbing toxins from the bowel as well as increasing the rate at which food passes through the system.
* Garcinia Cambogia (fruit): inhibits the synthesis of fatty acids in the liver and promotes an increased availability of glycogen in the liver, thus sending a "full" signal to the brain sooner.
* Green Tea Extract: Extract: research has found that green tea increases the amount of energy spent by the body and holds promise as a treatment for obesity and other weight problems.
* American Ginseng (Panax quinquefolius): Dr Lin Yutang, a Chinese research scientist who spent a lifetime learning about ginseng, summed up his work by saying that, "The magic tonic and building qualities of ginseng are the most enduring, the most energy-giving, restorative qualities known to mankind, yet it is distinguished by the slowness and gentleness of its action."
* White Kidney Bean Extract (Phaseolus Vulgaris):
Final word from Dave:
Drawing from the wisdom of ancient culture, we have put together a product for the ages. From the shaman we take Opuntia, from Chinese medicine – Green Tea, from Ayurvedic – the garcinia cambogia, and the power of White American Ginseng and the newly discovered effect of the amazing white kidney bean. Brought together to give you the ultimate in CONTROL, self control, appetite control, glucose control, energy and most importantly, your weight.
- Dave Sandoval
GI Guard PM
Protocol for life balance
60 capsules $32.00
Maintains Healthy Mucosal Integrity
-With PepZin GI®, Melatonin, L-Tryptophan & B Vitamins
-Nighttime GI Support*
-A Dietary Supplement
-Vegetarian/Vegan
GI Guard™ PM is a nutritional formula with PepZin GI®, Melatonin, amino acids, and B Vitamins designed to help maintain the strength and integrity of the gastrointestinal mucosal barrier.* GI Guard™ PM features PepZin GI®, which has been shown in clinical studies to promote a healthy stomach lining and to support proper gut repair processes.* Melatonin, a potent free radical scavenger, is known to exist at high levels in the gut, where it exerts its protective effects against oxidative stress throughout the gastrointestinal tract.* Melatonin also helps support healthy gastric pH levels, normal pepsin production in the stomach, and helps to regulate proper intestinal motility.* B Vitamins and Amino Acids, such as L-Tryptophan are necessary for Melatonin synthesis.
Servings Per Container: 30
As a dietary supplement, take 1-2 capsules 30 to 60 minutes before bedtime, or take as directed by your healthcare practitioner.
Serving Size: 2 Veg Capsules
Amount Per Serving
Vitamin B-6 … 25mg 
(from Pyridoxine HCl)
Vitamin B-12 … 50mcg 
(as Cyanocobalamin)
Folic Acid … 800mcg
Zinc … 14mg 
(from PepZin GI®)
PepZin GI® … 75mg 
(Zinc-L-Carnosine Complex)
L-Carnosine … 57mg 
(from PepZin GI®)
Melatonin … 6mg
L-Tryptophan … 200mg
L-Methionine … 100mg
Trimethylglycine … 100mg 
(TMG)
Taurine … 100mg
Other Ingredients: Cellulose Powder, Cellulose (capsule), Silica and Magnesium Stearate (vegetable source).
Not manufactured with wheat, gluten, soy, milk, egg, fish, shellfish or tree nut ingredients. Produced in a GMP facility that processes other ingredients containing these allergens. CAUTIONS/INTERACTIONS: Do not drive or use machinery for 4 to 5 hours after taking melatonin. Theoretically, concomitant use of melatonin with alcohol, benzodiazepines, or other sedative drugs might cause additive sedation. Melatonin may interact with anticoagulant/anti-platelet medications, antidepressants, anti-hypertensives, anti-diabetes drugs, anti-neoplastic agents and other drugs. If you are taking any prescription medications or if you have glaucoma, consult your healthcare practitioner before using this product.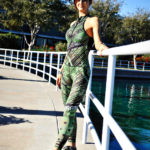 FABRICS & CARE
Wear it once, and you will never want to wear anything else! From petite to tall!
Our Supplex fabric has a weight of 330gm per m2, it is super thick, hiding any imperfections, and can stretch upto 5 times of its size, it is UV Proof, has 4 way stretch, and all fabrics are odour free!
We use the finest Brazilian Supplex and Brazilian Lycra Sport on the market, all from the leading Brazilian manufacturers. Our garments come complete with the official Supplex by Invista hangtags, something you should always look out for when buying your activewear made with Supplex, as to qualify for these brand hangtags the garments must meet the brands certification requirements.
SUPPLEX POWER – 88% Polyamide 12% Elastane. Perfect for high intensity activities and represents the very best in fitness fabric technology. It offers you the feel of cotton with the benefits of an advanced fibre technology, resulting in a fully breathable product which resists moisture and odours. Supplex Power is a firmer/stronger fabric known for its 'hold in' sensation, giving women smoother contours and great support, as the fabric has a mild lift and compressive effect. It is long lasting and doesn't shrink, pill, fade, or lose it's shape.
Main benefits:
Fully breathable
Minimizes the look of cellulite
Faster drying than cotton, lightweight
Colour fast, never fading colour
UV protection
SUPPLEX LIGHT– 90% Polyamide 10% Elastane. Sits at the very top of moisture management stretch fabrics. The fabric is woven and has the ability to wick moisture from the inner to the outer layer where it evaporates, making it perfect for intense high sweat exercises. It offers you the feel of cotton with the benefits of advanced fibre technology. Supplex is a light fabric and provides some support; it's long lasting and doesn't shrink, pill, fade or lose its shape or stretch. It has a matt finish so it doesn't highlight those not so smooth bits!
PRINTED SUPPLEX – is the same fabric as Supplex and has the same qualities, the only difference being it is printed.
LYCRA® SPORT – fabric has revolutionized sports apparel by delivering stretch and recovery power designed to help athletes move and perform at their best. It has been engineered specifically for sporting activities which require a combination of light weight, breathability, muscle support and freedom of movement benefits. LYCRA® SPORT fabric is designed to move with you, in all directions.
CIRE – Is a lightweight performance fabric with a shiny surface and high compression qualities. It has a lustrous patent leather effect. It's name was derived by the French verb cire, meaning to wax or polish. Fabrics like nylon or polyester are 'cired' by calendering with heat and pressure to give our garments a medium shine finish. It hugs the body but is extremeley comfortable, and dries quickly.
DRY – Is a lightweight, breathable fabric which has the ability to facilitate perspiration, keep the body dry and temperature stable.  The fabric has opaque wires which protect against UV A and UV B Rays. This supersoft fabric has a high percentage of elastane to create comfort and give freedom of movement.
AMNI – Polyamide 90% 10% Spandex. Fiber offers a cooler touch to the skin. It is fully breathable, long lasting and colour fast. It gives a close and supportive fit whilst allowing unrestricted freedom of body movement.
JUMP  – 93% Polyamide 7% Elastane. Jump mesh is a mesh with stretch. It provides a silky texture and is soft on the skin. It reduces body heat by wicking sweat away from the skin and is fully breathable.
NEW TRIP – 92% Polyamide 8% Elastane. Another stretch fabric.
VISCOLYCRA – 95% Viscose 5% Spandex Material is soft and similar to cotton offering extreme comfort. It is breathable and absorbs moisture.
EMANA – Rosset – 88% Polyamide 12% Elastane. A unique fabric that combines the polyamides property with bio-active crystals that activate the blood micro-circulation, allowing the creation of sportswear apparel in total interaction with the body. Increased wear will help reduce the signs of cellulite, improve skin tone and firmness when in contact with the skin for more than 6hours. It uses FIR infrared technology and electromagnetic waves, which are invisible to the naked eye, without any collateral damage to biological tissues.
Emana includes a series of benefits, that are:
Increased collagen synthesis in the skin
Reduction of the roughness of the skin
Increased skin elasticity
Reduction in muscular lactic acid
Improvements on the signs of cellulite
A continuous and constant massaging effect of the skin through the natural movements of the body
CARE INSTRUCTIONS
Turmeric Curcumin 1000mg
Patient One MediNutritionals
60 capsules $21.25
Promotes normal inflammatory response while also supporting joint, immune, gastrointestinal, and cardiovascular function
Promotes immune system function
* Supports brain and joint health
* Promotes healthy liver, gall bladder and digestive function
* Free radical scavenging properties
* Supports cardiovascular function
* Black pepper included for enhanced absorption
Unique Properties
Curcumin, a polyphenol nutrient found in the spice turmeric (Curcuma longa), has beneficial effects for nearly every organ system in the body. Used for its medicinal effects for centuries and extensively studied, Curcumin has been shown to help maintain the bodys normal inflammatory response while also supporting joint, liver, gastrointestinal, and cardiovascular function. To enhance the normally poor bioavailability of curcumin, our potent formula also contains black pepper extract that promotes rapid absorption of nutrients from the gastrointestinal tract.
Key Ingredients
Turmeric (Curcuma longa)
Patient One Turmeric Curcumin combines the benefits of both whole Turmeric root and Turmeric extract (standardized to 95% curcuminoids), along with black pepper extract for enhanced absorption.
Curcumin is the orange pigment in turmeric (the primary ingredient in curry) and has been studied for its effective therapeutic outcomes acting as an antioxidant, anti-inflammatory, antispasmodic, anticoagulant, immuno-modulatory activities and even in wound healing. Research suggests support for joint, eye, GI tract, liver, prostate and nerve health.
Curcumin supports production of B and T cells which is useful for promoting proper immune function. It also supports production of bile and enzymes that digest sugars and fats. This helps to maintain cholesterol levels within normal range. Turmeric supports intestinal flora and the mucus membranes of the body, including those of the digestive tract. As such, it may be beneficial after a course of antibiotics and for those with unbalanced intestinal flora. It also helps protect the stomach against excess acid and is used for its soothing effect on the mucosa of the gut.
Black Pepper Extract (as BioPerine®)
It has been found that the therapeutic effectiveness of curcumin is often limited due to its poor absorption from the GI tract. When taken orally only traces appear in the blood, whereas most of the dose is excreted though the feces. Our formula includes BioPerine®, a patented extract derived from the common black pepper fruit that contains the alkaloid piperine. Black pepper has been shown to enhance the bioavailability and promote absorption of curcumin both in pre-clinical studies and in studies on human volunteers.
Research
* Several studies have illustrated curcumins hepatoprotective effects, leading researchers to suggest its use in protecting the liver from exogenous insults from environmental toxins.
Servings Per Container: 60
Take 1 capsule daily, preferably with a meal, or as directed by a qualified healthcare professional.
Serving Size: 1 capsule
Amount Per Serving
Turmeric Complex Proprietary Blend … 1000mg
Turmeric (Curcuma longa) (root) and Turmeric Extract (Curcuma longa) (root) (Standardized to contain 95% Curcuminoids) 
BioPerine® Black Pepper Extract … 5mg
(Piper nigrum) (fruit) (Standardized to contain 95% piperine)
Other Ingredients: vegetable cellulose (capsule), rice powder, l-leucine
This product is free of milk, egg, fish, peanuts, crustacean shellfish (lobster, crab, shrimp), soybeans, tree nuts, wheat, yeast, gluten, corn, sugar, and artificial sweeteners, flavors, colors and preservatives. This product is free of ingredients derived from genetically modified organisms (GMOs).
BioPerine® is a registered trademark and patented product of Sabinsa Corporation
References
* Shoba G, Joy D, Joseph T, et al. Influence of piperine on the pharmacokinetics of curcumin in animals and human volunteers. Planta Med 1998 May;64(4):353-56. [PMID: 9619120]
* Jagetia GC, Aggarwal BB. "Spicing up" of the immune system by curcumin. J Clin Immunol. 2007 Jan;27(1):19-35. [PMID: 17211725]
* Funk JL, Oyarzo JN, Frye JB, et al. Turmeric extracts containing curcuminoids prevent experimental rheumatoid arthritis. J Nat Prod. 2006 Mar;69(3):351-55. [PMID: 16562833]
* Jurenka JS. Anti-inflammatory properties of curcumin, a major constituent of Curcuma longa: a review of preclinical and clinical research. Altern Med Rev. 2009 Jun;14(2):141-53. [PMID: 19594223]
* Ng T, et al. Am J Epidemiol. 2006;164:898-906.
* Sun AY, Wang Q, Simonyi A, et al. Botanical phenolics and brain health. Neuromolecular Med. 2008;10(4):259-74. [PMID: 19191039]
* Neelofar K, Shreaz S, Rimple B, et al. Curcumin as a promising anticandidal of clinical interest. Can J Microbiol. 2011 Mar;57(3):204-10. [PMID: 21358761]
* Epstein J, Docena G, MacDonald TT, et al. Curcumin suppresses p38 mitogen-activated protein kinase activation, reduces IL-1beta and matrix metalloproteinase-3 and enhances IL-10 in the mucosa of children and adults with inflammatory bowel disease. Br J Nutr. 2010 Mar;103(6):824-32. [PMID: 19878610]
* Ukil A, Maity S, Karmakar S, et al. Curcumin, the major component of food flavour turmeric, reduces mucosal injury in trinitrobenzene sulphonic acid-induced colitis. Br J Pharmacol. 2003 May;139(2):209-18. [PMID: 12770926]
* Holt PR, Katz S, Kirshoff R. Curcumin therapy in inflammatory bowel disease: a pilot study. Dig Dis Sci. 2005 Nov;50(11):2191-93. [PMID:16240238]
* Lal B, Kapoor AK, Asthana OP, et al. Efficacy of curcumin in the management of chronic anterior uveitis. Phytother Res. 1999 Jun;13(4):318-22. [PMID: 10404539]
* Xie L, Li XK, Takahara S. Curcumin has bright prospects for the treatment of multiple sclerosis. Int Immunopharmacol . 2011 Mar;11(3):323-30. [20828641]
* Martins CV, da Silva DL, Neres AT, et al. Curcumin as a promising antifungal of clinical interest. J Antimicrob Chemother. 2009 Feb;63(2):337-39. [PMID: 19038979]
* Mythri RB, Harish G, Dubey SK, et al. Glutamoyl diester of the dietary polyphenol curcumin offers improved protection against peroxynitrite-mediated nitrosative stress and damage of brain mitochondria in vitro: implications for Parkinsons disease. Mol Cell Biochem. 2011 Jan;347(1-2):135-43. [PMID: 20972609]
* Ravindran J, Prasad S, Aggarwal BB. Curcumin and cancer cells: how many ways can curry kill tumor cells selectively? AAPS J . 2009 Sep;11(3):495-510. [PMID: 9619120]
* Goel A, Aggarwal BB. Curcumin, the golden spice from Indian saffron, is a chemosensitizer and radiosensitizer for tumors and chemoprotector and radioprotector for normal organs. Nutr Cancer. 2010 Oct;62(7):919-30. [PMID: 20924967]
* Choi H, Chun YS, Shin YJ, et al. Curcumin attenuates cytochrome P450 induction in response to 2, 3, 7, 8-tetrachlorodibenzo-p-dioxin by ROS- dependently degrading AhR and ARNT. Cancer Sci. 2008 Dec;99(12):2518-24. [PMID: 19018768]
* Zhang, Dong Wei, Chuang Fang Huang, Chang Fu Yang, Ren Zuo Liu, Ji Feng Wang, Jian Zhao Niu, and Dieter Bromme. "Antifibrotic Effects of Curcumin Are Associated with over Expression of Cathespins K and L in Bleomycin Treated Mice and Human Fibroblasts." Respiratory Research. Respiratory Research, 2011.
* Davis, J. Mark. "Curcumin Effects on Inflammation and Performance Recovery following Eccentric Exercise-induced Muscle Damage." Am J Physiol Regul Integr Comp Physiol. American Physiological Society, 2007.
* Karlstetter, Marcus, Elena Lippe, Yana Walczak, Chistoph Moehle, Alexander Aslanidis, Myriam Mirza, and Thomas Langmann. "Curcumin Is a Potent Modulator of Microglial Gene Expression and Migration." Journal of Neuroinflammation. Journal of Neuroinflammation, 2011.
Warnings
If pregnant, nursing, have gall stones or gall bladder disease, consult your healthcare practitioner before taking this product. Individuals taking medication, especially blood thinners or cancer treatment, should discuss potential interactions with their healthcare practitioner. Discontinue use and consult doctor if any adverse reactions occur.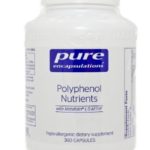 Polyphenol Nutrients
Pure Encapsulations
120 capsules $48.80
360 capsules $82.10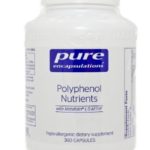 Now with Metafolin® L-5-MTHF Powerful polyphenol-rich multivitamin and multimineral formula with additional protection factors *Packed with flavonoids and phenolic compounds from a unique blend of olive fruit, grape seed, pomegranate, green tea, quercetin and blueberry, this formula offers powerful overall cellular protection. It also contains the protective nutrients alpha lipoic acid, NAC, inositol and choline to complement the neural, cognitive, cardiovascular, liver and skin health properties of this diverse profile. Furthermore, Polyphenol Nutrients provides the advanced mineral delivery systems and active vitamin cofactors found in Nutrient 950® and UltraNutrient® for optimal bioavailability and utilization. As part of a well-balanced diet that is low in saturated fat and cholesterol, folic acid, vitamin B6 and vitamin B12 may reduce the risk of vascular disease.† †FDA evaluated the above claim and found that while it is known that diets low in saturated fats and cholesterol reduce the risk of heart disease and other vascular diseases, the evidence in support of the above claim is inconclusive. Polyphenol Nutrients is a nutrient dense multivitamin and mineral formula enhanced with an exceptional combination of polyphenols and specialized compounds for extensive physiological protection.
Servings Per Container: 30
Take 4–6 capsules per day, in divided doses, with meals.
Serving Size: 6 vegetable capsules
Amount Per Serving
vitamin A … 7, 500IU 
(as beta carotene)
vitamin C … 500mg 
(as ascorbic acid)
vitamin D … 800IU 
(as cholecalciferol)(D3)
vitamin E … 100IU 
(as d-alpha tocopherol succinate)
thiamin … 50mg 
(as thiamin HCl)(B1)
riboflavin … 25mg 
(vitamin B2)
niacin … 75mg 
(as niacin and 67% niacinamide)
vitamin B6 … 12.5mg 
(as pyridoxine HCl)
folate … 800mcg 
(as Metafolin®, L-5-MTHF)
vitamin B12 … 500mcg 
(as methylcobalamin)
biotin … 800mcg
pantothenic acid … 50mg 
(as calcium pantothenate)(B5)
calcium … 300mg 
(as calcium citrate)
iodine … 200mcg 
(as potassium iodide)
magnesium … 150mg 
(as magnesium citrate)
zinc … 15mg 
(as zinc picolinate)
selenium … 200mcg 
(as selenomethionine)
copper … 2mg 
(as copper glycinate)
manganese … 5mg 
(as manganese aspartate)
chromium … 100mcg 
(as chromium polynicotinate)
molybdenum … 100mcg 
(as molybdenum aspartate)
potassium … 99mg 
(as potassium aspartate)
boron … 2mg 
(as boron glycinate)
vanadium … 100mcg 
(as vanadium aspartate)
ascorbyl palmitate … 120mg 
(fat-soluble vitamin C)
riboflavin 5phosphate … 12.5mg 
(activated B2)
pyridoxal 5 phosphate … 12.5mg 
(activated B6)
mixed carotenoids … 425mcg 
(as lutein, lycopene, zeaxanthin)
n-acetyl-l-cysteine … 100mg 
(free-form)
choline bitartrate … 100mg
inositol … 125mg
alpha lipoic acid … 100mg 
(thioctic acid)
MacularSynergy Complex
lutein … 6mg
zeaxanthin … 1mg
CellHealth Polyphenols
quercetin … 50mg
blueberry extract … 100mg
(Vaccinium angustifolium)(fruit)
(standardized to contain 1.5% anthocyanins)1.5 mg.
olive extract … 50mg
(Olea europaea l.)(fruit)
(standardized to provide 1% hydroxytyrosol)
pomegranate extract … 100mg
(Punica granatum l.)(fruit)
(standardized to contain 5% ellagic acid)5 mg.
grape extract … 50mg
(Vitis vinifera)(seed)
(standardized to contain 92% polyphenols)
green tea extract … 100mg
(camellia sinensis)(leaf)
(standardized to contain 65% total tea catechins, 23% epigallocatechin (EGCG))
other ingredients: vegetarian capsule (cellulose, water)
If pregnant or lactating, consult your physician before taking this product. In rare cases, alpha lipoic acid may cause skin rash or hypoglycemia. Individuals who are sensitive may experience heartburn. Rare side effects of NAC may include nausea, vomiting, headache, dry mouth, dizziness, or abdominal pain. Large doses of choline may cause nausea, diarrhea or dizziness.
Polyphenol nutrients contains vitamin E and grape seed extract which may react with blood thinning and other heart medications. Green tea extract may interfere with the absorption and effectiveness of a number of medications including certain heart, blood thinning, antidiarrheal, and cold or hay fever medications. Consult your physician for more information.
FloraGlo lutein is a registered trademark of Kemin Industries, Inc. Zeaxanthin is sourced from OPTISHARP™ brand. OPTISHARP™ is a trademark of DSM Nutritional Products, Inc. Metafolin® is a registered Trademark of Merck KGaA, Darmstadt, Germany.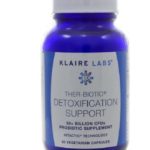 Ther-Biotic Detox Support
Klair Labs
60 capsules
$53.95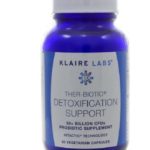 High-potency, 50+ billion CFUs.
Ther-Biotic Detoxification Support delivers large amounts of specific 
probiotics to the intestinal tract to complement detoxification protocols such 
as broad-spectrum antibiotics, anti-fungal/anti-microbial medications, or heavy 
metal chelating agents that can compromise friendly flora. Toxins and metabolic 
by-products generated during use of these agents can exacerbate intestinal 
dysbiosis and disturb the healthy balance of intestinal flora.
Ther-Biotic Detoxification Support provides two colonizing Lactobacillus and 
one endogenous Bifidobacterium probiotic species that can support the body's 
natural detoxification process by metabolizing or reducing the uptake of toxins 
in the gut thereby facilitating the elimination of toxins and by-products from 
the intestinal tract. Formulated with 50+ billion CFUs per capsule, Ther- 
Biotic Detoxification Support uses our proprietary InTactic technology to 
ensure maximum delivery of live microorganisms throughout the intestinal tract. 
Once a healthy balance of intestinal flora is achieved, use of Ther-Biotic 
Complete or Vital-10 is recommended for daily maintenance. This product is 
often suitable for individuals adhering to the Specific Carbohydrate Diet (SCD) 
program.*
FUNCTIONS OF PROBIOTIC STRAINS IN THER-BIOTIC DETOXIFICATION SUPPORT
Lactobacilllus rhamnosus
• Favorably enhances innate and acquired immunity
• Modulates immune tolerance and inhibits production of the proinflammatory 
cytokines
• Outstanding adherence to colon epithelial cell lines
• Suppresses the internalization of pathogenic Escherichia coli
Bifidobacterium bifidum
• Colonizes the large intestine and vaginal tract controlling yeast populations
• Competes with pathogens for nutrients and attachment sites
• Produces acetic & lactic acids, lowering colonic pH and inhibiting pathogens
• Suppresses total & antigen-specific IgE production
• Promotes IgA response to C. difficile toxin A
Lactobacillus casei
• Makes a number of proline-specific peptidases enabling efficient break down 
of casein, casein-derived polypeptides, and gluten
• Beneficially modulates cells associated with innate immune responses
• Enhances the number of IgA-producing cells
• Decreases the secretion of proinflammatory cytokines
Servings Per Container: 60
As a dietary supplement, take one (1) capsule daily or as directed by a physician.
Serving Size: 1 Capsule
Amount Per Serving
Probiotic Blend … 285mg
Lactobacillus rhamnosus … 20+ billion CFUs
Lactobacillus casei … 20+ billion CFUs
Bifidobacterium bifidum … 10+ billion CFUs
Other Ingredients: Vegetarian capsule (hydroxypropyl methylcellulose, water), 
InTactic proprietary polysaccharide complex, and L-leucine.
*Contains InTactic polysaccharide complex that may not be suitable for strict
adherence with SCD protocols.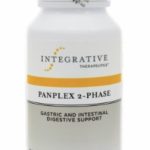 Digestive Enzymes
Panplex-2 Phase   Integrative Therapeutics
60 count $15.20     180 count $43.40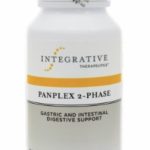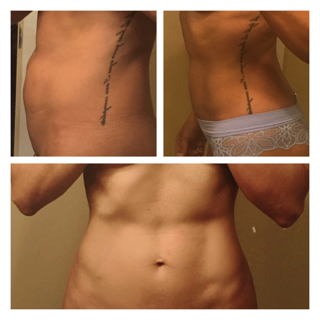 Are you functioning without a Gall Bladder?  Have you had it removed or any other parts missing due to surgery? Yes, you can live without them, but it hinders your health.  Each organ has a specific roll, and we MUST supplement to help our bodies do what it should naturally.  Especially as we age, we lose 50% HCL every decade, then lose the ability to make more the next decade of our lives.  This is one reason why it's harder to loss weight as we get older.  Our body simply can't do it without help.  This is a picture of a current client who started taking digestive enzymes and in a few short days she began to process the food she was eating.  No more "food babies" as I have heard it referred to as, the bloat and pain become so much less.
Panplex 2-Phase is a dual-action formula that provides support for both the gastric and intestinal phases of digestion.† This dual-phase supplement provides support for more complete digestion in both the stomach and intestinal tract. Panplex 2-Phase combines pancreatic enzymes with hydrochloric acid and pepsin for healthy digestion support.† Phase I gastric support includes hydrochloric acid and pepsin.† Phase II intestinal support includes pancreatin and bile salts in a delayed-release matrix designed to protect against deactivation of enzymes by stomach acids.
Servings Per Container: 90
Take 1 or 2 tablets three times daily with meals, or as recommended by your healthcare professional.
Do not chew. Not recommended for use if peptic ulcer, gastritis or heartburn is present.
Serving Size: 2 Tablets
Amount Per Serving
PHASE I
Betaine HCl … 320mg
Pepsin … 220mg 
(Concentrate)
L-Glutamic Acid HCl … 200mg
PHASE II
Pancreatin USP … 168mg    
(6X Concentrate)
Amylase (25, 200 USP units)
Protease (25, 200 USP units)
Lipase (2, 016 USP units)
Ox Bile Extract … 130mg
Other Ingredients: dicalcium phosphate, modified cellulose, stearic acid, calcium carbonate, cellulose, cottonseed oil, magnesium stearate, and silicon dioxide.
This Product Does Not Contain
-artificial coloring
-artificial flavoring
-corn
-dairy products
-gluten
-preservatives
-salt
-soy
-sugar
-yeast-wheat
-this product contains natural ingredients; color variations are normal