green tea
now browsing by tag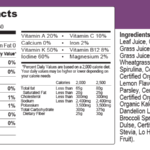 Organic Green Spectrum-Sea Plants
Add a scoop to your green tea, or water.  There's no way you can eat the amount of greens your body needs to repair itself from the stress and illness and disease we deal with these days.  Help cleanse your blood and restore your pH.
Organic Green Spectrum Purium
60 servings $39.95
Earth is the ultimate prism. Every green plant captures a different wavelength of light and energy from the sun. Spectrum Greens is a beautiful collection of juices from sea plants, field grasses and garden vegetables. This product will alkalize your body, build up your blood, and cleanse your cells.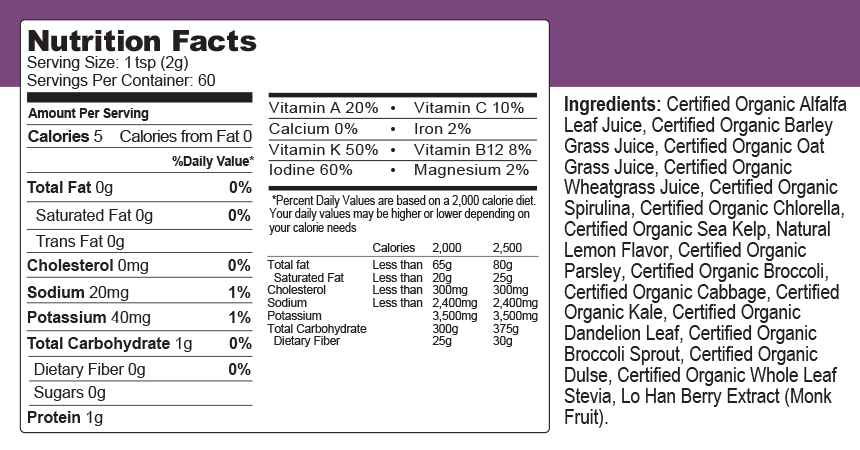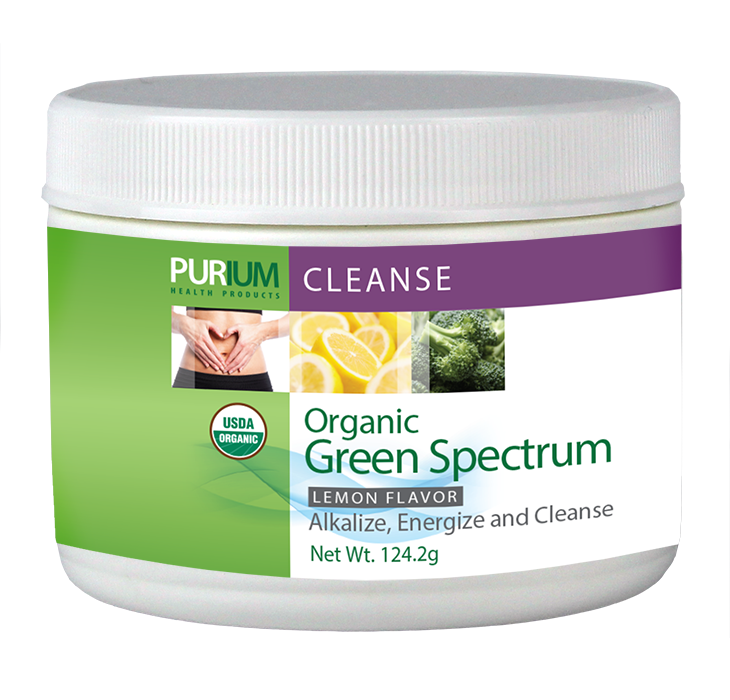 Control Pre-Meal CapsulesTM
30 servings $38.95
Self-control now comes in a capsule
Benefits:
* Can help curb cravings and reduce appetite
* Neutralizes starches found in processed carbohydrates
* Can support stabilized blood glucose
* May enhance mental alertness, endurance and stamina
* Helps you feel satisfied faster and takes the edge off your cravings
Purium`s CONTROL Pre-Meal CapsulesTM are specifically designed to help you eat less and reduce the impact of simple carbohydrates and sugars, lessening the possibility that your body will convert them into fat. It is a great addition to any weight loss regimen.
Instructions: Take two capsules three times per day (approximately one hour prior to meals) with 8oz of water or, take two to three capsules prior to any fatty meal or dessert followed by 8oz of water.
Interesting Facts:
* Nopal (Opuntia Streptacantha): promotes weight loss by absorbing water and providing a feeling of satiety. It has a positive effect on blood sugar and helps reduce the appetite and control carbohydrate cravings. It can also reduce cholesterol by promoting the excretion of fats from the body, and aids digestion by absorbing toxins from the bowel as well as increasing the rate at which food passes through the system.
* Garcinia Cambogia (fruit): inhibits the synthesis of fatty acids in the liver and promotes an increased availability of glycogen in the liver, thus sending a "full" signal to the brain sooner.
* Green Tea Extract: Extract: research has found that green tea increases the amount of energy spent by the body and holds promise as a treatment for obesity and other weight problems.
* American Ginseng (Panax quinquefolius): Dr Lin Yutang, a Chinese research scientist who spent a lifetime learning about ginseng, summed up his work by saying that, "The magic tonic and building qualities of ginseng are the most enduring, the most energy-giving, restorative qualities known to mankind, yet it is distinguished by the slowness and gentleness of its action."
* White Kidney Bean Extract (Phaseolus Vulgaris):
Final word from Dave:
Drawing from the wisdom of ancient culture, we have put together a product for the ages. From the shaman we take Opuntia, from Chinese medicine – Green Tea, from Ayurvedic – the garcinia cambogia, and the power of White American Ginseng and the newly discovered effect of the amazing white kidney bean. Brought together to give you the ultimate in CONTROL, self control, appetite control, glucose control, energy and most importantly, your weight.
- Dave Sandoval
Urinary tract Info

:
Commonly also call bladder infections. There is a disturbance in the bacterial flora that protects the urinary track and anabiotic's lead to reoccurring infections.
Doubling probiotics such as L. Acidophilus is highly recommended. At least 20 billion CFU's. 50-100Billion CFU's would be more beneficial and HIGHLY recommended.
Acidity levels are too high in the body when the pH is disrupted there is fermentation of vaginal glycogen to lactic acid. Alkalinity is Key, must add more Green into the diet. ORGANIC EATING is SO Very IMPORTANT!!!
Eliminating of dairy, yeast, and soy products are recommended to rebalance pH. Limiting grains, sugar, caffeine, and alcohol, and refined carbohydrates.
At least 64 oz water a day. Decaffeinated tea counts as water. Eliminate food allergens. Allergy Blood work is your best Road map to gut and immune support and healing.  Blood Tests are available and easy!
Recommended foods:
Use healthy cooking oil such as olive oil (don't heat olive oil) or coconut oil.
Eat Less red meats and more lean meats such as fish, but no soy.
High fiber foods include beans root vegetables such as yams or sweet potatoes and psyllium husk.
Antioxidant rich foods including vegetables like bell peppers and squash.
**Fruit in the morning including cranberries, blueberries,and cherries. If you're going to drink juice make sure that it is unsweetened. Please eat your fruit, better for you unless you are juicing. Best for digestion if fruit is first thing in the morning and by itself or for your first snack, eaten alone.**
Recommended Vitamins:
Probiotics and digestive enzymes ALWAYS!! Double if taking antibiotics!
Multi Vitamin
Vit D: 2000-4000 IU
Fish oils 1000mg and or Flax seed, 3x a day. Could go up to 6000mg
Super Greens
Amino Acids
Vit C: 1000mg a day
Grape seed oil 100-300mg
Magnesium 200-300mg 3x a day
Zinc: 30mg a day
Recommended Botanicals:
Cranberry
Aloe Vera: up to 32oz per day
Gotu Kola is great extract tea to help balance pH. 60-120mg
Uva Ursi ( upland cranberry or bearberry) is a powerful antiseptic herb.
Dried leaves or tea: 1.5-4.0 (1-2 tsp)
Goldenseal herb has antimicrobial agents. Dried root or tea: 1-2g
Other herbs that are recommended: green tea, cats claw, milk thistle, and reishi mushroom.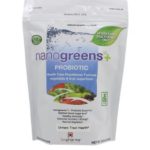 NanoGreens Plus Probiotic
BioPharma Scientific
300grams $54.95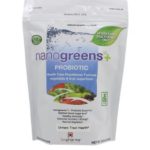 What makes nanogreens + probiotics different?
*Green powder mixed with DE111 Probiotic
*UTI Health Support
*Pouch Form -> Nitrogen Flushed
*5 Billion CFU dose after 2+ years
*DE111 Probiotic does not require special storage conditions like many other probiotics.
*Oral administration of Bacillus Subtilis DE111 helps digest and convert sugars and fats, and helps maintain glucose, cholesterol and triglyceride levels in the blood.
Vegan
Vegetarian
Gluten Free
All Natural
Non-GMO
Probiotic
Kid Friendly
How To Enjoy: Mix one scoop of nanogreens + probiotic with 6-8 oz of cold water, milk or juice. For best results, use shaker cup. Children under 12 should take 1/2 serving.  Refrigerate after opening.
Servings Per Container: 30
Serving Size: 10g (1 scoop)
Amount Per Serving
Calories … 45
Calories from Fat … 10
Total Fat … 1g
Total Carbohydrate … 7g
Dietary Fiber … 2g
Sugar … 2g
Protein … 2g
Vitamin A … 2500IU
(as Beta Carotene)
Vitamin C … 30mg
Sodium … 20mg
Potassium … 130mg
DE111®
Bacillus subtilis … 5 billion CFU
Greens Blend … 2250mg
(Proprietary)
Organic Barley Grass Juice, Spiruline, Chlorella
Phytonutrient Blend … 360mg
(Proprietary)
Green Tea Extract, Silybin (from Milk Thistle), Grape Seed Extract, Blueberry, Cranberry, Raspberry, Tart Cherry, Pine Bark Extract, Organic Broccoli, Tomato, Organic Carrot, Organic Spinach, Organic Kale, Bilberry, Elderberry, Pomegranate, Blackberry
Quercetin/Rutin … 100mg
50/50
Organic Rice Bran Soluble … 2081mg
Raspberry Extract … 50mg
(20% Ellagic Acid)
Organic Aloe Vera Powder Extract … 30mg
(100:1 freeze dried)
Fruit & Vegetable Blend … 930mg
(Proprietary) (freeze-dried, low temperature dried)
Organic Apple, Organic Carrot, Organic Mango, Organic Lemon, Organic Sweet Potato, Organic Peach, Organic Parsley, Organic Kale, Organic Broccoli, Organic Spinach, Organic Leek, Organic Cabbage, Beet, Organic Cranberry (Quinic Acid 6%)
Organic Acerola Cherry Powder … 175mg
(17.5% AscorbiC Acid)
Green Tea Extract, White Tea Extract … 100mg
(decaffeinated 50% Polyphenol)
Polygonum Cuspidatum Extract … 70mg
(15% Resveratrol)
Oat Beta Glucan … 1500mg
Cinnamon Blend … 50mg
(Proprietary)
cinnamon Extract 8%, Organic Cinnamon Bark Powder
Milk Thistle … 50mg
(20% Silymarin)
Marigold Extract … 50mg
(5% Lutein with Zeaxanthin)
Dunaliella Salina Extract … 100mg
(Natural Carotenoids)
Enzymes … 40mg
(Plant-based)
Alpha Amylase, Bromelain, Cellulase, Galactosidase, Glucoamylase, Hemicellulase, Lipase, Papain, Protease
Lecithin … 1000mg
(non GMO)
Lycopene Extract-10% … 25mg
(from tomato)
Organic Lemon Peel Powder … 25mg
Organic Quinoa Sprout … 90mg
Artichoke Extract … 20mg
(5% Cynarin)
Organic Atlantic Kelp Powder … 20mg
(laminaria Digitata, 0.4% Iodine)
Stevia Leaf Crystals … 200mg
(Stevia Rebaudiana)
Other Ingredients: Natural Flavors (Plant Based), Citric Acid, Soy Phospholipds.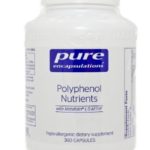 Polyphenol Nutrients
Pure Encapsulations
120 capsules $48.80
360 capsules $82.10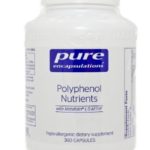 Now with Metafolin® L-5-MTHF Powerful polyphenol-rich multivitamin and multimineral formula with additional protection factors *Packed with flavonoids and phenolic compounds from a unique blend of olive fruit, grape seed, pomegranate, green tea, quercetin and blueberry, this formula offers powerful overall cellular protection. It also contains the protective nutrients alpha lipoic acid, NAC, inositol and choline to complement the neural, cognitive, cardiovascular, liver and skin health properties of this diverse profile. Furthermore, Polyphenol Nutrients provides the advanced mineral delivery systems and active vitamin cofactors found in Nutrient 950® and UltraNutrient® for optimal bioavailability and utilization. As part of a well-balanced diet that is low in saturated fat and cholesterol, folic acid, vitamin B6 and vitamin B12 may reduce the risk of vascular disease.† †FDA evaluated the above claim and found that while it is known that diets low in saturated fats and cholesterol reduce the risk of heart disease and other vascular diseases, the evidence in support of the above claim is inconclusive. Polyphenol Nutrients is a nutrient dense multivitamin and mineral formula enhanced with an exceptional combination of polyphenols and specialized compounds for extensive physiological protection.
Servings Per Container: 30
Take 4–6 capsules per day, in divided doses, with meals.
Serving Size: 6 vegetable capsules
Amount Per Serving
vitamin A … 7, 500IU 
(as beta carotene)
vitamin C … 500mg 
(as ascorbic acid)
vitamin D … 800IU 
(as cholecalciferol)(D3)
vitamin E … 100IU 
(as d-alpha tocopherol succinate)
thiamin … 50mg 
(as thiamin HCl)(B1)
riboflavin … 25mg 
(vitamin B2)
niacin … 75mg 
(as niacin and 67% niacinamide)
vitamin B6 … 12.5mg 
(as pyridoxine HCl)
folate … 800mcg 
(as Metafolin®, L-5-MTHF)
vitamin B12 … 500mcg 
(as methylcobalamin)
biotin … 800mcg
pantothenic acid … 50mg 
(as calcium pantothenate)(B5)
calcium … 300mg 
(as calcium citrate)
iodine … 200mcg 
(as potassium iodide)
magnesium … 150mg 
(as magnesium citrate)
zinc … 15mg 
(as zinc picolinate)
selenium … 200mcg 
(as selenomethionine)
copper … 2mg 
(as copper glycinate)
manganese … 5mg 
(as manganese aspartate)
chromium … 100mcg 
(as chromium polynicotinate)
molybdenum … 100mcg 
(as molybdenum aspartate)
potassium … 99mg 
(as potassium aspartate)
boron … 2mg 
(as boron glycinate)
vanadium … 100mcg 
(as vanadium aspartate)
ascorbyl palmitate … 120mg 
(fat-soluble vitamin C)
riboflavin 5phosphate … 12.5mg 
(activated B2)
pyridoxal 5 phosphate … 12.5mg 
(activated B6)
mixed carotenoids … 425mcg 
(as lutein, lycopene, zeaxanthin)
n-acetyl-l-cysteine … 100mg 
(free-form)
choline bitartrate … 100mg
inositol … 125mg
alpha lipoic acid … 100mg 
(thioctic acid)
MacularSynergy Complex
lutein … 6mg
zeaxanthin … 1mg
CellHealth Polyphenols
quercetin … 50mg
blueberry extract … 100mg
(Vaccinium angustifolium)(fruit)
(standardized to contain 1.5% anthocyanins)1.5 mg.
olive extract … 50mg
(Olea europaea l.)(fruit)
(standardized to provide 1% hydroxytyrosol)
pomegranate extract … 100mg
(Punica granatum l.)(fruit)
(standardized to contain 5% ellagic acid)5 mg.
grape extract … 50mg
(Vitis vinifera)(seed)
(standardized to contain 92% polyphenols)
green tea extract … 100mg
(camellia sinensis)(leaf)
(standardized to contain 65% total tea catechins, 23% epigallocatechin (EGCG))
other ingredients: vegetarian capsule (cellulose, water)
If pregnant or lactating, consult your physician before taking this product. In rare cases, alpha lipoic acid may cause skin rash or hypoglycemia. Individuals who are sensitive may experience heartburn. Rare side effects of NAC may include nausea, vomiting, headache, dry mouth, dizziness, or abdominal pain. Large doses of choline may cause nausea, diarrhea or dizziness.
Polyphenol nutrients contains vitamin E and grape seed extract which may react with blood thinning and other heart medications. Green tea extract may interfere with the absorption and effectiveness of a number of medications including certain heart, blood thinning, antidiarrheal, and cold or hay fever medications. Consult your physician for more information.
FloraGlo lutein is a registered trademark of Kemin Industries, Inc. Zeaxanthin is sourced from OPTISHARP™ brand. OPTISHARP™ is a trademark of DSM Nutritional Products, Inc. Metafolin® is a registered Trademark of Merck KGaA, Darmstadt, Germany.
Green tea is the least processed and thus provides the most antioxidant polyphenols, notably a catechin called epigallocatechin-3-gallate (EGCG), which is believed to be responsible for most of the health benefits linked to green tea. Green tea is made by briefly steaming the just harvested leaves, rendering them soft and pliable and preventing them from fermenting or changing color. After steaming, the leaves are rolled, then spread out and "fired" (dried with hot air or pan-fried in a wok) until they are crisp. The resulting greenish-yellow tea has a green, slightly astringent flavor close to the taste of the fresh leaf.
In black tea production, the leaves are first spread on withering racks and air-blown, which removes about one-third of their moisture and renders them soft and pliable. Next, they are rolled to break their cell walls, releasing the juices essential to fermentation. Once again, they are spread out and kept under high humidity to promote fermentation, which turns the leaves a dark coppery color and develops black tea's authoritative flavor. Finally, the leaves are "fired," producing a brownish black tea whose immersion in hot water gives a reddish-brown brew with a stronger flavor than green or oolong teas.
Oolong tea, which is made from leaves that are partially fermented before being fired, falls midway between green and black teas. Oolong is a greenish-brown tea whose flavor, color and aroma are richer than that of green tea, but more delicate than that of black.
Green tea has always been, and remains today, the most popular type of tea from China where most historians and botanists believe the tea plant originated throughout all of Asia. Why is this so? Perhaps because green tea not only captures the taste, aroma and color of spring, but delivers this delightful bouquet along with the highest concentration of beneficial phytonutrients and the least caffeine of all the teas.
Celery Detox Juice
Gluten Free, Vegan
Happily serves 2
ALL ORGANIC INGREDIENTS
2 Stalks Celery
4 Carrots
Fresh grated Ginger
1/2 cup Lemon juice
1/2 cup Aloe Vera Juice
dash of Clove and cinnamon
Stevia to taste
I blend it all up in the Vitamix.  I Store in mason glass jars.
I use my shaker bottle  (22oz) I fill up half way with Green Tea and then add about 1/2 of the juice mixture and ice to the top.
Herbs for Anxiety
Not looking to use Conventional Drugs to help ease Anxiety?  Try some of these herbs.
Licorice Root contains a natural hormone alternative to cortisone, which can help the body handle stressful situations, and can help to normalize blood sugar levels as well as your adrenal glands, providing you with the energy necessary to deal with the stressful situation at hand. Some claim licorice stimulates cranial and cerebrospinal fluid, thereby calming the mind.As a soothing tonic, drink it warm as in a tea.
Kava Kava, an herb from the South Pacific, is a powerful muscle relaxer and analgesic. Kava Kava is also effective at treating depression and anxiety associated with menopause. http://www.care2.com/greenliving/5-herbs-that-reduce-stress-and-anxiety.html#ixzz3zjWfhIxL
Valerian
Some herbal supplements reduce anxiety without making you sleepy (such as L-theanine), while others are sedatives. Valerian (Valeriana officinalis) is squarely in the second category. It is a sleep aid, for insomnia. It contains sedative compounds; the German government has approved it as a treatment for sleep problems.
Valerian smells kind of nasty, so most people take it as a capsule or tincture, rather than a tea. If you want to try it, take it in the evening—not before you go to work! Valerian is often combined with other sedative herbs such as hops, chamomile, and lemon balm.
Hops
Yes, it's in beer, but you won't get the tranquilizing benefits of the bitter herb hops (Humulus lupulus)from a brew. The sedative compound in hops is a volatile oil, so you get it in extracts and tinctures—and as aromatherapy in hops pillows.
"It's very bitter, so you don't see it in tea much, unless combined with chamomile or mint," says Blumenthal. Hops is often used as a sedative, to promote sleep, often with another herb, valerian. Note: Don't take sedative herbs if you are taking a prescription tranquilizer or sedative, and let your doctor know any supplements you are taking.
Chamomile
If you have a jittery moment, a cuppa chamomile tea might help calm you down. Some compounds in chamomile (Matricaria recutita) bind to the same brain receptors as drugs like Valium.
You can also take it as a supplement, typically standardized to contain 1.2% apigenin (an active ingredient), along with dried chamomile flowers. In one study at the University of Pennsylvania Medical Center, in Philadelphia, patients with generalized anxiety disorder (GAD) who took chamomile supplements for eight weeks had a significant decrease in anxiety symptoms compared to patients taking placebo.
Passion Flower
The University of Maryland Medical Center states that passionflower has shown in a few studies to work as well as some of the benzodiazepine medications that are usually prescribed for treating anxiety.
A four-week double-blind study, for example, compared passionflower with oxazepam. Results showed oxazepam worked more quickly, but by the end of the study period, both treatments were shown to be equally effective. Bonus—side effects like daytime drowsiness were fewer with passionflower.
A second study also showed that passionflower helped ease symptoms like anxiety, irritability, agitation, and depression in participants going through withdrawal from an opiate drug addiction.
Dosage: Try one cup of passionflower tea three times daily, 45 drops of liquid extract daily, or about 90 mg/day.
Lavendar
A 2010 multi-center, a double-blind randomized study of lavender oil compared to anti-anxiety medication lorazepam found that both were effective against generalized and persistent anxiety. Bonus — lavender had no sedative side effects.
"Since lavender oil showed no sedative effects," researchers stated, it could be an effective and "well-tolerated alternative to benzodiazepines" to treat generalized anxiety. An earlier 2000 study found similar results.
Dosage: Try about 80 mg/day of the supplement, or use the oil as an aromatherapy solution.
Lemon Balm
Though usually found in combination with other herbs, lemon balm also has anti-anxiety powers on its own.
Research published in 2004, for instance, gave participants a single dose of lemon balm extract (300 mg or 600 mg) or a placebo, then measured their mood after one hour. The higher dose resulted in reduced stress and improved calmness and alertness. Even the lower dose helped participants do math problems more quickly.
Dosage: Use in aromatherapy, try 300-500 mg of dried lemon balm three times daily, 60 drops daily, or 1/4 to 1 teaspoon of dried lemon balm herb in hot water for a tea four times daily.
Ashwagandha
A 2012 double-blind, placebo-controlled study gave participants either placebo or a capsule containing 300 mg of high-concentration full-spectrum ashwagandha extract, twice a day. The study lasted for 60 days. Those taking the ashwagandha showed significant improvements. Even the levels of the stress hormone cortisol were substantially reduced in those taking the extract. And there were no serious side effects.
In an earlier 2000 study, ashwagandha had anxiety-relieving effects similar to those of lorazepam.
Dosage: Typical dosage is 300 mg standardized to at least one to five percent withanolides, once or twice a day.
L-Theanine
This one isn't really a herb — it's a water-soluble amino acid,  but it's gotten such good research behind it, we had to include it here. It's found mainly in green tea and black tea and is also available as a supplement.
Studies have found that it acts directly on the brain, helping to reduce stress and anxiety—without causing drowsiness.
Research from 2008, for example, found that those participants taking 50 mg of L-theanine a day had a greater increase in alpha (relaxed brain waves) activity than those who took a placebo.
An earlier 1998 study found that 200 mg a day leads to increased alpha brain waves and a relaxed, yet alert, a state of mind.
A later 2011 study found that it was also associated with reduced anxiety, and was well tolerated and safe for participants.
Dosage: A typical cup of black tea contains only about 25 mg of l-theanine and green tea only about 8 mg. While a cup of tea may be calming, if you want more potent effects, try a supplement, about 200 mg a day.