garlic cloves
now browsing by tag
Creamy Cauliflower Avocado Soup
Vegan option, Gluten Free
Happily serves 4
ALL ORGANIC INGREDIENTS
2 Cauliflower heads or 4 Cups Cauliflower rice
6 Cups Bone Broth (Veggie Broth if Vegan)
1/2 Cup Raw Cashews
4 TBSP Sesame seeds or tahini
1 Avocado
2 TBSP Coconut Oil
1 Sweet Yellow Onion
4 Garlic Cloves
1/4 Cup Parsley
Himalayan Sea Salt
Soak Cashews 1-4 hours, drain water and rinse.
Cut or press garlic, let sit 5 minutes.
Chop Parsley, cauliflower and onions.
Sauté garlic & onions until they are translucent.
Pour in 6 cups of Bone Broth in your stock pot.
Add cauliflower, cashews and sesame seeds.
Bring it to a boil.
Reduce heat, let it simmer for about 15 minutes until the cauliflower is tender.
Let cool and transfer to a high powered blender.
Add avocado and blend until smooth.
Season to taste with the salt and pepper.
Garnish with chopped parsley
If you don't want to use Cashews, you can substitute 8 TBSP Butter, Ghee or Coconut oil.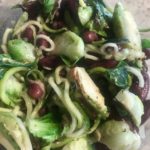 Spiralized Zucchini Brussel Sprout Salad
Gluten Free, Vegan, Low Carb
Happily Serves 2 ALL ORGANIC INGREDIENTS
1 Cup Kidney beans
1 Cup Brussel Sprouts
2 Cups Zucchini and/or Yellow Squash
1-2 Garlic Cloves
1 Green Onion
2 TBSP Avocado Oil
1 tsp Minced Onion
Himalayan Sea Salt
1-2 tsp Turkey Spices
Cut Garlic and let sit 5 minutes
Quarter Brussel Sprouts, wash good. Spray with Coconut oil and toss with salt. Air fry about 5 minutes, check after a few minutes and shake bucket.
Spiralize Zucchini. You can steam it or air fry about 2-3 minutes to keep crunchy texture, if you can handle raw veggies.
Soak and rinse beans, if using canned beans, wash and drain well.
Combine all ingredients and mix well.
This contains lots of fiber, so half this recipe is a great serving size.

Tzatkiti
Vegan, GF
Happily serves 2
ALL ORGANIC INGREDIENTS 
8 oz Plain coconut yogurt
1 TBSP Hemp Seed oil
1 TBSP Lemon juice
1-2 garlic cloves, minced
1-2 TBSP Minced onion
1 TBSP Dill
2 TBSP Chives
1 peeled, cubed cucumber
Dice Cucumber. Mix all ingredients together, no blender needed!
Enjoy as a dipping sauce or spread for lettuce wraps or by itself.
Honey Hemp Vinaigrette
Paleo, GF, Dairy Free
Happily serves 4
ALL ORGANIC INGREDIENTS
1/2 Cup Hemp Seed oil
2 TBSP Coconut Vinegar
2 TBSP Raw Honey
2 garlic cloves, crushed
1/2 Cup Lime juice
2/3 Cup cilantro, chopped
1 tsp Sea Salt
Mix all ingredients together, shake well.  Serve as a dressing or over seafood dish.
Pumpkin Seed Dip 
Vegan, GF, Paleo
Happily serves 6-8
ALL ORGANIC INGREDIENTS
5 ounces Raw pumpkin seeds
2 TBSP Avocado oil
1/2 cup finely chopped shallots
1 large jalapeno, finely chopped
3 garlic cloves, chopped (let sit 5 min)
1/4 Cup Parsley
1/4 Cup Cilantro
Juice of a lime
1 TBSP Extra-virgin Olive oil or Avocado oil
1/4 tsp finely grated orange zest
2 TBSP Maple syrup or 1/4 tsp maple extract and stevia
Blend seeds in a food processor.
Cook shallots & garlic in the avocado oil.
*Add Sea salt and pepper, let cool.*
Add parsley, cilantro, lime juice, maple syrup, orange zest (and water if needed)
Add shallot mix when cooled, mix thoroughly
Sea salt to taste.
Variation: Can also be used a spread in a lettuce wrap.
Chipotle Sauce/Dressing
GF, Refined Sugar Free, Vegan
Happily serves 2
ALL ORGANIC INGREDIENTS
1 TBSP Tahini (can sub Sunflower butter)
1 TBSP Hemp Seed oil
2 Garlic cloves, crushed
1 TBSP Coconut Aminos
1 tsp chili powder
½ tsp Chipotle powder
½ tsp Cayenne
¼ tsp Sea salt
Mix all ingredients together. Can be used as a salad dressing or over stir fry and quinoa.  Great Sauce for lettuce wraps!
OR:
Optional: ADD 1TBSP Nutritional Yeast if you want to toss it on Collard Greens and bake.
Indian Inspired Baked Kale
Gluten Free, Vegetarian
Happily serves 2
ALL ORGANIC INGREDIENTS
1 TBSP Tahini or Almond butter
1 TBSP Coconut oil, melted
Zest of 1 Orange or Lime
2 garlic cloves, crushed
1 tsp garma masala
¼ tsp Cardamom
Optional: 1 TBSP Nutritional yeast
Optional: 1 TBSP Coconut Aminos to thin if you aren't baking kale and just want a salad dressing.
Preheat oven at 275 degrees.
Prepare baking stone with parchment paper.
Mix all the ingredients together until smooth.
In a large bowl, pour the dressing over the chopped kale.
Mix the dressing into the kale thoroughly, spread evenly on baking stone.
Make sure the leaves aren't overlapping, this prevents sogginess.
Bake for 15 minutes and rotate pan.
Bake for another 15 minutes, check for crispness.
If the chips aren't crisp yet, rotate again and bake for 5-10 minutes more.
Allow the chips to cool for about 5 minutes before serving.


Lemon Sautéed Spinach & Quinoa

 
Vegan, Vegetarian
Happily serves 4

ALL ORGANIC INGREDIENTS

1 bag spinach
¼ Cup pumpkin seeds
1 Cup tri color Quinoa, cooked
3 garlic cloves, chopped
1/2 chopped yellow onion
1 TBSP of Avocado oil
1 lemon, juiced
Salt and pepper to taste

Pre-heat cast iron pan over medium heat.
Saute chopped garlic and onion, remove and keep aside.
Add a portion of the baby spinach to the pan, stir frequently continuing to add spinach until entire bag is added.
Steam spinach until soft bright green (only takes about a minute.)
Remove from heat! Drain off water!
Stir in Quinoa, oil, spinach, garlic, onion, and pumpkin seeds
Sea Salt and pepper to taste .
Squeeze a bit of fresh lemon juice over spinach before serving.
Sriracha Aioli

Vegetarian, Gluten Free
Happily Serves 3-4
ALL ORGANIC INGREDIENTS
3/4 Cup Raw Cashews
5  Garlic cloves, minced
1/4 Cup water
1-2 TBSP Avocado oil
1 tsp Maple syrup
1 TBSP Lime juice
Sea salt + black pepper to taste
1 tsp Sriracha (or other hot sauce), plus more to taste
Pinch each chili powder, smoked paprika, and ground cumin
Optional: 1/2 tsp Nutritional yeast (for a little cheesiness)
Place cashews in a bowl and cover with boiling hot water.
Let set, uncovered, for about 1 hour or until very soft, drain thoroughly and Rinse.
Add cashews to the blender or food processor with fresh garlic, water, 1 Tbsp Avocado oil, maple syrup, lime juice, salt, pepper, Sriracha, and spices.
(Nutritional yeast is optional.)
Blend on high until creamy and smooth.
Add more water if it's too thick.