foods
now browsing by tag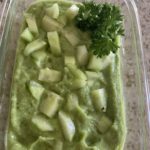 Vegan, Dairy Free, Keto
ALL ORGANIC INGREDIENTS
Happily serves 1
1 Avocado
1/2 Cucumber
2 Celery stalks
1/4 Cup Lemon juice
1/4 Parsley
1/4 tsp Sea Salt or Cilantro Lime Salt
Optional:
Top with Chopped Cucumbers for texture
Wash and coarsely chop celery
Peel Cucumber
Blend all ingredients together.
Adding Sea Salt will enhance all flavors and provides minerals.

Vegan, Gluten Free
Happily serves 12
ALL ORGANIC INGREDIENTS
1 Cup Sauerkraut, plus juice if desired
1 Cup Dill Pickles, save juice
1/3 Red onion
1/4 Cup Avocado Oil
1/4 Cup Balsamic Vinegar
1/4 Cup Coconut Aminos
2 TBSP Lime juice
Chop or dice onions and pickles. (You can use dill relish)
Combine all ingredients.
I used juice from the pickles and sauerkraut for a stronger flavor.
You can use any where from 2-4 TBSP of the last 4 ingredients to fine tune to your desired taste.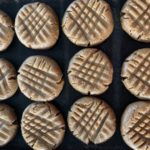 Gluten Free
Happily serves 18
P
ALL ORGANIC INGREDIENTS 
16 oz jar Peanut Butter
1 Egg
3/4 Cup Coconut Brown Sugar
1 Scoop Collagen Powder
Mix all ingredients together and roll into balls and place in mini muffin tin.
Bake 8 minutes at 350
(Can substitute an egg replacer and eat raw if desired)
COLLAGEN AND MONK FRUIT LINKS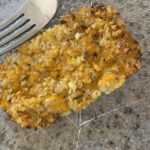 C
Dairy Free, Gluten Free
Happily Serves 4
ALL ORGANIC INGREDIENTS
1 Head of Cauliflower or 2 Cups Cauliflower Rike
1 Egg or egg replacer
¾ Cup Shredded Cheddar Cheese (I used So Delicious Brand)
¼ tsp Garlic Powder
½ tsp Salt
1/8 tsp Sage
Optional:
1/8 tsp White Pepper
If you are using an egg replacer:
Mix 1 TBSP Gelatin, ground chia or flax seed with 3 TBSP water and let sit about 2-3 minutes to "gel".
Grate Cauliflower or use Cauliflower rice.
Steam for 5-7 minutes or place in Airfryer for about 5 minutes.
Place in Paper Towel or Cheesecloth to Remove Excess Water
Add all Ingredients in bowl, mix well.
Spray coconut or avocado oil on a backing sheet or square bar pan.
Form into rectangle shape and place on baking sheet of choice.
Bake on 400° for about 15 minutes.
For extra crispy add to air fryer for up to 5 more minutes, or keep in oven and turn on broiler for 5 minutes.
Trying to make sense of your stomach discomfort? Tired? FATIGUE? Low thyroid? Dr. Holly Lucille has a simple couple minute break down for you.
You can heal your leaky gut and regain normal life, eliminating foods that bother your gut or immune system isn't a forever thing.
Purium`s Power Shake was created so that you can easily consume several energizing, gluten-free superfoods all at once, saving you time and money!
30 servings $99.95

Ingredients:
Rice Bran Solubles – vital for maintaining normal cholesterol levels and blood glucose control. They are also an all-natural source of vitamin E type tocopherols and tocotreinols and contain a variety of B vitamins, Q-10, gamma oryzanol, folic acid, and more. Rice Bran Solubles is the outer, soluble part of brown rice that normally gets cooked away. Soluble rice bran is the fuel of many Asian martial artists.
Organic oats – great source of fiber and manganese that may also help support healthy blood sugar levels and enhance immune system response.
Organic spirulina – nature's most complete nutrient source, containing over 60% complete vegetarian protein, an abundance of chlorophyll and essential fatty acids, vitamins, minerals, and nucleic acids, as well as nature's highest source of a new class of immune enhancers, a photosynthetic pigment called phyco-can. An all-natural 'multivitamin' in and of itself. Used for centuries, Spirulina was the fuel of the Aztecs.
Organic carrot juice – Known as one of the most important parts of any juice fast or raw food regimen, their deep, rich, orange color comes from the abundance of beta-carotene, minerals, and other phyto-nutrients that are unique to the tuber family. It also has a naturally sweet taste that perfectly complements the other super foods
Organic wheatgrass – Clinics all over the world have been set up to administer the miraculous juices extracted from sprouted wheat plants. People report that the intensive cleaning the chlorophyll and enzymes provide is unsurpassed in its abilities to stimulate the immune system response and instigate healing.
Organic millet – rich in fiber and the B complex vitamins, also aids in digestive health.
Organic amaranth – great source of most of the B vitamins and vitamin A.
Organic buckwheat – Not technically a grain, it comes from a fruit seed in the rhubarb family, and is therefore gluten free. Buckwheat contains a rich supply of flavonoids, particularly rutin, and may help support healthy blood sugar levels. Very high in many vitamins and minerals, especially vitamin K, vitamin B1, B2, B3, B6, B9, magnesium, potassium, phosphorus, zinc, iron, copper, and manganese.
Organic quinoa – this gluten-free grain has grown in popularity due to its nutrient density, it contains more calcium than milk and is also a great source of protein.
Organic chia – a staple in Mayan and Aztec diets for centuries, chia is a rich source of fiber, omega-3 fatty acids, fiber, and antioxidants.
Organic alfalfa leaf juice – The father of all foods, alfalfa has roots that reach up to 60 ft. into the soil to absorb trace minerals. Its lightweight proteins stimulate the rebuilding of tissues and strengthen the hair, skin, and nails.
Organic oat grass juice – One of the little known superstars among cereal grasses. Recent and ongoing studies indicate that unique proteins, lipids and other factors in oat greens may possibly help revive reproductive function.
For APPLE-BERRY POWER SHAKE ONLY: Organic raspberry flavor and Organic apple flavor were added to give the Power Shake a sweeter taste without adding anything harmful, unnatural or sugar based.
Lo han berry – contains a natural sweetening agent called Mogroside that is ten times sweeter than fructose, so a small amount means less calories.
Environmental allergens/Cross-Reacting Foods
I hear my clients or friends talk about the plants they are allergic to, what about the foods that we take in from those same plants and trees, do you consider those? It's easy to feel the immediate effects of the blooming trees but not the delayed response of gluten or dairy allergy 2-5 days later.  
When your immune System is low, the outside allergies present themselves quickly.  A food panel is more valuable and  important to your health then knowing what tree you are allergic too.  Let's take a look at the inside of our bodies first and build those systems up so the outside environment has less of an affect on us.  
Five categories of cross reaction and some of the key foods involved.
This is not intended to represent all possible environmental allergens, or all possible cross-reacting foods. Instead, it is meant to provide you with examples of common pollen allergens and commonly cross-reacting foods.
Environmental Allergen                  Cross-Reacting Foods
1. alder tree pollen                               1. almonds, apples, celery, cherries, peaches, pears, parsley, hazelnuts
2.grass pollen                                       2.melons, tomatoes, oranges
3.mugwort weed pollen                    3.carrots, celery, coriander, fennel, parsley, bell peppers, hot peppers, sunflower seeds
4.ragweed pollen                                 4.bananas, cantaloupe, cucumbers, zucchini, honeydew, watermelon, chamomile
5.birch tree pollen                             5. almonds, apples, apricots, carrots, celery, cherries, coriander/cilantro, fennel, hazelnuts, kiwifruit, lychee fruit, nectarines, oranges, parsley, parsnips, peaches, pears, bell peppers, hot peppers, persimmons, plums/prunes, potaotes, soybeans, wheat
Environment-food cross reactions can be as complicated or even more complicated to recognize as food allergies and food intolerances. On the environment side, they might be seasonal and only a problem during certain times of year. On the food side, they are likely to be year round, and may involve a half dozen or more foods. Blood work is strongly recommended to identify the cause of "allergy Symptoms".
For more information I can order the correc labs for you to get the answers you are looking for, just email, call or text me and we can set up a consultation.  If you would like more information on this article:
http://whfoods.org/genpage.php?tname=faq&dbid=51
Potassium Rich Foods-Top ten
Potassium is an essential nutrient used to maintain fluid and electrolyte balance in the body.
Potassium is the third most abundant mineral in the body and is a required mineral for the function of several organs including the heart, kidneys, brain and muscular tissues.
Potassium also plays an important role in keeping the body hydrated and works with sodium to support cellular function with your bodies sodium-potassium pump.
Potassium deficiency symptoms can include severe headaches, dehydration, heart palpitations and swelling of glands and tissues.
Also, potassium deficiency can lead to:
* Fatigue
* Irritability
* Muscle cramps
* Weight gain
* Increased blood pressure
* Cellulite buildup
The main culprits that can cause low levels of potassium are endurance cardiovascular exercise without proper hydration, vomiting, diarrhea and a diet low in fruits and vegetables.
Unless you are on dialysis, or have a special condition, overdose of potassium from natural sources is very rare.
The RDA for potassium is 4700 mg/day.
Keeping in mind Sodium should be 2300mg.
Think Double potassium for your sodium intake!
Consuming these 3 servings of this high potassium foods list daily to ensure optimal levels of potassium.
Top 10 Potassium Rich Foods List
1) Avocado. 1 whole: 1068 mg (30% DV)
2) Spinach. 1 cup: 839mg (24% DV)
3) Sweet potato. 1 medium: 952 mg (27% DV)
4) Coconut Water. 1 cup 600 mg (17% DV)
5) Kefir or Yogurt 1 cup: 579 mg (15% DV)
6) White Beans ½ cup: 502 mg (15% DV)
7) Banana 1 large: 422 mg (12% DV)
8) Acorn squash 1 cup: 899 mg (26% DV)
9) Dried apricots ½ cup: 755 mg (22% DV)
10) Mushrooms 1 cup: 428 mg (27% DV)
Potassium Health Benefits
Cramps
: One of the main benefits of consuming high potassium foods is decreased muscle cramping and improved muscle strength.  Muscle cramps are a common side effects of low potassium levels.  This can happen if an athlete becomes dehydrated and isn't consuming enough potassium rich foods before and after exercise.
Reduced Risk of Stroke
: Several observational studies have found that those with high potassium levels experience a lower risk of stroke. The health benefits of potassium are likely through reduction of blood pressure combined with a diet high in fruits and vegetables.
Alleviation of High Blood Pressure (Hypertension): 
Studies show that a diet high in potassium, especially potassium from fruits and vegetables, lowers blood pressure. This is especially true if the increase in potassium foods is not accompanied by an increase in high sodium foods.
Reduced Cellulite Appearance
: One of the main causative factors of cellulite buildup is fluid retention.  Most people consume far too much sodium and not near enough potassium.  Sodium brings nutrients into your cells where potassium helps flush excess waste out of your cells.  For this reason, if you reduce sodium intake and start consuming potassium rich foods you can reduce the appearance of cellulite.
Osteoporosis Protection
: Several studies have found a relation between increased bone density and increased intake of dietary potassium. These studies were true even for post- menopausal women and older men.
https://draxe.com/top-10-potassium-rich-foods/