Vegans like Tacos too! Here is your option to enjoy the texture and all the flavor and spices you love!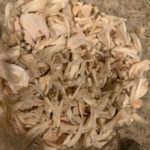 Gluten Free
Happily Serves 2
ALL ORGANIC INGREDIENTS
2 Cups Jack Fruit
1/2 Cup Jodi's Homemade Ketchup (you can add more spice to make it more of a bbq flavor)
Optional:
1/4-1/2 Cup Bone broth to slow cook or use vegetable stock
Shred Jackfruit and slow cook in crock pot on low for 2 hours or heat on stove top. Add BBQ or ketchup and desired spices.
Serve in lettuce wraps or veggie stir fry for variety.