batter
now browsing by tag
Coconut flour cacao pancakes
GF, Dairy free
Happily serves 12 pancakes
ALL ORGANIC INGREDIENTS
1⁄3 Cup Coconut flour
5 eggs
½ Nut milk of choice
¼ Cup full fat coconut milk
¼ Cup coconut sugar or stevia
3 TBSP Raw Cacao powder
¾ tsp vanilla extract
Dash of Sea salt
Coconut oil spray for each pancake
In a deep bowl, whisk all ingredients except ghee/coconut ghee/coconut oil, until well combined. Batter should be very thick but pourable. Not watery.
Let batter sit for 5 minutes to let the coconut flour absorb the liquid, stirring once more at the end.
Pour about 1⁄3 cup of batter into a frying pan pre-heated with coconut oil. 
If necessary, tilt pan and shake lightly for even distribution of batter. (Batter does not necessarily need to spread throughout the pan).
Fry for a couple of minutes, occasionally covering with a lid, till liquid has almost firmed up
Tip: Covering the pan with a lid occasionally will help keep moisture and enhance even cooking.
Flip with a spatula, and fry the other side for a couple more minutes, then remove from pan.
Repeat for rest of batter, greasing pan between batches as needed, and occasionally stirring the batter left in your bowl for even consistency.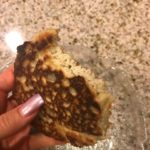 Protein Collagen Pancakes
Gluten Free, Dairy free
Happily serves 2-3
ALL ORGANIC INGREDIENTS
2 Free Range Pasture raised eggs
1 egg white
1/8 Cup melted Coconut oil
1/4Cup Coconut flour
2 scoops Bone Broth Protein Powder
Dash cinnamon
1/8 tsp Himalayan sea salt
Liquid Bone broth or water to thin (I only needed about a TBSP)
Stevia if desired sweeter
Whisk eggs and oil together thoroughly.
Stir in coconut flour, protein powder and Himalayan sea salt and allow to sit for 5 minutes
Heat coconut oil in a large skillet over medium-low heat.
Once hot, drop batter into cast iron skillet, cook until bubbles form on one side, flip and repeat.
Serve Hot
Bone Broth Protein Pancakes
Paleo, Gluten Free, Dairy free
Happily serves 2-4
ALL ORGANIC INGREDIENTS
1/2 Cup Applesauce
3–4 Free Range eggs
1/4 Cup melted Coconut oil
1/2 Cup Coconut flour
4 scoops Bone Broth Protein Powder
1/8 tsp cinnamon
1/8 tsp Himalayan sea salt
Winter Squash Pancakes
Vegan, GF, Refined Sugar free
Happily serves 4
ALL ORGANIC INGREDIENTS
PANCAKES
1 cup Cooked and smashed winter squash
1/3 cup cashew cream or vegan cream cheese
2 large eggs (or flax egg)
1/2 cup coconut yogurt
3/4 teaspoon sea salt
A dash black pepper
1 teaspoon baking powder
1 cup all-purpose GF flour
coconut oil for frying pan
TO FINISH:
Crispy Sage Brown Butter:
2 to 3 tablespoons butter
A pinch or two of salt
A few fresh sage leaves
In a large bowl, whisk squash, yogurt, eggs, cheese, salt, pepper and baking powder until smooth.
Add flour and stir until just combined. Batter will be thick.
Heat skillet medium-low to medium.  Coat the bottom with coconut oil, and spoon in pancake batter,  flatten the pancake slightly.
Cook until golden brown underneath, flip and cook until golden brown.
Lower your heat, if it's cooking too fast. If you're worried pancakes have not cooked in the center, you can finish them for 10 minutes in a 250 degrees oven.
To finish, wipe out frying pan and add butter (or you can use coconut oil), a Dash of salt and sage leaves, heating over medium heat. The sage leaves will crisp and the butter will brown in a minute or two so keep a close watch on it. Pour leaves and butter over pancakes
To roast squash: For butternut or kabocha, roast it face-down on an a baking sheet sprinkled with coarse salt at 375 for 40 to 50 minutes, until tender.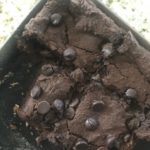 Jodi's Fudgy brownies
Grain free, Refined sugar free, Dairy free, Gluten Free,
Happily Serves 12
ALL ORGANIC INGREDIENTS 
1 Egg
2 Cups Black beans rinsed, drained & cooked
One avocado
1 TBSP vanilla extract
1/2 Cup Coconut Brown sugar
2/3 Cup Carob
1-2 tsp Coconut oil
1/4 tsp baking soda
1/4 tsp baking powder
1/2 tsp Himalayan Sea Salt
1/2 cup dairy free chocolate chips
Preheat oven to 350°. Grease an 8 x 8″ baking stone.
Mix egg, black beans, avocado, vanilla and sugar in the food processor until smooth.
Add the Carob,  coconut oil, baking soda, baking powder and mix again until smooth.
Batter needs to be sticky to be fudgy.
If you want it thinner add a tablespoon or so of coconut milk.
Fold in the chocolate chips spread in the pan and bake for about 25 minutes or until toothpick comes out clean. Cool completely.
Tips:  The food processor is best.  It  blends and hides the consistency of the beans.