tsp maple extract
now browsing by tag
Holiday Desserts!  We had such a fun time creating new recipes and adapting old recipes to better quality ingredients.  Reducing the sugar "coma" feeling is huge during the holidays.  Remember it's an indulgence, not an everyday treat.  When you can learn to appreciate dessert or good food, you know there be more and you don't need to be the "starving child" and scarf down what's in front of you.  Learning how to have a healthy relationship is part of what I teach in "cooking class".  You shouldn't be alarmed because it's not always "cooking", we learn preparation methods, tips on saving time and energy.  Come to the next class-step out of your comfort zone and see how good you feel after realizing "cooking" isn't so bad!
Vegan Pumpkin Cheesecake
Gluten Free, Vegan, Paleo
Happily serves 8
ALL ORGANIC INGREDIENTS
Crust
1/2 Cup soaked dates
2 TBSP Coconut Oil
1 Cup Ground Nut Flour
1/8 tsp Himalayan Sea Salt
Soak Dates 1-4 hours. Remove seeds, discard water.
Add the nuts to the food processor and blend until they are like a rough flower then add the dates, coconut oil and sea salt.
Pulse together until it becomes a lumpy ball and then press into the bottom of a pie dish and refrigerate.
Filling
4 Cups Fresh Pumpkin (or 2 Cans Pumpkin purée)
8 oz Vegan Cream Cheese
1/3 cup Maple syrup (can sub coconut nectar) OR 1/4 tsp maple extract & 1/4 tsp stevia or Lohan Sweetener
2 TBSP Pumpkin pie spice
To make the filling
Add pumpkin and other ingredients and process until smooth.
Blend on the highest setting until It is smooth like the cooked version of pumpkin pie.
Transfer the filling to your pie crust and let refrigerate for a few hours.
Quinoa Brittle
Gluten Free, Dairy Free, Refined Sugar Free
Happily Serves 10
ALL ORGANIC INGREDIENTS
3/4 Cup Tricolor uncooked quinoa
3/4 cup Pecans and/or macadamia nuts
2 TBSP Coconut sugar
1/2 tsp Pumpkin pie or Allspice
2 TBSP Coconut oil
1/4 cup Blackstrap molasses
Dash of cinnamon
Pinch of Himalayan Sea salt
Stevia if you desire it sweeter
Preheat oven to 325.
Line a baking sheet with parchment paper. (Cover all edges)
Combine quinoa, macadamia nuts/pecans, coconut sugar, salt, and cinnamon/spices in a bowl and set aside.
Over low to medium heat, add the coconut oil and black strap molasses (and optional Stevia). Stir until there is no visible separation. Pour over the dry ingredients, combine and coat evenly, spread on a parchment lined baking sheet with a metal spoon.
Try to get it as even as possible or the edges will burn in the center won't crisp up.
Bake for 15 minutes and turn the pan around to ensure even baking and Browning. Back 5 to 10 minutes more and watch carefully so it does not burn. The edges will get crisp and caramelized, and the color will be uniformly deep golden brown in color.
Let it cool completely before breaking it into serving pieces.
You can store leftovers in a sealed container at room temperature for a week, or in the freezer for up to one month.
Canadian Butter Tarts
Gluten Free, Refined Sugar Free, Dairy Free option
Happily Serves 24
ALL ORGANIC INGREDIENTS
Crust
1 Cup Soaked Dates
1 Cup Ground Nut Flour
1/8 tsp Himalayan Sea Salt
Soak Dates for 1-4 hours. Remove seeds.
Combine Dates, Nut Flour and Sea Salt in the Food Processor and blend well. Press into mini muffin tin and refrigerate.
Filling
1⁄4 Cup soft butter, or vegan butter
1⁄4 Cup packed Coconut brown sugar
1/8 tsp Himalayan Sea Salt
1⁄2 Cup maple syrup or 1/4 tsp maple extract and 1/4 tsp Powder Stevia
1 egg, lightly beaten or 1 flax/chia egg replacement
1⁄2 tsp Vanilla
Mix all ingredients together.
Add a bit of chopped marischino cherries in mini muffin tin on the crust and fill the tart with the filling.
Bake at 400 degrees for about 15-20 minutes.
Optional to top with crushed pecans.
Egg substitute:
1 TBSP Ground flax or Ground Chia seed added to 3 TBSP water.
Mix and let sit/jell together about 5 minutes.
Just one of the recipes we created at this weeks cooking class:
Butternut Squash Sweet Potato Soup
Gluten Free, Dairy Free, Vegan option
Happily serves 6-8
ALL ORGANIC INGREDIENTS
1 Butternut Squash
1-2 Sweet Potato
1 cup Acorn squash
1/2 Yellow Sweet onion, 1/2 Purple onion
4 Cups Bone Broth (or vegetable broth if vegan)
3/4 Cup Canned Coconut Milk
1 tsp Cinnamon or All Spice
1/2 tsp nutmeg
1 tsp maple extract and stevia to taste
Himalayan Sea Salt
Optional: 1/2 Cup leeks (pictured)
Cut and cube squash, sweet potatoes, and onions. Bake at 400 for about 30 mins or until soft.
Add to food processor until smooth.
Add remaining ingredients and blend until well mixed.
You can do this sin the crock pot on low for 6 hours instead of baking.


Pumpkin Peanut Butter Fudge 
Vegan, Gluten Free, Grain free, Refined Sugar free
Happily serves 6
ALL ORGANIC INGREDIENTS
1/3 Cup Pumpkin Puree (fresh or canned)
1/2 Cup Crunchy Peanut butter
2 TBSP Almond butter
2 TBSP Blackstrap molasses or 1/4 tsp Maple extract and stevia
2 tsp Pumpkin pie spice
1/8 tsp Himalayan Sea salt
Heat ingredients in a pan for 5 min place in a 4×4 pan and freeze for 1-2 hours.

Paleo Chocolate Fudge
(Keto Fat Bomb Option)
Gluten Free, Vegan, Paleo
Happily serves 6
ALL ORGANIC INGREDIENTS
1/2 Cup Pecan or Walnut butter
1/2 Cup Coconut Oil
1/2 Cup Raw Cacao Powder
1/4 Cup maple syrup
(Keto sub: 1 tsp maple extract, stevia to taste or 2 TBSP Erythritol)
Blend all ingredients together in a food processor.
Use a mini muffin for easy measuring. You can also Roll into balls on parchment paper.
Store in fridge or freezer.

Sunflower Butter Protein Balls
Gluten Free, Refined Sugar Free, Dairy Free
Happily serves 12
ALL ORGANIC INGREDIENTS
1 ½ Cups Sunflower butter or any Nut butter
¼ Cup raw honey (or maple syrup if Vegan)
1 tsp vanilla extract
¼ tsp Himalayan sea salt
¼ cup Bone Broth Protein powder OR Collagen Powder
Optional:
½ cup dark chocolate Vegan chips
Stir sunflower butter, honey, vanilla and sea salt together.
Add protein powder and combine thoroughly
Optional: Stir in chocolate chips
Form into balls, refrigerate for at least 2 hours
To cut your sugars, You can use 1/2 tsp maple extract and stevia.


Pumpkin Seed Dip 
Vegan, GF, Paleo
Happily serves 6-8
ALL ORGANIC INGREDIENTS
5 ounces Raw pumpkin seeds
2 TBSP Avocado oil
1/2 cup finely chopped shallots
1 large jalapeno, finely chopped
3 garlic cloves, chopped (let sit 5 min)
1/4 Cup Parsley
1/4 Cup Cilantro
Juice of a lime
1 TBSP Extra-virgin Olive oil or Avocado oil
1/4 tsp finely grated orange zest
2 TBSP Maple syrup or 1/4 tsp maple extract and stevia
Blend seeds in a food processor.
Cook shallots & garlic in the avocado oil.
*Add Sea salt and pepper, let cool.*
Add parsley, cilantro, lime juice, maple syrup, orange zest (and water if needed)
Add shallot mix when cooled, mix thoroughly
Sea salt to taste.
Variation: Can also be used a spread in a lettuce wrap.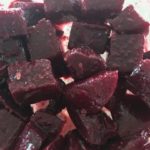 Fennel Seasoned Beets
GF, Vegan, Refined Sugar free
Happily serves 2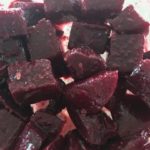 All Organic Ingredients
1 Golden or Red fresh beet
1/2-1 TBSP ground fennel seed
Sea salt to taste
1 TBSP melted coconut oil
1-2 tsp Chinese 5 Spice season.
1/2 TBSP Balsamic Vinegar (optional)
For Sweetness: You can add 1/8-1/4 tsp maple extract and cinnamon with stevia.
Wash and Peel beets. Either spirialize, slice or cube your beets so they cook faster. Roast in Convection oven for 15 mins. Remove and add seasonings. Toss, eat either warm or cold depending on preference.
One cup is recommended due to fiber count.
Option:
Use my coconut fennel sauce over Beets to change it up. Recipe list separate.