consistency
now browsing by tag
Coconut flour cacao pancakes
GF, Dairy free
Happily serves 12 pancakes
ALL ORGANIC INGREDIENTS
1⁄3 Cup Coconut flour
5 eggs
½ Nut milk of choice
¼ Cup full fat coconut milk
¼ Cup coconut sugar or stevia
3 TBSP Raw Cacao powder
¾ tsp vanilla extract
Dash of Sea salt
Coconut oil spray for each pancake
In a deep bowl, whisk all ingredients except ghee/coconut ghee/coconut oil, until well combined. Batter should be very thick but pourable. Not watery.
Let batter sit for 5 minutes to let the coconut flour absorb the liquid, stirring once more at the end.
Pour about 1⁄3 cup of batter into a frying pan pre-heated with coconut oil. 
If necessary, tilt pan and shake lightly for even distribution of batter. (Batter does not necessarily need to spread throughout the pan).
Fry for a couple of minutes, occasionally covering with a lid, till liquid has almost firmed up
Tip: Covering the pan with a lid occasionally will help keep moisture and enhance even cooking.
Flip with a spatula, and fry the other side for a couple more minutes, then remove from pan.
Repeat for rest of batter, greasing pan between batches as needed, and occasionally stirring the batter left in your bowl for even consistency.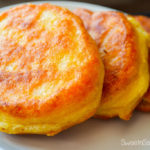 JAMAICAN CORNMEAL FRITTERS
Vegan, GF
Happily serves 10
All ORGANIC INGREDIENTS
1½ cup corn flour 
½ cup GF flour
2 tbsp Coconut sugar
2 tsp baking powder
½ tsp Himalayan sea salt
1½ cup room temperature water
2 tbsp coconut or avocado oil
Coconut Oil for frying
Heat a cast iron skillet with about ½ cup oil on medium heat.
While its heating, mix all ingredients into a bowl (will take on a thick pancake consistency).
Once oil is hot in pan, add several large dollops of cornmeal mixture into pan.
Fry 5 minutes or so on each side until golden yellow.
Remove fritters when evenly golden yellow on both sides, and place on paper towel to clean excess oil.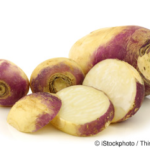 Rutabaga Sweet Potato Soup
Vegan, Gluten Free
Happily Serves 4
ALL ORGANIC INGREDIENTS
1 butternut squash, cut in half
3 garlic cloves
2 cups rutabaga, peeled and diced
2 cups sweet potato, peeled and diced
Coconut Oil
1 tsp. Sea salt
½ tsp pepper
1 Yellow onion, chopped
¾ Cup soaked cashews
2½ Cups Coconut milk
2 Cups vegetable or chicken broth
½ tsp nutmeg
1 tsp thyme
Directions
Preheat oven to 400º .
Rub the squash with oil and place cut-side down on a baking sheet.
Cut garlic and let sit 5-10 mins.
Coat the rutabaga and sweet potato in oil and sprinkle with salt and pepper.
Add both to baking sheet. Bake for 50-60 minutes, rotate half way through.
Sauté onion and garlic until soft and caramelized.
Remove roasted veggies from oven and blend all of the above in a food processor until smooth. The nuts may remain grainy, but that's okay. You can add water to reach desired consistency.
Rutabagas Nutrition Facts
Serving Size: 3.5 ounces (100 grams), raw
Calories 39
Calories from fat 2
Total fat 0 g 0%
Saturated fat 0 g 0%
Trans fat
Cholesterol 0 mg 0%
Sodium 20 mg 1%
Total Carbohydrate 9 g 3%
Dietary Fiber 2 g 7%
Sugar 6 g
Protein 1 g
Vitamin A 0% Vitamin C 31%  Calcium 5% Iron 3%
Health Benefits of Rutabagas
All crucifers (brassicas or cole crops) are high in antioxidant and anti-cancer compounds. The anti-cancer properties of these vegetables are so well established that the American Cancer Society recommends that Americans increase their intake of cruciferous vegetables.
Rutabaga's most significant nutrient comes from vitamin C. One cup contains 53% of the daily recommended value, providing antioxidants and immune system-supporting functions that help protect the cells from free radical damage. Although rutabagas provide only 5% of the iron needed for healthy blood on a daily basis, vitamin C enhances its absorption, while helping to form both collagen and the thyroid hormone thyroxine, which protect cells against damage, encourage wounds to heal, fight infections, and promote healthy bones, teeth, gums, and blood vessels.
Beta-carotene-rich rutabagas are also an excellent source of potassium and manganese (for energy), and a good source of fiber, thiamin, vitamin B6 (helps support the nervous system), calcium (for strong bones), magnesium (helps absorb calcium and combat stress), and phosphorus (helps metabolize proteins and sugars).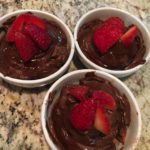 Cacao Avocado Mousse
Gluten Free, Vegan
Happily serves 4
ALL ORGANIC INGREDIENTS
3 Avocados
1/3 Cup Coconut nectar
1/2 Cup Raw cacao
1 tsp ground cinnamon
dash of allspice (optional)
2 vanilla beans, split and seeded
1/4 tsp Himalayan sea salt
Stevia drops if desired sweeter
Mash all ingredients together and enjoy!
Optional to add nut milk to thin out consistency.
Fresh mint leaf for garnish or chopped for added flavor
The Cacao is antioxidant rich, high in flavonoids, which are essential to a healthy cardiovascular system.  Cacao provides a natural form of iron for a natural energy boost.
The avocado provides heart healthy monounsaturated fats as well as a good amount of vitamin B5 and Vitamin K.  Avocados are known for promoting heart health, regulating blood sugar and are believed to potentially offer anti-cancer benefits, specifically when it comes to cancer of the mouth, skin and prostate gland. Avocados are very alkalizing to the body.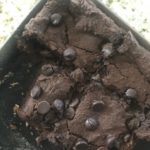 Jodi's Fudgy brownies
Grain free, Refined sugar free, Dairy free, Gluten Free,
Happily Serves 12
ALL ORGANIC INGREDIENTS 
1 Egg
2 Cups Black beans rinsed, drained & cooked
One avocado
1 TBSP vanilla extract
1/2 Cup Coconut Brown sugar
2/3 Cup Carob
1-2 tsp Coconut oil
1/4 tsp baking soda
1/4 tsp baking powder
1/2 tsp Himalayan Sea Salt
1/2 cup dairy free chocolate chips
Preheat oven to 350°. Grease an 8 x 8″ baking stone.
Mix egg, black beans, avocado, vanilla and sugar in the food processor until smooth.
Add the Carob,  coconut oil, baking soda, baking powder and mix again until smooth.
Batter needs to be sticky to be fudgy.
If you want it thinner add a tablespoon or so of coconut milk.
Fold in the chocolate chips spread in the pan and bake for about 25 minutes or until toothpick comes out clean. Cool completely.
Tips:  The food processor is best.  It  blends and hides the consistency of the beans.