Food and drink
now browsing by tag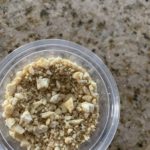 Cashew Crusted Cabbage Steak
Vegan, Gluten Free
Happily serves 4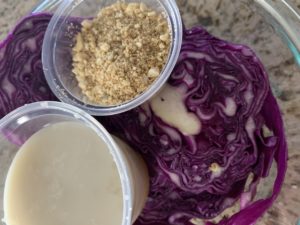 ALL ORGANIC INGREDIENTS
1 Whole Purple Cabbage
ALMOND BUTTERMILK:
1 Cup Unsweetened Almond Milk
1 TBSP Lemon juice
COATING:
1 ½ Cups Raw Cashews
1 tsp Sea salt
1/4 tsp Cayenne pepper
3/4 tsp Garlic powder
1 ½ tsp Smoked Paprika
3 TBSP Arrowroot (or cornstarch)
1 TBSP Avocado oil
Optional: 1 ½ tsp Curry, turmeric or cumin powder
Preheat oven to 425.
Line a large baking sheet with parchment paper.
Prepare vegan buttermilk by adding almond milk and lemon juice to a shallow dish. Stir and set aside
Slice Cabbage into 1 inch "steak" rounds.
Add an inch water in a steamer basket to a large pot and bring to a low boil. Add cabbage and cover, steam for 4-5 minutes to partially cook.
This will ensure proper cooking time and help the inside by tender when the exterior is browned and crispy.  You can also air fry for 4 minutes.
Remove and set aside on a separate dish.

Prepare the cashew coating by adding cashews, salt, cayenne pepper, garlic powder, curry powder, paprika, and arrowroot starch to a food processor.
Mix until a semi-fine meal is achieved, it should be pretty fine so it can coat the cabbage.
Transfer coating to a shallow dish and set aside.
Dip the steamed cabbage in the almond buttermilk, ensuring both sides are adequately coated.
Set back on platter so excess will drip off and season both sides with sea salt.

Next, dredge the cabbage in the cashew coating until thoroughly coated, using a spoon to add more coating to any bare spots. Then transfer cabbage steaks to your prepared baking sheet
Spray avocado oil to help them crisp up.
Bake for about 15-20 minutes, or until the cabbage steak  is easily pierced with a knife and the exterior appears golden brown and crispy.
Remove from oven to cool slightly before serving.
Cooking tips:
Line a large baking sheet with parchment paper.
You use a cooling rack that is oven safe, place that over the parchment paper to help the cabbage crisp up more.
The cabbage underside can get a little more browned when not using a cooling rack.
Cooking the cabbage in the upper third of the oven helps prevent the bottoms from burning.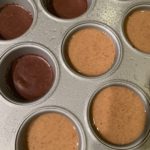 Chocolate Almond Butter Keto Fat Bomb
Vegan, Gluten Free
Happily serves 12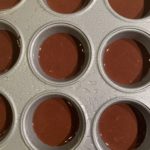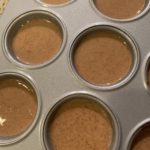 ALL ORGANIC INGREDIENTS
Chocolate
2 TBSP Coconut Oil
4 TBSP  Almond butter
4 TBSP Cacao Powder
1/4 tsp Vanilla
1/4 tsp Stevia
Chocolate layer
Combine all the ingredients
Stir until smooth.
Fill mini muffin cups halfway. 
Freeze for 10 minutes.
Almond Butter 
2 TBSP Coconut Oil
4 TBSP Almond butter
1/4 tsp Vanilla extract
1/4 tsp Stevia extract
Almond Butter Layer
Combine all ingredients from Almond butter layer. 
Stir until smooth.
Fill mini muffin cups the rest of the way.
Freeze until firm.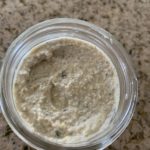 Garlic Sunflower Dill Dip
Vegan, Gluten Free
Happily serves 10
ALL ORGANIC INGREDIENTS
1 ½ Cups Raw Sunflower Seeds
1/4 Cup Tahini
1/4 Cup Sunflower or Avocado oil
1 Cup Grilled Squash
1/2 Cup Jemon Juice
1/2 cup Water, depending on desired consistency
2-3 Garlic Cloves or 1 TBSP Minced garlic
1/2 Cup Fresh Dill
1 tsp Himalayan sea salt

Add sunflower seeds, squash, garlic, sea salt, and lemon juice to food processor and blend well.
Add tahini, mix for about 1 minute.

While your food processor is mixing, stream in your oil.
At this point, your dip will still be thick, so add water a little at a time until it's a creamy texture.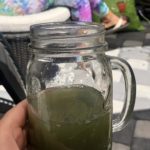 Lemon Ginger Green Cooler

Gluten Free
Happily serves 1
ALL ORGANIC INGREDIENTS
1 Cup Coconut Water
1/4 Cup Lemon or 1 fresh squeezed Lemon
1/2 tsp Ginger (fresh or grated)
1 Scoop Collagen
1/2 TBSP Stevia or Monk Fruit
1 Scoop Greens
1/2-1 Cup Ice
Optional:
1/2 Cup Watermelon
This needs to be eaten for Breakfast if you add watermelon.
Let it digest, eat again WHEN you are hungry.
Squeeze Lemon. To switch it up, you can also use Lime juice.
Cube Watermelon.
Grate fresh ginger or use Powder.
Add all liquid ingredients and blend well.
Add remaining and pulse in ice.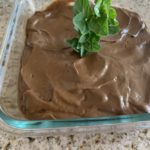 Dirt Cups (Avocado Mousse)
Vegan, Gluten free
Happily serves 2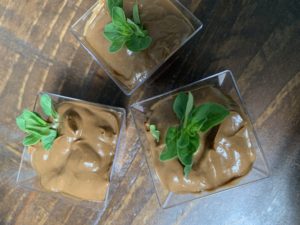 ALL ORGANIC INGREDIENTS
1 Avocado
1/4 Cup Raw Cacao Powder
1/4 Cup Coconut milk (can sub almond or hemp milk)
1 tsp vanilla
1 TBSP Monk fruit
Optional:
Top with crushed Cookie if you are going to a kids party (adults are ok with the fresh mint sp
Add fresh mint leaves and top with mint
Add ingredients to the food processor.
Add more milk if you want it thinner.
Chill and enjoy.  You can put it in the freezer for a frosty type treat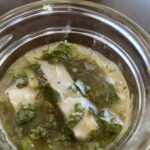 Spring Fling Cream Cheese
Vegan, Gluten Free
Happily Serves 16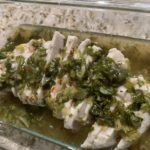 ALL ORGANIC INGREDIENTS
1 8 oz package VEGAN Cream cheese
1/2 Cup Avocado Oil
1⁄2 Cup Coconut Vinegar or apple cider vin
3 TBSP fresh parsley
2 TBSP Green Onions
2 Garlic Cloves or 1 tsp minced garlic
2 tsp Monk Fruit (or coconut sugar)
3⁄4 tsp Basil
1/8 Cup Diced Red Pepper or 1/2 tsp Crushed Red Pepper flakes
1⁄2 tsp Himalayan Sea Salt
1⁄2 tsp Ground black pepper
In a shaker bottle combine the avocado oil, coconut vinegar, red pepper, parsley, green onion, garlic, monk fruit, basil, salt and pepper.
Shake to blend and sat aside.
Pour the marinade over the cheese block, cover and refrigerate for at least 6 hours.
Option:
Cut a block of Cheddar cheese in half lengthwise.
Cut crosswise into 1/4 inch slices to form squares.
Repeat with cream cheese.
Arrange cheese squares alternately in a shallow baking dish with slices standing on edge.
Pour the marinade from the jar over the cheese slices, cover and refrigerate for at least 6 hours or overnight.
Lentil Mushroom Stew
Vegan, Gluten Free
Happily serves 2-3
ALL ORGANIC INGREDIENTS
3/4 Cup Lentils
2 1/2 Cup Bone broth
1/2 Yellow onion
2 Garlic cloves
1 Cup Mushrooms
1/2 Cup Zucchini
1/4 Cup Celery
1 tsp Thyme
1/2 tsp Sage
3/4 tsp Sea Salt
1/4 Cup Red Wine or 1 TBSP Balsamic Vinegar
1 TBSP Coconut aminos
Cut or mince garlic and set aside.
Rinse Lentils well.
Wash and Chop veggies.
Cook lentils according to Package.
Add bone broth, onion, celery, zucchini in a pan, simmer until cooked.
Cook Mushrooms separate so you can drain off the water in the pan.
Add cooked lentils and garlic and the spices.
Add vinegar and coconut aminos, mix well and serve.
Tips:
Spices and herbs should not be cooked with the rest of the ingredients so you don't lose the nutrients through heat.  Always finish your dish then add spice to remain freshness and get maximum nutrient density.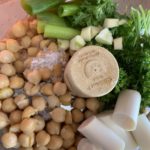 Artichoke Hummus
Vegan, Gluten Free
Happily Serves 6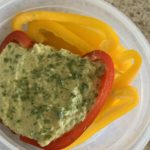 ALL ORGANIC INGREDIENTS
2 Cups Garbanzo Beans
1 Cup  Artichoke Hearts (save brine)
Save 1/2 Cup of Brine from Artichokes
1 Jalapeño
Handful Parsley (about 1/4 Cup)
2 Green Onions
1 Garlic Clove or 1/2 TBSP Minced Garlic 
1 tsp Minced Onion
1 TBSP Himalayan Sea Salt
2 TBSP Avocado  Oil
2 TBSP Lemon Juice
Soak and Cook Beans. If using Cans, rinse well.
Add all ingredients to the food processor and blend until smooth. 
You can use more or less Brine depending on the consistency you want.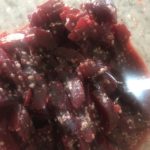 Uses and Benefits of Fennel Seeds
What is fennel and how do you prepare it?
Fennel is crunchy and slightly sweet, adding a refreshing contribution to the ever popular Mediterranean cuisine. Most often associated with Italian cooking, be sure to add this to your selection of fresh vegetables from the autumn through early spring when it is readily available and at its best.
Fennel is composed of a white or pale green bulb from which closely superimposed stalks are arranged. The stalks are topped with feathery green leaves near which flowers grow and produce fennel seeds. The bulb, stalk, leaves and seeds are all edible. Fennel belongs to the Umbellifereae family and is therefore closely related to parsley, carrots, dill and coriander.
Good quality fennel will have bulbs that are clean, firm and solid, without signs of splitting, bruising or spotting. The bulbs should be whitish or pale green in color. The stalks should be relatively straight and closely superimposed around the bulb and should not splay out to the sides too much. Both the stalks and the leaves should be green in color. There should be no signs of flowering buds as this indicates that the vegetable is past maturity. Fresh fennel should have a fragrant aroma, smelling subtly of licorice or anise. Fennel is usually available from autumn through early spring.
Store fresh fennel in the refrigerator crisper, where it should keep fresh for about four days. Yet, it is best to consume fennel soon after purchase since as it ages, it tends to gradually lose its flavor. While fresh fennel can be frozen after first being blanched, it seems to lose much of its flavor during this process. Dried fennel seeds should be stored in an airtight container in a cool and dry location where they will keep for about six months. Storing fennel seeds in the refrigerator will help to keep them fresher longer.
Tips for Preparing Fennel
The three different parts of fennel—the base, stalks and leaves—can all be used in cooking. Cut the stalks away from the bulb at the place where they meet. If you are not going to be using the intact bulb in a recipe, then first cut it in half, remove the base, and then rinse it with water before proceeding to cut it further. Fennel can be cut in a variety of sizes and shapes, depending upon the recipe and your personal preference. The best way to slice it is to do so vertically through the bulb. If your recipe requires chunked, diced or julienned fennel, it is best to first remove the harder core that resides in the center before cutting it. The stalks of the fennel can be used for soups, stocks and stews, while the leaves can be used as an herb seasoning.
A Few Quick Serving Ideas
Sautéed fennel and onions make a wonderful side dish.

Combine sliced fennel with avocados, and oranges for a delightful salad.

Braised fennel is a wonderful complement to scallops.

Consider adding sliced fennel in addition to the traditional toppings of lettuce on your sandwiches.

 

(Lettuce wrapped preferably)

Top thinly sliced fennel with plain and mint leaves.

Fennel is a match made in Heaven when served with salmon and lemon.

Beets and Ground fennel seed is an excellent combination for potassium and digestion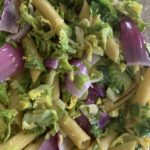 Brussel Sprout Penne Pasta
Gluten Free, Vegan
Happily Serves 2
ALL ORGANIC INGREDIENTS
1 Cup Brussel Sprouts
1 Cup Penne Pasta
2 TBSP Olive oil or Avocado Oil
2-3 TBSP Lemon Juice
1-2 tsp Sea Salt
1/8 Red Onion
1 Garlic Clove
1 Green Onion
1 tsp Minced Onion
Cut bottom core off, cut and quarter and wash Brussel sprouts well (they hide dirt well)
Air fry 7 minutes or Bake 15 minutes.
Cook Vegan Green Lentil Penne Pasta according to Package. You can cook it in Veggie broth or Bone broth for greater flavor and nutrients.
Cook Red onion 5-7 minutes (this is easier on digestion)
Add all ingredients together.
You can serve warm or as a cold pasta