chili powder
now browsing by tag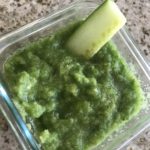 Cucumber Dip
Vegan, Keto Friendly, Gluten Free 
Happily serves 6-8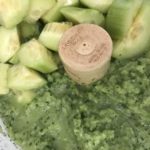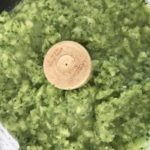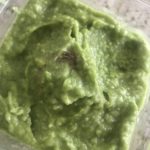 ALL ORGANIC INGREDIENTS
3 Cucumbers
2 Green onions
2 TBSP Avocado Oil 
Handful of cilantro 
Himalayan Sea salt 
1 Garlic Clove
Dash Hatch green Chili Powder
1/2 Cup Lemon juice 
1 Jalapeño 
Optional: 1 Avocado
Blend All Ingredients in the Vitamix except Cucumbers (And optional avocado)
Add 2 cucumbers.
Blend until as smooth as desire.
Add the last cucumber, just pulse in to give a chunky texture.  
Mix in avocado, cubed or pulse to desired consistency.
Chipotle Sauce/Dressing
GF, Refined Sugar Free, Vegan
Happily serves 2
ALL ORGANIC INGREDIENTS
1 TBSP Tahini (can sub Sunflower butter)
1 TBSP Hemp Seed oil
2 Garlic cloves, crushed
1 TBSP Coconut Aminos
1 tsp chili powder
½ tsp Chipotle powder
½ tsp Cayenne
¼ tsp Sea salt
Mix all ingredients together. Can be used as a salad dressing or over stir fry and quinoa.  Great Sauce for lettuce wraps!
OR:
Optional: ADD 1TBSP Nutritional Yeast if you want to toss it on Collard Greens and bake.
Sriracha Aioli

Vegetarian, Gluten Free
Happily Serves 3-4
ALL ORGANIC INGREDIENTS
3/4 Cup Raw Cashews
5  Garlic cloves, minced
1/4 Cup water
1-2 TBSP Avocado oil
1 tsp Maple syrup
1 TBSP Lime juice
Sea salt + black pepper to taste
1 tsp Sriracha (or other hot sauce), plus more to taste
Pinch each chili powder, smoked paprika, and ground cumin
Optional: 1/2 tsp Nutritional yeast (for a little cheesiness)
Place cashews in a bowl and cover with boiling hot water.
Let set, uncovered, for about 1 hour or until very soft, drain thoroughly and Rinse.
Add cashews to the blender or food processor with fresh garlic, water, 1 Tbsp Avocado oil, maple syrup, lime juice, salt, pepper, Sriracha, and spices.
(Nutritional yeast is optional.)
Blend on high until creamy and smooth.
Add more water if it's too thick.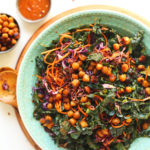 Asian Chick Pea Kale Salad
Vegan, Gluten Free
Happily Serves 4
VEGETABLES
1 large bundle finely chopped kale  (steamed and drained)
1 cup finely grated carrots (steamed)
2 cups finely shredded red cabbage (Steamed)
DRESSING
1/4 cup cashew butter (or sub sunflower butter)
1/4 cup + 1 Tbsp Korean BBQ sauce (Skyvalley brand)
1/4 cup sesame oil
3 Tbsp maple syrup
Sea salt or 1 Tbsp tamari or coco amigos
CHICKPEAS
1 Cup soaked and dried chickpeas (or sub Mung beans)
2 Tbsp sesame oil or avocado oil
2 tsp maple syrup
1 garlic clove
optional: red pepper flakes or chili powder
Preheat oven to 425
When preparing chickpeas, make sure they are dry – this will help them crisp up.
In a medium mixing bowl add sesame oil, maple syrup and Korean BBQ sauce and whisk.  Add chickpeas and toss to coat. Arrange on a baking stone/sheet and bake for 20-25 minutes, tossing halfway to ensure even baking. They're done when crisp and deep golden brown.
To prepare dressing, add all ingredients and whisk to combine. Taste and adjust flavors as needed, adding more maple syrup for sweetness, Korean BBQ sauce for heat, cashew butter for creaminess, or salt or tamari for saltiness.
Add kale (steamed), carrots and cabbage to a large mixing/serving bowl and toss to combine. Then add dressing, toss to coat.
To serve, divide salad between serving plates and top with crunchy chickpeas.  Keep leftover chickpeas separate from salad in a well-sealed container at room temperature for 2 days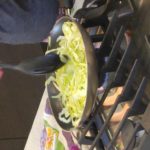 Black Bean Lentil & Quinoa Salad
w/Cumin-Lime Dressing
Vegetarian, Gluten free, Vegan
Happily serves 6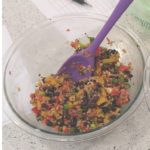 ALL ORGANIC INGREDIENTS
1 Cup dry lentils or Quinoa (or 1/2 Cup each)
2 Cup Black beans (if using canned, rinse well)
1 Red bell pepper
1/2 Red onion
3 Green onion stalks
1 Yellow Zucchini
Bunch of cilantro to taste, stems removed
Dressing
1/4 Cup Lime juice
2 TBSP Avocado or olive oil
1 tsp dijon or flavored mustard
1-2 Garlic cloves
1 tsp Cumin
1/2 tsp Oregano
1/8 tsp Himalayan Sea salt
Optional: chipotle powder, chili powder, pepper
Cook lentils according to package directions, leaving firm not mushy. Drain.
Cut or mince Galice, let sit 5 minutes.
While lentils are cooking, make the dressing: place all ingredients in a small bowl and whisk to combine. Set aside.
Finely dice the bell pepper, onion, and green onion.  Roughly chop the cilantro.
In a large bowl, place black beans, bell pepper, onion, zucchini and lentils.
Add the dressing.  Add cilantro, and lightly toss.
Serve or chill covered in the fridge for at least an hour.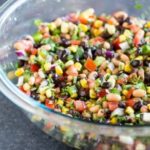 Cowboy Salsa
Vegetarian, Gluten Free
Happily serves 8-10
 
ALL ORGANIC INGREDIENTS
1/2 Cup Avocado oil
1-2 TBSP Raw Coconut sugar or Monk Fruit
1/3 Cup Coconut vinegar
1 tsp Chili powder
1 tsp Himalayan Sea salt
1 Cup black-eyed peas or Kidney beans
1 Cup black beans
1 Cup Aduki Beans
1 Yellow Onion
2 Green Onions
2 Garlic Cloves
1 diced Green bell pepper
1 diced Red bell pepper
1 diced Yellow bell pepper
 Handful chopped cilantro
2 TBSP Lime juice
Optional: 1/4 Cup Jodi's Salsa
Whisk together the Avocado oil, coconut sugar, coconut vinegar, chili powder, and salt.
Combine beans, red onion, and bell peppers.  Stir in cilantro.
Cover and chill at least 1 hour or overnight to blend flavors.
Serve chilled or at room temperature.