heart health
now browsing by tag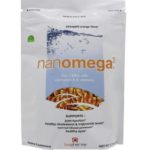 NanOmega3 Pineapple Orange
BioPharma Scientific.
$46.65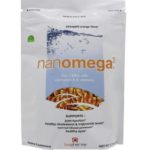 HEALTH PROFESSIONAL FORMULA
1000 IU of Vitamin D
Good Source of Fiber, Pineapple Orange
SuperFood SOLUTION™. NanOmega3™
Heart, Brain & Vision SuperFoodlifesDHA™.
HEALTHY BRAIN, EYES, HEART
SuperSorb® DELIVERY
DIETARY SUPPLEMENT
NET WT. 12.7 OZ (360g)
More Info:
Omega-3s are essential for fatty acids (EFAs) for supporting:
* heart health
* joint health
* healthy skin
* maintenance of normal blood lipids
* healthy brain function
* healthy eyes (retina)
* immune health
* general health and wellness
Truly a breakthrough functional food formula, NanOmega3 provides essential fatty acids (EFAs) from both:
-ALA, alpha-linolenic acid, from specially stabilized, organic MeadowPure™ golden flaxseed and
-DHA oil (lifesDHA™ from Martek) derived from plant marine algae, with
-Synergistic vitamins E, D3, folic acid, B6 and B12.
Supplemental Facts:
SuperSorb® is BioPharma Scientifics registered name for its enhanced delivery systems wherein highly bioavailable forms of micronutrient and microencapsulation are utilized to help maximize nutrient absorption.
In order to ensure correct usage of BioPharmas high potency formulas, BioPharma sells only through licensed healthcare practitioners.
Servings Per Container: 30
SUGGESTED USE:
Mix one [1] scoop (12 g) with 6-8 ounces of cold water, juice or milk to taste. Shake or blend briskly. Enjoy one (1) to two (2) times a day unless otherwise directed by your health professional. Children under 12 take 1/2 serving. NanOmega3 is scientifically formulated to taste great with BioPharmas entire SuperFood Solution™ line. For a wealth of SuperFood Smoothie/Shake recipes, ask your health professional for a copy of The SuperFood Solution™ Users Guide.
Refrigerate after opening.
Benefit:
YES:
*Great tasting, instant mixing
*Made with organic flax
*Vegan & non GMO
*Low net carb
*Low peroxide value (pv)
*Fortified with Vitamins D, E, & B
NO:
*Fishy tastes, smells or toxins
*Fish oil "burps"
*Animal or fish products
*Eggs, dairy, wheat, yeast, soy, gluten
*Artificial flavors, MSG, or glutamate peptides
Serving Size: 12g (1 scoop)
Amount Per Serving
Calories …57
Calories from fat …122
Total Fat …2.5g / 4% DV
Saturated Fat …Total Carbohydrate …7g / 2% DV
Dietary Fiber …2.5g / 10% DV
Sugars …1g
Protein …1g
Vitamin D3 …1000 IU / 250% DV
(cholecalciferol)
Vitamin E …30 IU / 100% DV
(d-alpha tocopherol succinate)
Vitamin B6 …1mg / 50% DV
(as pyridoxal-5-phosphate)
Vitamin B9 …2000mcg / 50% DV
(as folic acid)
Vitamin B12 …85.5mcg / 1, 425% DV
(as cyanocobalamin)
Calcium …21mg / 2% DV
Iron …425mcg / 2% DV
Magnesium …22mg / 5% DV
Sodium …5mg / <1% DV
Potassium …36mg / 1% DV
Total Omega-3 …1100mg #
Omega-3/DHA …100mg #
Omega-3/Linolenic Acid …1000mg #
Omega-6 …300mg #
Lignans …50mg #
Turmeric …70mg #
Stevia Leaf Crystals …70mg #
(stevia rebaudiana)
* Percent Daily Values are based on a 2, 000 calorie diet.
# Daily Value not established.
OTHER INGREDIENTS: Meadow Pure™ Omega-3 Ultra Golden Flax™ with Marteks DHA oil derived from marine algae, Natural Flavors (plant based), Rice Bran Soluble fiber*, Vitafiber™ (isomalto-oligosaccharides from non-GMO corn and/or potato starch), Rice Malto-dexrin*, Xanthan Gum, Natural Curcumin Color (plant based).
*Organic ingredients
IMPORTANT:
Best if stored in cool, dark conditions. After each use close tightly and refrigerate immediately. Contains an oxygen absorbent packet to preserve freshness.
Pregnant and nursing mothers, anyone taking prescription medications, or prior to any surgical procedures, inform their healthcare practitioner and/or pharmacist before taking this or any other dietary supplement.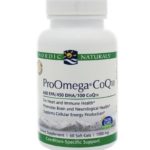 ProOmega-CoQ10 1000mg
Nordic Naturals
60 softgels $38.95
120 softgels $69.95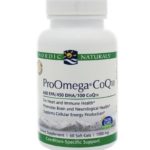 -Double-strength EPA+DHA for more omega-3s in fewer soft gels plus 100mg 
ubiquinone-form CoQ10
-Synergistic heart support
-Promotes brain and neurological health
ProOmega CoQ10 provides the same powerful EPA+DHA formula as our ProOmega, with 
the added heart health benefits of CoQ10. This formula helps supply the heart 
with the ATP it needs, and protects heart tissue from oxidative stress and 
damage.
Servings Per Container: 30
Two soft gels daily, with food, or as directed by your health care professional or pharmacist.
Serving Size: 2 soft gels
Amount Per Serving: 
Calories …20
Calories from Fat …18
Total Fat …2.0g
Saturated Fat …0.1g
Trans Fat …0g
Coenzyme Q10 …100mg
Total Omega-3s …1280mg
EPA …650mg
(Eicosapentaenoic Acid)
DHA …450mg
(Docosahexaenoic Acid) 
Other Omega-3s …180mg
Ingredients: purified deep sea fish oil (from anchovies and sardines), soft gel 
capsule (gelatin, glycerin, purified water, caramel color, natural lemon flavor), coenzyme Q10, beeswax, d-alpha tocopherol, rosemary extract (a natural 
preservative)
No gluten, milk derivatives, or artificial colors or flavors. Non-GMO.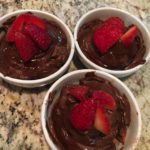 Cacao Avocado Mousse
Gluten Free, Vegan
Happily serves 4
ALL ORGANIC INGREDIENTS
3 Avocados
1/3 Cup Coconut nectar
1/2 Cup Raw cacao
1 tsp ground cinnamon
dash of allspice (optional)
2 vanilla beans, split and seeded
1/4 tsp Himalayan sea salt
Stevia drops if desired sweeter
Mash all ingredients together and enjoy!
Optional to add nut milk to thin out consistency.
Fresh mint leaf for garnish or chopped for added flavor
The Cacao is antioxidant rich, high in flavonoids, which are essential to a healthy cardiovascular system.  Cacao provides a natural form of iron for a natural energy boost.
The avocado provides heart healthy monounsaturated fats as well as a good amount of vitamin B5 and Vitamin K.  Avocados are known for promoting heart health, regulating blood sugar and are believed to potentially offer anti-cancer benefits, specifically when it comes to cancer of the mouth, skin and prostate gland. Avocados are very alkalizing to the body.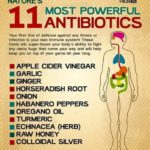 Are you tired of getting sick?  Antioxidants could be the answer…
Antioxidants have been around since the beginning of time. We often hear about them on commercials, or talk shows. Most people don't realize that the food that we eat or don't eat will make the difference in our overall health. The benefits of antioxidants can be found in plant based diets, fruits and vegetables, nuts, and antioxidant vitamins.  Many antioxidant rich foods are called super foods.  This article is a great way to understand what foods will arm your body with the defenses that it needs to fight off sickness and infection. We will dive into the health benefits of the top 10 antioxidant rich foods. You should definitely add these to your diet.
| | |
| --- | --- |
| Keywords: | Description: |
| antioxidants |  A substance that reduces damage due to oxygen, such as that caused by free radicals. Well-known antioxidants include enzymes and other substances, such as vitamin C, vitamin E, and beta carotene, which are capable of counteracting the damaging effects of oxidation. Antioxidants are also commonly added to food products such as vegetable oils and prepared foods to prevent or delay their deterioration from the action of air. Antioxidants may possibly reduce the risks of cancer. Antioxidants clearly slow the progression of age-related macular degeneration. |
| oxidative stress |  reflects an imbalance between the systemic manifestation of reactive oxygen species and a biological system's ability to readily detoxify the reactive intermediates or to repair the resulting damage. Disturbances in the normal redox state of cells can cause toxic effects through the production of peroxides and free radicals that damage all components of the cell, including proteins, lipids, and DNA. |
| free radical formation |  Free radicals are atoms or groups of atoms with an odd (unpaired) number of electrons and can be formed when oxygen interacts with certain molecules. Once formed these highly reactive radicals can start a chain reaction, like dominoes. Their chief danger comes from the damage they can do when they react with important cellular components such as DNA, or the cell membrane. Cells may function poorly or die if this occurs. To prevent free radical damage the body has a defense system of antioxidants. |
| oxygen radical absorbance capacity | ORAC stands for Oxygen Radical Absorbance Capacity. It's a lab test that attempts to quantify the "total antioxidant capacity" (TAC) of a food by placing a sample of the food in a test tube, along with certain molecules that generate free radical activity and certain other molecules that are vulnerable to oxidation . After a while, they measure how well the sample protected the vulnerable molecules from oxidation by the free radicals. The less free radical damage there is, the higher the antioxidant capacity of the test substance. There are actually a handful of different tests designed to measure total antioxidant capacity in this way, but the ORAC is probably the best known and most popular |
| inflammation | Inflammation and Antioxidants, |
Apple Cider Vinegar

lowers cholesterol
boost energy
reduces cramping and lactic acid
helps bad breath
controls blood sugar
supports heart health
whitens teeth

Garlic
boost immune system function/fights infection
aids in cancer prevention
fights inflammation
promotes total body detoxification
Ginger
acts as an antidote for nausea
reduces inflammation – arthritis – headaches
stimulates circulation
inhibits rhinovirus – a cause of the common cold
fights salmonella
reduces gas and intestinal pain

Horseradish Root
fights cancer
detoxifies the liver
relieves sinus pressure
treats urinary tract infections
reduces bloating
aids in muscle soreness
Onion
decrease risk of obesity, diabetes, and heart disease
promotes healthy hair and complexion
great source of vitamin C
reduce risk of colorectal and other intestinal cancers
improve mood and help with depression

Habanero Peppers
reduce risk of diabetes and obesity
great cancer fighter
reduces cholesterol and heart disease
lowers inflammation
Oregano Oil
treats foot or nail fungus
kills parasites or infection
minimizes sinus infection and cold symptoms
great for cleaning when mixed with lemon and vinegar

Tumeric
helps with chronic inflammation
reduces symptoms of Rheumatoid arthritis
improves mood and aids in depression
lowers blood glucose levels
inhibits cancer cell growth
has anti-aging properties
Echinacea (herb)
reduces acid reflux
decreases migrane symptoms
aid in genital herpes outbreaks
helps cure strep throat
reduces urinary tract infections
cures yeast infections

Raw Honey
cancer fighting properties
aids in nausea and upset stomach
natural cough suppressant
assists in blood sugar regulation
heals ulcers
good cholesterol regulator
It is not hard to see the benefits of these powerful antioxidants.  If you work them into your diet your will surely see and feel the difference.  In addition to these awesome foods, a green drink will work wonders for your overall health and well being.  If you enjoyed this article, then I assume that you like to know what is in your food and why it is good for you.  This book is the best book I have ever found for understanding the 'whys' about food.  If you have any questions about fitness or nutrition, email Jodi at jodi@healthywithjodi.com .